#515: All Those Lies by Glenn Frey
Peak Month: February 1983
10 weeks on CFUN's Vancouver Chart
Peak Position ~ #6
Peak Position on Billboard Hot 100 ~ #41
YouTube: "All Those Lies"
Lyrics: "All Those Lies"
Glenn Lewis Frey was born in Detroit, Michigan, in 1948. He was raised in the suburb of Royal Oak and learned to play piano from the age of five. He later learned to play guitar. Frey was a member of a number of bands: the Subterraneans, the Four Of Us, the Mushrooms and the Heavy Metal Kids. At the age of 19 Frey played acoustic guitar and backing vocals for the 1968-69 Bob Seger System Top 20 hit single "Ramblin' Gamblin' Man". In 1969 Glenn Frey moved to Los Angeles and became part of a band named Longbranch Pennywhistle with J.D. Souther. The band folded by the end of 1970. That year Frey met drummer Don Henley. The pair were both hired as part of a backing band for Linda Ronstadt. While touring with Ronstadt, Frey and Henley decided to form a band the soon named the Eagles.
As a member of the Eagles, Glenn Frey sang lead vocals on many of the bands' hits, including "Take It Easy", "Peaceful Easy Feeling", "Already Gone", "Tequila Sunrise", "Lyin' Eyes", "New Kid In Town" and "Heartache Tonight". The Eagles sold 16 million copies of their album Hotel California in 1976-77. The bands' huge success was also a challenge. How could they come up with a followup. The pressure stymied their creative instincts. Though the did have a successful album with The Long Run in 1979, including a number-one hit with "Heartache Tonight", the band knew they were coming to an end.
In 1980, Frey sang backing vocals on Bob Seger's Top Ten singles that year, "Fire Lake" and "Against The Wind". The Eagles split up in 1980 and Glenn Frey went solo.
In 1982 he released his debut album No Fun Aloud. His first two singles "I Found Somebody" and "The One You Love" peaked on the Billboard Hot 100 at #31 and #15 respectively. The next charting single from the album was "All Those Lies".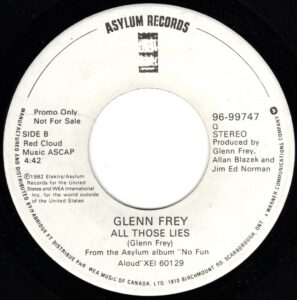 "All Those Lies" is a song written by Glenn Frey. The singer knows he is "a bad pretender", and he's trying to remember "all those lies" that are "coming back to haunt me." He's told so many lies that it's difficult for him to keep his story straight. The lies he's been telling have him waking "in a cold, cold sweat." There are some people who are spreading the lies around and they've got him caught in his own contradictory statements. He wants to assure his lover not to believe anything anyone else tells her about him. As far as he's concerned, those are just lies.
"All Those Lies" peaked at #4 in Denver (CO), #6 in Vancouver (BC), and #8 in St. Cloud (MN).
In 1984 Glenn Frey recorded "The Heat Is On" for the film Beverly Hills Cop. The single climbed to #2 on the Billboard Hot 100 and #4 in Vancouver (BC) in March 1985. In the fall of 1985 "You Belong To The City", featured in the TV show Miami Vice, spent 5 weeks at #2 on Vancouver's CKLG Top 30.
Frey appeared in a number of acting roles, including in one episode of Miami Vice. In 1986 he appeared in a starring role opposite Gary Busey, Mark Harmon and Robert Duvall in Let's Get Harry. Between 1987 and 1990 Frey appeared in seven episodes of the TV show Wiseguy. In 1993 he was the star of the CBS crime drama South of Sunset.
Glenn Frey and other Eagles bandmates reunited in 1994, recorded the album Hell Freezes Over and went on tour. In 1996 Frey was cast in the romantic comedy Jerry McGuire with Tom Cruise, Renée Zellweger and Cuba Gooding Jr.
Frey later participated in the Eagles 161 concerts in the band's Long Road Out of Eden Tour from March 2008 to November 2011. Over the winter of 2015-16 Frey was ill from complications related to pneumonia, intestinal disease and rheumatoid arthritis. He died in January 2016 at the age of 67.
September 16, 2020
Ray McGinnis
References:
Brian McCollum, "Glenn Frey Details Detroit Days in Free Press Interview," Detroit Free Press, January 19, 2016.
Melonyce McAfee, "The Eagles' Glenn Frey dead at 67," CNN, January 19, 2016.
Korey Grow, "Don Henley on Glenn Frey: 'He Changed My Life Forever'," Rolling Stone, January 18, 2017.
Mark Savage, "Glenn Frey: How Hotel California destroyed The Eagles," BBC, January 16, 2016.
"CFUN Top 30," CFUN 1410 AM, Vancouver, BC, February 12, 1983.
For more song reviews visit the Countdown.