#1077: Down In The Alley by Ronnie Hawkins
Peak Month: March 1970
7 weeks on CKLG chart
Peak Position #9
Peak Position on Billboard Hot 100 ~ #75
YouTube.com: "Down In The Alley"
Lyrics: "Down In The Alley"
Ronnie Hawkins was born in Huntsville, Arkansas, on January 10, 1935, two days after Elvis Presley. Hawkins' mother was a teacher; his father, a barber. Known affectionately over the years as "Mr. Dynamo," "Sir Ronnie," "Rompin' Ronnie," and "The Hawk," Hawkins' love of music started in high school. He formed the first version of his band The Hawks while studying at the University of Arkansas in the 1950s. Ronnie remembers, he'd commandeer an old gas station on Dickson street for rehersals. "We'd unplug their outside Coke machine and plug in our instruments," Hawkins said. "They had the warmest Cokes in town." In 1958, on the recommendation of Conway Twitty – who considered Canada to be the promised land for a rock'n roll singer – Hawkins came to Hamilton, Ontario to play a club called The Grange. He never left. Adopting Canada as his home, Hawkins became a permanent resident in 1964. In 1958 he released his first single, "Hey, Bo Diddley". This was followed the next year by "Mary Lou", which turned Hawkins into a teenage idol, along with "Forty Days". In 1959, Morris Levy signed Hawkins to Roulette Records for five years. Levy tried to lure him back to the United States, but Hawkins had fallen in love with Canada and didn't want to leave his new home.
In 1960 Hawkins had a Top Ten hit in Toronto with "Southern Love". He repeated Top Ten success in southwestern Ontario in 1963 on the powerful CHUM 1050 AM radio with a cover of "Bo Diddley". He was again in the Top Five on CHUM in 1965 with "Bluebirds Over The Mountain". In January 1968 "Home From The Forest" became a #1 hit for Hawkins in Vancouver. Over the years Hawkins gained recognition for recruiting and grooming outstanding Canadian talent. The membership of his band, The Hawks, kept changing as the talent flowed in and out, but the name stayed the same. One edition of The Hawks (with Canadians Richard Manuel, Garth Hudson, Rick Danko, and drummer Levon Helm) moved on to become Bob Dylan's backup band and later achieved superstardom as The Band. Another incarnation became Janis Joplin's Full Tilt Boogie Band, and another Robbie Lane and the Disciples. Other famous Hawk alumni include David Clayton Thomas of Blood Sweat and Tears, actor Beverly D'Angelo, musician Lawrence Gowan, and fellow Canadian Music Hall of Fame inductees Burton Cummings and David Foster.
At the height of the 1960s peace movement, Hawkins invited John Lennon and Yoko Ono to his Ontario farm to plan a peace festival during the couple's peace crusade. John Lennon signed his erotic "Bag One" lithographs during his stay at Hawkins' farm. He also accompanied them on the train to Ottawa in December 1969 for Lennon and Ono's famous visit with Prime Minister Trudeau. Hawkins later toured the world at Lennon's request as a peace emissary for Lennon's "Love Not War" message.
In the midst of Ronnie Hawkins' political activism with John Lennon and Yoko Ono, Hawkins released the single, "Down In The Alley". This was a cover of the original single released in 1957 by the doo-wop R&B pioneers, The Clovers.
The Clovers were a Washington D.C. area doo-wop group formed in 1946. After five years of exposure at Amateur contests, concerts and radio appearances in the D.C. area, The Clovers performed at The Apollo Theatre in Harlem in late 1950. They got signed with Atlantic Records and went on to chart 19 Top Ten hits on the Billboard R&B charts between 1951 and 1956, including three #1 hits. Among there hits were "One Mint Julep," "Good Lovin'", "Lovey Dovey" and "Devil Or Angel". The Clovers song that has received the most airplay on oldies stations is "Love Potion No. 9". The song only peaked at #23 both in Vancouver and on the Billboard Hot 100. However, it was included in the 1973 soundtrack for American Graffitti. After their brief fame on the pop charts, The Clovers released another nine singles through to 1968. None of these made to pop or R&B charts. As of 2017, in collaboration with original member of The Clovers, Harold Winley, there is a documentary project called The Clovers: Then And Now.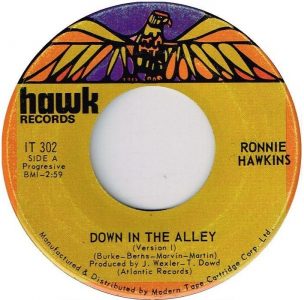 "Down In The Alley" is a song about party people hanging out from 1:30 AM to 3:30 AM in a non-residential alley. In the alley a live band plays rhythm and blues and rock 'n roll, people meet, mingle and make out. In the 1950's air conditioning was not widely available in dance halls in the deep south. When it was too darn hot in the summertime, a band would go outside in the back alley of the club and play for the customers who'd go inside to get their beverage of choice. For people listening to the tune for the first time in 1957 by The Clovers, the scenario was familiar. By 1970 it was a little less clear why people would be choosing to be in an alley when they could be in an air conditioned club. Nonetheless, Ronnie Hawkins version of the song got people up dancing to their radios whenever this tune came on. John Lennon also did a radio promo for Hawkins' "Down In The Alley". The song climbed to #9 in Vancouver and #75 on the Billboard Hot 100.
By 1970 Ronnie Hawkins was at the twilight of his appeal on the pop charts. However, he began to chart eight singles on the Canadian country charts in 1970, his last climbing the country charts in 1995.
Hawkins won a Juno for best Country Male Vocalist in 1984 for his hit, "Making It Again". In 1989, Ronnie was reunited with The Band at the concert marking the destruction of the Berlin Wall. In 1992, he performed at the inaugural party of former President Bill Clinton, one of The Hawks' biggest fans. That same year he received another Juno Award nomination. Hawkins has also performed in a handful of films including, The Last Waltz (with The Band), Heaven's Gate (with Kris Kristofferson) and Renaldo & Clara (which Bob Dylan produced). Ronnie Hawkins released his 27th album Still Cruisin' in Canada in 2002. In 2013 Hawkins received the Order of Canada for his many contributions to culture through his music.
June 2, 2017
Ray McGinnis
References:
Lennon and Ono's famous visit with Prime Minister Trudeau, Beatles Bible.com
Bed-ins for Peace, Wikipedia.org
Martin Scorsese, The Last Waltz, United Artists, 1978.
Michael Cimino, Heaven's Gate, United Artists, 1980.
The Clovers: Then and Now, The Clovers Project.com.
"Boss 30," CKLG 730 AM, Vancouver, BC, March 13, 1970.
For more song reviews visit the Countdown.