#1202: Almost Unreal by Roxette
Peak Month: July 1993
8 weeks on Vancouver's CKLG chart
Peak Position #14
Peak Position on Billboard Hot 100 ~ #94
YouTube: "Almost Unreal"
Lyrics: "Almost Unreal"
Roxette was a duo composed of Marie Fredriksson and Per Gessle. Gun-Marie Fredriksson was born in 1958 in a small town in the southern tip of Sweden. When she was seven-years-old, her 20-year-old sister died in a traffic fatality. She remembers the support she got to pursue music from a young age from attending a church. Fredriksson recalls she had been performing "ever since I was little and me and my sister Tina went to Sunday school. We had a wonderful pastor in Östra Ljungby. I've got really bright, lovely memories of that place, even when my big sister died. I loved all the songs. It was such a source of freedom for me… for both of us." At age 17, she enrolled in a music school, and was subsequently cast in a musical that toured across Sweden.
In 1977 she moved to Halmsted. The following year she formed a punk rock group named Strul. Per Gessle was briefly in the band. With Strul, she began an indie music festival in Strulfestivalen, which ran in 1979, 1980 and 1981. It was in 1981 that Strul disbanded, and Fredriksson formed a new band named MaMas Barn. Her new band often practiced at the same studio as another band in Halmsted named Gyllene Tider. As the bandmates from MaMas Barn and Gyllene Tider got to know each other, Fredriksson was invited to contribute vocals on Gyllene Tider's 1981 song "Ingenting av vad du behöver" (English: "Nothing of What You Need"). MaMas Barn released their one and only album in 1982 and disbanded by the end of the year. In 1982-83, Fredriksson was a member of the Lasse Lindbom Band. And in 1984 she was a backing vocalist for The Heartland Cafe album released by Gyllene Tider. In addition, Marie Fredriksson released a solo single, "Ännu doftar kärlek" ("Still the Scent of Love"). The single cracked the Top 20 in Sweden.
Per Håkan Gessle was born in 1959 in the southern Swedish port city of Halmstad. His father was a plumber. In 1976 he formed the Swedish pop group Gyllene Tider. Between 1980 and 2004, Gyllene Tider's power pop, catchy choruses and lyrics about small town life, resulted in four number-one hits, and four more Top Ten hits on the Swedish Singles chart. While Gessle was with the band, they released four studio albums between 1980 and 1984. They broke up in 1985 after releasing their English-language album The Heartland Cafe.
Gessle released his first solo album, Per Gessle, in 1982. He released a second solo album in 1985. In 1986 Fredriksson released her second studio album, Den sjunde vågen (The Seventh Wave). It sold over 100,000 copies and cracked the Top Ten on the national album chart in Sweden. That year Gessle and Fredriksson teamed up to record a duet titled "Neverending Love", credited to Roxette. The name was taken from the song "Roxette" by the British pub rock band Dr. Feelgood.
The single peaked at #3 in Sweden. Subsequently, Roxette released their debut album, Pearls of Passion, which climbed to #2 on the Swedish album chart. The track "Goodbye to You", made the Top Ten on the Swedish singles chart.
In 1987 Marie Fredriksson released a pop-rock single titled "Efter stormen" ("After the Storm"), which peaked at #7 on the Swedish pop chart. Her album, Efter stormen (After the Storm), charted to #1 in Sweden. That year Roxette released the single "It Must Have Been Love (Christmas for the Broken Hearted)", which climbed to #4 on the pop chart in Sweden.
In 1988 Roxette released their international best-selling album, Look Sharp! From the album, in 1989 they had a number-one international hit with "The Look", another Top Ten international hit with "Dressed For Success"; A number-one international hit with "Listen To Your Heart"; And a fourth international Top Ten hit from Look Sharp! with "Dangerous".
In 1989 Fredriksson released a solo single titled "Sparvöga" ("Sparrow-Eye"), which shot to #6 on the Swedish pop chart. That year she also had a #1 single in Sweden with "Felicia – Adjö".
In 1990 Roxette's "It Must Have Been Love" was featured in the film Pretty Woman. The exposure made the single an international number-one hit. Their back-to-back hits continued with the release of their 1991 album Joyride. The title track "Joyride" became their fourth international number-one single. A second track from the album, "Fading Flower (Every Time You Leave)", became an international Top Ten hit later that year.
In December 1991 she met her future husband, keyboardist Mikael "Micke" Bolyos, on an Australian leg of Roxette's Joyride Tour. Fredriksson reflected later "If [we] hadn't met, I don't know if I would have been able to continue in Roxette much longer. I couldn't handle the personal side of life on tour. I was hanging out in bars, drinking too much. I was sad a lot of the time and had a hard time with the press, when I always had to be nice and say the right things, always having to be available to everybody, always putting on a smile and being happy. Marie Fredriksson the performer had grown in stature, at the expense of Marie the private person. I had less and less space to be myself. And when I was myself I felt uncertain, small and lost."
In 1992 Marie Fredriksson's fourth studio album, Den ständiga resan (The Eternal Journey), climbed to #1 in Sweden and made the Top 20 on the Norwegian album chart. While Roxette released their fourth studio album, Tourism: Songs from Studios, Stages, Hotelrooms & Other Strange Places. The band performed in Vancouver on February 14, 1992, at the Pacific Coliseum. In 1992, the lead single, "How Do You Do" climbed to #2 in Austria, Finland, Germany, the Netherlands, Sweden, and Switzerland. However, it stalled at #58 in the USA. Yet, in Vancouver (BC), the single climbed to #6.
In 1993 Roxette had two songs featured in the movie Super Mario Bros. starring John Leguizamo, Samantha Mathis and Dennis Hopper. One of the songs by Roxette from the film, "Almost Unreal", was released as a single.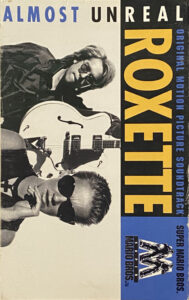 "Almost Unreal" was written by Per Gessle. Originally, the song was written at the request of Walt Disney Pictures for the Bette Midler film Hocus Pocus. The lyrics in "Almost Unreal" included the line "I love when you do that hocus pocus to me." But most of the other lyrics referencing Hocus Pocus were altered for the songs' inclusion in Super Mario Bros. In 1995, Roxette released Don't Bore Us – Get to the Chorus! Roxette's Greatest Hits. In the liner notes Fredriksson referred to the track as "not one of our most inspired moments", while Gessle said: "I still like the song, in a way… but if you wanted to make a parody of Roxette, it would probably sound something like this."
"Almost Unreal" is a song about a couple who do the "hocus pocus" to each other, after they come inside from the rain, take their coats off "and do what you do best." In this case "hocus pocus" is a metaphor for making love: "The way that you touch, you've got the power to heal. You give me that look, it's almost unreal."
"Almost Unreal" climbed to #14 in Vancouver (BC). Internationally, the single peaked at #4 in Poland, #5 in Ireland, #6 in Norway, #7 in Denmark and the UK, #8 in Sweden, #9 in Iceland. It made the year-end Top 100 charts in Australia and the Netherlands. The single was later released on the Japanese album edition of Crash! Boom! Bang! in 1994 – and mis-titled "It's Almost Unreal". In 1994, the lead single from Crash! Boom! Bang!, titled "Sleeping in My Car", became an international hit outside of the United States. The single peaked at #1 in Spain and Sweden, #2 in Canada, Denmark, and Finland, #3 in Norway, #4 in Belgium, #6 in Austria, #7 in Switzerland, and #9 in Iceland.
In 1995 Roxette had a Top Ten hit in several countries titled "You Don't Understand Me".
In 1996 Per Gessle wrote "Always Breaking My Heart", a Top Ten hit for Belinda Carlisle in the UK and Scotland. That year Marie Fredriksson had a Top Ten single on the Swedish singles chart with her alternative rock tune "Tro" ("Hope"). Peaking at #8 in Sweden, it charted for 29 weeks. Her album, I en tid som vår (In a Time Like Ours), climbed to #2 in Sweden. In 1997 Per Gessle released his first English-language studio album titled The World According to Gessle. The album topped the Swedish album chart, as did the single "Do You Wanna Be My Baby?".
In 1999 Roxette released their international Top Ten album Have a Nice Day. The debut single, "Wish I Could Fly" was a best-seller in Austria, Finland, Sweden, Switzerland and the UK. And in 2001 Roxette released their studio album Room Service. The lead single, "The Centre of the Heart", peaked at #1 in Spain and Sweden, #3 in Romania, #13 in Finland, and #17 in Belgium.
In 2002, after fainting at home, Fredriksson was diagnosed with a brain tumour. In 2002-2003 she received treatment and therapy, but returned to the recording studio in 2004.
In 2003 Per Gessle released his fourth studio album, Mazarin. The album topped both the Swedish and Norwegian album charts, and was the best-selling album of 2003 in Sweden. From the album a number of singles were released. The most successful was his #1 hit single "Här kommer alla känslorna (på en och samma gång)" ("Here Are All the Emotions (At the Same Time)". While in 2004 Fredriksson had a Top Ten single in Sweden with an alternative rock tune titled "2:nd Chance". Her only English-language album, The Change, topped the Swedish album chart.
In 2005 Gessle released his solo album, Son of a Plumber, which went to number-one on the national album chart in Sweden. The album included his #5 hit single in Sweden titled "C'mon"/"Jo-Anna Says". While in 2006 Fredriksson had a #3 album in Sweden with Min bäste vän (My Best Friend). That year Roxette released a single titled "One Wish" which climbed to #2 in Sweden, #3 in Spain, #5 in Finland, and #14 in Portugal.
And in 2007 Per Gessle released another studio album, En händig man (A handy man), which again topped the national album chart in Sweden. The title track from the album, "En händig man" ("A handy man"), became a number-one hit in Sweden.
In 2008 Gessle released an English-language album titled Party Crasher, a #2 album on the Swedish charts. From the album was a #1 hit single titled "Silly Really". That year Marie Fredriksson had a number-one single in Sweden with her pop ballad "Där du andas" ("Where You Breathe").
In October 2009, Roxette embarked on their "The Neverending World Tour". The tour consisted of 17 separate legs which saw the duo performing a total of 256 concerts in Europe, North and South America, Africa, the Middle East, Australia and Asia. The tour ended in February 2016. Roxette appeared in Argentina, Austria, Australia, Belarus, Belgium, Brazil, Bulgaria, Canada, Chile, China, Columbia, Czech Republic, Denmark, Ecuador, Estonia, the Faroe Islands, Finland, France, Germany, Greece, Hungary, Indonesia, Ireland, Israel, Italy, Latvia, Lithuania, Mexico, the Netherlands, New Zealand, Norway, Paraguay, Peru, Poland, Romania, Russia, Singapore, Slovakia, South Africa, Spain, Sweden, Switzerland, Taiwan, Turkey, United Arab Emirates, United Kingdom, the United States, Ukraine, Uruguay, and Venezuela. During the Never-ending World Tour, on September 12, 2012, Roxette performed in concert at the Rogers Arena in Vancouver.
In 2011, Roxette released their album Charm School. The debut single, "She's Got Nothing On (But the Radio)", shot to #1 in Poland, #6 in Germany, #9 in Austria and Hungary, and #19 in Switzerland. Later that year, a followup single "Speak To Me", was a #3 hit in both Sweden and Poland, and #18 in Finland.
In 2013 Marie Fredriksson released her eighth and final studio album, Nu! (Now!). It was another commercial success, charting to #6 on the Swedish album chart. Between 2014 and 2016 Roxette recorded their tenth and final studio album titled Good Karma. The album climbed to #1 in the Czech Republic, #2 in Spain and Switzerland, #6 in Hungary and #10 in Austria. A lead single from the album, "It Just Happens", was a Top Ten hit in Sweden.
In 2017 Gessle had another number-one album on the Swedish chart with En vacker natt. Several more albums followed, including the English-language Small Town Talk, which included a duet with Nick Lowe. And in 2020 Per Gessle was again charting an album to #1 in Sweden with Gammal kärlek rostar aldrig. It was his 13th in studio album. In 2021, Per Gessle released his fifth live album, his most successful – Late Night Concert – Unplugged Cirkus – which peaked at #8 on the Swedish album chart.
As well, Per Gessle has released some recordings under the pseudonym Mono Mind. In 2017-18, his Mono Mind single release, "Save Me a Place", peaked at #8 in France, #13 in Belgium and #2 on the Billboard US Dance/Airplay chart.
Throughout her career Marie Fredriksson released over 30 solo singles. Fredriksson died on 9 December 2019 at the age of 61, following a 17-year-long battle with cancer after her 2002 brain tumour diagnosis.
June 26, 2021
Ray McGinnis
References:
Caroline Sullivan, "Marie Fredriksson Obituary: Internationally acclaimed singer who with Per Gessle formed the Swedish duo Roxette," Guardian, December 13, 2019.
Laureen Meechan, "Marie Fredriksson's Roxette Co-star Breaks Silence on her Death 'It'll Never be the Same'," Express, London, UK, December 10, 2019.
Pauli Poisuo, "The Untold Truth Of Roxette," Grunge, December 12, 2019.
"Marie Fredriksson," Wikipedia.org.
"Per Gessle," Wikipedia.org.
"Gyllene Tider," Wikipedia.org.
For more song reviews visit the Countdown.