#1036: Along Came Linda by Tommy Boyce
Peak Month: February 1962
7 weeks on Vancouver's CFUN chart
Peak Position #7
Peak Position on Billboard Hot 100 ~ #118
YouTube.com: "Along Came Linda"
Sidney Thomas "Tommy" Boyce was born in 1939 in Charlottesville, Virgina. He was one half of the pop duo with Bobby Hart. The two wrote numbers of songs for other recording artists including The Monkees, Jay and The Americans and Little Anthony and The Imperials. Boyce was separately pursuing a career as a singer. After being rejected numerous times, Boyce took his father's suggestion to write a song called "Be My Guest" for rock and roll star Fats Domino. He waited six hours at Domino's hotel room to present him with the demo, and got Domino to promise to listen to the song. In 1959 the song hit #8 in the US and #11 in the UK, becoming Domino's biggest hit there in several years, and sold over a million copies.
In 1961 Boyce also wrote "Pretty Little Angel Eyes" for Curtis Lee, which climbed to #7 on the Billboard Hot 100 and #8 locally. In 1961 Boyce wrote and recorded "Along Came Linda", a sort of musical fusion of two pop tunes from '61, Del Shannon's "Runaway" and Bobby Vee's "Rubber Ball". The song charted in mid-December on WHK, in Cleveland, Ohio, where it eventually climbed to #7 on January 15, 1962. That week it began to climb the charts in Seattle (#12), Boston (#11) and Springfield, Massachusetts (#20). While the song didn't crack the Billboard Hot 100 in the USA, it peaked at #7 in Vancouver in February 1962.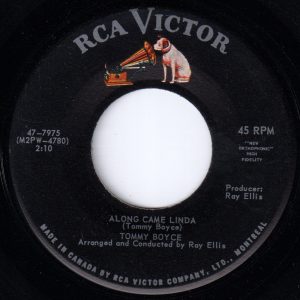 I was sitting on my front porch.
Just as lonely, lonely as can be.
Not a place to go nor thing to do,
'til that day my life was pretty blue,
but then along came linda,
made all my dreams come true.
Along came Linda, Linda, pretty little Linda,
looked into my eyes.
Along came Linda, Linda, pretty little Linda,
gee, what a surprise.
From loneliness to happiness,
just one minute or two.
I said along came Linda,
made all my dreams come true.
Along came Linda, Linda, pretty little Linda,
looked into my eyes.
Along came Linda, Linda, pretty little Linda,
gee, what a surprise.
From loneliness to happiness,
just one minute or two.
I said along came Linda,
made all my dreams come true.
Oh yeah, along came Linda,
made all my dreams come true.
"Along Came Linda" is a song that lets us know that there are people in the world that just aren't meant to live alone. Being in a relationship is a key to a happier life. And it seems that not just anyone could have come along. This guy has some dreams about who might fill the bill for a steady date or bride-to-be. Linda is pretty and once she looked in his eyes he knew she was "the one." In just a couple of minutes his whole emotional world shifted from loneliness to happiness. For some listeners, the transformation is too simple. Where is the complexity, they wonder? But sometimes inexperience and innocence, coupled with optimism, can make two of the most unlikely couples have an enduring and nurturing relationship. Being clever or smart isn't necessarily a recipe for happiness or success in a relationship. Sometimes awareness leads to struggles over power and control. We can only hope that the guy who saw Linda enjoyed a level of happiness that was sustaining for them both.
After "Along Came Linda", Tommy Boyce released "Come Here Jo-Anne", a Fats Domino-esque commercial failure. Later in 1962 Tommy Boyce returned to the Top Ten of the Vancouver pop charts on CFUN with "I'll Remember Carol", which also made the Top Ten in Baltimore and Chicago. But his other solo singles, including "Have You Had A Change Of Heart" and "Sunday, The Day Before Monday," were bad omens for his solo artist career.
In the mid-60's, with Bobby Hart, Tommy Boyce co-wrote "Last Train to Clarksville", "I'm Not Your Steppin' Stone", "Words" and "Valleri", all hits for The Monkees. They also co-wrote "Come A Little Bit Closer," a Top Ten hit for Jay and the Americans in 1964. While they were gaining attention for co-writing numerous hit songs for The Monkees, Tommy Boyce and Bobby Hart were invited to appear on numbers of TV shows in guest appearances. These included Bewitched, The Flying Nun and I Dream of Jeannie.
Boyce and Hart also wrote the theme song for the daytime soap opera, Days of Our Lives. When Days of Our Lives premiered in 1965, the show revolved around the tragedies and triumphs of the suburban Horton family. Over time, additional families were brought to the show to interact with the Hortons and serve as springboards for more dramatic story lines. In 2017, Days of Our Lives is in its 52nd season.
In 1968 Boyce and Hart campaigned to support Robert F. Kennedy in his run for the Presidency, and they spearheaded the "Let Us Vote", or "L.U.V." campaign, which ultimately helped to lower the US voting age to 18 from 21. That same year Boyce and Hart released two singles that made the Top 30, "I Wonder What She's Doing Tonight" and "Alice Long". The duo also were featured in a psychedelic Coca-Cola commercial in 1969 called "Wake Up Girl".
In 1975 Tommy Boyce and Bobby Hart collaborated with former Monkees bandmates, Mickey Dolenz and Davy Jones. The foursome made two albums and the following year 1976 went on a world tour to mark the 10 Year Anniversary of the Monkees as Dolenz, Jones, Boyce & Hart.
After a number of years living in the UK, Boyce returned to Nashville, Tennessee, in the 1980's and fell into a depression. A brain aneurysm added to his health troubles in 1993, and Boyce died by suicide on November 23, 1994. Meanwhile, Bobby Hart continues to perform in concert, sometimes with Peter Tork of The Monkees.
August 10, 2017
Ray McGinnis
References:
Caroline Boyce, Boyce And Hart's Passion For Change Made A Difference, February 16, 2013.
Kent Kotal, "The Music of Tommy Boyce and Bobby Hart," Forgotten Hits.com
Chris Welch, "Obituaries: Tommy Boyce," Independent, UK, December 23, 1994
Wake Up Girl, Coca-Cola commercial, 1969.
"C-FUNTASTIC FIFTY," CFUN 1410 AM, Vancouver, BC, February 16, 1962.
For more song reviews visit the Countdown.