#857: It Always Happens This Way by Toulouse
Peak Month: May 1977
9 weeks on Vancouver's CKLG chart
Peak Position #8
Peak Position on Billboard Hot 100 ~ did not chart
YouTube.com: "It Always Happens This Way (C'est toujours à recommencer)"
Lyrics: "It Always Happens This Way (C'est toujours à recommencer)"
Heather Gauthier and her sister Mary Lou Gauthier, and Judi Richards were backing vocalists. In the mid-70's they had been singing backup for various local groups in Montreal in recording studios. However, it wasn't lucrative enough. In 1975 they decided to become their own performing act. By 1976 their line-up was composed of Heather Gauthier, Judi Richards and Lorri Zimmerman. Their first single on Magique Records, off the Toulouse album, was the French hit "It Always Happens This Way (C'est toujours à recommencer)". It only contained two lines in English but managed to chart outside of Quebec. In April 1977 it reached #39 on RPM Top Singles Chart, #29 in Toronto, #8 in Vancouver and #6 in Ottawa. Toulouse were the first bilingual disco recording act who comfortably sang in English and French.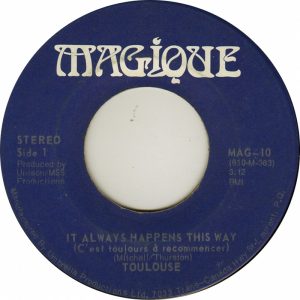 "It Always Happens This Way (C'est toujours à recommencer)" is a song sung in French. It offers up several similes. Like the image of summer, the singer anticipates everything will start again between her and her lost lover. It was only yesterday that she got drunk and didn't know what to do. Getting drunk is a metaphor, like the great Persian poet, Rumi, used to describe the experience of falling in love. The other simile is as a vulture, the lover has flown away with her love. Now he has left her and forgotten her. But then, the cycle repeats. She thinks she's lost in love. She feels like she's falling in love.
In the 12th Century, Rumi wrote a poem titled "You Are Drunk and I'm Intoxicated."
You are drunk and I'm intoxicated
no one is around
showing us the way home
Again and again
I told you
drink less
a cup or two
I know in this city
no one is sober
one is worse than the other
one is frenzied and
the other gone mad
Come on my friend
step into the tavern of ruins
taste the sweetness of life
in the company of another friend
Here you'll see
at every corner
someone intoxicated
and the cup-bearer
makes her rounds
I went out of my house
a drunkard came to me
someone whose glance
uncovered a hundred
houses in paradise….
How often do people falling in love feel like they are "drunk" in love? How often do people who are falling in love feel the pull to fly away and resist the urge to nest? The vulture in the song, the woman's lover, loves her and leaves her. Flying away is sometimes a strategy for coping with the power of love. This being "drunk" in love is, for some people, too much to bear.
With the cross-over potential of their debut single, Toulouse re-released the album in 1977 with all the vocals re-recorded in English for the American market.
This move proved successful as the act had subsequent hits in the USA. Their second album, Export, included several tracks that were released as singles. The first was "A.P.B". It managed to chart in English Canada and spent three weeks at #1 on CHER-AM radio in Sydney, Nova Scotia. The tune peaked at #9 in Vancouver in August 1977.
Toulouse's next single, also from the Export album, was "What Would Mama Say" which made the Top 20 in Vancouver and Hamilton in the winter of 1977-78.
Toulouse's next album, Taxi Pour Une Nuit Blanche, was released in the spring of 1978. The album was in French and did well in Quebec and across the Atlantic Ocean in France. Five French-language singles made their way onto the charts in Quebec and several of these charted in France. A series of mini-tours ensued. When they were over Heather Gauthier left the trio and was replaced by Liette Lomez.
The fourth album was Dangerous Ladies, which featured more disco tracks. However, by the time the album arrived on the record store shelves the disco craze was mostly over. The tracks from the album, "Je N'ai Jamais Pense" and "Rock My Love", were released as singles and both were made into extended mixes for discos.
A final fifth album in 1981, titled Trois Dimensions, was a more ambitious effort to span both the disco sound the trio had become identified with and the emerging synthesizer sounds of 80's pop music. However, the three singles they released were all commercial failures. Toulouse continued to appear in concert on occasion and getting gigs to provide studio backup vocals on other recording artists albums. In 1985 Toulouse made one last appearance for an African relief effort named Foundation Quebec-Afrique. This was Quebec's own response to news of famine in Africa that was different from the English song "Tears Are Not Enough" by the pop ensemble, Northern Lights. The Quebecois song was titled "Les yeux de la faim" ("Eyes of the famine").
Toulouse split up in 1985.
March 19, 2018
Ray McGinnis
References:
Toulouse bio, Canadian Bands.com.
"Vancouver's Official Music Survey," CKLG 730 AM, Vancouver, BC, May 3, 1977.
For more song reviews visit the Countdown.