#801: American Dream by Crosby, Stills, Nash & Young
Peak Month: Febuary 1989
13 weeks on Vancouver's CKLG chart
Peak Position #14
Peak Position on Billboard Hot 100 ~ did not chart
YouTube.com link: "American Dream"
Lyrics: "American Dream"
In 1945 Neil Young was born in Toronto, Ontario, and then lived most of his years growing up in the town of Omemee in the Kawartha Lakes region near Peterborough. As boy Neil Young was diagnosed with epilepsy, Type 1 diabetes and polio. By the age of six he was not able to walk. Despite his health challenges, he developed an interest in music and was taught to play the banjo and ukulele. After playing clubs in Toronto in the early 60s Young moved to Los Angeles by the time he turned twenty and became a member of the Buffalo Springfield.
In 1941, David Van Cortlandt Crosby was born in Los Angeles. His parents were very creative. His father, Floyd Crosby, was an Academy Award-winning cinematographer. His mother, Aliph Crosby, was a poet and singer. At the age of sixteen his brother gave him a guitar. Crosby headed to Greenwich Village in New York City and got immersed in the folk music scene. In time he moved back to Los Angeles. In 1964, he became part of a folk-rock band called The Byrds. They had a number of #1 hit singles: "Turn, Turn, Turn" and "Mr. Tambourine Man." Crosby always marched to his own drummer. In 1967, when he didn't show up at a recording session, he was ejected from the band. Subsequently, he met Stephen Stills and Graham Nash at a party at Joni Mitchell's home. Stills had been part of the Buffalo Springfield, along with Neil Young. Graham Nash had been in the British band, The Hollies.
Stephen Arthur Stills was born in Dallas in 1945. He was raised in a military family and living in many bases across America. He learned to play guitar and traveled to Greenwich Village to explore folk music, as well as latin guitar. He met Neil Young when he was on a tour of Canada in 1965. He formed Buffalo Springfield, along with Neil Young, and they released the iconic protest song, "For What It's Worth," in 1966. Buffalo Springfield played at the Monterey Pop Festival in mid-June, 1967.
Graham Nash was born in Blackpool, UK, in 1942. He co-founded The Hollies in 1962. They went on to chart over Thirty Top Ten international singles into the mid-70's. Nash was increasingly dissatisfied with the direction of The Hollies. The band rejected the idea of recording his tune, "Marrakesh Express", and in December 1968, he left the band.
Together, they formed Crosby, Stills and Nash. In 1969 they released a single titled "Marrakesh Express". The song climbed to #10 in Vancouver and #28 on the Billboard Hot 100. Their next hit, "Suite: Judy Blue Eyes", climbed to #6 in Vancouver and #21 on the Billboard Hot 100. CSNY appeared at the Woodstock Music and Arts Fair at Max Yasgur's Farm, August 15-17, 1969. They recorded the song Joni Mitchell wrote about the music festival, "Woodstock". The song climbed to #4 in Vancouver and #11 on the Billboard Hot 100. Following a pattern of superior chart runs in Vancouver, "Teach Your Children" climbed to #4 on CKLG but stalled at #16 on the Billboard Hot 100. The same was true with the lament about the shooting in Kent State University titled "Ohio," which peaked at #4 in Vancouver and #14 on the US national charts. "Our House" peaked at #7 in Vancouver, but stalled at #30 on the Billboard Hot 100. In each case, while the chart runs for CSNY were much better here on the west coast compared to the Billboard charts, the differentiation wasn't quite enough for any of these six songs to earn a place on the Countdown here at vancouversignaturesounds.com. It would be left to a single release many years later, in 1988, that CSNY had a hit in Vancouver that charted far better than on the Billboard Hot 100. That song was called "American Dream".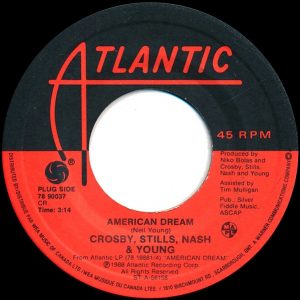 "American Dream" was the title song of the fifth studio album by Crosby, Stills, Nash and Young. The album was the first, since Deja Vu, that included Neil Young. It was recorded after David Crosby was released from prison after a drug, weapons and auto accident conviction. The album was intended to be a commentary on the iconic American Dream. However, the album was underwhelming. "American Dream" was the first of four singles released from the album. Only one, "Got It Made", entered the Billboard Hot 100. Nonetheless, this single charted for 13 weeks on the pop charts in Vancouver, stalling for two weeks at #14.
Without aid of the video made to accompany the lyrics, a listener would be left with vague references to sex scandals and better days when "you were young and strong." In the video there are glimpses of Jimmy Swaggert, Gary Hart and Oliver North. Each were involved in scandals in 1987-88, two involving sex and one involving political corruption. Neil Young's lyrics tell about reporters hounding these scandal-ridden household names who may wonder how things got so out of hand. The song is really about the distortion of the American Dream when people in places of power and influence use their own personal freedom to harm the institutions they profess to embrace. Perhaps Canadian listeners were more interested in observing these scandals showcased in the video. For Americans it may have just been depressing or an embarrassing reminder. Though the album peaked in the USA at #16 and eventually sold one million copies in the USA, it was panned by the critics as fluff.
"American Dream" had its best chart runs at in North American at #7 in Hamilton (ON), #8 in Calgary and #14 in Vancouver. Crosby, Stills and Nash have released two more albums, Live It Up and After The Storm, and Neil Young joined them in 1999 on Looking Forward. However, no other singles have made the pop chart, though some have made the Mainstream Rock charts.
The song by CSNY is a commentary on the American Dream. The phrase originates in a 1931 by James Truslow Adams book, The American Epic. In his book he spoke of the American Dream as "that dream of a land in which life should be better and richer and fuller for everyone, with opportunity for each according to ability or achievement." However, by 1988 the fulfillment of the American Dream was seen as fleeting for many Americans. Writing in The Atlantic, Thomas Byrne Edsall lamented that the American Dream was being eroded. "Its manifestations are subtle: marginally frustrated hopes, a mocking disparity between the good life available to the few and the life that many settle for—resignation, guilt, social helplessness." In 1961, former First Lady, Eleanor Roosevelt wrote out of concern of the creeping influence of the Soviet Union. In her article, Whatever Happened to the American Dream, she stated ""The future will be determined by the young, and there is no more essential task today, it seems to me, than to bring before them once more, in all its brightness, in all its splendor and beauty, the American Dream. No single individual … and no single group has an exclusive claim to the American dream. But we have all, I think, a single vision of what it is, not merely as a hope and an aspiration, but as a way of life, which we can come ever closer to attaining it its ideal form if we keep shining and unsullied our purpose and our belief in its essential value."
In his book, The Age of Gold, published in 2003, H.W. Brands cites the California Gold Rush as a catalyst for a new way of dreaming about prospering in America. He writes, "The old American Dream … was the dream of the Puritans, of Benjamin Franklin's "Poor Richard"… of men and women content to accumulate their modest fortunes a little at a time, year by year by year. The new dream was the dream of instant wealth, won in a twinkling by audacity and good luck. [This] golden dream … became a prominent part of the American psyche only after Sutter's Mill."
Over the years Crosby, Stills, Nash and Young have had open feuds leading to periods of estrangement. In 2017, Neil Young said in an interview with MOJO, "I think CSNY has every chance of getting together again. I'm not against it. There's been a lot of bad things happen among us, and a lot of things have to be settled. But that's what brothers and families are all about. We'll see what happens. I'm open. I don't think I'm a major obstacle."
In 2018, David Crosby currently is touring with ten concert dates across Texas, Louisiana, Florida, Pennsylvania, South Carolina, Colorado, Virginia and Belgium. Stephen Stills is on a tour with Judy Collins between May 16 and October 25, appearing in twenty-three venues. Between June 20 and September 28, 2018, Graham Nash is on tour with 27 concert dates across the USA, Italy, the UK, Ireland, Germany, Luxembourg, Switzerland, Sweden, Belgium and The Netherlands.
May 25, 2018
Ray McGinnis
References:
Stephen Stills bio, Biography.com
David Crosby bio, Biography.com
Neil Young bio, Rolling Stone.com
Graham Nash bio, Graham Nash.com
Chris DeVille, Neil Young: "CSNY Has Every Chance of Getting Together Again," Sterogum.com, January 30, 2017.
Jonas Clark, "In Search of the American Dream," The Atlantic, June 2007.
Eleanor Roosevelt, "What Has Happened to the American Dream?," The Atlantic, April 1961.
H.W. Brands, The Age of Gold: The California Gold Rush and the New American Dream, (Anchor Books, 2003).
"Vancouver's Top 40 Hot Hits," CKLG 730 AM, Vancouver, BC, February 15, 1989.
For more song reviews visit the Countdown.