#808: And Suddenly by the Cherry People
Peak Month: September 1968
8 weeks on Vancouver's CKLG chart
Peak Position #7
1 week Hitbound
Peak Position on Billboard Hot 100 ~ #45
YouTube.com link: "And Suddenly"
Lyrics: "And Suddenly"
Harry Lookofsky was a trained violinist who ran a small recording studio in New York City. His son, Michael, had an aptitude for music and became his production assistant at the studio. Michael Lookofsky changed his name to Michael Brown. He gathered together some other musicians, including Bert Sommer and Estaban "Steve" Martin Caro. They created a Baroque Pop band featuring the harpsichord, and called themselves The Left Banke. Caro became the lead vocalist. The Left Banke's first single was a Top Ten hit titled "Walk Away Renee". Their follow up single, "Pretty Ballerina", climbed to #15 on the Billboard Hot 100 and #4 in Vancouver. Michael Brown wanted to stay at home and write songs, like Brian Wilson of the Beach Boys. But the other members headed out on tours of college campuses and Brown released "Ivy Ivy". The B-side was titled "And Suddenly." Bert Sommer sang lead on both sides. Sommer went on to perform in the Broadway musical Hair. He was one of the performers on the opening night of the Woodstock Music and Art Fair at Max Yasgur's dairy farm in the Catskill Mountains. Bert Sommers wrote "We're All Playing in the Same Band" while at Woodstock and later it was a minor hit single for him. Michael Brown left the band in 1967 and formed The Stories in 1970, but left just before their million seller, "Brother Louie", was released in 1973.
Bert Sommers co-wrote "And Suddenly", along with Michael Brown. Their recording of this b-side to "Ivy Ivy" got little notice since the A-side only charted at #115 below the Billboard Hot 100. However, "And Suddenly" got another life when The Cherry People recorded the song.
The Cherry People were a band formed in Washington D.C. in 1967. They consisted of three former bandmates in from the 1966 D.C. group, the English Setters, brothers Doug and Chris Grimes and Punky Meadows. Chris Grimes and Meadows were guitarists, while Doug Grimes played harmonica and percussion. Both Grimes brothers were lead vocalists for the group. Other members of the Cherry People were bass player Jan Zukowski and drummer Rocky Issac.
By 1968 they had a contract with Heritage Records. Their producers wanted them to make an album with a bubblegum and psychedelic pop sound. In the mid to late '60's bubblegum pop was an emerging style. The prototypes of the sound were the "Hanky Panky" by Tommy James & The Shondells, "Little Bit 'O Soul" by the Music Explosion, "Snoopy Vs. the Red Baron" by the Royal Guardsmen, "Ding Dong the Witch is Dead" by the Fifth Estate, most of the hits by The Monkees and Green Tambourine by The Lemon Pipers.
The Cherry People had a much more hard rock sound live in concert. Yet, their first album and single, "And Suddenly", offered up a sample of flowery sunshine pop. Coinciding with the release of the song, Hullaballoo Record store chain in the USA announced a Cherry People Dance Competition. The winners of the competition won a cherry tree. Another competition emerged for record buyers to write in the best psychedelic "interpretation" of a cherry tree branch.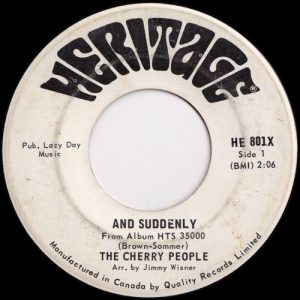 "And Suddenly" is a song that paints a before and after picture of one guys life. Before he meets the "girl I'm after," he is lonely and spends his time crying. But, now that his search is over, his life is filled with sunshine, laughter and sweet love. Everything is fine. And there are no relationship issues.
"And Suddenly" peaked at #45 on August 31, 1968, on the Billboard Hot 100. "And Suddenly" advanced to #2 in Tucson (AZ), #3 in Billings (MT), #6 in San Bernardino (CA), #7 in Dallas and Vancouver (BC), and #9 in Seattle. The album also included a cover of the ? and the Mysterians tune, "Do Something To Me", later a Top 40 hit for Tommy James And The Shondells in November 1968.
From their debut album, The Cherry People released three more singles in 1969. However, none made a dent in the national pop charts in either America or Canada. Meanwhile, it was clear the band and their record company had different visions. The band were performing mostly progressive to hard rock in concert, with "And Suddenly" and a few other bubblegum tunes from their debut album. But Heritage Records wanted them to sound like and resemble The Monkees.
In April 1969, in search of a new record contract and permission to record the type of music they preferred to perform live, The Cherry People headed to New York City. On April 22 four of the Cherry People's band members, Jan Zukowski, Rocky Issac, Al Marks and Chris Grimes went to Steve Paul's nightclub in West 46thStreet in New York City called The Scene. It was there that they met Jimi Hendrix. Al Marks had previously met Hendrix at the Monterey Pop Festival in June 1967. Hendrix, needing a drummer to help record some new tracks for an upcoming album, invited them back to the Record Plant. The time to meet Hendrix for the studio recording was at 4 a.m. Rocky Issac was a drummer. They all ended up recording "Room Full of Mirrors", "Crash Landing" and "Stone Free" that night with Hendrix.
A couple of nights later they would record with Hendrix on "Drone Blues" and "Bleeding Heart". "Drone Blues" appears on the posthumous compilation, Hear My Music, released in 2004. "Room Full of Mirrors" found its way onto First Rays of the New Rising Sun. This was Hendrixs' twelfth posthumous album, released in 1997. "Crash Landing" and "Stone Free" both appeared on Hendrix's 1975 album, Crash Landing. "Bleeding Heart", is a song Hendrix recorded multiple times. It appeared with credits for members of The Cherry People from an April 24, 1969, recording session. It was released as one of the tracks on the 2010 album Valleys of Neptune. Alan Di Perna, in Guitar World, writes that these sessions included getting high on a number of drugs.
The Cherry People continued to perform live concerts sounding much more like Grand Funk Railroad then the 1910 Fruitgum Company. They offered live concerts at clubs mostly on the Eastern Seaboard. The band broke up in 1975. Doug and Chris Grimes reformed the band in 2005, adding some new musicians. They recorded a new album called Nobody's Perfect, releasee in 2010. The album featured the progressive rock sound the band was famous for in concert back in the late 60's and early 70's.
May 15, 2018
Ray McGinnis
References:
Bob Stanley, "Michael Brown: A Fragile Talent, But One of the Highest Order," Guardian, March 20, 2015.
"Music Archive: The Cherry people (1968)," Music of the Sixties.blogspot.ca, May 21, 2012.
Rob Fitzpatrick, "The 101 Strangest Records on Spotify: Cherry People – And Suddenly," Guardian, January 15, 2014.
Alan Di Perna, "Was Jimi Hendrix Out of Control During His Final Days in the Studio? Evidence Emerges on 'People, Hell and Angels'," Guitar World, September 13, 2013.
"Boss 30," CKLG 730 AM, Vancouver, BC, September 20, 1968.
For more song reviews visit the Countdown.