#646: And The Grass Won't Pay No Mind by Mark Lindsay
Peak Month: November 1970
7 weeks on CKLG's Vancouver Charts
Peak Position ~ #6
Peak Position on Billboard Hot 100 ~ #44
YouTube.com: "And The Grass Won't Pay No Mind"
Lyrics: "And The Grass Won't Pay No Mind"
A band called The Downbeats formed in Boise, Idaho, in 1958. Paul Revere Dick started the band originally as an instrumental group. They had their first chart single in Vancouver in 1960. It was an instrumental riff on the piano tune, Chopsticks, which they titled "Beatnik Sticks". They changed their name to Paul Revere And The Raiders in 1960. Between 1960 and 1976 they released 41 singles. They charted five songs into the Top Ten on the Billboard Hot 100 in the USA beginning in 1966 with songs like "Kicks", and "Hungry" (1966), "Him Or Me – What's It Gonna Be?" (1967) and their cover of Don Fardon's 1968 single "Indian Reservation," which peaked at #1 for the band in 1971. They were even more popular in Vancouver where they charted over fifteen songs into the Top Ten on the local charts here on the West Coast. The lead singer of the band was Mark Lindsay who was born in Eugene, Oregon, in 1942.

Paul Revere Dick was born in Harvard, Nebraska, in 1938. He first met singer Mark Lindsay in 1958 while picking up hamburger buns at the bakery where Lindsay worked. At the time Revere owned several restaurants in Caldwell, Idaho. In the group's song, "The Legend of Paul Revere," they sang about how they got their start.
In a little town in Idaho way back in sixty one,
a man was frying burgers, gee – it seemed like lots of fun.
But to his friend the bun boy, he confessed it's misery,
I think I'd like to start a group, so come along with me.
The song was using poetic license as they group started in '58 not '61. But "fun" rhyming with "one" had more appeal then writing "way back in fifty-eight, a man was frying burgers, gee, it seemed to be real great."
Just as they were starting to get a name Paul Revere Dick was drafted into the United States Army. He became a conscientious objector and worked as a cook in a facility for patients with mental health issues. While Revere was in the U.S. Army, Mark Lindsay toured with the Raiders in 1961, after they had a Top 40 hit instrumental in the USA called "Long Long Hair" early that year. It climbed to #3 in Cleveland, Ohio, and #29 in Vancouver. That summer a piano player named Leon Russell filled in for Paul Revere. When Revere returned to civilian life in 1962 the band moved to Portland, Oregon. In April 1963 both Paul Revere And The Raiders and The Kingsmen recorded a tune called "Louie Louie". Both versions were spirited, but it was The Kingsmen's version that would go to #2 on the pop charts in the USA, while Paul Revere & The Raiders version missed the Billboard Hot 100.
By 1965 the band had released fourteen singles, but didn't have any sizable hit. Then they released "Just Like Me" and everything changed. The infectious pop rock tune climbed to #11 on the Billboard Hot 100 and #3 in Vancouver in January 1966. The pattern of the band typically outperforming on the charts in Vancouver would continue over seven years. In 1966 "Hungry", "Kicks" and "The Great Airplane Strike" kept the band in the Top Ten in Vancouver. November, 1966, Paul Revere & The Raiders appeared on the Batman TV show, in an episode called "Hizzoner The Penguin." They were also regular guests on Dick Clark's Where The Action Is.
With the success of their singles and albums the band was Columbia Records top selling recording act in 1967, a year that five of their singles made the Top Ten in Vancouver, including "I Had A Dream." Paul Revere and Mark Lindsay would co-host a show that ran after American Bandstand in 1968 called Happening '68. Revere and Lindsay added new musicians to their lineup. In 1969 the band had their first gold record with "Let Me," a song that peaked at #20 on the Billboard Hot 100, but climbed to #2 in Vancouver.
In 1967 the producer for the band, Terry Melcher, and Mark Lindsay leased a home together in Beverly Crest, just north of Beverly Hills. The address was 10050 Cielo Drive. Lindsay recalls "We lived there about two years. About two or three months before the lease was up, Terry and Candy Bergen started having this big, torrid affair. I'd come home off tour and they would be on the couch or wherever doing what lovers do. I told Terry I felt like a third wheel and wanted to move out. So I did." A few weeks after that, Lindsay said Melcher and Bergen had a falling out. Melcher didn't need that much space to himself so he sub-let the house to filmmaker Roman Polanski in early 1969. On August 8-9, 1969, while Polanski was away working on a film, his pregnant wife, Sharon Tate and four others were murdered by members of the Charles Manson "family".
In the summer of 1969 Mark Lindsay released a solo single titled "First Hymn From Grand Terrace". The song charted in Victoria, British Columbia, climbing into the Top 20. In the fall of 1969 Paul Revere And The Raiders had another Top Ten hit in Vancouver titled "We Gotta All Get Together". Overlapping the songs chart run Mark Lindsay went into the recording studio and in November 1969 released "Arizona". The song climbed to #10 on the Billboard Hot 100 in February 1970 and #2 in Vancouver, BC, selling over a million copies. His followup, "Silver Bird" made the Top 20 in Vancouver in the summer of 1970. Later that fall Lindsay released "And The Grass Won't Pay No Mind".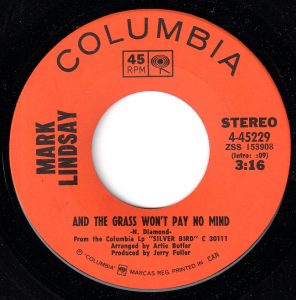 "And The Grass Won't Pay No Mind" climbed to #2 in Sioux Falls (SD), #4 in St. Louis, #5 in Houston and Seattle, #6 in Vancouver (BC) and Providence (RI), and #7 in Louisville (KY) and Hamilton (ON). However, in about twenty states in the USA the tune received little or no airplay.
The song begins with an image of God calling and walking barefoot by a stream. With this image the song paints a picture of a couple sighing and kissing each other under the sun beating down on them as they lay on the grass. After awhile they lie sleeping in each others arms. The lyrics proclaim "the moment we're living is now." The song implies that of all the things we can do with our lives, it is good to make time for holding hands, soft kisses and napping in the sunshine on the grass.
Lindsay continued to perform with Paul Revere And The Raiders who had their biggest success in 1971 with their #1 hit "Indian Reservation". However, both Lindsay as a solo artist and Paul Revere And The Raiders failed to release any substantial hits after that year. Lindsay made a number of appearances on The Carpenters variety show Make Your Own Kind of Music. He also sang the theme for the 1971 film Something Big and the theme song for the 1973 film Santee. He also wrote songs for the films The Love Machine (1971) and For Pete's Sake (1974). Lindsay was a session musician for the 1973 Jerry Lee Lewis album Southern Roots. He released eight more singles with Columbia Records. None were commercially successful. In 1975 Mark Lindsay left the band. Between 1974 and 1981 Lindsay released another seven singles variously with CBS Records, Capitol Records, Warner Brothers, United Artists and Ariola. His final single release was a song titled "Disco Kicks" in 1981, just as the disco fad was on the wane. In 1980 and 1982 Lindsay wrote songs for the soundtracks of two Japanese films: Shogun Assassin (1980) and The Killing Of America (1982). In 1984 he released a Best Of Mark Lindsay album. Meanwhile, Mark Lindsay also wrote TV jingles for Baskin-Robbins, Datsun, Kodak, Levi's, Pontiac, Yamaha and others.
For a number of years Lindsay was a DJ on his oldies program Mark After Dark. He opened the Mark Lindsay's Rock & Roll Cafe in Portland, Oregon, in 2006. The restaurant got into a legal dispute and closed after eleven months. Between 1969 and 2013 Mark Lindsay has recorded fourteen albums.
During of summers of 2010-2013, Lindsay had a heavy touring schedule throughout the U.S. as part of the Happy Together: 25th Anniversary Tour, along with Flo & Eddie of The Turtles, The Grass Roots, The Buckinghams, and 'Monkees' singer Micky Dolenz. And in 2015, 2016 and 2018 Lindsay returned to perform with the the "Happy Together" tours. In 2018 his setlist included "Where The Action Is", "Hungry", "Arizona", "Good Thing", "Indian Reservation" and "Kicks". In 2019 Mark Lindsay will appear with The Cowsills, The Buckinghams, Gary Puckett, Three Dog Night and The Association for a concert in Hampton Beach, New Hampshire on June 23, 2019.
January 12, 2019
Ray McGinnis
References:
Peter Blecha, Music in Washington, Seattle and Beyond (Images of America) (1st ed.), (Arcadia Publishing, Charleston, SC, 2007).
Daniel Kreps, "Raiders Leader Paul Revere Dead at 76," Rolling Stone, October 5, 2014.
"Hizzoner the Penguin," Batman, ABC, 1966.
Paul Revere's Raiders.com
Gordon Oliver, Rock & Roll Cafe Dies Before it Gets Old, Oregonian, May 12, 2007.
Nancy Adamson, "Mark Lindsay Talks About New Music, Cats and Charlie Manson," Midland Reporter-Telegram, Midland, Texas, June 8, 2013.
10050 Cielo Drive, Wikipedia.org.
"Boss 30," CKLG 730 AM, Vancouver, BC, November 20, 1970.
For more song reviews visit the Countdown.