#675: Anna Marie by Susan Jacks
Peak Month: November 1975
9 weeks on CKLG's Vancouver Charts
Peak Position ~ #8
Peak Position on Billboard Hot 100 ~ did not chart
YouTube.com: "Anna Marie"
Lyrics: "Anna Marie"
Susan Pesklevits was born in 1948 in Saskatoon, Saskatchewan. When she was seven years old she was a featured singer on a local radio station. At the age of eight her family moved to the Fraser Valley town of Haney, British Columbia. When she was 13 years old she had her own radio show. In a December 1966 issue of the Caribou newspaper, the Quesnel Observer noted that Susan Pesklevits had auditioned for Music Hop in the summer of 1963 when she was only 15 years old. She had her first public performance at the Fall Fair in Haney when she was just 14 years old. It was noted she liked to ride horseback, ride motorcycles and attend the dramatic shows. Asked about what she could tell the folks in Quesnel about trends in Vancouver, Pesklevits had this to report, "the latest things in Vancouver are the hipster mini-skirts, bright colored suit slacks, and the tailored look. The newest sound is the "Acid Sound," derived from L.S.D…. it is "pshodelic" which means it has a lot of fuzz tones and feed back. As an example, she gave "Frustration" recorded by the Painted Ship" a local band from Vancouver. Pesklevits added that on the West Coast "the latest dance is the Philly Dog. It mainly consists of two rows, one of girls and one of boys. The idea is to take steps, move in unison, while doing jerking motions and using a lot of hand movement." In the summer of 1966 Pesklevits formed a trio with Tom Northcott and Howie Vickers called The Eternal Triangle who released one single titled "It's True". Vickers went on to form The Collectors which later morphed into Chilliwack.
Terrence Ross Jacks was born in Winnipeg, Manitoba, in 1944. March 29, 1944, Winnipeg, Manitoba. During his career as a recording artist he became a household name and recognized as a singer, songwriter, record producer and environmentalist. His family moved to Vancouver in 1961 and he formed a band named The Chessmen along with local guitarist, Guy Sobell. The Chessmen had four singles that made the Top 20 in Vancouver, two which were double-sided hits. These included "Love Didn't Die", "The Way You Fell" and "What's Causing This Sensation", and Top Ten hits. Jacks met Susan Pesklevits who had him recommended to her by a friend who knew she was looking for a rhythm guitarist. Pesklevits needed a rhythm guitarist to help with her upcoming gig at the Elks Club in Hope, British Columbia, in early September 1966. They were married in 1967 and she became Susan Jacks. In 1967, along with Craig McCaw who had been a member of the Kelowna band The Shadracks, they formed a trio called Powerline. They changed their name to The Poppy Family and Craig subsequently sought out a young tabla player in Vancouver named Sawant Singh. Terry and Susan Jacks agreed to have Singh join The Poppy Family.
By 1968 The Poppy Family had a regional #2 hit in Vancouver with "Beyond The Clouds." Their follow up in 1969 was a gentle anti-racist, pro-environmental, pro-marijuana legalization tune titled "What Can The Matter Be". Their next single, "Which Way Is Going Billy?" became an international hit. Terry Jacks won a Juno Award for this recording. The Poppy Family racked up numbers of Top 30 singles in Vancouver through to 1973 including local #1 hits "I Was Wondering" and "That's Where I Went Wrong". Concurrently, Terry Jacks released several solo records. The first was "I'm Gonna Capture You" followed in 1972 with the pro-environtalmentalist tune "Concrete Sea". While her husband was making solo records Susan Jacks made her first solo single in 1973 titled "You Don't Know What Love Is". This was after eight songs as lead singer with hit singles for The Poppy Family.
In 1975, Susan Jacks released "Anna Marie".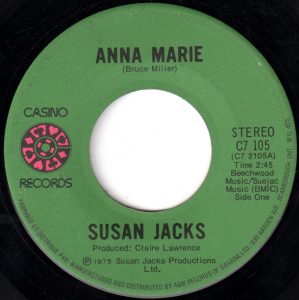 "Anna Marie" was a song penned by Canadian singer-songwriter Bruce Miller. He began his music career in the 70's, a well known figure on the Toronto folk club scene. He often played the fiddle to accompany Ronnie Hawkins. In 1975, he wrote "Anna Marie" and Susan Jacks recording gave Miller new exposure. Miller went on to work in Los Angeles and Nashville. The Dixie Chicks, John Travolta, Reba McEntire, Shari Ulrich, Prism and Pure Prairie League are among the recording acts that have covered his songs. Over 40 years of songwriting, his songs have exceeded a total of 20 million in sales.
"Anna Marie" is a song about someone who has placed themselves in a relationship that's gone out of control. She feels "so lost inside your love," and that her "whole life is gonna roll away." She heads down highways with no sense of direction. One factor may be that she is hoping she can at least be a "token" on some guys "chain." She's willing to settle for being just one more conquest in her man's chain of lovers. While she's tried to open the door and build intimacy, the person she's dating seems to not recognize her. Consequently, she says, "I'm Anna Marie, don't you know me anymore?" She has tried and failed to open the door, to move the relationship to a mutuality. Anna Marie has been putting up with her lovers resistance to more intimacy. She has nightly recurring dreams of being on the road and the dream reminds her that her love is out of control. And, in this case, being out of control is not a good thing.
In any lasting relationship most people do things to accommodate their partner. Yet, there is a fine balance. The choice to accommodation regarding one situation can lead to passive behavior and over-accommodating. The danger is when you start to deny, repress or suppress important parts of your own essential self. When this starts to occur, you can get wrapped up in a see-saw battle. On the one hand, you want to be understood and met by your partner. On the other hand, you succumb to more accommodation. A pattern of giving in, of compromise, can leave you in a stressed out and unharmonious state. Your own inner turmoil eventually becomes visible in some way and has a draining effect on your relationship.
The reasons people choose to give in, compromise or accommodate in a relationship include wanting to keep the peace, maintain the relationship, not believing you have earned the right to follow your own inner guidance and dreams for your best future, past experience of conflict and other reasons. Making a conscious or unconscious choice to cave in at the first indication that your partner doesn't want a door to open only compounds the problem. Ellyn Bader and Peter Pearson argue in their article "The Hidden Cost of Too Much Compromise in Your Relationship," that disagreement is a catalyst for growth in a relationship. Without disagreement, the relationship sets aside renewal and the possibility of seeding a new vision for how to move the relationship forward.
"Anna Marie" climbed to #8 in both Hamilton and Vancouver.
Susan Jacks went on to record over a dozen singles that charted on either the Canadian pop charts, the country or the Adult Contemporary charts in the nation. In the midst of her string of hit singles she had a son and took a few years out of the music scene as a young mother. She married Canadian Football player Ted Dushinski in 1980. She won a Juno nomination for her single, "All The Tea in China", in 1982, which charted best in Ottawa.
In 1983 Jacks moved with her family to Nashville, Tennessee, and had a award winning country hit titled "Another Woman's Man" in 1984. She became a staff songwriter in Nashville. After her husband died in 2004 after a cancer diagnosis, Jacks moved back to Canada only to suffer kidney failure. Some years later her brother, Billy, donated a kidney for a successful transplant operation.
December 4, 2018
Ray McGinnis
References:
Professional Talent Highlights Knot Hole, Quesnel Observer, December 1966
Susan Jacks bio, susanjacks.com
John Mackie, Poppy Family Blooms Again as 'Experience', Vancouver Sun, Vancouver, BC, July 9, 2014
Bruce D. Miller bio, Bruce D. Miller.ca
Ellyn Bader and Peter Pearson, "The Hidden Cost of Too Much Compromise in Your Relationship," Couples Institute.com.
"CKLG Thirty," CKLG 730 AM, Vancouver, BC, November 25, 1975.
For more song reviews visit the Countdown.