#851: Another One Rides The Bus by Weird Al Yankovic
Peak Month: June 1981
7 weeks on Vancouver's CKLG's chart
Peak Position: #9
1 Play List
Peak Position on Billboard Hot 100 ~ #104
YouTube.com link: "Another One Rides The Bus"
Lyrics: "Another One Rides The Bus"
Alfred Matthew Yankovic was born in 1959 in suburban Los Angeles. His paternal grandparents were Yugoslavian. At the age of five, a door-to-door salesman came to the Yankovic home and offered to teach either guitar or accordion lessons to young Alfred. His parents chose the accordion. Growing up, Alfred was influenced by comedians Stan Freberg, Allan Sherman, Shel Silverstein and Frank Zappa. He was also a fan of Monty Python, Mad magazine and the Dr. Dimento radio show. During high school Al was a part-time accordion teacher. In 1975, he graduated at the age of 16 and gave the class valedictorian.
Yankovic got his first exposure on Dr. Demento's radio show. "Weird Al" later stated "If there hadn't been a Dr. Demento, I'd probably have a real job now." In 1976, Dr. Demento came to Yankovic's high school. And Yankovic gave the radio host a homemade cassette tape of original and parody songs that he performed on the accordion. Yankovic made the tapes in his bedroom into a "cheesy little tape recorder". The tape's first song, "Belvedere Cruisin'", was about the Yankovic family car, a Plymouth Belvedere. Dr. Demento played the tune on his comedy radio show on March 14, 1976. "Weird Al" Yankovic became an instant hit. He was so off-beat playing the accordion, in marked contrast to his guitar playing peers.
According to his website, out of high school, "Weird Al" worked "for a few years in the mailroom and later at a desk job for a large radio syndication company in Culver City, California." Of his nickname, Al Yankovic's FAQ on his website states, "Although he seems to remember people calling him "Weird Al" during his freshman year in the Cal Poly dorms, it didn't become official until Al started doing shifts as a DJ at his campus radio station, KCPR. He gave himself the air-name of "Weird Al" because of his penchant for playing music that was, well, kind of weird… and the nickname just kind of stuck."
In 1979 Yankovic released a single titled "My Bologna", a parody of the number one hit by The Knack titled "My Sharona". The parody involved lyrics portraying a character with bulimia nervosa who chooses to binge eat bologna, bragging "I'm the city's biggest bologna buyer." While the song was not promoted by Capitol Records, it sold over 10,000 copies.
His next single release was in 1981. It was a parody of Queen's "Another One Bites The Dust". Yankovic's comedic song title was "Another One Rides The Bus".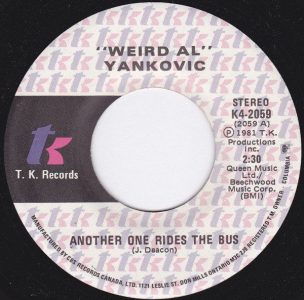 "Another One Rides The Bus" climbed to #104, just under the Billboard Hot 100. But in Vancouver the song made it to #9 on CKLG. This seems to be the only radio market where the song made the Top 30 in North America. It peaked at #19 on the Australian national singles chart.
"Another One Rides The Bus" is a parody of a song by Queen titled "Another One Bites The Dust". In the song by Queen the lyrics were written by John Deacon. He is said to have got the inspiration for the song from the St. Valentine's Day Massacre of 1929. The story winds around two rival gangs-George 'Bugs' Moran and Al Capone. The latter orders the hit on Moran's booze business targetting Moran but the contract killers miss Moran as he was late to work. Moran's henchmen, a total of 6, were caught by Capone's killers and shot dead inside the shop and flees away.
"Weird Al" shifted the setting of the song from men dying from bullets flying to the randomness of unappealing strangers getting on a transit bus and sitting next to the narrator. On the bus the narrator is riding there are "perverts in the back," "locker room" stench, overcrowding, suitcases poking passengers' ribs, thieves stealing wallets, windows that won't open and a fan that's broke. Basically, it's a transit ride from hell.
Next up, "Weird Al" did a parody of Tony Basil's "Mickey". Yankovic's parody titled "Ricky" was about Ricky Ricardo keeping Little Ricky up in the middle of the night from playing the bongo drums. The song climbed to #63 on the Billboard Hot 100. But his biggest seller was a parody of Michael Jackson's "Beat It", titled "Eat It". The song climbed to #12 on the Billboard Hot 100, #1 on the Australian singles chart #5 on the Canadian RPM chart, and #6 on the New Zealand pop chart. "Eat It" also earned "Weird Al" Yankovic a Grammy Award for Best Comedy Recording. He kept on releasing parodies in the '80's, including "Like A Surgeon" from Madonna's "Like A Virgin"; And "King Of Suede" from the Police hit "King Of Pain". In 1989 Yankovic won his second Grammy Award for Best Concept Music Video for his single "Fat", a parody of Michael Jackson's "Bad".
In 1996 "Weird Al" recorded a parody of Coolio's "Gangsta's Paradise" called "Amish Paradise". The tune made the Top 50 on Cashbox. In 2004 Yankovic won a third Grammy Award in the Best Comedy Album category for Poodle Hat. In 2006 he wrote a parody of Green Day's "American Idiot" titled "Canadian Idiot". The song mentions, among other things about Canadians, "Break their nose and they'll just say sorry." That year he had his only Top Ten his on the Billboard Hot 100 titled "White And Nerdy". The song was a parody of "Ridin'" by Chamillionaire and Krayzie Bone. Yankovic's parody peaked at #9.
In 2011 Yankovic published a children's book titled When I Grow Up.
As of 2014 "Weird Al" Yankovic has released 15 studio albums. "Weird Al" Yankovic's last appearance on the Billboard Hot 100 was in 2014 with "Word Crimes". This was a parody of "Blurred Lines" by Robin Thicke featuring Pharrell Williams. The parody climbed to #39 on the Hot 100. His achievement made him only the third recording artist to have a Top 40 hit for four decades in a row since 1980. The other two recording artists to achieve this feat are Michael Jackson and Madonna.
In 2015 "Weird Al" won his fourth Grammy Award for his album Mandatory Fun in the Best Comedy Album category. His fifth Grammy Award came in 2019 for Squeeze Box in the Best Boxed of Special Limited Edition Package.
Since 1984 "Weird Al" Yankovic has gone on tour 14 times. His current 2019 64-city tour is billed as the Strings Attached Tour. He will travel to 32 states in the USA. His only Canadian concert dates are scheduled in Vancouver (Aug 19) and Victoria (Aug 21), British Columbia.
May 29, 2019
Ray McGinnis
References:
"Unlabelled Tape," Webcitation.org.
"Frequently Asked Questions," Weirdal.com.
"CKLG Top 20," CKLG 730 AM, Vancouver, BC, June 16, 1981.
For more song reviews visit the Countdown.