#998: Apple Green by June Valli
Peak Month: May 1960
9 weeks on Vancouver's CFUN chart
Peak Position #5
Peak Position on Billboard Hot 100 ~ #29
YouTube.com: "Apple Green"
Lyrics: "Apple Green"
In 1928 June Foglia was born in the Bronx, New York. Both her parents spoke Italian. Her dad, from Naples, Italy, worked as a plasterer during the day and was a part-time street singer. He taught her to sing and they listened to opera together all the time. June could hit double high Cs and go way down below an F and still be clear. She worked as a bookkeeper after her high school graduation. June was very shy and "discovered" quite by accident. In late 1950, June's mother couldn't attend a friend's wedding, so June went to represent the family. The big Italian wedding was held on the second floor of a rented hall on Fordham Road, just off Arthur Avenue. After the ceremony, someone invited June up to the microphone. Although she was terrified, never having sung in public before, June managed to get through a couple choruses of the one song she knew well enough, "Stormy Weather". Well, that "Stormy Weather" brought a lightning strike. Sid Gilbert, uncle of comedian Abe Burrows, was at the same wedding and was so impressed with June's singing he arranged an audition for Arthur Godfrey's Talent Scouts T.V. show where she won. She subsequently appeared on Perry Como's and Ed Sullivan's TV shows.

Harry Salter, one of radio and television's important musical directors, tuned in to the Arthur Godfrey's Talent Scouts show that night in time to hear June. When the program ended, Salter and his wife drove into Brooklyn and met with June and her parents. They invited her to audition as a possible replacement for Kay Armen, who was leaving Stop the Music, a show for which Salter was musical director. June arrived for her Stop the Music audition looking as frightened as a little bird. However, she sang with such a haunting quality that Salter gave her the job, even though her repertoire consisted of about four choruses of some standard tunes.
Salter also took June under his wing and began guiding her career. Her professional debut on Stop the Music was greeted with dozens of phone calls backstage calling for her to perform on other TV shows and at nightclub dates. June went from being a $40-per-week bookkeeper to making $250 for a night's work. She was booked for three weeks at Monte Proser's La Vie En Rose nightclub and was a huge success. A month later, she was featured on the Broadway to Hollywood T.V. show. In November, she appeared on Tallulah Bankhead's The Big Show, alongside performers Sophie Tucker, Morton Downey and Ann Sheridan.
In July 1951, Salter made an audition record with June and his own orchestra and submitted it to two recording companies. Both offered her exclusive contracts; June signed with RCA Victor and immediately began recording as June Valli. Her husband from 1966 onward, James Merchant recalls, "In those days, you needed a name that sounded show business. So she couldn't be June Foglia. First she tried June Alice, but that was no good. She was told, you got to get a nice name that flows. Well, she always liked animals and the outdoors, so she suggested Valley. Like a valley, with greenery and animals. And they said to her, well, let's make it Italian – so they spelled it Valli."
In addition to recording, June continued making guest appearances on television shows like Cavalcade of Stars, The Arthur Murray Show, The Ezio Pinza Show, Songs for Sale and The Saturday Night Dance Party. Then came her biggest break, a position with the long-running Your Hit Parade, with its cast of Snooky Lanson, Russell Arms, Dorothy Collins and the orchestra of Raymond Scott.
June sang with the Lucky Strike-sponsored show from 1952 to 1953. But after a year she was replaced by Gisele MacKenzie. It is speculated that co-star Dorothy Collins, who had considerable clout on the show, being married to Your Hit Parade's orchestra leader and show co-producer, Raymond Scott, felt threatened by June's popularity. Consequently, June Valli was increasingly given poor sets and lighting, and had to sing all the novelty songs. Nonetheless, NBC continued to get more fan mail for her then all the other stars combined.
After she quit the Your Hit Parade, a few weeks later, "Crying In the Chapel," shot into the Top 10. In fall 1953, Valli began a four-month tour across the United States and Canada. Audiences in Chicago, Reno, Washington, Montreal and Toronto hailed the pretty entertainer's arrival. In September, June appeared with the Stan Kenton Orchestra on four National Guard radio shows from the NBC studios in New York City, filling in for June Christy. In 1954 her song, "I Understand", was in the Top Ten in the USA and on the Billboard charts for three months.
She also did a patriotic turn, appearing on Ed Sullivan's Toast of the Town T.V. show on May 22, 1955, which that day was broadcast from the deck of the USS Wisconsin. From late 1955 into 1959, she released sixteen singles in a row of which only one made the Billboard pop charts swamped by the rock 'n roll tide. That one exception was a Top 50 hit called "The Wedding." Lack of a manager was a problem for June's career. James Merchant was candid about this: June didn't get the best material because she never had a manager to fight for her and get her the good songs. And she didn't have a manager because nobody could convince her parents they weren't out to steal her money. Her folks just didn't speak English so good and didn't trust anyone who wasn't selling provolone up on Arthur Avenue. But you cannot be in this business without a manager.
In the summer of 1957, Ms. Valli began a long association with United Fruit Company as the singing voice for Chiquita Banana ads and she co-hosted the Andy Williams & June Valli Show, a television replacement show. In 1958 she switched from RCA to Mercury Records.
Her final appearance on the pop charts was in 1960 with a tune called "Apple Green". She appeared on American Bandstand, co-guesting with Dion & The Belmonts, to promote her release. The song peaked at #29 in the USA, but soared to #5 in Vancouver. Perhaps there were a lot of listeners in Vancouver who liked the sentiment of the song and it's euphoric ode to being seventeen and in love.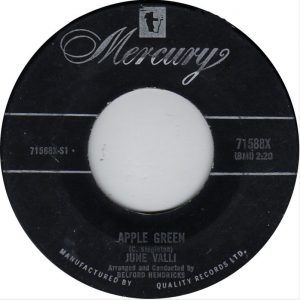 "Apple Green" is an exaltation of the promise of being young and in love. In 1960, chances were that at age seventeen a dating relationship could lead to engagement and then marriage just years out of high school. Unless you were a bad girl or a bad boy who ruined your reputation, you very likely were new to dating at seventeen. Love could come your way at seventeen. It was an age when you were soon to leave your parents home and start to make your way in the world as an adult. With the right person dating could offer a brand new experience, bursting your heart open.
The number, 17, was also referenced in several songs from the mid-50's into the mid-70's. "Seventeen" was a hit in 1955 by Boyd Bennett and His Rockets. The song's lyrics painted a picture of the transition point a girl was in at the age of 17.
Later, The Beatles would sing in "I Saw Her Standing There" she was just seventeen, if you know what I mean… At the end of formal schooling, a person in North America was at the cusp of adulthood and still brimming with youth. By 1975, in a post-Watergate, post Vietnam War America, Janis Ian would sing "At Seventeen," identifying the number no longer as a time in one's life full of the innocence of youth and endless possibility, but as an age when many lose their illusions about romance and fairness in matters of love.
Apples have found their way into numbers of song lyrics. In 1941 the Andrews Sisters revived a song from 1920 called "I'll Be With You In Apple Blossom Time". The song foretold how two young lovers end up with the same name, with church bells ringing. The Andrews Sisters also had a hit song in 1942 titled "Don't Sit Under The Apple Tree". In this case an apple tree is the location where a couple is meant to make out, and to be faithful to their sweetheart.
In 1955 an instrumental version of "Cherry Pink And Apple Blossom White", by Perez Prado, topped the Billboard charts for ten weeks. Other versions, such as Alan Dale's, sang the lyrics which told of how in the spring when cherry and apple blossoms are in bloom young people fall in love.
After "Apple Green" June Valli released thirteen more singles through to 1965. But none of these made the Billboard Hot 100. June Valli was too identified with the pre-rock 'n roll era. After marrying her second husband, Jimmy Merchant, in 1966, June and her new husband moved from New York City to Fort Lee, New Jersey in 1967 to escape the bustle of the city. The nostalgia boom in the 1980's kept June busy at big band concerts and company conventions for Ford and General Motors, where she was a popular draw. In 1988, June Valli appeared at a pre-Super Bowl party held by NFL Commissioner Pete Roselle. She also was hired numerous times by Royal Caribbean cruise lines. June Valli died at the age of 64 in 1993 after being ill a few years with cancer.
September 25, 2017
Ray McGinnis
References:
June Valli, Saxony Record Company.com.
20 Biggest Songs of the Summer: The 1950s, 9. Perez Prado & His Orchestra, "Cherry Pink and Apple Blossom White," Rolling Stone, June 24, 2014.
"(I'll Be With You Again) In Apple Blossom Time," Wikipedia.org.
Boyd Bennett and His Rockets, "Seventeen," King Records, 1955.
The Beatles, "I Saw Her Standing There," Capitol Records, 1964.
Janis Ian, "At Seventeen," Columbia Records, 1975.
"C-FUN-Tastic 50," CFUN 1410 AM, Vancouver, BC, May 14, 1960.
For more song reviews visit the Countdown.