#1419: Are You Lonely For Me by Freddie Scott
Peak Month: March 1967
Peak Position #10
19 weeks on Vancouver's CFUN Chart
Peak Position on Billboard Hot 100 ~ #39
YouTube.com: "Are You Lonely For Me"
Lyrics: "Are You Lonely For Me"
Freddie Scott was born in Providence, Rhode Island, in 1933. He sand in his grandmother's gospel group, Sally Jones & the Gospel Keyes. He toured with them across England at the age of 12. After high school, Scott studied medicine, but began singing again with the Swanee Quintet Juniors and gave up his medical career. In 1956, he recorded as a secular singer with the J&S label in New York City, releasing his first solo single "Running Home". Scott also wrote the top 10 R&B hit "I'll Be Spinning" for the label's duo Johnnie & Joe. As well, his song "Baby I'm Sorry" was recorded by Ricky Nelson for his 1957 debut album Ricky. Freddie Scott was conscripted for the U.S. Military. He continued to record for small labels with little success. After leaving the military, he turned to songwriting, joining the Aldon Music publishing company set up by Al Nevins and Don Kirshner in the Brill Building. It was there that Freddie Scott recorded many of his own demos and worked as a record producer with Erma Franklin, whose song "Piece Of My Heart" was later covered by Big Brother & the Holding Company. Scott also continued to release his own records, including "Baby, You're a Long Time Dead" for New York based Joy Records in 1961. The B-side "Lost The Right", charted in California, Texas, Pennsylvania and New Jersey.
A single on Joy titled "When The Wind Changes" was released in 1961 and re-issued in 1963, In 1962, Freddie Scott worked with fellow songwriters Gerry Goffin and Carole King on their song "Hey, Girl". He recorded a demo for singer Chuck Jackson. When Jackson failed to come to a recording session, Scott recorded the song. When Colpix Records released the single, it climbed to #10 on both the Billboard pop and Cashbox R&B charts. Scott's followup single was a slow version of Ray Charles' "I Got a Woman". The single was produced by Gerry Goffin. In the fall of 1963 it peaked at #23 on the Cashbox R&B Singles chart and #48 on the Billboard Hot 100. Another Colpix single, the Goffin-King composition "Where Does Love Go", was a #4 hit in Baltimore and a Top 30 hit in Windsor (ON) in 1964.
Colpix subsequently collapsed, and Scott moved to Columbia Records. They tried to market him, with little success. His commendable recordings of "Mr. Heartache", "Lonely Man", and "Don't Let It End" lost out to other singles pitched to Deejays across the USA. In 1965, Freddie Scott left Columbia Records, and moved to the Shout label. Freddie Scott recalls, "Bert Berns and I had known each other for a long, long time. I knew him as a guitarist and a writer for the Atlantic Records. After I left the Columbia situation, he said 'why don't you come over here' and I did. Bert was a very nice, quiet, easy-going guy."
In 1966, Scott recorded "Are You Lonely for Me".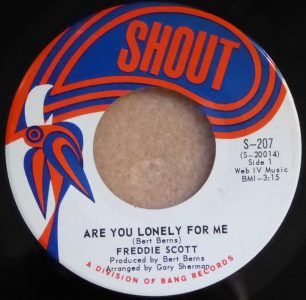 "Are You Lonely For Me" was written by Bert Berns. "Are You Lonely For Me" reputedly required over 100 takes before the song was finished. Bertrand "Bert" Russell Berns was born in the Bronx to Russian Jewish immigrants in 1929. When he was fourteen he contracted rheumatic fever which damaged his heart. After he recovered, he took piano and learned to read and write music. In 1949 he co-founded Magic Records and found a new talented female recently graduated from high school named Edith Gormezano who soon went by the pseudonym of Eydie Gormé. They got an office at 1650 Broadway and started publishing sheet music. But by the end of 1950 the little record company had folded, with none of the songs they wrote even being recorded. He visited Cuba in the winter of 1957, over a year before the Cuban Revolution. In 1958 he wrote "Way Down By the Cherry Tree" for Capitol Records vocalist Micki Marlo. In 1959 Berns began to work at 1650 Broadway and formed a group called the Beatniks who recorded an obscure tune titled "Beat Generation".
On February 12, 1960, Bert Berns got a job with Robert Mellin Music as a song plugger for fifty dollars a week. Meanwhile, he kept on writing. He penned "A Little Bit Of Soap" for the Jarmels in 1961, along with having "Twist And Shout" recorded originally by the Top Notes – and then the Isley Brothers. Other notable songs Berns penned were "Tell Him" by the Exciters (1962), "Cry Baby" by Garnet Mimms (1963) and later Janis Joplin (1971), "Here Comes The Night" by Them (1965), "I Want Candy" by the Strangeloves (1965) and later Bow Wow Wow (1982), "Are You Lonely For Me Baby" by Freddie Scott (1967), "Piece Of My Heart" by Big Brother and the Holding Company featuring Janis Joplin (1968) and "Twenty Five Miles" by Edwin Starr (1969). For Bert Berns, writing "take another little piece of my heart" had a double meaning, given his compromised heart from his bout of rheumatic fever in his youth.
Berns owned Bang Records as well as the Shout label. Bert Berns also was a producer of several notable hits including "Under The Boardwalk" by the Drifters (1964), "Baby I'm Yours" and "Make Me Your Baby" by Barbara Lewis (both 1965) and "Brown Eyed Girl" for Van Morrison (1967).
"Are You Lonely For Me" is a song about a guy who has been away from home. He reminds his lover "I know I'm the one who taught you how to be lonely." He confesses that he's the one who deserted her. He wants to know if she is still his "sweet baby?" Since he's been gone from Jacksonville (FL), she's been spending time with another man. The singer demands "tell your friend it's the end." He anticipates the new boyfriend "will laugh" and "say that I was wrong to hurt you." But, now that it is clear how lonely this guy is who deserted the woman in his life, the ex thinks it's timely that he pick up where he left things off. After all, he tells her "I'm sorry and blue." There is no guarantee that she'll decide to dump her new boyfriend. The guy who deserted her pleads "It's a long ride to Jacksonville. No one will ever know the way I feel. Will you be there, will you be there, when I, when I get off the train girl?" The lyrics leave us with the scenario unresolved. Will she show up at the Jacksonville train station to meet him when he gets off the train?
On the pop charts, "Are You Lonely For Me" peaked at #1 in Tuscaloosa (AL) and Charleston (WV), #2 in Birmingham (AL), and White Castle (LA), #4 in Flint (MI), #6 in Sumter (SC), #10 in Vancouver, #11 on WMCA in New York City, and New Haven (CT), and #13 in Hartford (CT).
In the USA the single spent four weeks at #1 on the Billboard Hot R&B singles chart from February 11 to March 4, 1967.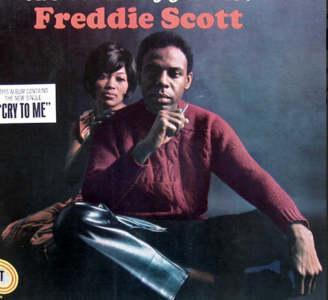 In 1967, Freddie Scott covered a Top 5 R&B hit by Solomon Burke, also written by Bert Berns, titled "Cry To Me". But, it stalled at #70 on the Hot 100 and #40 on the Billboard Hot R&B chart. Scott had two more Top 30 hits on the R&B charts in 1967: "Am I Grooving You" and "He Ain't Give You None". The latter of these songs was written by Van Morrison. Scott's cover of the Jerry Butler hit "He Will Break Your Heart" charted in Montreal in the summer of '67.
Freddie Scott's career was impacted by Bern Berns sudden death of a cardiac arrest at the age of 38 in late December 1967. The Shout label stumbled along without Bert Berns, for awhile. In 1968, Scott's recording of "(You) Got What I Need" once again made the Top 30 on the national R&B charts in the USA. But "Just Like A Flower" (backed with "Spanish Harlem") and "Sugar On Sunday" failed to crack the Billboard Hot 100.
In 1970, Freddie Scott covered the Bob Dylan song "I Shall Be Released", which charted most successfully in Baltimore and New York City in that summer. Between 1971 and 1974 Scott released several more singles on the Shout label, Vanguard Records, P.I.P. and the Mainstream label. After that, Scott's main income was from doing jingles on the radio and for commercials.
Scott later worked on the oldies circuit, and released a new album, Brand New Man, in 2001. He also performed "Brown Eyed Girl" on the Van Morrison tribute album Vanthology, released in 2003. In 2007, at the age of 74, Freddie Scott died in New York City.
July 28, 2023
Ray McGinnis
References:
"Freddie Scott, Singer of 'Hey Girl'," Independent, London, UK, June 6, 2007.
"Freddie Scott: The Complete Story with an Interview," Soul Express, February 1998.
Suzy Evans, "First Look at 'Piece of My Heart: The Bert Berns Story' (Exclusive)," Hollywood Reporter, June 13, 2014.
"BANG! The Bert Berns Story," SXSW.com. Austin, Texas, March 11, 2016.
Joel Selvin, Here Comes the Night: The Dark Soul of Bert Berns and the Dirty Business of Rhythm and Blues, (Counterpoint, 2014).
"A Million To One", Wikipedia.org.
"Boss 40," CKLG 730 AM, Vancouver, BC, March 11, 1967.
For more song reviews visit the Countdown.