#151: Shy Boy by Bananarama
Peak Month: March 1983
13 weeks on Vancouver's CFUN chart
Peak Position ~ #3
Peak Position on Billboard Hot 100 ~ #83
YouTube: "Shy Boy"
Lyrics: "Shy Boy"
Bananarama is an Irish-English girl group formed in 1981. It was founded by Sara Elizabeth Dallin, born in 1961 in Bristol. She studied journalism at the London College of Fashion for a year, starting in 1980. While at the college, she met Paul Cook of Sex Pistols fame who was currently in a band called The Professionals. Dallin, along with her childhood friend Karen Woodward (also born in Bristol in 1961), and college mate Siobhan Fahey (born in Dublin in 1958), became backing vocalists for The Professionals. In 1982 Bananarama were featured vocalists with Fun Boy Three on their #4 UK hit single "'Tain't What You Do (It's the Way That You Do It)". Later that year, they backed Fun Boy Three on their #5 UK hit single "Really Saying Something" – a cover of a minor hit in 1964 for the Velvelettes.
In the summer of 1982, Bananarama released "Shy Boy".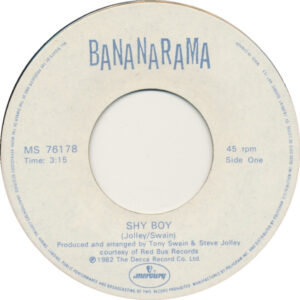 "Shy Boy" was cowritten by Steve Jolley and Tony Swain. Jolley was born in 1950 and Swain was born in London in 1952. Jolley began his music career playing guitar with Sam Apple Pie in 1969. The next year, Jolley joined Freedom, a Procol Harum splinter group. He stayed with Freedom until 1972. Jolley and Swain met in 1975 while they were working respectively as a cameraman and sound technician for The Muppet Show. In 1981 they wrote and produced a #4 UK hit single for the disco-funk band Imagination titled "Body Talk". While writing songs for Bananarama ("Shy Boy", "Cruel Summer", ), they also wrote "All Cried Out" and "Love Resurrection" for Alison Moyet, and produced "True" – a 1983 number-one international hit for Spandau Ballet. They also produced "Gold" and "Lifeline", the former a Top Ten hit in eight countries, the latter a #7 hit in the UK. Tony Swain latter produced "You Came" (a Top Ten hit in eleven nations in 1988) for Kim Wilde. Also for Kim Wilde, Swain produced "Four Letter Word", "Never Trust A Stranger" and "Hey Mister Heartache". All three singles charted in the Top Ten between two and seven nations. But in 2001 Steve Jolley became infamous after he pled guilty to taking indecent pictures of a 12-year-old boy he had sex with, and for sexual assault of the minor. Swain went on to become the head A&R Consultant for Universal Records.
"Shy Boy" is a song about a "boy" who used to be shy. But, ever since he started going steady with his girlfriend, he's shyness has vanished. Now that he's met someone he's totally sexually attracted to, his girlfriend proclaims "He give me lovin' like nobody else. I like the way he turns me on." The 'former 'Shy Boy' has found his stride.
"Shy Boy" peaked at #2 in Halifax (NS), #3 in Vancouver (BC), Kitchener (ON), and Toronto, #4 in Hamilton (ON), Regina (SK), #6 in Yellowknife (NWT), #8 in Ottawa (ON), and #10 in Edmonton (AB).
In 1983, Bananarama released a cover of the 1969 hit by Steam titled "Na Na Hey Hey Kiss Him Goodbye". It charted to #5 in the Uk and #4 in Ireland. Their followup hit was "Cruel Summer" (#7 in Ireland, #8 in the UK and #9 on the Billboard Hot 100 in the USA). The trio had a third Top Ten hit in 1983 in West Germany, Switzerland, Ireland and the UK titled "Robert DeNiro's Waiting".
In 1986 Bananarama had their biggest hit with a cover of the 1970 Shocking Blue song "Venus". And in 1987 with the release of Wow, Bananarama had another Top Ten hit with "I Heard A Rumor" (#4 in the USA, #8 in Switzerland, #9 in Ireland and #10 in New Zealand). Followup singles – "Love In The First Degree" and "I Want You Back" – from the album also garnered Top Ten chart runs in multiple nations. In 1988, Fahey – who had married Dave Stewart of the Eurythmics – left Bananarama. Her replacement from 1988 to 1991 was Jacquie O'Sullivan.
A 1989 cover of the Beatles 1965 hit "Help!" earned Bananarama a final Top Ten hit across Belgium, Ireland, Switzerland, the UK and West Germany. Dallin and Woodward carried on from 1992 as a pop duo. Over the years, Bananarama have performed on worldwide tours. But their appearances have been limited in Canada to three concerts in Montreal between 1999 and 2013, and one concert in Toronto in 2018. Fahey rejoined Bananarama in 2017.
Since 1982, Bananarama has released eleven studio albums, the most recent – In Stereo – in 2019. The trio have received ten Billboard Music Awards nominations.
June 15, 2022
Ray McGinnis
References:
"Bananarama Biography," Bananarama.co.uk.
Sarah Dallin and Keren Woodward, Really Saying Something – Our Bananarama Story, Penguin, 2020.
Rebecca Nicholson, "'People wet their knickers when they find out I was in Bananarama': the 80s trio return," Guardian, March 24, 2017.
"Record producer's smash hit career," BBC, January 23, 2003.
"Pop producer jailed over sex assault," BBC, October 12, 2001.
For more song reviews visit the Countdown.