#102: As The Years Go By by Mashmakhan
Peak Month: August 1970
10 weeks on Vancouver's CKLG chart
Peak Position #1
Peak Position on Billboard Hot 100 ~ #31
YouTube.com: "As The Years Go By"
Lyrics: "As The Years Go By"
Mashmakhan was formed in 1969 in the southwestern Quebec town of L'Île-Perrot, by the Ottawa River near the St. Lawrence. In 1960, Pierre Sénécal, Brian Edwards (born 1943 in Saskatoon, SK), Jim Nuchter and Rayburn Blake first met in Montreal. Drummer Jim Nuchter failed to turn up for a booked performance. Drummer Jerry Mercer (born Newfoundland in 1939) was invited to replace Nuchter. Bass guitarist and vocalist Edwards quit shortly after. But the other three teenagers, Sénécal, Blake and Mercer continued to perform at local Montreal dance halls under names like the Phantoms, Ray Blake's Combo, and the Dominoes. Sénécal played flute, organ and piano. Rayburn Blake was the lead guitarist.
Edwards rejoined the band to make the Dominoes a foursome. By 1965 the group called themselves The Triangle. They backed up local R&B singer Trevor Payne. They worked with Payne for four years until being discovered by record producer Bob Hahn. He recorded demos for the group in March 1969 and helped them get signed with Columbia Records in Toronto. The band and changed their name from the Triangle to Mashmakhan after a variety of hashish sold by a local dealer, to appeal to a modern audience.
The band's first single release was "As the Years Go By".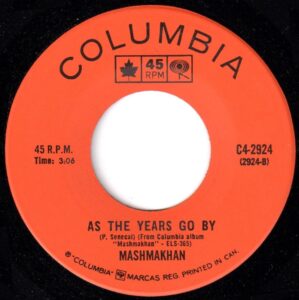 "As the Years Go By" was written by Pierre Sénécal. Rayburn Blake recalled 50 years later, "It's an oddity of a song, a little bit of a fluke, and it didn't always represent what the group was. Columbia didn't think we had a hit on the record. Then one of the radio DJs, I think it was Roger Ashby, played this cut, and the switchboards lit up, and within three weeks other stations picked it up, and Columbia released it as a single."
The lyrics give us a list of ways in which telling someone "I love you," can be shorthand for something else. A boy tells his mother "I love you" which means "will you protect me," with a nuance in the voice or nonverbal gesture we have to guess at listening to the song. The mother's reply "I love you," sums up "you've been a good boy." In the second verse a seventeen-year-old girl asks her boyfriend "Do you love me?" What she really means is "Will you respect me?" For the boyfriend in the song, his reply "I love you" means can I have sex with you ("can I make love to you?"). In the third verse a pair of 65-year-olds have gotten to the point where "I love you" means "I'll love you to the end." A final verse features the singer being asked by the woman they are romantically involved with if "I love you" which means "will you marry me?" His "I love you" reply means "I won't be untrue."
The song draws on the way language can be coded. There can be meanings behind meanings in the things we say to each other. And if we don't make it crystal clear what we are saying, the meaning could get lost. Of course, in "As the Years Go By" there is no suggestion that the boy and his mother, the seventeen-year-old girl and her boyfriend or the 65-year-old married couple are talking past each other. But, it is plausible. In any event, people in a romantic or familial relationship can say things to each other, understand or misunderstand them. In many cases they just carry on with the level of communication aiding the quality of their relationship, or frustrating it, depending on expectations emerging from their conversations.
For some people the meaning-behind-the-meaning layering of the song was considered "deep." But, as the years go by, it sounds like a simple message about love hopefully being eternal, and being a catalyst for those close to us being dependable and trustworthy.
"As the Years Go By" peaked at #1 in Vancouver, Seattle, Johnstown (PA), Sioux Falls (SD), Pointe Claire (PQ), Chilliwack (BC), Victoria (BC), Toronto, Winnipeg (MB), Regina (SK), Calgary (AB), and Edmonton (AB), #2 in Hamilton (ON), Portland (OR), and Columbus (OH), #3 in Medicine Hat (AB), and Norfolk (VA), #4 in Orlando, Tampa, Birmingham (AL), Detroit, Windsor (ON), Kingston (ON), Astoria (OR), Hilo (HI), Terre Haute (IN), La Crosse (WI), and Manchester (NH), #5 in Bremerton (WA), Pittsburgh, Dauphin (MB), Buffalo, and Rochester (NY), #6 in Smiths Falls (ON), Newport News (VA), Lehighton (PA), and Denver, #7 in Vancouver (WA), Provo (UT), Salem (OR), Toledo (OH), Lincoln (NE), St. Louis, and Cleveland, #8 in San Jose (CA), Salt Lake City, and Kansas City (MO), #9 in Omaha (NE), Phoenix, Big Rapids (MI), and San Bernardino (CA), and #10 in Milwaukee (WI) and Holland (MI).
"As the Years Go By" sold 100,000 copies in Canada, 500,000 copies in the U.S., and over 1,000,000 copies in Japan. This led to a concert dates for Mashmakhan in Tokyo in July 1971 where the band opened for Grand Funk Railroad. "As the Years Go By" received much publicity and made Mashmakhan an international success story. The song was covered in Japan by Jimmy Takeuchi & His Exciters. In 1982 a disco band from Quebec named Doktor released a disco version of "As the Years Go By".
In Canada, Mashmakhan had concert dates in Montreal, Ottawa, the Transcontinental Pop Festivals in Calgary (AB), Winnipeg (MB) and Toronto at the CNE Stadium, Trois-Rivières (PQ), Summerside (PEI), Rouyn-Noranda (PQ), Cambellton (NB), Fredericton (NB), Moncton (NB), Saint John (NB), Amherst (NS), Sydney (NS), New Glasgow (NS), Bridgewater (NS), Kentville (NS), Antigonish (NS), Joliette (PQ), Quebec City, Salaberry-de-Valleyfield (PQ), Shawinigan (PQ), Thunder Bay (ON), and North York (ON). The band had multiple concert dates in Montreal, Toronto and Calgary.
The 2003 documentary film titled Festival Express, pieced together from footage that had been buried in a Toronto garage for decades, shows throngs of long-haired fans storming the gates to attend the Festival Express on June 27, 1970. The hippies were protesting the ticket price of $9 for one day, and $14 for the two concerts on June 27 & 28. Since Woodstock had ended up being a free concert festival event, the music fans storming the gates thought that all music should be free. Police on horseback scrambled to quell what was becoming a riot. Jerry Garcia of the Grateful Dead offered to play a free set with a group of other musicians outside the gates to placate the intruders.
Mashmakhan played at Toronto's Massey Hall in May 1970 as an opening act for Santana.
The Transcontinental Pop Festivals or Festival Express, took place in Toronto June 27-28, Winnipeg on July 1, and Calgary July 4-5, 1970. It was like a traveling Woodstock. The lineup of performers included The Grateful Dead, Janis Joplin, The Flying Burrito Brothers, Mountain, Delaney & Bonnie & Friends, Ian & Sylvia, Eric Anderson, Tom Rush, The Ides of March, Mountain, The Band and Buddy Guy played shows in Toronto, Winnipeg and Calgary. Other acts, such as Traffic, and Ten Years After, joined them for one-off appearances. Mashmakhan was part of the line-up.
Originally, The Festival Express was scheduled to start in Montreal on June 24, 1970. But just a few weeks before the festival concert opener, Montreal Mayor Jean Drapeau opposed those plans since June 24th was also St. Jean-Baptiste Day, a religious holiday in Quebec. Tickets had to be refunded. The final stop on the tour was planned for Vancouver. But the hoped for west coast show ended up being been cancelled when the Empire Stadium at the PNE became unavailable in April 1970. This was because the PNE was concerned about having concert goers on the Empire Stadium astro-turf. On May 1, 1970, the Globe & Mail explained "it was impossible to get the (Empire) stadium in Vancouver, since the field is covered with Astro-Turf, a type of very expensive artificial grass made of plastic, which wouldn't stand up to the wear and tear" of the festival attendees.
The series of concerts was a "festival express" since the organizers rented a train from Canadian National Railways which ended up taking the performers from Toronto to Winnipeg to Calgary, with an overnight stop that included Saskatoon. In Saskatoon, the musicians spent over $800 on a trip to a liquor store. Rayburn Blake recalls some of the Canadian whiskey was spiked with LSD the Grateful Dead brought with them.
Rayburn Blake recalls that the Festival Express train was a great experience. Things were free and easy during the constant jam sessions which brought musicians together 24 hours a day in the antique cars designated for such. Of those jam sessions, Blake remembers Janis Joplin learning how to play Me and Bobby McGee on guitar. The Festival Express concerts resulted in Mashmakhan performing before over 60,000 concert goers.
Mashmakhan followed "As the Years Go By" with two singles, "Gladwyn" and "Days When We Are Free." These were featured on their debut self-titled album. The liner notes by Herbert Aronoff of the Montreal Gazette explain "Mashmakhan is the name of a group with roots deep into the natural goodness of music like black rock and blue soul, long years of jamming through Montreal summers, and gigging through Montreal winters, has made Mashmakhan a group for all seasons. This album is the first flower from a fertile garden. Dig it."
Mashmakhan was one of two contributors to the musical score of the 1971 NFB film Epilogue/Fieve and recorded the song "Couldn't Find the Sun" for the movie. Then, for some unknown reason, the bottom fell out. Mashmakhan's second album, The Family, was released in 1971. It was a commercial failure. Fan support dwindled. Although they had a few good single releases, Mashmakhan didn't have the right formula to make it back to the top. Although The Family did sell well in Japan, Mashmakhan split up shortly after the album lacked any commercial uptake in the all important North American record market.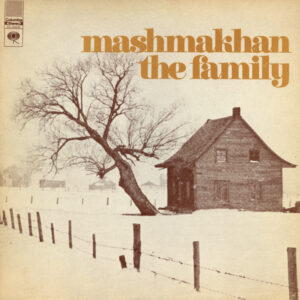 Rayburn Blake later joined the Lisa Hartt Band for seven years. Next Blake worked at Steve's Music Store, and then Long and McQuade in Toronto, first selling, then repairing guitars. The now lives in Niagara-on-the-Lake, Ontario, and is 78-years-old.
Jerry Mercer subsequently played for Roy Buchanan, and the Wackers. Then he became the drummer for April Wine in 1973, with his first concert as an opening band for Three Dog Night and T.Rex. Mercer retired from playing with April Wine in 2009. In addition to performing, Mercer was also involved in manufacturing drums with a company he co-founded with Bill Hibbs called Monolith Drums. Briefly assuming the brand name Solstice Drums, now back to Monolith and celebrated 20 years of drum making before retiring from that gig.
In 1978 Pierre Sénécal released the single "Un Coin De Ciel Bleu". He also released another single titled "Jolie Milady". As well he added soprano sax to his range of instruments on stage. In later years he appeared on TV in Quebec performing a tribute medley of songs by Ginette Reno.
Brian Edwards later formed a group called Riverson. In the mid-70s Brian teamed with singer Louise Rockwood of Toronto (whom he later married) and they jointly performed on his brother Cliff Edwards' Montreal CFCF T.V. show Hurtin' Songs. Moving to Saskatoon they became a duo: Brian and Louise. They performed in local clubs and later attended the University of Saskatoon with Edwards earning Bachelor of Music Degree, majoring in Composition while Louise majored in Performance. Brian's secondary passion was carpentry, designing and building a Cape Cod house on 40 acres outside of Saskatoon. Later moving to Calgary to perform in clubs, the duo subsequently left to entertain on the Princess Cruise Lines for 5 years. They returned to Saskatoon in 2000. Brian Edwards died in October 2016, at the age of 72.
October 21, 2022
Ray McGinnis
References:
"Mashmakhan – Canada concert dates," setlist.fm.
"Brian Edwards Obituary," Saskatoon Star-Phoenix, Saskatoon (SK), October 22, 2016.
Mike Balsom, "Local musician reminisces about career highlight," Niagara-on-the-Lake Local, Niagaga-on-the-Lake, Ontario, July 8, 2020.
Melinda McCracken, "A Mobile Rock Festival For 4 Cities," Globe & Mail, Toronto, May 1, 1970.
"Pierre Senécal performs Ginette Reno medley tribute,"
"Boss 30," CKLG 730 AM, Vancouver, BC, August 28, 1970.
"Hot 100," Billboard, November 21, 1970.
For more song reviews visit the Countdown.