#653: Attack by The Toys
Peak Month: January 1966
8 weeks on CKLG's Vancouver Charts
Peak Position ~ #2
Peak Position on Billboard Hot 100 ~ #18
YouTube.com: "Attack"
Lyrics: "Attack"
The Toys were a girl group that consisted of Barbara Ann Harris, Barbara Parritt and June Montiero. Both Harris and Parritt came from east coast cities in North Carolina and were born in 1945 and 1944, respectively. June Montiero was born in Queens, New York, in 1946. From an early age Barbara Ann Harris began to sing at her church at the age of six, and by the age of eight she was singing in churches across Elizabeth City, North Carolina. In a 2011 interview with New Jersey.com, Harris commented, "I would go and sing my little heart out…. They would give me a chance to do it. They pulled me up front and said, 'Go ahead and sing!' " She moved with her family to Queens, New York, in 1956. Once she was in high school in the late 50's, Harris joined a doo-wop quintette of female singers. "We would come home from school and sing and make harmonies. Then we would go out and sing on the street corner or do talent shows or sing at people's homes — wherever someone invited us to sing. We would sing stuff we heard on radio — R&B and even pop songs. Only in church did we sing church songs; on the street corner, it was rock 'n' roll." The members of the quintette were Betty Stokes, Betty Blocker, Barbara Parritt Toomer, June Montiero and Harris.
By 1961 the quintette shrunk to a trio with the two Betty's departing the group. The two Barbara's and June Montiero got noticed by Bobby Uri who named the trio The Charlettes. Uri escorted them to the Brill Building at 1650 Broadway in Manhattan. There, The Charlettes started to do backing vocal work for a variety of recording artists including Diane Renay who had a hit in 1964 titled "Navy Blue". In 1963 The Charlettes released "Whatever Happened To Our Love", a song co-written by Charles Singleton. He had written songs for many recording artists. Singletons' biggest songwriting successes include "Don't Forbid Me" for Pat Boone, "Strangers In The Night" for Frank Sinatra and "Spanish Eyes" for Al Martino. In August 1963 "Whatever Happened To Our Love" became a regional Top 40 hit for The Charlettes in Trenton, New Jersey. Another co-writer for "Whatever Happened To Our Love" was Kay Rogers. Kay Rogers was an alias for Brill Building songwriter, Eddie Snyder. Snyder and Singleton collaborated on "Strangers In The Night" and "Spanish Eyes". Using the Kay Rogers moniker, Eddie Snyder wrote "A Hundred Pounds Of Clay", a Top Ten hit for Gene McDaniels in 1961.
In 1964 The Charlettes appeared at a talent show in Brooklyn where they met Eddy Chase. Through Chase's connections, The Charlettes were introduced to Bob Crewe, the successful producer of hit records by The Four Seasons. The Charlettes manager, Vince Mark, suggested they change their name from The Charlettes to The Toys. Barbara Harris provides more of the background to the name change. "We always had a kind of joy, the three of us. That's why our manager named us the Toys. He said, 'Because you girls are like kids. You're like toys.' We always had that kind of uplifting spirit. We were always happy. We weren't thinking about all the things around us that could bring us down. Our manager said, 'I hope you girls never lose this light that you have about you.' "
In 1965, The Toys released a single co-written by Sandy Linzer and Denny Randell titled "A Lover's Concerto". The song's melody was credited to Johann Sebastian Bach from the Minuet in G major, first published in 1725 in Notebook for Anna Magdalena Bach. Bach continued to receive credit for composing the melody until 1970. Based on new information, music scholars decided to attribute the Minuet in G major to Christian Petzold, a church composer and organist who was a contemporary of Bach's, based in Dresden.
"A Lover's Concerto" climbed to #1 on the Cashbox charts and #2 on the Billboard Hot 100. The song topped the charts in Los Angeles, San Diego, San Bernardino, San Antonio; Akron, Cleveland, Dayton and Cincinnati (OH); Buffalo, Albany and New York (NY; Winnipeg (MB), Denver, Milwaukee, South Bend (IN), Atlanta, Edmonton (AB), Miami, Providence (RI), Montreal, Honolulu, Kansas City, St. Louis, Wilmington (DE), Nashville; Erie, Allentown and Pittsburgh (PA); Flint and Grand Rapids (MI). The rapidly rising single got The Toys appearances on Shindig, Hullabaloo and Dick Clark's American Bandstand. They also went on tour as the opening act for Gene Pitney.
The Toys next single release was "Attack".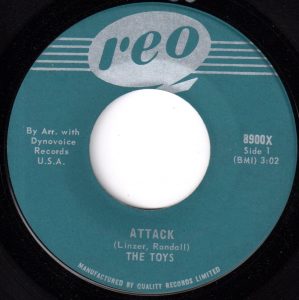 "Attack" was co-written by Sandy Linzer and Denny Randell. Linzer and Randell co-wrote "Let's Hang On", "Opus 17 (Don't You Worry 'Bout Me)" and "Working My Way Back To You" for The Four Seasons. The latter was also a hit for The Spinners. Previously, Linzer had co-written "Dawn (Go Away)" with Bob Gaudio, a hit in 1964 for The Four Seasons. Linzer and Randell also co-wrote The Toys debut hit single "A Lover's Concerto". In 1977 Linzer and Randell wrote a disco hit for Odyssey titled "Native New Yorker". The song climbed to #3 on the U.S. Dance chart and #6 on the Billboard Soul chart.
Sandy Linzer also produced the disco hit "Whispering"/"Cherchez La Femme"/"Se Si Bon" for Dr. Buzzard's Original Savannah Band. He also wrote songs recorded by Barbara Lewis, Diane Renay, Dee Dee Sharp, The Orlons, The Four Tops, ? And The Mysterians, Jay & The Techniques, The Happenings, Nancy Sinatra, The Monkees, The Backstreet Boys and Whitney Houston. Linzer was born in New York City in 1941.
Denny Randell also wrote songs recorded by Jean Thomas, Tracey Dey, Ritchie Havens, Esther Philips, Disco Tex & the Sex-o-lettes, Neil Sedaka and others. In 1975 he wrote "Swearin' To God", a #6 hit for Frankie Valli who was having a comeback in the mid-70's. Randell was born in New York City in 1941. In the late 60's into the 70's he worked as an A&R man for Epic Records and RCA. Sandy Linzer and Denny Randell were inducted into the Songwriters Hall of Fame in 2012.
Charles Calello, was member of The Four Lovers, a doo-wop group from the 1950's. He left the group before fellow member, Frankie Valli, morphed the group into The Four Seasons. Calallo worked as The Four Seasons' musical arranger from 1962 to 1965. In 1965 he joined The Four Seasons when Nick Massi left the group. While he was an arranger for The Four Seasons, Charles Calello crossed paths with Sandy Linzer and Calello became impressed with Linzer's songwriting abilities. He teamed Linzer up with Bon Gaudio and the pair wrote "Dawn (Go Away)" in November 1963. This morphed into an ongoing relationship with Bob Crewe, producer of The Four Seasons, with Linzer and Randell scoring numerous Top Ten hits for the group.
"Attack" was featured in the 1967 film It's A Bikini World. In the film, both The Toys, The Castaways, The Gentrys and The Animals made cameo appearances.
In "Attack" the girlfriend has lost her boyfriend to another woman who stole his heart. In an article titled I'll Take Your Man! 10 Ways to Tell She's Trying to Steal Your Boo, there are some things to look for if this is a problem.
1) Notice how she flirts. Just because she flirts with your boyfriend does not mean she's trying to steal him. She might flirt with him to build up her own self-esteem or because she wants to be friends with him. Does she flirt with everyone, or just with your boyfriend specifically? If she generally comes off as flirty, it's doubtful that your boyfriend is a special case. If she makes special effort to flirt with your boyfriend, she might have a crush on him. Here are some flirty behaviors to watch for:
* She puts her hand on his arm or touches him frequently.
* She makes eye contact with him.
* She laughs at all of his jokes.
* She moves her body so that she faces him.
* She initiates conversation with him.
2) See if she wants to be alone with him. If the girl wants to be alone with your boyfriend, it demonstrates that her flirting is not just for social power and self-esteem. Make note of when they spend time alone together. Look out for the following things:
* She invites him for outings where it will be just the two of them, such as the movies or lunch at a coffee shop.
* She asks him to do her favors (such as change a lightbulb) where he would end up being somewhere alone with her.
* She asks him to go on walks with her.
* When he says he's going to do something, such as get a glass of water in the next room, she invites herself and goes with him.
3) See if she texts or calls him frequently. Is your boyfriend secretive about his texts with her? Does she call or text him more than you would with a platonic friend? Although this communication does not mean that she wants to be more than friends, it can be a red flag.
If you see your boyfriend texting someone frequently, ask him who it is. If he is dodgy or defensive about it, it might be her.
Going through your boyfriend's texts might be an invasion of privacy. If he seems as though he is lying, have a conversation with him about trust.
4) Set boundaries for the relationship. Each couple has their own "rule book" — some couples would seeing going to the movies with another girl as highly inappropriate, whereas other couples would consider this and other "intimate" contact okay. Having an open conversation about what each partner expects is key to guiding acceptable behaviors. Be clear about your needs — your boyfriend may have no idea his friendship or flirtation with this other girl upsets you. Work on defining these expectations with your boyfriend. You might say something like, "I don't want you to give up your friendships with other girls, but I would appreciate it if your focus is on me when we spend time together, and not on texting her."
* Don't set boundaries that are vague or manipulative. Something like, "I want to spend more time with you" isn't specific enough. Try saying, "I want to spend more time together just the two of us. Could we designate a date night?"
* Let your boyfriend know what is and is not acceptable to you. If you are not comfortable with him giving another girl a back massage, let him know that feels disrespectful to your relationship.
* Be open to listening to your boyfriend's perspective and his boundaries as well.
* Let him know what you appreciate about him and what you enjoy about your relationship. Find out what he appreciates about you and what he enjoys about your relationship.
In "Attack" the female who has lost her boyfriend to another woman decides she's not content to let the other woman have him without a fight. She plans to counterattack and not sit by in the face of knowing her ex-boyfriend's new girlfriend is lying and cheating on him. In 2018 there is a website called Ex Boyfriend Recovery.com. Contributor, Chris Seiter is a coach. He invites visitors to the website to do a quiz on Ex Recovery Chances. Seiter has written an article titled "How To Steal Your Ex From The Other Woman." One of his key pieces of advice is to be a constant presence in the life of the newly formed couple (your ex and his new woman). Seiter advises you intend to be friendly. He writes, "Eventually that constant presence will indirectly intimidate the other woman to the point where she will issue him an ultimatum and it will ultimately lead to their demise." Your being a "friendly constant presence" creates a natural competition.
In an article in Psychology Today, Gwendolyn Seidman writes about research concerning people who stay in touch with their ex. The study found "People were more likely to communicate with exes they still had feelings for." She also reports that "those who stayed in touch with an ex tended to be less committed to their current partner than those who did not, but contact with an ex wasn't associated with how satisfying they found their current relationship." In the song "Attack" there is a chance that the ex might become troubled by information that his new girlfriend in lying and cheating on him. The unknown factor is how much he is likely to believe this revelation coming from his ex-girlfriend. The best plan of attack for the ex-girlfriend is to plant the information with someone she knows likes to gossip and who the ex-boyfriend trusts. The songs' lyrics attest that "all is fair in love and war." But for some people the idea of trying to steal back your ex-boyfriend is morally suspect. If you have an ex who you still have feelings for, you have to decide if you think it is right to try to steal them back. Another factor to consider is you may end up setting yourself up for humiliation if you misjudge the situation and your ex feels glad to be rid of you.
"Attack" was one of a number of pop songs concerning other females stealing boyfriends. "Ronnie" by Marcy Jo from 1961 also dealt with this theme, as did the Leslie Gore summer hits in 1963, "It's My Party" and "Judy's Turn to Cry".
After "Attack", The Toys released "May My Heart Be Cast Into Stone". The tune climbed to #26 on CKLG on April 10 and 17, 1966. But in the USA the song stalled at #85 on the Billboard Hot 100. Next up, The Toys release of "Silver Spoon" was Hit Bound on CKLG for the week of April 24, 1966. However, the single dropped off the chart the following week. And the tune missed the Billboard Hot 100, stalling beneath the countdown at #111. Of note, "Silver Spoon" was based on Beethoven's Piano Sonata No. 8 in C Minor, Op. 13, more commonly known as Sonata Pathétique. While The Toys didn't have lightening strike twice with a melody from a classical composer, in 1983 Louise Tucker had a hit titled "Midnight Blue" based on the melody. Dynovoice Records released a fifth single by The Toys titled "Baby Toys". Thanks to a Top Ten chart run in Topeka, Kansas, the single appeared on the Billboard Hot 100, peaking at #76. In September 1966, the song made the Top 30 in Hamilton (ON) and Medicine Hat (AB).
Frustrated with their declining sales, The Toys changed record labels and signed with Philips. They released "Ciao Baby" and "My Love Sonata" in 1967. However, both releases were commercial failures. At the end of the year, The Toys switched labels again. This time they signed with the label where Gene Pitney released most of his hit singles, Musicor. The Toys released two singles with the label in 1968. One of these was a cover of Brian Hyland's #3 hit from 1962, "Sealed With A Kiss". Their spirited uptempo arrangement of the tune missed the Billboard Hot 100, stalling at #112. Soon after, The Toys split up. They briefly reunited in 1986.
For some years Barbara Harris gave her primary attention to her growing family. Despite the demands of raising children, she did sing in some local R&B, funk and jazz bands. She wrote some songs that were recorded by Barbara Blake and The Uniques in 1975. Over the decades Harris has appeared at "Oldie" shows as an original member of The Toys. As well, new members of The Toys backing Harris are Shahidah Wiltshire and Sandra Taylor. Barbara Harris has also stepped in to perform the 1957 hit "Over The Mountain, Across The Sea" with Joe Rivers of the original R&B duo Johnnie & Joe. (Johnnie Louise Richardson died of a stroke in New York City in 1988). Barbara Harris and Joe Rivers sang "Over The Mountain, Across The Sea" at "Oldies" shows through the 1990's and 2000's. Barbara Harris has also performed at rock revival events billed as Barbara Harris and The Cookies, singing hits by the early 60's girl group "Don't Say Nothing Bad About My Baby", "Chains" and other hits. Harris has also performed in concert in a tribute to the music of Gladys Knight.
In 1998 Barbara Harris released an album titled Barbara Now. In 2013, Barbara Harris released an EP titled "I Found A New Man". In 2016, Harris released two singles, "Forever Spring" and "(Rock 'n' Roll) Soothes The Soul". In 2017, Barbara Harris & Joe Rivers released a single titled "Hold On To This Moment". On June 17, 2017, Barbara Harris and The Toys performed in concert at The Beacon Theatre in New York City on the Upper West Side on Broadway.
December 31, 2018
Ray McGinnis
References:
Mark Voger, "Barbara Harris of the Toys: Interview," New Jersey.com, Iselin, NJ., May 27, 2011.
Barbara Harris: Her Biography, Barbaras Toys.net
Peter Dunbaven, An Avid Guide to Sixties Songwriters, Author House, 2017, 347-355.
Dr. Buzzard's Original Savannah Band, "Cherchez La Femme", 1976.
Denny Randell bio, Denny Randell.com.
Robert Wiener, "Jersey Boy: Local Songwriter Reflects on Writing The Four Seasons Hits," New Jersey Jewish News, Whippany, New Jersey, January 4, 2017.
Minuet in G major, Wikipedia.org.
"Johnnie and Joe: Over The Mountain Across The Sea," Way Back Attack.com.
Dienstag, "The Toys aka The Charlettes," Doowopheaven.com, October 29, 2013.
Barbara Harris and The Toys in concert, Beacon Theatre, New York, NY, June 17, 2017.
Brooke Dean, "I'll Take Your Man! 10 Ways to Tell She's Trying to Steal Your Boo," Madame Norte, April 28, 2013.
Chris Seiter, How To Steal Your Ex From The Other Woman, Ex Boyfriend Recovery.com.
Gwendolyn Seidman, "What's Going on When You Stay in Touch With Your Ex… and Why Keeping the Idea of a Reunion on the Back Burner may be a Problem," Psychology Today, September 18, 2016.
"Silver Dollar Survey," January 22, 1966
For more song reviews visit the Countdown.