#82: Automatic Reaction by Nino & The Ebb Tides
Peak Month: October 1964
10 weeks on Vancouver's CFUN chart
Peak Position #1
Peak Position on Billboard Hot 100 ~ did not chart
YouTube.com: "Automatic Reaction"
Nino & The Ebb Tides formed in 1956, initially billed as The Ebb Tides. They were from the Bronx, one of the boroughs of New York City. The members of the classic lineup of this doo-wop group were lead singer Antonio "Nino Aiello, bass singer Vinnie Drago, baritone Tony Imbimbo, and second tenor Ralph Bracco. Nino and Vinnie were schoolmates, and initially recruited Tony Delesio and another singer remembered only as Rudy. They met talent scout Murray Jacobs, who cut two sides with them in 1957: "Franny Franny". The song was written by Nino, Vinnie and Tony. By the fall of 1957 the quartet was billed as Nino and the Ebb Tides. They got a record deal with Bill Miller's West 44th Street Acme label. "Franny Franny" was getting some solid rotation from New York jocks like Alan Fredericks and Alan Freed and the group was performing at Sock hops along with other New York groups. Tony wanted the group to shift their sound to a light jazz in the vein of the Hi-Los. But, Tony was drafted into the United States Army. He was replaced by Ralph Bracco. Meanwhile, Rudy left the group and was replaced by Tony Imbimbo.
In 1958 Nino & The Ebb Tides released a cover of Paul Anka's "Puppy Love", which cracked the Top 30 in Buffalo (NY). That winter they released "The Real Meaning Of Christmas", a song about Mary and Joseph's effort to find a place to give birth to Jesus. In 1959, the group released a cover of the 1930 song "I'm Confessin'", which had been a hit for Louis Armstrong, Rudy Vallee and Guy Lombardo that year – and later for Les Paul & Mary Ford in 1952. In 1960, the group recorded "Someday" on the Marco label. It is a classic and very rare doo-wop tune and worth a listen.
The Ebb Tides left Marco after getting little promotional backing, and switched to Madison. The first single on the Madison label was a song called "Those Oldies But Goodies Remind Me of You". It started to get action on the West Coast. The Ebb Tides revised it slightly by adding quick harmony references to such past hits as "Deserie" (The Charts) and "That's My Desire" (The Channels) and singing the title lines of oldies like "Glory of Love" (The Five Keyes), "Silhouettes" (The Rays), and "Over the Mountain" (Johnnie and Joe) behind Nino's talking bridge. They recorded on a Friday and the record was out that Monday. "Those Oldies" was reviewed by Cashbox on May 13, 1961, 12 days after the Little Caesar And The Romans version hit the Billboard charts. Nino's group outdistanced Little Caesar and The Romans in Cashbox's Top 100. But Billboard gave a slice of pie to Caesar at #9 and #28 R&B with Nino and company nowhere to be found. New York was evenly split, giving both versions heavy airplay.
In 1961 the group released a medley titled "Jukebox Saturday Night". It was a cover of a 1942 Glenn Miller song with refrains of verses from hits by the Ink Spots. Nino & the Ebb Tides updated the song to include verses from the Monotones "Book Of Love" and the Silhouettes "Get A Job". The single made the Top 20 in Cleveland and New York in the fall of '61. Toward the end of 1961 they fell in with Mr. Peacock Records, cutting one of their best singles, "Happy Guy." By this time their sound was polished, and the Belmonts/Del-Satins-styled rocker seemed like a winner until Mr. Peacock laid an egg in support of its single. At around this time, Bronx songwriter Ernie Maresca wrote a rocker that the guys heard and passed on. Ernie took it next to Dion, who recorded it with the Del-Satins and made it a number two record in the nation. The Ebb Tides must still be smarting over the loss of "The Wanderer."
A few more singles on various labels in 1962 and '63. A final single release was in 1964 titled "Automatic Reaction".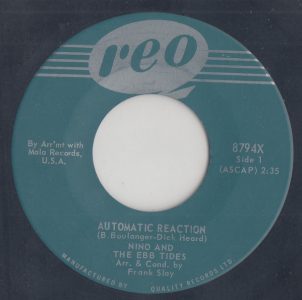 "Automatic Reaction" was co-written by the songwriting team of Dick Heard and Bob Boulanger. Richard Martin Heard was born in Little Rock, Arkansas, in 1937. Robert Francis Boulanger was born in 1940 in Lewiston, Maine. He was a member of a pop group into the mid-60's called The Saturday Knights. In 1963 he co-wrote with Bob Crewe "That's The Only Way" a minor hit for the Four Seasons. Heard and Boulanger had their biggest success in February '64 with "Abigail Beecher" recorded Freddy Cannon. Equaling that success, in 1970 Dick Heard co-wrote "Kentucky Rain" for Elvis Presley. As with Freddy Cannon's song in '64, "Kentucky Rain" also peaked at #16 on the Billboard Hot 100.
Nino sings "shake a leg," in describing part of the "automatic reaction" and about getting cold and hot. When you're near someone you're physically attracted to, pay attention to your own physical signals. In 1957 in "All Shook Up", Elvis Presley sang "my hands are shaky and my knees are weak. I can't seem to stand on my own two feet." In 1966 the Troggs, in "I Can't Control Myself", sang "Defense is down and you've got me shakin'. You've got me so that my nerves are breakin'". In "I Want To Hold Your Hand" the Beatles sang "And when I touch you I feel happy inside." Numbers of pop songs alerted listeners to be on the look out for an attractive stranger to be a catalyst for some type of automatic reaction.
"Automatic Reaction" peaked at #1 in Vancouver (BC) and Grande Prairie (AB), #4 in Calgary, #20 in San Jose (CA), #26 in Hamilton (ON) and #28 in Oshawa (ON). In the USA, outside of California and Michigan the song was given a pass by DJs.
Nino and the Ebb Tides were never a full-time performers. Even when they achieved some success on the pop charts the group kept working at their day jobs. During a rock 'n roll revival, spurred by a rejection by some of progressive and heavy-metal rock, in 1971 Nino and the Ebb Tides reformed. But within a year they disbanded again. Tony Delesio worked for American Express. Vinnie Drago found work with a TV and radio sales company. Tony Imbimbo got a steady job a New York City policeman. Nino Aiello became a record distributor. In the '80s, Nino and the Ebb Tides would occasionally get together to give fans of the '50s and '60s a taste of those oldies but goodies.
December 14, 2022
Ray McGinnis
References:
"Nino and the Ebb Tides," doo-wop.blogg.org, April 19, 2009.
Warner, Jay, American Singing Groups: A History from 1940 to Today, Hal Leonard, 2006.
Rosalsky, Mitch, Encyclopedia of Rhythm & Blues and Doo-Wop Vocal Groups, Scarecrow, 2002.
"Kentucky Rain", Wikipedia.org.
"C-FUNTASTIC FIFTY," CFUN 1410 AM, Vancouver, BC, October 10, 1964.
For more song reviews visit the Countdown.