#1012: Baby Weemus by April Stevens & Nino Tempo
Peak Month: June 1963
9 weeks on Vancouver's CKLG chart
Peak Position #9
Peak Position on Billboard Hot 100 ~ did not chart
YouTube.com: "Baby Weemus"
Caroline Vincinette LoTempio was born in 1929 in Niagra Falls, New York. Stevens has recorded since she was fifteen years old. From the official website of April Stevens & Nino Tempo comes this story: "One day, while standing outside Hollywood's famous Wallach Music City on Sunset and Vine, she was approached by Tony Sepe, the owner of Laurel Records, who asked her if she could sing. The young teenager thought he was probably flirting, but answered his question in the affirmative. Before long, she changed her name to April Stevens and recorded a few songs for Sepe's small independent label. An aunt of Carol LoTiempo's had suggested April as a name, and as she was born in April LoTiempo liked the name. Still in high school, April then moved on to record for Society Records. on "Don't Do It", her first for Society, her sweetly innocent approach to addressing very real concerns for a teenage girl was given a twist at the end by giving in to the boy's advances, as long as there's a commitment. "Don't Do It" was banned from airplay… ""Stop holding my hand," April pleaded; but in the second verse, she suggestively purred "I need it, how I need it…ooooh I want it." Consequently, "Don't Do It" sold by word of mouth only, from under the counter."
Her most popular solo recording was her RCA Victor recording of Cole Porter's "I'm in Love Again". Accompanied by an orchestra arranged and conducted by Henri Rene, Stevens' recording peaked at No. 6 on the Billboard pop chart in 1951. Her follow-up, "Gimme Me a Little Kiss, Will Ya, Huh?" made it to #10 later that year. In 1952, Stevens recording of "And So to Sleep Again" became her third Top 30 hit, peaking at #27 on the Billboard chart in 1952.
Antonino LoTempio was born in Niagra Falls, New York, in 1935. He recounts, "When I was still in my high chair, whenever the radio was playing, I would not only tap my spoon with the music, but I'd do it in perfect time and would make rhythmic changes as well. That convinced my parents that I had musical talent, so as a child I was given tap dancing and singing lessons." A child prodigy, Antonio was a talent show winner at four years of age on the Major Bowes Talent Show. At the age of 7, Nino appeared on stage with Benny Goodman. Nino Tempo recalls, "Peggy Lee had just finished singing. I walked on the stage, tugged at his coat, and said `Mr. Goodman, my grandfather said I could have 10 dollars if I could sing with your band.´ Well, he looked at the audience and said `Folks, this is not planned,´ which it wasn´t. So he picked me up and said `What are you going to sing?´, and I said `Rosetta in the key of C with a tag at the end´, and TORE `EM UP!" At Goodman's request, seven-year-old Nino returned to Shea´s Buffalo Theatre in Buffalo, New York for the next six nights to encore his show-stopper.
When his family moved to Los Angeles, Nino learned to play clarinet, and at the age of ten took up the saxophone. He was featured numerous times on the Horace Heidt radio show in the late 40s. A child actor, he worked in motion pictures in such movies as 1949's The Red Pony, and in 1953's The Glenn Miller Story featuring James Stewart. He was a sought-after session musician, recording with Maynard Ferguson on the 1956 album, Live at the Peacock, 1956. Tempo played sporadically in Ferguson's band for six years. In 1956 Nino Tempo released an album titled Nino Tempo's Rock 'N Roll Beach Party. In 1957, at the age of 22, Nino Tempo played "Horn Rock" as the closing credits rolled in the film Bop Goes Calypso.
In 1958 Nino Tempo released a rock tune titled "15 Girl Friends", which got some attention in Sydney, Australia. That year Nino Tempo released a western ballad "One Forty-Five", credited to Black Bart and the Gunslingers. Nino Tempo was the lead vocal, with April Stevens on backing vocals. And in 1959 April Stevens released her album Teach Me Tiger. Stevens title track release, "Teach Me Tiger", caused a minor uproar for its sexual suggestiveness and consequently did not receive airplay on many radio stations. The song peaked at #86 on the Billboard Hot 100. In 1983, the Challenger Space Shuttle astronauts requested that the wake-up song on their mission be "Teach Me Tiger". The song was featured in the 2006 film Blind Dating.
In late 1959, Nino Tempo released a rockabilly arrangement for "When You Were Sweet Sixteen", earning airplay in Philadelphia and San Bernardino (CA). In early 1960, Tempo's jazz-pop single "Theme From Jack The Ripper" charted in both Ventura and San Bernardino (CA). In the fall of 1960, Nino Tempo released ("I'd Like to Be) Lipstick On Your Lips", which got some airplay in San Bernardino (CA) and Boston.
In the spring of 1960, April Stevens release "In Other Words" (a retitled version of "Fly Me To The Moon") charted to #2 in Omaha, Nebraska. In late 1960, April Stevens and Nino Tempo released "High School Sweetheart". In early 1961, "Big John" was released under the pseudonym Carol and Anthony. The song was a tribute to JFK – "yea, yea, yea, you're the leader of the USA." It got some airplay in Miami, Fort Wayne (IN) and Denver. In June 1961, April Stevens released another saucy-sexy single titled "Love Kitten". It got airplay in Vancouver (BC). She was a "love kitten looking for love," and did a lot of purring throughout the song.
Meanwhile, in 1961, Nino Tempo was a studio musician for Bobby Darin's Twist with Bobby Darin album. It featured the singles "Multiplication", "Irresistible You" and "You Must Have Been A Beautiful Baby". And Nino Tempo was contributing a number of instruments to the recording. Later that year, Nino Tempo made a cameo appearance in the film Breakfast at Tiffany's. And in 1962, Nino Tempo was back in the recording studio with Bobby Darin for Bobby Darin Sings Ray Charles. In the early 60s, Nino Tempo was also a session musician backing recordings for Frank Sinatra, Steve Lawrence, Eydie Gorme, and Rosemary Clooney.
In the summer of 1962 April Stevens & Nino Tempo charted "True Love (Means More Than Anything)" in Calgary (AB). Earlier in the spring of 1962 April Stevens and Nino Tempo released a cover of the 1933 pop standard "Sweet And Lovely". It became the debut single for the Deep Purple album. "Deep Purple" was recorded in October 1962. More about that single in a few paragraphs.
In early January 1963, the duo released a cover of the 1931 pop standard "Paradise" by Nacio Herb Brown from the 1932 film A Woman Commands. The B-side, was a cover of "Indian Love Call" – made popular in 1936 by Nelson Eddy and Jeanette MacDonald in the film Rose Marie. The choice to release "Paradise" and "Indian Love Call" was because New York producer, Ahmet Ertegun, didn't like "Deep Purple" and urged it not be released as a single. However, "Paradise" stalled at #126 below the Billboard Hot 100.
In 1961-63, Nino Tempo was in the recording studio for the Crystals hit singles "He's A Rebel", "Da Doo Ron Ron" and "Then He Kissed Me"; And Bob B. Soxx and the Blue Jeans' "Zip-A-Dee Doo Dah"; "I Love How You Love Me" by the Paris Sisters; "Pretty Little Angel Eyes" by Curtis Lee; "Spanish Harlem" by Ben E. King; "Be My Baby", "Baby I Love You" and "Walking In The Rain" for the Ronettes, and many others.
Next up, April Stevens and Nino Tempo recorded "Baby Weemus", a song the duo wrote.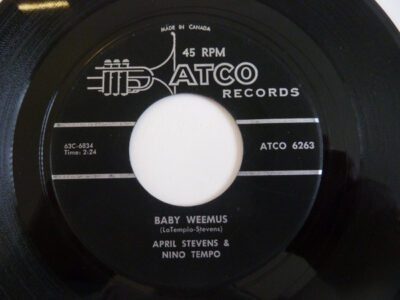 In the somewhat silly song, "Baby Weemus", we learn that she's called "wee, 'cause she's small," and she's called "baby, 'cause she's my baby doll." When April Stevens puts on a baby doll hat during a TV performance, she explains in a chipmunk, childlike voice, that "weemus" is slang for "we must." What she thinks "we must" do is get married. The lyrics add: "we must kiss, never fuss, we must love, yes, we must." The song is a funk-soul-pop inspired number that never took off. The best chart run for "Baby Weemus" was in Vancouver, where it climbed to #9. The single made it to #18 in San Bernardino (CA) and Phoenix (AZ). Outside of these three radio markets, the song was given a pass by Top 40 DJs.
Next, the duo released "I've Been Carrying A Torch For You For So Long That I Burned A Great Big Hole In My Heart". But it was the B-side, "Deep Purple", that caught on and got listener requests to DJs to turn the single over. Soon "Deep Purple" was pressed as the A-side and the rest is history.
On August 24, 1963, "Deep Purple" began to chart on the C-FUNTASTIC FIFTY. This made Vancouver among the first half dozen radio markets to chart the new April Stevens and Nino Tempo single. Other radio markets charting the single in mid-August were Worcester and Springfield, Massachusetts; Chico, Bakersfield, San Bernardino and San Francisco, California; Phoenix, Arizona, and Seattle, Washington. Vancouver was the first radio market where "Deep Purple" topped the pop chart – September 21, 1963. Over the following month, "Deep Purple" climbed to #1 in Seattle, Boston, Denver and Miami.
Deep Purple was written by pianist Peter DeRose in the early 1930s and published as a piano composition in 1933. Paul Whiteman had the song scored for his orchestra in 1934, and after the tune became very popular in sheet music sales, lyricist Mitchell Parish added words to it in 1938. The following year, "Deep Purple" was recorded by a number of orchestras, including those led by Larry Clinton (vocalist Bea Wain), Jimmy Dorsey (vocalist Bob Eberly) charting to #2 in 1939, Guy Lombardo charting to #9, Matty Malneck (vocalist Bing Crosby) charting to #14, and Artie Shaw (vocalist Helen Forrest) charting to #17. Dick Todd, the "Canadian Crosby", also recorded a version with orchestra. The Clinton-Wain recording was the most popular, topping the Billboard pop charts in 1939 for nine consecutive weeks and Your Hit Parade for seven weeks.
April Stevens & Nino Tempo covered "Deep Purple" and took the song to #1 on the Billboard Hot 100 the week of November 16, 1963. Ahead of the recording, Nino quickly realized he didn't have the range to sing "Deep Purple" as originally written and, as a lark, started singing the song in falsetto with April. Personnel at the recording studio overheard the vocal improvisation, told the duo they liked it, and asked to hear more. Encouraged, April and Nino continued to flesh out the arrangement for their "new" version of "Deep Purple". At one point, Nino decided to sing one chorus alone but he kept forgetting the lyrics so April softly fed him the words. Those listening loved the combination of April's narration and Nino's singing but Nino wasn't sold on the approach. Eventually, April convinced Nino to keep her spoken interlude in the arrangement and the duo made plans to record it with that unique style.
Once "Deep Purple" ascended the Billboard Hot 100 into the Top Ten, before it peaked at #1, Atco Records released the album Deep Purple. The liner notes were written by Ahmet Ertegun.
In the fall of 1961, I was recording Bobby Darin in Hollywood, and at the beginning of one of the sessions I was struck by the unusual playing ability and infectious enthusiasm of a young saxophonist in the band which had been assembled… During a break in the recording, this young man walked over to the piano with Bobby and played him a song he had just written. We all fell out. His song was very good, but what impressed me even more was his very personal singing quality, and the groovy arrangement implied by his blues-style accompaniment. "Who are you?", I asked… I couldn't believe it when he answered Nino Tempo, because I knew of Nino Tempo only as a modern jazz tenor man who used to play way-out music at the legendary Lighthouse (on the West Coast).
I asked him what his plans were, and he told me he was working on an act with his sister… "You're sister? Really! Who's your sister?"…. "April Stevens!" Nino didn't know it, but the beautiful April Stevens who had already had several big hits (Teach Me Tiger, I'm In Love Again) was one of my favorite pop singers. The next day I was in the large comfortable house of Nino and April's parents, eating the best spaghetti west of Milan, and listening to April and Nino's very original approach to such standards as Sweet and Lovely and Paradise, both of which were to become hits.
That's how I came to know Nino and April. And now, everyone who follows popular music has come to know Nino and April because of their completely engaging rendition of Deep Purple.
"Deep Purple" received a Grammy Award for Best Rock 'N Roll Record of 1963. The song beat out "It's My Party" by Lesley Gore, "Our Day Will Come" by Ruby & The Romantics, and "I Will Follow Him" by Little Peggy March. While Peter, Paul & Mary won the Best Performance by a Vocal Group for "If I Had A Hammer".
April and Nino's success resulted in TV appearances on Shindig, The Joey Bishop Show, The Smothers Brothers Comedy Hour, as well as a concert tour with the Righteous Brothers, and club dates in Las Vegas, Reno and Lake Tahoe. They also toured in Europe and Australia.
"Deep Purple" was followed by a series of singles of covers of more pop standards from the 20s and 30s: This included a cover of the number-one 1920 hit of the year by the Paul Whiteman Orchestra: "Whispering". The duo again used the gimmick of April feeding the lyrics to Nino. They chose the song while they had just boarded a plane, and April suggested their next song be the tune playing on the aircraft music sound system that moment. The Stevens-Tempo cover peaked at #12 in Vancouver in January 1964, and #11 on the Billboard Hot 100. In late January 1964, April Stevens & Nino Tempo performed at the Festival della Canzone Italiana di Sanremo, in Sanremo in the northwestern tip of Italy.
Next up, the duo covered "Stardust" popularized by both Hoagy Carmichael and later Bing Crosby, the number-one hit for Marion Harris from 1925: "Tea for Two" (later a Top Ten hit for Tommy Dorsey in 1958), and the Top Ten hit in 1930 – "I'm Confessing That I Love You" – popularizes by both Louis Armstrong, Rudy Vallee, and "Bye Bye Blues" – a 1925 jazz standard, later a Top 5 hit for Les Paul and Mary Ford in 1952, "Our Love" – a cover of Frank Sinatra's debut single in 1939; and "My Old Flame", sung in Belle of the Nineties by Mae West in 1934. It subsequently was recorded by Duke Ellington featuring vocals by Ivie Anderson. The song was a #7 hit that year for Guy Lombardo.
In the mix of pop standards, April Stevens & Nino Tempo released a cover of the LaVern Baker R&B classic, "Tweedle Dee". The single made the pop chart in Saskatoon (SK) in December 1963. In the summer of 1964, the duo had a Top 50 hit on CFUN in Vancouver with "I Surrender Dear". The song was a cover of the 1931 hit by Bing Crosby, which peaked at #3 on the American pop charts. Over in Regina (SK), April Stevens & Nino Tempo had a Top 50 hit with a cover of the Guy Lombardo tune "Who", written by Jerome Kern.
In an interview in Song Hits Magazine in August 1964, April stated "I like singing these standards. It isn't that I don't like rock 'n' roll, but I'm really more of a traditional singer. Nino and I enjoy doing what we do best – bringing a little rhythm to old, slow songs. Making them good all over again."
Despite their many efforts at covering pop standards, April Stevens & Nino Tempo only had two Billboard Hot 100 Top 30 hits to their credit between 1960 and 1965. Yet, in October 1965, the pair had a #23 hit with a cover of the Paris Sisters' "I Love How You Love Me", which included Nino Tempo on bagpipes. A year later, with a new record contract on the White Whale label, in October 1966, April Stevens & Nino Tempo charted "All Strung Out" to #17 in Vancouver, and #26 on the Billboard Hot 100. Nino Tempo co-wrote the hit, their last to appear on the Top 50 of the Billboard Hot 100.
April Stevens & Nino Tempo were one of many American recording acts elbowed down the pop chart ladder in favor of the Beatles, Rolling Stones, Petula Clark, Dave Clark Five, Herman's Hermits and other British Invasion acts.
In the summer of love, the duo had a minor hit "I Can't Go On Living Baby (Without You)". On September 27, 1967, April Stevens & Nino Tempo appeared on the TV variety show The Groovy Show. This overlapped with the release of her cover of the pop standard "Falling In Love Again". In November 1967, the duo performed at the Arizona State Fair in Phoenix.
In March 1973, Stevens and Tempo charted "Love Story" to #5 hit in the Netherlands. Tempo formed Nino Tempo and 5th Ave. Sax. His band had the hit "Sister James," which reached #53 on the Billboard Hot 100. It is considered Northern Soul and one of the first Disco hits. In 1973, Nino Tempo was in the recording studio with Linda Ronstadt for her album Don't Cry Now. In 1974 April Stevens cracked the Billboard Hot 100 with "Wake Up And Love Me", a sultry, breathless, romp. It evoked an emerging sound resembling other hits in the 70s by Thelma Houston, Donna Summer and Barbara Mason ("Give Me Your Love").
During 1975, Tempo played saxophone on John Lennon's album Rock 'n' Roll, and was a featured soloist on The Kenny Rankin Album (1976). In the 1980s Nino Tempo was a voice actor for multiple Garfield TV specials. In the 1990s, Nino released three jazz albums. Meanwhile, in 1991, April released a cabaret-styled solo album titled Carousel Dreams.
In her 2013 autobiography, Teach Me Tiger, Stevens said she was born in 1929. She had shaved years off her age early in her career to add to the appeal of being a singing act with her brother Nino. Other recording acts were teen idols, and it was suggested her actual age would be an obstacle to marketing her as "youthful" enough to the teen record buying audience.
April 9, 2022
Ray McGinnis
References:
"If You Can't Beat 'Em Join 'Em," Song Hits Magazine, August 1964.
Tony Gleske, "Nino Tempo," Hollywood Reporter, January 6, 1995.
Ronnie Allen, "April Stevens & Nino Tempo Interview," WNJC 1360 AM, Philadelphia, December 13, 2007.
"Nino Tempo and April Stevens Official Website"
Ahmet Etergun, "Liner Notes – Deep Purple," Atco Records, 1963.
April Stevens & Nino Tempo, "Deep Purple," Atco Records, 1963.
Nino Tempo, "Horn Rock," Bop Goes Calypso, 1957.
April Stevens, "Don't Do It", Society Records, 1950.
April Stevens, "I'm In Love Again," RCA Victor, 1951.
April Stevens, "Gimme A Little Kiss, Will Ya, Huh?," RCA Victor, 1951.
April Stevens, "Teach Me Tiger," Capitol Records, 1959.
April Stevens, "Love Kitten," Imperial Records, 1961.
April Stevens & Nino Tempo, "Hey Baby," American Bandstand, December 18, 1965.
April Stevens & Nino Tempo, "All Strung Out," Lloyd Thaxton Show, August 18, 1966.
"C-FUNTASTIC FIFTY," CFUN, 1410 AM, Vancouver, BC, June 15, 1963.
For more song reviews, visit the Countdown.