#1344: Baby Woncha You Please Come Home by Trooper
Peak Month: September 1975
6 weeks on Vancouver's CKLG chart
Peak Position #13
Peak Position on Billboard Hot 100 ~ did not chart
YouTube.com link: "Baby Woncha Please Come Home"
Lyrics: "Baby Woncha Please Come Home"
In 1967 Ra McGuire and Brian Smith played in a Vancouver band named Winter's Green. The band recorded two songs, "Are You a Monkey" and "Jump in the River Blues," on the Rumble Records Label. "Are You a Monkey" later appeared on a rock collection: 1983's, The History of Vancouver Rock and Roll, Vol. 3. In the early seventies Winter's Green changed their name to Applejack and added drummer Tommy Stewart and bassist Harry Kalensky to their lineup. Applejack became a very popular band in the Vancouver area, and began touring extensively in British Columbia. The band played a few original tunes such as "Raise a Little Hell," and "Oh, Pretty Lady," as well as Top 40 songs by artists such as Neil Young, and Chicago.
After hearing Applejack perform, Randy Bachman of Bachman–Turner Overdrive and The Guess Who signed the band to his "Legend" label. The band changed their name to Trooper, and Bachman produced the band's self-titled debut album, Trooper, which contained the Canadian hits "Baby Woncha Please Come Home" and "General Hand Grenade". Managed by Sam Feldman, Trooper began touring extensively in both Canada and the United States. After moving from Legend Records to MCA Records, Trooper added Frank Ludwig on keyboards.
Trooper is the self-titled debut album by Canadian rock band Trooper, released in 1975. The album was produced by Randy Bachman of Bachman–Turner Overdrive and The Guess Who fame. The album would produce two Canadian hits "Baby Woncha Please Come Home" and "General Hand Grenade." The debut single concerned someone who is lonely and "going up the wall" when their "baby" is not with them.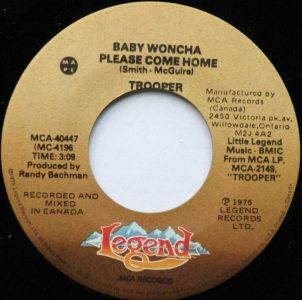 On one hand, falling in love with someone can be a catalyst for wanting to build our world around the love of our life, and needing to be with them constantly. Initially, this can feel blissful, exciting and a driver to make a lasting commitment for a life together. In a #1 song from 1963, Paul and Paula sang in their single "Hey Paula", "true love means planning a life for two, being together the whole day through…." It matters that when we are in love with someone that their absence matters, that we miss them and look forward to seeing them again when they return from school, work or a visit with other friends and family in town or out of town. On the other hand it can be difficult sustaining a relationship with someone else who's not able to tolerate being alone, whose chronic feelings of emptiness and feelings of low self-worth lead them to conclude "I can't be nothin' without you." Most of us want the person in our life to have a life before we meet them. But this infectious rock 'n roll tune Trooper offered knew that a first love, teen angst and raging hormones spoke directly to many listeners, as they tapped their feet to the melody. And with song lyrics there is always poetic license, in this case to embellish how much someone misses their sweetheart.
In 2018, Trooper has 24 concerts scheduled across seven provinces and one Canadian territory.
October 13, 2016
Ray McGinnis
References:
Trooper bio, Trooper.com.
"CKLG 'Thirty'," CKLG 730 AM, Vancouver, BC, September 30, 1975
For more song reviews visit the Countdown.