#744: In My Baby's Eyes by Bobby Vee
Peak Month: May 1962
8 weeks on Vancouver's CFUN chart
Peak Position #7
Peak Position on Billboard Hot 100 ~ did not chart
YouTube.com: "In My Baby's Eyes"
Lyrics: "In My Baby's Eyes"
Robert Thomas Velline was born in Fargo, North Dakota. He was part of a highschool band that was asked to step in and perform for the concert on February 4, 1959, in Moorhead, Minnesota. The concert, across the Red River from Fargo, North Dakota, was to have featured Buddy Holly, Ritchie Valens and the Big Bopper. However, the three died in a small plane crash the day before when the plane crashed into a cornfield near Mason City, Iowa. Fifteen year old Vee and his band, The Shadows, were a hit and he got a contract with Liberty Records. In August 1959, their debut single, "Suzie Baby", made the Top Ten in Eau Claire, Wisconsin, and the Top 20 in Des Moines, Iowa, and Boston, It was his fourth single release, "Devil or Angel", that catapulted him into the Top Ten and teen idol stardom. It climbed to #6 on the Billboard Hot 100 and #1 in Vancouver. Other hits followed including "Rubber Ball" (#2)," Take Good Care of My Baby" (#1), "Run to Him" (#2) "The Night Has a Thousand Eyes" (#3) and "Come Back When You Grow Up Girl" (#3).

Briefly, Vee's back-up band in Fargo included Elston Gunnn whose birthname was Robert Allen Zimmerman. Gunnn was hired to play the piano. But after the first practice it was learned Elston could only play piano in the key of C. In addition, he didn't have a piano. It soon became unfeasible to have a piano player with no piano in the band so Bobby Vee had to fire Elston Gunnn. (Yes, that's G-U-N-N-N with three N's, as Bobby Vee would later recall). A year later Elston Gunn would adopt a different pseudonym: Bob Dylan. Dylan would credit Bobby Vee with helping him establish himself in the music business. Bobby Vee remembers being in New York City in 1962 and seeing the cover of an album titled Bob Dylan, and thinking, "that guy looks a lot like Elston Gunnn."
In 1962 Bobby Vee's eighth album in two years, A Bobby Vee Recording Session was released. It contained the hit single "Please Don't Ask About Barbara". His follow up single was "Sharing You", co-written by Carole King and Gerry Goffin. The B-side of the single was "In My Baby's Eyes", also co-written by Goffin and King. The songwriting duo had earlier co-written Vee's #1 hit, "Take Good Care Of My Baby". Goffin and King had co-written other hits at the time. By 1962, these included "The Loco-Motion" for Little Eva, "Chains" and "Don't Say Nothing Bad About My Baby" for The Cookies, "Will You Love Me Tomorrow" for The Shirelles, "Up On The Roof" and "Some Kind of Wonderful" both for the Drifters. Carole King had also written "Crying In The Rain" in 1962 for the Everly Brothers. Goffin and King wrote "Go Away Little Girl" that was first recorded by Bobby Vee in March 1962. But it was Steve Lawrence who had a number one hit with the song later that year. They also co-wrote "Keep Your Love Locked" for Paul Petersen. Goffin and King had earlier co-written both "How Many Tears" and "Walking With My Angel" both for Bobby Vee in 1961. Meanwhile, in 1962, Gerry Goffin also wrote other songs on his own including "Her Royal Majesty" for James Darren which climbed to #6 on the Billboard Hot 100.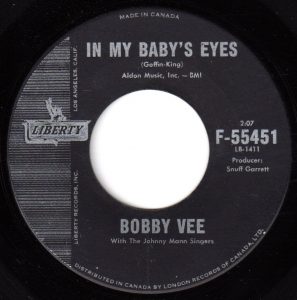 "In My Baby's Eyes" peaked in Hartford, Connecticut at #9, and in the southern California it climbed to #10 in San Bernardino and Fresno. The song also made it to #18 in Syracuse, New York. Beyond these markets, "In My Baby's Eyes" got little airplay in America. Yet, in Vancouver, the song peaked at #7. "In My Baby's Eyes" is a song about a guy who realizes that while other girls look past him, in his girlfriends' eyes he is handsome as can be. That same year Vee appeared in two films, Swingin' Along and Play It Cool. Play It Cool featured Vee co-starring with Billy Fury, Helen Shapiro and Danny Williams. The film was about a struggling pop singer and the rich heiress who is searching for a lover. He appeared on the Art Linkletter Show and there was also a TV documentary feature called The Idol: The Story of Bobby Vee. On April 30, 1962, Bobby Vee turned 19 years old. At the end of the year, Bobby Vee was again at the top of the charts in Vancouver with "The Night Has A Thousand Eyes".
Bobby Vee died in October 2016. NPR did a special honoring his career in pop music on October 28, 2016. Playing a taped interview with Bobby Vee years back, Vee talked about how he ended up on stage at the Moorhead Armory on February 4, 1959. He recalls that the promoters of the show had decided to go ahead with the show. Dion and the Belmonts were going to perform and the Crickets. Vee recalls there was an announcement on the local radio station: "And they were asking for local talent. We called up the radio station. They said, come on down. And that was it. I mean, they didn't ask us anything. They didn't ask us, you know, what we played or anything. And we did – went down to the Moorhead Armory that night at, you know, 6:30 and waited. They said just wait in the wings. And we did."
In the NPR interview, Vee also recalls Carole King and Gerry Goffin coming to the studio where he was going to record a song they wrote titled "How Many Tears". He told NPR, "Carole and Gerry flew from New York to be at the session. And on a break, Carole said, let me play a couple of songs that we just wrote, and she sat down at the piano and played a song called "In My Baby's Eyes", which is a wonderful song I recorded later on. And the second song was "Take Good Care Of My Baby".
After "The Night Has A Thousand Eyes" made the Top Ten in the winter of 1962-63, Bobby Vee released over a dozen more singles that largely floundered on the pop charts. It wasn't until 1967 that he managed to make the Top Ten again with "Come Back When You Grow Up". Nine more single releases between 1967 and 1971 failed to deliver another hit record.
Over the years Bobby Vee shared the concert stage with Little Richard, Brenda Lee and Jackie Wilson. He moved his family to Minneapolis in 1980. They had a solar panel house built, reflective of their environmentally friendly values. While his spouse, Karen, got a degree in clinical nursing, Bobby Vee kept on performing up to eighty concerts a year. Vee continued to perform in concert until 2011 when he was diagnosed with Alzheimer's disease. He died on October 24, 2016, due to complications from the disease.
August 20, 2018
Ray McGinnis
References:
Songs Written by Carole King, Wikipedia.org
List of Song Lyrics Written by Gerry Goffin, Wikipedia.org
King, Carole. A Natural Woman: A Memoir. Grand Central Publishing, New York & Boston, 2012.
Michael Winner – Director, Play It Cool, Anglo-Amalgamated Films, 1962.
Play It Cool ~ Trailer, 1962
"C-FUNTASTIC FIFTY," CFUN 1410 AM, Vancouver, BC, December 22, 1962.
Remembering Singer-Songwriter Bobby Vee, The Teen Idol Of The '60s, NPR, Washington D.C., October 28, 2016
Jon Bream, Take Good Care of My Baby: Bobby Vee and his Wife Celebrate 50 Years, Star Tribune, Minneapolis, MN, April 13, 2014
'60s Pop Idol Bobby Vee, Singer of 'Take Good Care of My Baby,' Dead at 73, Chicago Tribune, October 24, 2016.
"C-FUNTASTIC FIFTY," CFUN 1410 AM, Vancouver, BC, May 26, 1962.
For more song reviews visit the Countdown.