#767: My Back Pages by The Byrds
Peak Month: April 1967
7 weeks on Vancouver's CKLG chart
Peak Position #6
1 week Hitbound: March 18, 1967
Peak Position on Billboard Hot 100 ~ #30
YouTube.com: "My Back Pages"
Lyrics: "My Back Pages"
Around 1963 a folk trio that named itself the Jet Set, consisted of Roger McGuinn on vocals and lead guitar, Gene Clark on vocals tambour and rhythm guitar and David Crosby on vocals and rhythm guitar. In 1964 the trio released a single that was a commercial failure and credited to The Beefeaters. They added bass (and mandolin) player Chris Hillman and drummer Michael Clarke and became The Byrds. They offered up a fusion of folk-rock and became an instant hit with two #1 hits in Vancouver and the Billboard Hot 100 in 1965: "Mr. Tambourine Man" and "Turn, Turn, Turn". The former was written by Bob Dylan and the latter by Pete Seeger. A single between their #1 hits was another Dylan tune titled "All I Really Want To Do". The Byrds were perennial favorites in Vancouver who consistently had better chart runs in Vancouver than back in their home country of America. Aside from their two #1 hits, they failed to chart other songs into the Billboard Hot 100. But in Vancouver they charted ten songs into the Top Ten.
Roger McGuinn was born in Chicago in 1942. When he was 13 years old he heard Elvis Presley sing "Heartbreak Hotel". Upon hearing the song he asked his parents to buy him a guitar. When he was 14 years old, he took a five-string banjo course from the Old Town School of Folk Music in Chicago. Soon after he began to play at coffee houses and got noticed by others in the folk scene. In 1958, McGuinn was hired to tour as a temporary member of the backing band for the Limeliters, the Chad Mitchell Trio and Judy Collins, which continued until 1962. He also provided backing vocals on a number of singles released by Bobby Darin from the late 50's until early 1963. Bobby Darin got ill and quit performing for a few years and founded TM Music out of the Brill Building in Manhattan. Darin hired McGuinn to write songs for $35/week. McGuinn also was a studio musician for both Judy Collins and Simon & Garfunkel.
Gene Clark was born in a small town of about 1,200 people called Tipton, Missouri, in 1944. He was the third of thirteen children and from his childhood began to play harmonica and guitar, after being taught to play by his dad. He started to compose songs by age eleven and at age 15 he was in a band called Joe Meyers and the Sharks. Clark was strongly influenced by The Kingston Trio and later founded a folk group in 1962 called the Rum Runners. Later that year, while playing with the folk group, the Surf Riders, in Kansas City, Gene Clark was discovered by the New Christy Minstrels. He got a place in their folk group in time to add his vocals to "Green Green", a Top 20 hit for the group in the summer of 1963. After he left the New Christy Mintrels and moved to Los Angeles, Gene Clark met Roger McGuinn at the Troubador Club.
David Van Cortlandt Crosby was born in LA in 1941. While growing up Crosby focused on drama, but developed an interest in music after graduation. In 1961 he and African-American singer, Terry Callier, sought a record deal in New York City. But there wasn't any interest in signing a record contract with a bi-racial folk duo in America in 1961. So, in 1962, Crosby became a member of Lex Baxter's Balladeers, a backing vocal group for band leader Les Baxter. Crosby was able to sign a recording contract in 1963 and release some material as a solo artist. In 1964 he met Roger McGuinn in Chicago while McGuinn was a sideman for Miriam Makeba while she was on tour in the USA.
Christopher "Chris" Hillman was born in 1944 in Los Angeles. His family grew up in rural San Diego County and when he was 16 years old, Hillman joined a bluegrass band named The Scottsville Squirrel Barkers who sang traditional tunes like "Home Sweet Home." When the folk group disbanded in 1963 after recording one album, Hillman moved to LA and formed a folk troupe named the Golden State Boys. The band soon changed their name to The Hillmen. Popular as The Hillmen were in the height of the folk music revival in the early 60's, they couldn't secure a record deal. Hillman left the band to join the Byrds, after McGuinn and Clark recruited him.
Michael James Dick was born in 1946 in Spokane, Washington. He ran away from home at that age of 17 and hitchhiked to California. He took on the surname of Clarke. Michael Clarke met David Crosby on a beach in northern LA while playing bongo drums. Crosby offered him a chance to audition and join The Byrds.
Ingram "Gram" Cecil Connor III was born in Winter Haven, Florida, in 1945. At age ten "Gram" saw Elvis Presley perform in concert in Waycross, Georgia, in February 1956. At the age of 12 "Gram" Conner III experienced the tragedy of his father's suicide. His mother remarried Robert Parsons, and the family took on the new surname. At the age of 15 Gram was playing in rock in roll bands the Legends and the Pacers at clubs in Florida. When he turned 16 he shifted his focus to folk music. He joined a folk group from Greenville, South Carolina, called the Shilos who performed at Florida's exhibition in the 1964 New York World's Fair. In the mid-60's he went on to study at Harvard and formed another folk group called The International Submarine Band, based out of Boston. In 1967 Chris Hillman and Gram Parsons met each other while waiting in line at a bank. In February, 1968, Parsons had an audition to become a member of The Byrds. At first they wanted him to be a jazz pianist but ended up having him contribute rhythm guitar and vocals. He was a member of the Byrds for just one year. During this time they recorded Sweetheart of the Rodeo.
Kevin Daniel Kelley was born in LA in 1943. He played drums in the Beverly Hills High School Band. After graduation he served with the U.S. Marine Corps for three years. He was stationed in Japan. In 1965 he joined a folk-rock group called the Rising Sons which included bandmates Ry Cooder and Taj Mahal. After the group split in 1967 Kelley got work at a clothing store. In early 1968, after David Crosby and Michael Clarke had left The Byrds, Chris Hillman met Kelley at the clothing store. After an audition, Kevin Kelley joined The Byrds in January 1968 as their new drummer. Kelley simultaneously drummed for the Texas rock group Fever Tree.
The Byrds quickly became known for their strong harmonies and their upbeat guitar sound. Gene Clark wrote a number of singles the band released in 1965-66 which went on to become Top Ten hits in Vancouver. These were "Set You Free This Time" and "I'll Feel A Whole Lot Better". Clark co-wrote "Eight Miles High" with McGuinn and Crosby. McGuinn wrote "Mr. Spaceman" and "So You Want To Be A Rock 'N Roll Star".
In 1966, the Byrds experienced controversy upon the release of "Eight Miles High", a song about flying into London, England, while on tour. Eight miles high/And when you touch down/You'll find that it's/Stranger than known….Rain gray town/Known for its sound/In places/Small faces unbound./Round the squares/Huddled in storms/Some laughing/Some just shapeless forms. When you fly eight miles high you are about 42,000 feet above ground. Lear Jets were flying that high in the 1960's and The Byrds often flew in Lear Jets. Gene Clark first thought of giving the song the title "Seven Miles High". But then he thought of The Beatles hit, "Eight Days A Week," and liked the sound of "Eight Miles High". However, some music critics and deejays thought the song must be about drugs and there was encouragement to ban the song. As a result "Eight Miles High" saw little or no airplay in Alaksa, Oregon, Nevada, Utah, Wyoming, Montana, New Mexico, Oklahoma, South Dakota, Arkansas, Louisiana, Alabama, Georgia, North Carolina, Kentucky, West Virginia, Maryland, Vermont and Maine.
In the midst of the controversy Gene Clark decided to quit the band. One of The Byrds final Top Ten hits in Vancouver was penned by Bob Dylan titled "My Back Pages".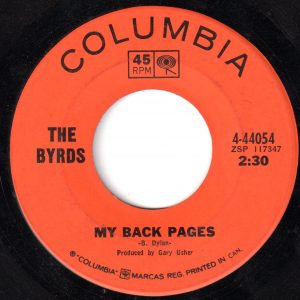 In 1964, Bob Dylan wrote "My Back Pages" as his final track on his album, Another Side of Bob Dylan. The song is a reflection on Dylan's growing disenchantment with protest movements, being a spokesman for something and pointing fingers at people. The refrain: "Ah, but I was so much older then/I'm younger then that now," reflects a Dylan who is now questioning all the things he was once was proud and certain of. Now Dylan questions defining what is good and what is bad. He questions the idealization of equality verging on idolatry. He is regretful of a style of preaching a political point of view that undermines the good he is trying to achieve by his soldier-like stance. He finds it insufficient to be so guarded and protected from others viewpoints in an effort to rally one's own cause. As an example of the contradictions of what one protests and how one protests Dylan pens "rip down all hate, I screamed." Though Bob Dylan wrote the song in 1964, he didn't perform it until June 11, 1988.
The Byrds recorded "My Back Pages" in December 1966 and released the single from their album, Younger Then Yesterday, in March 1967. It was the sixth song Bob Dylan wrote that the Byrds had covered. Other Dylan songs included "Mr. Tambourine Man", "Lay Lady Lay" and "All I Really Want to Do". Band member, David Crosby was concerned that the cover was too formulaic. However, Roger McGuinn was satisfied the song was a worthy effort and they went on to make a recording. The song peaked at #30 in the USA and peaked at #6 in Vancouver. The song had other strong chart runs in Springfield, Massachusetts at #1, it climbed to #2 in Kingston Ontario,#3 in Cincinnati and Toldeo (OH), Redding (CA), Rochester (NY), and Honolulu; #6 in Miami (FL) and Kitchener (ON); #7 in Fresno, California; #8 El Paso (TX) and Chilliwack (BC); And #9 in Tulsa (OK) and Toronto (ON).
"My Back Pages" has also been recorded by numbers of other recording artists including The Hollies, The Ramones, Steve Earle and The Nice featuring Keith Emerson who later went on to form Emerson, Lake and Palmer.
"My Back Pages" was the final Top 40 hit for The Byrds in America. They had another Top Ten hit in Vancouver a year later, also penned by Bob Dylan called "You Ain't Going Nowhere". In 1968, Gram Parsons and Chris Hillman left the band to form the Flying Burrito Brothers. Drummer Michael Clarke was fired from the band at the end of 1967 and went to be a painter in Hawaii. He eventually would join the Flying Burrito Brothers. Then David Crosby left The Byrds at the end of 1967 and by the summer of 1968 formed one third of Crosby, Stills and Nash. After several more changes in membership The Byrds finally disbanded in 1973.
July 11, 2018
Ray McGinnis
References:
Joe Bosso, The Real Story Behind The Byrds "Eight Miles High," Music Aficionado, Beverly Hills, CA.
The Byrds Biography, The Byrds Fan Site.
David Crosby website, David Crosby.com
Zimmer, Dave, and Diltz, Henry. Crosby, Stills & Nash: The Authorized Biography. St. Martin's Press, New York, NY, 1984.
Einarson, John. Mr. Tambourine Man: The Life and Legacy of the Byrds' Gene Clark. Backbeat Books, San Francisco, CA, 2005.
Chris Hillman website, Chris Hillman.com
Hjort, Christopher. So You Want To Be A Rock 'n' Roll Star: The Byrds Day-By-Day (1965-1973). Jawbone Press, London, UK, 2008.
Larkin, Colin. The Byrds Biography, Encyclopedia of Popular Music. Omnibus Press, London, UK, 2007.
Rogan, Johnny.The Byrds: Timeless Flight Revisited. Rogan House, London, UK, 1998.
Fong-Torres, Ben. Hickory Wind: The Life and Times of Gram Parsons. St. Martin's Press, New York NY, 1998.
"Boss 30," CKLG 730 AM, Vancouver, BC, April 22, 1967.
For more song reviews visit the Countdown.