#858: Your Own Back Yard by Dion
Peak Month: July 1970
8 weeks on CKVN chart
Peak Position ~ #3
Peak Position on Billboard Hot 100 ~ #75
YouTube.com: "Your Own Back Yard"
Lyrics: "Your Own Back Yard"
Dion Francis DiMucci was born in the Bronx, NY, in 1939. His parents named him Dion in honor of the French Canadian Dionne quintuplents who captured the interest of millions around the world after the five infants were born in May 1934. Dion's dad, Pasquale DiMucci, was a vaudeville performer and Dion accompanied him to see his dad on stage. As a child he was given an $8 dollar guitar by his uncle while he lived on 183rd Street. Dion's childhood was set in the midst of conflict between his parents. In an interview with New York Magazine in 2007, Dion remembers "…There was a lot of unresolved conflict in my house… My pop, Pasquale, couldn't make the $36-a-month rent on our apartment at 183rd and Crotona Avenue." He was a dreamer, a failed vaudevillian, and sometimes Catskills puppeteer. He'd talk big and lift weights he'd made from oilcans, while Frances, Mrs. DiMucci, took two buses and the subway downtown to work in the garment district on a sewing machine. "When they'd start yelling, I'd go out on the stoop with my $8 Gibson and try to resolve things that way."
Dion began singing in Bronx bars at 13, doing a Hank Williams nasal twang imitation fused with street-corner aesthetic. As a teenager growing up in the Bronx, Dion DiMucci began singing on street corners at the age of 13. In a 2007 interview with the New Yorker, Dion said he started hanging out at the Apollo Theatre on 125th Street in Harlem when he was 14-years-old. It was there he'd hear group like the Cleftones singing "Little Girl Of Mine" and the Cadillacs singing "Speedoo". From these black doo-wop groups Dion got some ideas for making harmony and choreography moves.
By 1954 Dion had dropped out of high school. He made a demo record that heard by producers of a Philadelphia teen variety show called the Teen Club. Dion appeared on the show and released some singles with his group the Timberlanes. In 1954 Dion also began to do drugs. In 1957 Dion and the Timberlanes single, "The Chosen Few" made it to #7 in Boston on WCOP, spending three months on the Boston pop charts. Later that year Dion DiMucci joined a Bronx group called The Belmonts. The group was named after a street in a Little Italy named Belmont Avenue. They released "Santa Margherita," a tune with a more traditional Italian-American sound. A follow up single, "Tag Along", had a rockabilly influence. They kept on experimenting with their "sound" as a group. The next single, in 1958, was "I Wonder Why" which peaked at #8 in Vancouver and #22 on the Billboard Hot 100. They fused doo-wop with a Johnny Mathis piano sound with their Top 30 follow up, "No One Knows." They had their first Top Ten hit in America in 1959 with "A Teenager In Love." The song climbed to #5 in Vancouver and on the Billboard Hot 100.
Dion and The Belmonts were soon on stages shared with Gene Vincent, Bobby Darin and Eddie Cochran. In January 1959 Dion and The Belmonts were part of a fall tour in 1958 with Buddy Holly titled "The Biggest Show of Stars." Buddy Holly and Dion got along well and Holly invited Dion and The Belmonts to join him on his upcoming "Winter Dance Party" tour. Dion and the Belmonts, Buddy Holly and His Crickets, Ritchie Valens and The Big Bopper were the headliners. After enduring bus travel with poor heating systems, Buddy Holly arranged for a flight to get three people from Clear Lake, Iowa, to Moorehead, Minnesota. Dion and The Big Bopper both won a coin toss to join Buddy Holly on the small three-seater. But when Dion learned from Buddy Holly that the plane ticket would cost $36 dollars, Dion let Ritchie Valens have his seat on the plane. The flight ended in tragedy and Dion was the only headliner that was still alive at the end of February 3, 1959. At the time he was 19 years old.
While their second Top Ten hit in the USA, "Where Or When,"climbed to #3 in the USA Dion's drug dependency worsened, and he was in the hospital detoxifying from heroin as "Where or When" peaked. Dion pursued a solo career. His first solo release, "Lonely Teenager", climbed to #2 in Vancouver. He teamed up with Ernie Maresca to write "Runaround Sue," which became one of the top selling singles of 1961. The song was inspired by Susan Butterfield, who he married in 1963. In the winter of 1961 "The Wanderer" put Dion back on the top of the charts. Vancouver made his B-side, "The Majestic" also a Top Ten hit. Almost all of Dion's solo singles were more mainstream rock 'n roll than some of the doo-wop ballads he sang when he was with The Belmonts. He appeared again in the Top Ten in 1963 with "Ruby Baby", "Drip Drop" and "Donna The Prima Donna". The latter song, written as a song about a romance was inspired by Dion's sister Donna DiMucci. Part of the lyrics described his sister's interests: "She always wears charms, diamonds, pearls galore/She buys them at the five and ten cents store/She wants to be just like Zsa Zsa Gabor/Even though she's the girl next door." Only, in the real life Donna's case, she was actually the girl in the bedroom down the hall in the family home.
Dion DiMucci married Susan Buttefield on March 25, 1963. He recalls, "things went from bad to much worse. I had no idea drug and alcohol abuse was a progressive disease." In 1964, the combination of the British Invasion and a growing heroin addiction began to derail Dion's music career. Nine of ten single releases between 1964 and 1967 failed to crack the Billboard Hot 100. He went on tour to the UK in 1965 and appeared on Dick Clark's Where The Action Is. In 1967 Dion, along with Bob Dylan, were the only rock 'n roll recording artists to appear on the Beatles' Sgt. Pepper's Lonely Hearts Club Band, besides the Fab Four. It was a nod to the impact Dion's music had across the Atlantic.
In 1968 Dion recorded "Abraham, Martin and John". The song was a tribute to the memory of four assassinated Americans. Abraham Lincoln was president of the United States during the Civil War and abolished slavery. Martin Luther King Jr. was a civil rights leader whose "I Have A Dream" speech in Washington D.C. in 1963, inspired the nation to pass the Voting Rights Act and other social legislation in the mid-60's. John F. Kennedy worked to find a diplomatic solution to avoid a nuclear war with the Soviet Union during the Cuban Missile Crisis in the October 1962. On August 5, 1963, after more than eight years of difficult negotiations, the United States, the United Kingdom, and the Soviet Union signed the Limited Nuclear Test Ban Treaty. Robert F. Kennedy was a champion of civil rights and ran to become the Democratic candidate for President in the 1968 election, promising to end the Vietnam War. The song was written in response to the assassination of King on April 4th and Robert Kennedy on June 5. The song marked what music critics considered a maturing of his subject matter.
In 1970 Dion wrote "Your Own Back Yard". It climbed to #3 in Vancouver, though in the USA it stalled at #75 on the Billboard Hot 100. The only other radio market in North America where the song charted well was St. Louis, Missouri, at #9.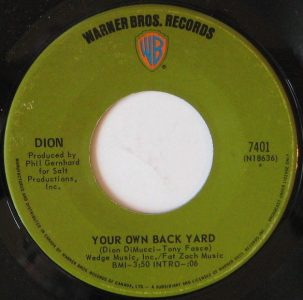 "Your Own Back Yard" is Dion DiMucci's autobiographical reflection about his addiction to alcohol and drugs, as he describes it "kicking junk." His marriage with his wife, Susan, was on the rocks. In 1966 his first daughter, Tane DiMucci, was born. An addict, Dion was unable to be the kind of parent his daughter needed and his wife counted on. His heroin addiction was expensive. Even though he had become a successful teen idol by the age of 19, the ghosts of a troubled upbringing and spending a lot of time on the streets from the age of 14 had caught up with him. Dion had a religious experience in 1968 and was determined to get off drugs and alcohol. After he finally got off heroin in 1968, and left his drug habit behind, Dion began to volunteer at local hospitals counseling heroin addicts. He also became a better husband and a better father after going straight and freeing himself from his addictions.
In one of his autobiographies, Dion recalled, "There was never a word of praise in my house… A lot of demeaning talk and criticism. I never felt good about myself – and the success didn't change things. I made $2 million by the age of 22 . . . had 10 Top Ten records… was at the height of my profession, I had all the bases covered… Fame, fortune and romance. I had even married my childhood sweetheart. But I was empty. I was looking out the penthouse window and saying, 'What the hell is wrong?' What I finally discovered was that I had others' esteem, but I didn't have self-esteem."
Dion was a perfect example of someone who might have ended up doing drugs in the 50's and 60's. He lived in a troubled household. He was out on the streets to get away from the demeaning, critical tone from his parents each time he went home from school. He dropped out of high school and spent a lot of time on the streets and got involved in a gang in the Bronx by the age of 14. He became famous and was making $500,ooo a year and had more money than he could ever imagine. After all, when he was 19, he decided not to get on a plane with Buddy Holly and the Big Bopper on February 3, 1959, because the plane ticket cost $36. With all that disposable income, Dion knew he had some extra cash to support his addiction to heroin.
As much as our culture has been saturated with news stories and documentaries about drug use being epidemic in the 1960's, it was actually quite rare compared to today. Gallup polled Americans in 1969 and asked them if they'd ever tried marijuana. In their "poll, only 4% of American adults said they had tried marijuana. Thirty-four percent said they didn't know the effects of marijuana, but 43% thought it was used by many or some high school kids." So, while there were lots of TV cameras rolling whenever hippies smoked marijuana in public, it was tried by fewer people than in more recent decades. The same is true for hard drugs like heroin and cocaine. In 2006 there were 90,000 people who tried heroin for the first time in the USA. In 2016 there were 170,000 people starting to use heroin. The Columbia University Mailman School of Public Health conducted a study over a ten year period of 80,000 Americans. They found that in 2002 only 0.33% of the US population had tried to use heroin. By 2013 the percent of Americans who had tried heroin was 1.6%. or 3,800,000. Another study that was conducted between 2001-02 and 2012-13 showed a similar fivefold increase in heroin usage in the United States. The increase in heroin usage was almost to 2 percent of the population among white people.
In 1898, the Bayer pharmaceutical company began an aggressive marketing campaign to sell its commercial preparation of Heroin. That was the name they gave to their formulation of diacetylmorphine, or the product of boiling morphine for several hours. Heroin was heavily promoted as being non-addicting, and therefore an excellent treatment for morphine addiction. Bronchitis, tuberculosis and other cough-inducing illnesses were also treated with Heroin. In 1906, the American Medical Association approved Heroin for general use, and recommended that it be used in place of morphine. This free rein soon resulted in a population of 200,000 heroin addicts in New York City. In 1914, the Harrison Narcotics Act was passed that was an attempt to stop abuse of cocaine, heroin and cannabis, making possession of each narcotic illegal. After World War II organized crime got more involved in trafficking heroin. By the mid-1960s, the presence of US troops in Vietnam was being blamed for the increase in heroin on the streets. Some troops became addicted to heroin and brought the habit home, and others saw heroin trafficking as a way to make money.
In 1972 Dion and The Belmonts played to a sold out audience at Madison Square Gardens in New York and another sold out reunion show on Long Island at Nassau Coliseum in 1973. In 1979 Dion became a born-again Christian and proceeded to record five contemporary Christian albums into the late 80's. In 1983 his album, I Put Away My Idols, climbed to#37 on the Billboard 200 Album chart. The album earned Dion a Grammy Award nomination for Best Gospel Performance, Male.
In 1987, DiMucci sang "Teenager in Love" at Madison Square Garden with an impromptu backup group that included Bruce Springsteen, Paul Simon, James Taylor, Lou Reed, Ruben Blades and Billy Joel. In 1989 he co-wrote an autobiography with Davin Seay titled "The Wanderer: Dion's Story." Bruce Springsteen has called Dion "the bridge between Frank Sinatra and rock 'n roll." Jerry Lieber, a songwriter for Elvis Presley, The Coasters and others said of Dion was "the best white blues singer he had ever heard."
Dion and Susan will celebrate their 55th anniversary in 2018. They've lived in Boca Raton, Florida, since 1968 and have grandchildren.
March 16, 2018
Ray McGinnis
References:
"Dion DiMucci" 1950s-2012, The Pop History Dig.com
John Lombardi, "Dion DiMucci, Teen Idol: A Seminal Bronx Rocker, Inspiration for Lou Reed and Springsteen, is Coming Back to His Roots.," New York Magazine, New York, NY, December 30, 2007.
Dion – bio, Dion DiMucci.com
DiMucci, Dion with Aquilina, Mike. Dion: The Wanderer Talks Truth. St. Anthony Messenger Press, Cincinnati, Ohio, 2011.
"Celebrating Seniors – Dion DiMucci is 76," 50 Plus World.com, July 18, 2016.
DiMucci, Dion and Seay, Davin. The Wanderer: Dion's Story. Quill Press, 1989.
Dave Hinckley, Fred Milano, Tenor with Dion and the Belmonts, Dead at 72, New York Daily News, January 2, 2012.
Jennifer Robison, "Decades of Drug Use: Data From the '60s and '70s," Gallup.com, July 2, 2002.
What is the Scope of Heroin Use in the United States?, National Institute on Drug Abuse, Washington D.C., January 2018.
Nicola Davis, "US Heroin use has Increased Almost Fivefold in a Decade, Study Shows," Guardian, London, UK, March 29, 2017.
Heroin History: 1900s, narconon.org.
"Your Average Rock and Roll Radio Survey," CKVN 1410 AM, Vancouver, BC, July 17, 1972.
For more song reviews visit the Countdown.