#346: Ballad of Thunder Road by Robert Mitchum
Peak Month: August 1958 and January 1962
Peak CFUN position in Vancouver ~ #2 (1958)
Peak CFUN position in Vancouver ~ #4 (1962)
Peak Position on Billboard Hot 100 ~ #62
YouTube: "Ballad Of Thunder Road"
Lyrics: "Ballad of Thunder Road"
Robert Charles Durman Mitchum was born in Bridgeport (CT) in 1917. His father died in a railyard accident in 1919. At the age of 12, young Robert Mitchum began performing in a Vaudeville show that appeared along the East Coast. At the age of 14 he hopped freight trains and travelled across America. He dug ditches, fought as a boxer, and worked for the Civilian Conservation Corps. In 1933 he was arrested for vagrancy and worked on a chain gang. During WWII Mitchum worked as a machine operator for Lockheed Martin. In 1942-43, he appeared in a number of episodes in Hopalong Cassidy. This included the 1943 movie Hoppy Serves a Writ.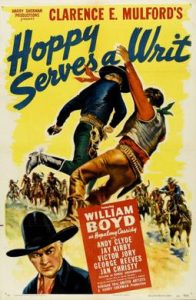 In 1945, Mitchum starred in The Story of G.I. Joe. He received an Academy Award nomination for Best Supporting Actor. After the film was released, Robert Mitchum was drafted into the U.S. Army and served as a medic at a base in California. But Mitchum was best known for his film noir appearances. Starting in 1944, he appeared in When Strangers Marry, a film about a woman who marries a man that she discovers is a murderer. Other film noir starred Mitchum in Undercurrents (1946), Crossfire and Out of the Past (1947), The Big Steal (1949), Where Danger Lives (1950), The Racket (1951), Macao (1952), Angel Face (1953), The Night of the Hunter and Not as a Stranger (1955), and Foreign Intrigue (1956), and Cape Fear (1962).
As well, Mitchum appeared in a number of war dramas and westerns. In 1958 he appeared in the crime-drama Thunder Road.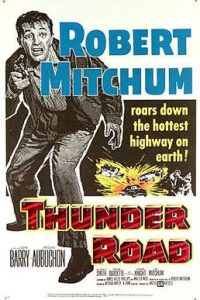 In the film, Robert Mitchum was cast as Lucas Doolin who works in the family moonshine business, running liquor his father distills to clandestine distribution points throughout the South in his hot rod. However, Lucas has more problems than evading government "revenuers." Both a hothead and a fatalist, Lucas Doolin is concerned that his teen-aged younger brother Robin, (who was played by Robert Mitchum's son – James Mitchum) who is also his mechanic, will be tempted into following in his footsteps. An aggressive urban gangster, Carl Kogan, is trying to gain control of the independent local moonshine producers and their distribution points. Dead shiners strewn along Thunder Road prove he is willing to kill anyone who stands in his way. Determined Treasury agent Troy Barrett is drawn in to stop the bloodshed, and its cause.
Bartlett's attempt to engage Lucas are thrown right back in his face. The stakes rise when an attempt by Kogan to kill Lucas results in the deaths of another moonshine driver mistaken for him and one of Bartlett's men. Still, Lucas does not back off, a stubbornness and strike-first hostility attributed by townsfolk to a "machine-gunner's mentality" they feel he brought home from the Korean War, which pervades his every doing. Only with nightclub singer Francie Wymore can he drop his guard, as far as he is able. At the same time, he steadfastly resists the attentions of the belle of the mountain girls, innocent Roxanna Ledbetter (Sandra Knight), who has a crush on him and fears for his life.
When a series of government raids destroy local moonshiners' hidden stills, Lucas's father and the others shut down production "for a spell" to let the government deal with Kogan in its own time. In spite of this, Lucas is forced by circumstances and his own code of honor to make one final run of his dad's shine.
The opening song in Thunder Road was "The Ballad of Thunder Road". On some 45 and 78 RPM printings it carried the title "The Ballad of Thunder Road", while on others it was shortened to "Thunder Road".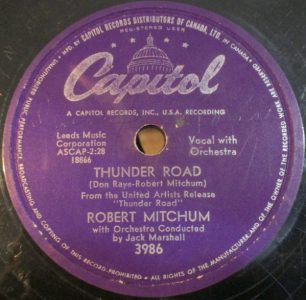 "Thunder Road" was cowritten by Don Raye and Robert Mitchum. Donald MacRae Wilhoite, Jr. (Don Raye) was born in Washington D.C. in 1909. He started his career as a dancer, going on to win the "Virginia State Dancing Championship." Wilhoite started work in vaudeville as a "song and dance man" often writing his own songs for his act, where he changed his name to Don Raye. In 1940 he cowrote the Top ten hits "Beat Me Daddy, Eight to the Bar" for the Andrew Sisters and "Down The Road A Piece" for the Will Bradley Trio. The next year the Andrews Sisters had a #6 hit with "Boogie Woogie Bugle Boy" (which also peaked at #6 in 1973 for Bette Midler). In 1946 he penned a Top Ten hit for Freddie Slack featuring Ella Mae Morse with "The House of Blue Lights". He also contributed a number of songs for animated film including Alice in Wonderland.
The lyrics to "Thunder Road" tell of a mountain boy who runs illegal moonshine for his pa. When his engine roars, people call the highway he's driving on 'Thunder Road.' The song gives us some of the geography of the area. The mountain boy drives between Memphis, Knoxville and Maynardville, Tennessee; Harlan, Kentucky; Cumberland, Maryland; and Asheville, North Carolina. The memorable chorus tells listeners:
And there was thunder, thunder over thunder road.
Thunder was his engine, and white lightning was his load.
There was moonshine, moonshine to quench the devil's thirst
The law they swore they'd get him, but the devil got him first.
A nickname for moonshine is 'mountain dew.' In 1954, the song tells us, a federal agent comes who is the first among two hundred lawmen determined to put a stop to the illegal alcohol racket. State Route 33 in Tennessee was Thunder Road. Sections of the former Highway 33 in Union County have signs marking "The Original Thunder Road". Thunder Road itself was said to be the route at the south end in Knoxville and Beardon, Tennessee. Heading north on Highway 33, the road winds through Halls, Maynardville and Tazewell, Tennessee. From there, Thunder Road continues north on Highway 25 up to the Cumberland Gap on the Tennessee-Virginia-Kentucky border, and up to Middleboro, Kentucky. And it continued north along Kentucky HWY 25E, and then east on Route 119, then south to Harlen on Route 421. In the song it is one fateful day in Beardon, Tennessee, at the Knoxville Pike, that the g-men (government men) "made the fatal strike" against the mountain boy. It is said that on that day the devil got both the moonshine and the mountain boy. The mountain boy "left the road at ninety."
"Ballad Of Thunder Road" charted in 1958 and again in 1962. It variously peaked at #1 in Seattle, Troy (NY), and Denver, #2 in Syracuse (NY), Albany (NY), and Vancouver (BC), #3 in Cleveland, and Kansas City (MO), #4 in Mobile (AL), and Baltimore, #5 in Burlington (VT), #6 in Charlottetown (PEI), #7 in Davenport (IA), #8 in Spokane (WA), #9 in Oklahoma City, and Columbus (OH), #12 in Akron (OH), and #13 in Boston.
In the film, it was Randy Sparks – not Robert Mitchum – who sang "Thunder Road" during the opening credits. Sparks version was more of a folk lullaby. Randy Sparks was born in Leavenworth, Kansas, in 1933. He was singing at the Purple Onion in San Francisco by the mid-50s. He released two solo albums in the late 50s. In 1961, Randy Sparks formed the New Christy Minstrels. He wrote their 1963 hit, "Green Green", and 1964 hit "Today". In 1964, "Green Green" was nominated for a Grammy Award in the Best Folk Recording and Best Performance by a Chorus categories. In 1963, Sparks founded the Back Porch Majority. At the age of 90, Randy Sparks continues to perform.
Robert Mitchum's "The Ballad of Thunder Road" was re-issued again in 1967 and made a few record charts, including Seattle.
Prior to "Thunder Road", Robert Mitchum released his debut solo album in 1957 titled Calypso Is Like So! That year he released a single titled "What Is This Generation Coming To?" In 1967 Mitchum had a Top Ten country hit with "Little Old Wine Drinker Me".
In the 1960s and 1970s Robert Mitchum appeared in films opposite many accomplished movie stars including Shirley MacLaine (What a Way to Go!), Dean Martin (5 Card Stud), John Wayne (Rio Bravo), Deborah Kerr (The Sundowners), Carey Grant (The Grass is Greener), Ernest Borgnine (The Wild Bunch), Richard Widmark (The Way West), Jan-Michael Vincent (Going Home), Rita Hayworth (The Wrath of God), and Johnny Depp (Dead Man).
Mitchum provided the voice of the famous American Beef Council commercials that touted "Beef … it's what's for dinner", from 1992 until his death. A "Mitchum's Steakhouse" operated in Trappe, Maryland, where Mitchum and his family lived from 1959 to 1965. He died at the age of 79 in 1997.
November 18, 2023
Ray McGinnis
References:
Lee Server, Robert Mitchum: Baby, I Don't Care, (St. Martin's Press, 2002).
Mike Tomkins, The Robert Mitchum Story: It Sure Beats Working, (W.H. Allen, 1972).
"Interview with Robert Mitchum," The Dick Cavett Show, April 29, 1971.
"Mitchum's Steakhouse"
Randy Sparks, "Thunder Road", Thunder Road, 1958.
Grover Lewis, "Robert Mitchum, the Last Celluloid Desperado," Rolling Stone, March 15, 1973.
"Robert Mitchum, 79, Dies; Actor With Rugged Dignity," New York Times, July 2, 1997.
"Don Raye," Wikipedia.org
Tony Sauro, "Love of music remains strong for Randy Sparks: New Christy Minstrels to perform Saturday in Lodi," Record.net, July 24, 2019.
"C-FUNTASTIC FIFTY," CFUN 1410 AM, Vancouver, BC, January 26, 1962.