#673: Barabajagal by Donovan
Peak Month: August 1969
7 weeks on CKLG's Vancouver Charts
Peak Position ~ #4
1 week Hit Bound
Peak Position on Billboard Hot 100 ~ #36
YouTube.com:"Barabajagal"
Lyrics: "Barabajagal"
Donovan Phillips Leitch was born in Glasgow, Scotland, in 1946. As a child he contracted polio and was left with a limp. At the age of 14 he began to play the guitar and when he was 16 years old he set his artistic vision to bring poetry to popular culture. He began busking and learned traditional folk and blues guitar. Music critics began branding him as mimicking Bob Dylan's folk style. Like Dylan, Donovan wore a leather jacket, the fisherman's cap, had a harmonica cradle and a song with "Wind" in the title. Dylan wrote "Blowing In The Wind" and Donovan had a hit in 1965 titled "Catch The Wind". Donovan was nicknamed by music critics in the UK as the "British Dylan." In 1965 Bob Dylan flew to London for a concert tour of England in from April 28, to May 10, 1965. In a 1967 documentary titled Don't Look Back, by D. A Pennebaker, Donovan appears with Dylan. In a concert performance of "Talkin' World War Three Blues," Dylan sings, "I looked in the closet – and there was Donovan." During the film Dylan and Donovan each play some songs at a hotel party with a concert poster in the background headlined by Donovan, Unit Four Plus 2 and Wayne Fontana and Mindbenders. Dylan patronizes Donovan, while Donovan suggests "I can help you, man." However, in the by the release of his second studio album, Fairytale, Donovan was forging new musical territory. "Sunny Goodge Street" featured some jazz elements and psychedelia. And Dylan bid farewell to acoustic guitar and picked up an electric guitar.
In his autobiography, Donovan recalls how his father, a tool-setter in the Rolls-Royce factory in Glasgow, used to cradle him in his arms and read him poetry: Robert Service's poems of the Klondike, Wordsworth, Coleridge, Byron, Shelley, Blake, Yeats and the works of the "super-tramp," WH Davies. This had a powerful effect on Donovan, "What my father read me was to do with very powerful social change. There have been many bohemias in the history of man, and one was the radicalism of the 1800s, which my father read me poems from. And I was fired with it, until the actual intention to be a voice, to feel I was a voice, to actually be a voice for a generation was a very easy thing. I knew that I was part of it. I'm in service. Poets are. I am in service to the trade."
At the age of 19, Donovan quickly rose to fame in the United Kingdom in early 1965 with a series of live performances on the pop TV series, Ready, Steady, Go! In the winter of 1965-66, Donovan's third album, Sunshine Superman, was mired in a legal dispute with Pye Records for over five months. When it was released in the summer of 1966 the title track drew from folk, jazz, pop, psychedelia and calypso. "Sunshine Superman" shot to #1 on Vancouver's CKLG on August 27, 1966. The song, with it's references to Superman and the Green Lantern, charted a new course in pop art. Donovan was listening to his own muse and music critics let go of the "British Bob Dylan" label. That same year Donovan provided the line "sky of blue and sea of green" in the Beatles song, "Yellow Submarine." Donovan's close association and friendship with the Beatles is seen in an unrecorded final verse of Donovan's 1968 single, "Hurdy Gurdy Man". George Harrison penned a final verse: "When the truth gets buried deep, beneath a thousand years of sleep, time demands a turn around, and once again the truth is found." Donovan would later sing the Harrison verse in two of his live albums, Live in Japan: Spring Tour 1973 and Rising(1990).
On Donovan's official website it is stated, with reference to his early 1968 trip with the Beatles and others to the ashram of ashram of Maharishi Mahesh Yogi in India: "It is now history that Donovan became the tutor of The Beatles on the famous trip to India, where he taught John, Paul and George the finger style guitar and many of his unique chord patterns, that would create many of the best songs and styles of The White Album. Most notable Dear Prudence, Julia (which John asked Donovan to help him write), Blackbird, While My Guitar Gently Weeps, and many others on The White Album."
Donovan's single releases were often more popular in Vancouver than in America. In 1965 "Colours" climbed to #29 in Vancouver but only #61 on the Billboard Hot 100. "Universal Soldier" climbed to #11 in Vancouver and #53 in America. "Epistle to Dippy" #11 in Vancouver and #19 on the Billboard charts. In 1967 "There Is A Mountain" reached #2 on CFUN and #11 on the Billboard Hot 100. A song that later became a lyric for a shampoo commercial, "Wear Your Love Like Heaven", peaked at #5 in Vancouver, but only #23 on Billboard. In 1968 "Lalena" made it to #16 on CKLG but stalled at #33 on the Billboard Hot 100. "Jennifer Juniper" made it to #4 in Vancouver, but stalled at #26 on the Billboard charts. In 1969, "Barabajagal" climbed to #4 but barely made the Billboard Top 40, where it peaked at #36.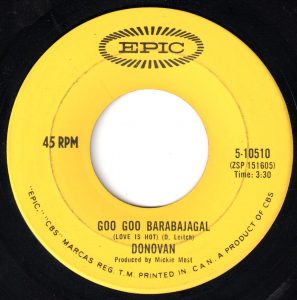 Donovan revealed in an interview that "Barabajagal" was an invented word and was inspired by the "goo goo ga joob" from The Beatles White Album track "I Am The Walrus." On the recording of "Goo Goo Barabajagal (Love Is Hot)," backing vocalists included Lesley Duncan and Susie Quatro. While musicians on the recording included Jeff Beck, Ronnie Wood and other members of the Jeff Beck Group.
"Barabajagal" is a song about a man who is an angel for a woman. A person wise about the uses of different herbs, he gives her wild flowers to ease her pain. He gives her tea from a celandine (either poppies or buttercups). Her eyes become love pools and she is transformed by the heat of love and the truth of what is volcanic inside of her. Clearly, he's found just the right herbal tea for this woman to free her from all her pain and sorrow. In 1969, in the midst of the sexual revolution, songs like "Barabajagal" promised that there were doors that could open individuals to new heights of sensory and human potential, in this case, with just one cup of tea.
Lesley Duncan released a dozen singles from 1963 to 1970, while continuing to write songs for other performers, including the Walker Brothers. She was also in great demand as a session singer, contributing backing vocals to Dusty Springfield's singles from 1964 up to her See All Her Faces album in 1972; Springfield returned the favour, doing backing vocals on Lesley's singles. Throughout the 70s, Lesley sang backing vocals for Elton John, Long John Baldry, Kiki Dee, Ringo Starr and many others, and also sang on the Jesus Christ, Superstar album, Pink Floyd's Dark Side of the Moon (1973) and the Alan Parsons Project's Eve (1979). Lesley Duncan preferred her main gig as a session singer even though she released several albums and a dozen singles of dubious commercial success. She died in 2010 at the age of 66.
Donovan charted "Hurdy Gurdy Man" to #1 in 1968 and repeated that feat with "Atlantis"/"To Susan On The West Coast Waiting" the following year. In Vancouver, "Riki Tiki Tavi" was his last charting single, climbing to #9 on the CKVN charts in 1970. In 1971 he starred as the Pied Piper and wrote the music for the British film, The Pied Piper. In 1972 Donovan wrote the score for the Zefferelli film Brother Sun, Sister Moon. Over the course of his career Donovan has released 26 albums, though his tenth in 1973, Cosmic Wheels, was his last album to reach the Top 40. He appeared in the 1978 comedy musical film Sgt. Pepper's Lonely Hearts Club Band. In 2005 he released his autobiography, The Hurdy Gurdy Man.
On Donovan's official website, the singer-songwriter summarizes the acclaim he has received over the decades: "Donovan in his songs of innocence, has been compared to Blake ,his metaphysical songs to Donne and Herbert, his Celtic songs to Yeats, his children's songs to Stevenson, his Nonesense songs to Carroll and Lear, his Yoga songs to the Vedic Hymns, his Jazz Classical compositions to Ellington and Lewis, his poetic public appeal to Auden. He also is attributed with writing the first 'Green Songs' highlighting the threat to the Ecosystem of our Planet Earth." At this time of writing in early 2018, Donovan has two upcoming concerts in January in Scotland and eight concerts scheduled in Germany in March. When he became an inductee to the Rock and Roll Hall of Fame, it was said of him, "Donovan singlehandedly initiated the psychedelic revolution with his album Sunshine Superman."
December 8, 2018
Ray McGinnis
References:
D. A. Pennebaker, Don't Look Back, 1967 documentary.
Donovan's official website (bio)
Leitch, Donovan. The Hurdy Gurdy Man. Arrow Books, London, UK, 2005.
Brian's Weekly Sleevenotes – 26 July 2014, BBC, July 26, 2014.
"Boss 30," CKLG 730 AM, Vancouver, BC, August 15, 1969.
For more song reviews visit the Countdown.