#316: Believe Me by Royal Teens
Peak Month: November 1959
6 weeks on CFUN's Vancouver Charts
Peak Position ~ #3
Peak Position on Billboard Hot 100 ~ #26
YouTube.com: "Believe Me"
Lyrics: "Believe Me"
Drummer Tom Austin was a founding member of The Royals in 1956 when he was 17 years old. He had been playing the drum since he was a child growing up in Fort Lee, Bergen County, New Jersey. Pianist Bob Gaudio was 14 years old when he became the group's co-founder. Gaudio had been playing piano since he turned eight in 1950. Gaudio was born in November 1942 in Bergenfield, New Jersey. The two other members of the band were 14-year-old saxophonist, Billy Crandall, from Dumont, New Jersey, and 16-year-old Billy Dalton from Fort Lee. The Royals opened for a local New Jersey doo-wop group named The Three Friends who had a hit in New York and Baltimore in the winter of 1956-57 titled "Blanche". After the Fort Lee concert, The Three Friends invited The Royals to come to New York to be the session musicians for their upcoming recording date in the Brill Building at 1650 Broadway. It was there The Royals met The Three Friends manager, Leo Rogers. On the strength of their musical skills, Rogers invited The Royals to be session musicians for numerous recording artists in the building. Rogers promised them that they'd have a shot at recording a record sometime later in 1957.
According to The Royal Teens website, "Tom and Bobby came up with a novel idea for a new song, after seeing some girls with cutoff jeans walking down Washington Avenue in Bergenfield while riding in Tommy's '57 red and white Ford Fairlane 500. When the night came at Bellsound Studios in Manhattan for The Royals to get their turn at bat to record their own song, Tommy did the whistle, Billy Dalton mimicked the whistle on guitar, and Billy Crandal said "Man dig those crazy chicks." With Tommy on drums, Bobby on piano, Billy Dalton on guitar, and Crandall on sax, along with the female vocal provided by Diana Lee a girl from Leo's stable of talented youngsters, The Royal Teens became an overnight success."
Bob Gaudio was fifteen years old when the song he co-wrote with Tom Austin, "Short Shorts", entered the Billboard Pop charts in January 1958. They appeared on American Bandstand on February 3rd and Dick Clark's Saturday Night Beechnut Show on February 15th. The song reached #2 on the R&B charts and #3 on the Pop charts in March 1958. The Royal Teens went on tour with Buddy Holly, Sam Cooke, Jackie Wilson, Jerry Lee Lewis, Bo Diddley, Chuck Berry and Frankie Avalon. But before The Royal Teens went on tour, Billy Crandall's parents made him quit since he was too young and still in high school. Larry Qualiano, from North Bergen, NJ, took Billy Crandall's place on sax. As the tour involved 90 one-nighters, the Royal Teens asked Joe Villa from The Three Friends to be the lead singer.
The Royal Teens appeared on Alan Freed's Big Beat show, and in the 1958 film Let's Rock. Appearing as themselves, The Royal Teens shared the screen with Paul Anka, Julius LaRosa, Della Reese, Danny & The Juniors and Roy Hamilton. Late in May 1958, The Royal Teens made the Top Ten in Smith Falls, Ontario, with "Big Name Button". However, the song was not a successful followup across Canada or the USA. A subsequent release in the summer of '58 titled "Harvey's Got A Girlfriend" stalled at #78 on the Billboard Hot 100. And "Open The Door" closed the door on the groups association with ABC-Paramount Records in the fall of 1958. Al Kooper took the place of Billy Dalton on guitar, when Dalton went to college.
In 1959, The Royal Teens signed with Mighty Records but found no connection to their fan base with "Leotards". They switched again to Capitol Records and released "Believe Me".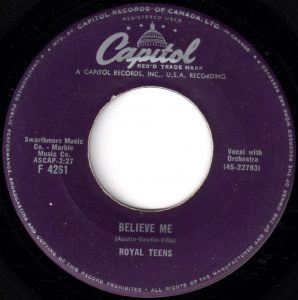 "Believe Me" climbed to #1 in Providence (RI) and Minneapolis/St. Paul, #2 in Dearborn (MI), #3 in Vancouver (BC), Miami, Denver and San Bernardino (CA), #4 in San Francisco and New York City and #5 in Hartford (CT) and Phoenix. However, the single got almost no airplay in over half the states in the USA. It peaked at #26 on the Billboard Hot 100.
"Believe Me" is one of countless songs from the late 50's and early 60's about the aftermath of a breakup. In this case, the girl who broke things off with the guy is bragging to their peers that he's still hung up on her, that he still loves her. Meanwhile, the guy is professing that he still loves her, even though he views her choice to tell everyone about their breakup as hurtful. He also is convinced that if they get together again "loves flame will burn." The song is a snapshot of the contradictory feelings many teenagers feel after they split with someone they've gone steady with. For most teenagers, they move on to find someone new and the angst of raw emotions over their ex-boyfriend or ex-girlfriend fade away.
In a Global News article, Dani-Elle Dubé gives insight into 5 Reasons Why You Still Can't Get Over Your Ex. She reminds us that it was the inventor of the telephone, Alexander Graham Bell who observed, "When one door closes, another opens; but we often look so long and so regretfully upon the closed door that we do not see the one which has opened for us." Research by Carol Dweck and Laurel Howe in the Personality and Social Psychology Bulletin, prompted the researchers to make several observations.
"Few things in life are more traumatic than being rejected by someone who knows you well and then, with this insight, decides that she or he no longer cares for you or wants to be with you," Dweck said, adding that romantic rejection, in particular, poses a tremendous threat to the self. Howe added, "The experience of being left by someone who thought that they loved you, then learned more and changed their mind, can be a particularly potent threat to the self and can drive people to question who they truly are." The researchers discovered that people who believe that they cannot change are most likely to take the longest to rebound after a breakup. Those who believe they can grow and develop are most able to recover more quickly, even in the face of a rejection that might sting.
The researchers discovered that individuals who are certain that being rejected exposed a fatal flaw tended to be more reluctant to wade back into the world of dating, protecting themselves from being rejected once again. "This concern haunts them and can make them guarded and defensive in future relationships – something we know is likely to impair these future relationships," Dweck said. In the case of "Believe Me", the singer is recalling a dating relationship that lasted "throughout our teenage years." So, possibly, this was a dating relationship that lasted from age 13 to 19. Given, the girlfriend is now bragging to her friends, after they broke up, that the guy is still hung up on her, it seems the relationship was rather shallow. Or he never noticed a mean side to her throughout their teenage years.
As 1960 began, The Royal Teens released "Was It A Dream?" The song got little notice. A third release with Capitol, "It's The Talk Of The Town" failed to create a buzz in the summer of 1960. They also released a tune titled "Mickey Mouse Got A Girlfriend" which got little notice. Two years later The Royal Teens tried to cash in on the Twist craze. They released "Short Short Twist" on Jubilee Records. The song got some airplay in California, but didn't catch on. The Royal Teens broke up in 1965.
Bob Gaudio went on to form The Four Seasons with Frankie Valli in 1960. He co-wrote The Four Seasons biggest hits, starting in 1962 with "Sherry", "Big Girls Don't Cry", "Walk Like A Man", "Rag Doll", "Bye Bye Baby", and Frankie Valli's solo hit in 1967, "Can't Take My Eyes Off You". During the '60's, Bob Crewe also wrote songs that were hits for other recording artists. These include "Silence Is Golden" by The Tremeloes and "The Sun Ain't Gonna Shine Anymore" by The Walker Brothers.
In the '70's Bob Gaudio wrote "Who Loves You" and "December 1963 (Oh What A Night)" for the Four Seasons. In 1978 Gaudio produced the Neil Diamond and Barbra Streisand duet called "You Don't Bring Me Flowers". In the '80's Gaudio produced the Broadway rock musical Little Shop of Horrors. And he was pivotal in mounting the Jersey Boys musical that opened on Broadway in October 2005.
Al Kooper went on to play as one of Bob Dylan's backing musicians once Dylan went electric in 1965 where he played the organ riffs on Dylan's "Like A Rolling Stone". Kooper also co-write "This Diamond Ring" for Gary Lewis & The Playboys and Kooper later formed Blood, Sweat & Tears in 1969. Al Kooper has been a session musician for Cream, Jimi Hendrix, The Who, B.B. King, Lynyrd Skynyrd and Atlanta Rhythm Section.
The Royal Teens have continued to perform with Tom Austin remaining as the groups only original member. Their website mentions an Oldies Fall Spectacular in Patchogue, NY, on September 13, 2014, as their most recent engagement. The Royal Teens shared the stage with doo-wop groups from the early sixties: The Classics ('Til Then"), The Duprees ("You Belong To Me") and The Capris ("There's A Moon Out Tonight"). In addition to a career in music, Tom Austin has also become a painter. Some of his artwork has been showcased at numerous art galleries.
February 15, 2019
Ray McGinnis
References:
The Royal Teens History, The Royal Teens.com.
C-FUN Hi-Fi 40, CFUN AM 1410, Vancouver, BC, November 14, 1959.
Let's Rock, Columbia Pictures, 1958.
Short Shorts by The Royal Teens, Songfacts.com.
How The Four Seasons Clashed, Dealt With The Mob And Made Lasting Hits, NPR.com, September 9, 2014.
A Biography of Al Kooper, Al Kooper.com.
Tom Austin: From The Royal Teens to Amazing Artist, Jersey Boys Blog.com, March 7, 2008.
Dani-Elle Dubé, 5 Reasons Why You Still Can't Get Over Your Ex, Global News.ca, June 14, 2017.
Lauren C. Howe and Carol S. Dweck, "Changes in Self-Definition Impede Recovery From Rejection," Personality and Social Psychology Bulletin, October 23, 2015.
For more song reviews visit the Countdown.