#326: Better Be Home Soon by Crowded House
Peak Month: September-October 1988
13 weeks on Vancouver's CKLG chart
Peak Position #2
Peak Position on Billboard Hot 100 ~ #42
YouTube: "Better Be Home Soon"
Lyrics: "Better Be Home Soon"
Neil Mullane Finn was born in 1958 in Te Awamutu on the North Island of New Zealand. His brother Brian Timothy Finn was born in the same New Zealand town in 1952. Neil began playing guitar when he was eight-years-old, and decided to be a professional musician at age 12. Tim Finn learned to play guitar, drums and piano. In 1972, when Tim was 20 and Neil was 14, the Finn brothers co-founded the rock band Split Enz. Over time the band shifted their sound to New Wave and Art Rock. With Split Enz they enjoyed international hits that included "One Step Ahead", "I Got You", and "Six Months In A Leaky Boat".
During a lineup change in 1981, Paul Hester became the new drummer for Split Enz. Paul Newell Hester was born in 1959 in Melbourne, Australia. He learned to play drums at an early age. From 1976 onward, Hester was part of several pop bands in the Melbourne area. This included Deckchairs Overboard, which he was a member of concurrently while a member of Split Enz. But in 1984 Split Enz disbanded. Meanwhile, in 1983, Tim Finn left Split Enz to pursue a solo career.
Nick Seymour was born in Australia in 1958. His family was musical and as a boy he was part of the Seymour Family Singers. While he was in his teens, Seymour taught himself to play bass guitar. He was in a number of bands after finishing school and in 1984 auditioned for a band called the Mullanes. Formed by Neil Finn and Paul Hester after Split Enz broke up, Nick Seymour was asked to join the Mullanes. The following year the Mullanes were renamed as Crowded House.
In 1986 Crowded House released their debut self-titled album Crowded House. From the album came "Don't Dream It's Over", a #1 single on the pop charts in New Zealand and Canada, #2 on the Billboard Hot 100 in the USA, #5 in Vancouver (BC), #7 in the Netherlands, and #8 in Australia. The single warned couples that the world comes in and tries to build a wall between them. A second track from the album, "Something So Strong", also made the Top Ten in New Zealand, the USA and #11 in Vancouver. Both songs were written by Neil Finn. On August 30, 1987, Crowded House appeared in concert at the Orpheum Theatre in Vancouver.
Crowded House released a second studio album titled Temple of the Low Men in July 1988. The debut single was "Better Be Home Soon".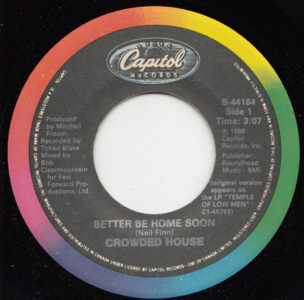 "Better Be Home Soon" was written by Neil Finn. The song concerns someone who is 100% certain they've met someone who they are in a live-in relationship with who is the right person for them. However, they notice their partner is "pushing me aside." In addition there have been "lies and deception" taking its toll on the relationship. The narrator of the song states that it would be painful for him if the relationship came to an end. But, he is confident he "could start again." Likely, this means he's certain he could move on and form a new relationship with someone else. Though, it's plausible he also is offering that he is willing to make a new start in the current relationship, despite its brokenness.
"Better Be Home Soon" climbed to #2 in Vancouver (BC), #4 in Calgary (AB), and #7 in Hamilton (ON). In the USA "Better Be Home Soon" got little airplay outside of California, Idaho, Minnesota and Pennsylvania.
On March 31, 1989, Crowded House came to Vancouver and gave a concert at the Orpheum.
In 1991 Crowded House was back in the Top 20 in Vancouver that August with "Chocolate Cake", written by Tim Finn. This was the debut single from their third studio album titled Woodface. On September 1, 1991, Crowded House performed in concert at the Orpheum Theatre in Vancouver. Another single from the album, "Weather With You", peaked at #7 in the UK, #8 in Switzerland, #9 in Belgium and New Zealand, and #10 the Netherlands. However, it failed to crack the Top 30 in Canada, and didn't even break into the Billboard Hot 100.
Tim Finn, who had been pursuing a solo career since before Split Enz folded, joined Crowded House in 1990-91. He wrote eight songs on Woodface, and later toured with the band to support the album, and toured with them again in 1996 and 2016. During Tim Finn's solo career, beginning with his 1983 album Escapade, he charted seven singles into the Top Ten in New Zealand. This included number-one hits "Sailing Away", "How'm I Gonna Sleep", and "Persuasion".
In 1993 both Tim Finn and Neil Finn were appointed Officers of the Order of the British Empire. This was in conjunction with the 1993 Queen's Birthday Honours.
In September 1993 Crowded House released the single "Distant Sun". It was the debut single from their album Together Alone. "Distant Sun" peaked nationally in Canada's RPM Singles chart at #4, and #5 in New Zealand. In 1994 Crowded House had a track on the motion picture Reality Bites titled "Locked Out". The single has its best chart run in the UK where it climbed to #12. And on May 9, 1994, Crowded House susequently appeared in concert at the Queen Elizabeth Theatre in Vancouver.
Paul Hester remained with Crowded House almost continuously until the end of 1996. Then he left the band and opened a tea house in Elwood Beach, a suburb of Melbourne.
In 1996 the band released Recurring Dream: The Very Best of Crowded House. The album contained a new single titled "Everything Is Good for You". It became the last song by Crowded House to crack the Top Ten in Australia. And the album made the Top Ten in four European countries, as well as Australia and New Zealand. In December 1996 Crowded House split up.
Between 1998 and 2018 Neil Finn has simultaneously pursued a solo career releasing nine studio albums. And in 1999 Neil Finn had a number-one hit in New Zealand with "Can You Hear Us". Additionally, Tim and Neil Finn have released two albums as a duo in 1995 and 2004 credited to The Finn Brothers.
In 2005 Paul Hester was married and had two children aged 5 and 10, when died in March. Hester was found hanging from a tree by a rope, and it was ruled a suicide. He was 46-years-old, and said to have been suffering from depression which he had sought treatment for eight years.
In 2007 Crowded House announced their reformation and released Time On Earth. Crowded House played in concert at Malkin Bowl in Vancouver on September 3, 2007. The band released another studio album in 2010 titled Intriguer. On August 29, 2010, Crowded House performed in concert at the Queen Elizabeth Theatre in Vancouver (BC). All six of Crowded House's first six studio albums – released between 1986 and 2010 – peaked in the Top 3 album chart rankings in both Australia and New Zealand.
In 2018 Neil Finn joined Fleetwood Mac after Lindsey Buckingham was fired from the band.
In June 2021 Crowded House anticipates it will released their latest studio album titled Dreamers Are Waiting. The band's current lineup consists of Neil Finn, Nick Seymour, Neil's sons Liam Finn (guitar, keyboards, backing vocals) and Elroy Finn (drums, guitar), and Mitchell Froom (keyboards, guitar, backing vocals). As well, Harper Finn is a touring member of the band.
April 5, 2021
Ray McGinnis
References:
Chris Harris, "Crowded House Drummer Paul Hester Found Dead in Australia: Authorities Rule Out Foul Play, Say Founding Member of Band Committed Suicide," MTV, March 28, 2005.
"Crowded House – Concerts: Canada," setlist.fm.
Chris Twomey and Kerry Doole, Crowded House: Private Universe, (Omnibus, 1999).
Chris Bourke, Something So Strong, (Macmillan Australia, 1997).
John Dix, Stranded in Paradise: New Zealand Rock and Roll, 1955 to the Modern Era, (Penguin Group, 2005).
Robert Moran, "Neil Finn joins Fleetwood Mac after Lindsey Buckingham 'fired'," Sydney Morning Herald, April 10, 2018.
David James Young, "Tim Finn Puts Family First, Songwriting Second," beat.com, October 30, 2019.
Donald Gibson, "An Interview with Nick Seymour of Crowded House," Seattle Post-Intelligencer, July 15, 2010.
"Vancouver's Top 40 Hot Hits," CKLG 730 AM, Vancouver, BC, October 5, 1989.
For more song reviews visit the Countdown.