#1366: Big Bright Eyes by Danny Hutton
Peak Month: January 1966
7 weeks on CFUN chart
Peak Position #17
Peak Position on Billboard Hot 100 ~ did not chart
CFUN Twin Pick ~ December 11, 1965
YouTube.com link: "Big Bright Eyes"
Irish-American singer Daniel Anthony "Danny" Hutton was born in 1942 in Buncrana, Donegal, Ireland. He is best known as one of the three lead vocalists in the band Three Dog Night. In his early twenties Hutton became a songwriter and singer for Hanna Barbera Records in 1965 and 1966. In 1965 Hutton had a modest hit called "Roses And Rainbows" that did best in California. It peaked at #3 in San Jose, Flint, Michigan and Orlando, Florida, #8 in Los Angeles and Oxnard, California, #9 in Austin, Texas, and #20 in Vancouver. during his tenure as a recording artist for Hanna-Barbera Records. He would record a third single for the label in 1966, "Funny How Love Can Be" that went Top Ten in San Bernardino and Los Angeles.

In the fall of 1965 Hutton recorded "Big Bright Eyes".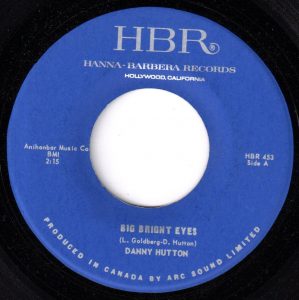 "Big Bright Eyes" is one of those songs with lyrics that may have been the undoing of making a bigger hit. The song is really about the eyes being a window to the lies the person is telling. They are someone whose heart is clouded, in this case by a lure for material things, "your eyes they shine like gold." The foundation for the relationship is built on a deceit of some sort. Nonetheless, we are told by the singer "that all of my life, I'll love you big bright eyes." Insofar as radio listeners were invited to accept the contradictions, it was a tale of someone who is caught up in the pull of physical/sexual chemistry and a dissonant knowing that both lovers understand there's something compromising the attraction. Hutton sings, "even then I think you see, that we would always be, in big bright lies."
Hutton co-wrote the song with Larry Goldberg, another songwriter on contract with Hanna-Barbera Records. "Big Bright Eyes" was also covered by folk-rock group, The Bats. Hanna-Barbera Records actually released The Bats version (HBR 445) first. But as it didn't get any traction, co-writer Danny Hutton was given the nod to release his own disc in hopes of getting some sales from the song. It peaked in Joplin, Missouri, at #13, Oxnard, California, at #14; Flint, Michigan, at #15, and in Vancouver, British Columbia, and Chicago at #17. Elsewhere on the continent airplay and record sales were sparse.
In 1967 Danny Hutton formed Three Dog Night. That year Hutton met Cory Wells who was in the house band at the West Hollywood club, Whiskey A Go Go, when Wells band was on tour with Sonny & Cher. Hutton also met Chuck Negron at a Hollywood party. The three went on to record some demos with Brian Wilson of The Beach Boys. Having honed their three-part harmony, in 1968 the trio added guitarist Michael Allsup on guitar, Jimmy Greenspoon on keyboards, Joe Schermie on bass and Floyd Sneed on drums. Three Dog Night was named after a story about Australian aborigines in the cold outback seeking warmth.
Their hits began in 1969 onward into the mid-70s with "One" written by Harry Nilsson, "Easy To Be Hard", with lead vocals by Chuck Negron and taken from the Broadway musical Hair, Laura Nyro's "Eli's Coming" (Wells lead vocals), Randy Newman's "Mama Told Me Not To Come" (Wells lead vocals), and Hoyt Axton's "Joy To The World" (Negron lead vocals).
Hutton was the lead singer on "Black And White" – Civil rights activist Earl Robinson and McCarthy blacklisted songwriter, David Arkin's "Black And White" (originally written in celebration of the landmark 1954 U.S. Supreme Court ruling of Brown vs. Board of Education). Hutton also took lead vocals on "Celebrate", "Liar", "One Man Band" and "The Family Of Man". Otherwise, he was providing vocal harmonies with either Chuck Negron or Cory Wells on lead vocals.
Hutton left Three Dog Night in 1976 as the band's string of Top Ten hits ran out. Hutton managed several punk rock groups. In the mid-80s the Danny Hutton Hitters covered Nick Kershaw's "Wouldn't It Be Good." The track ended up being part of the Soundtrack for the teen movie, Pretty In Pink.
Three Dog Night continues to tour with Danny Hutton. In the spring of 2017 there are concert dates scheduled in nearly twenty states in the USA and a couple in Canada. One of Three Dog Night's vocalists, Cory Wells, died in 2015. The third lead vocalist for Three Dog Night, Chuck Negron, mostly continues to tour as a solo act, as his website describes him as "Chuck Negron formerly of Three Dog Night." Between July 20 and December 6, 2018, Three Dog Night will perform at 33 concerts across America. On the official Three Dog Night website, the band informs readers that well after their hit making years they've been touring solidly. Since 1986, Three Dog Night have performed in over 2,200 concerts, including two Super Bowls.
March 25, 2017
Ray McGinnis
References:
Chuck Negron, Three Dog Nightmare, (St. Martin's Press, 1999).
Chris Davidson, "Animation + Rock = Fun: The Danny Hutton Interview," Bubblegum Music.com, March 26, 2007
"Hana Barbera Ups Disc Buying," Billboard, January 15, 1966, p. 8.
Mike Mettler, "Danny Hutton and Three Dog Night Continue to Bring Harmony and Super Sonic Joy to the World," February 24, 2016.
Phil W. Hudson, "Q&A: Danny Hutton of Three Dog Night talks breaking though, Billy Bob Thornton, New Music," Atlanta Business Chronicle, Atlanta, GA, 2017
Three Dog Night Tour Schedule, Three Dog Night.com
Three Dog Night ~ About, Three Dog Night.com.
"C-FUNTASTIC FIFTY," CFUN 1410 AM, Vancouver, BC, January 15, 1966.
For more song reviews visit the Countdown.