#726: Big League by Tom Cochrane & Red Rider
Peak Month: December 1988
13 weeks on CKLG's Vancouver Charts
Peak Position ~ #13
Peak Position on Billboard Hot 100 ~ did not chart
YouTube.com: "Big League"
Lyrics: "Big League"
Tom Cochrane was born in Lynn Lake, Manitoba, in 1953. When he was eleven he got his first guitar. In his late teens and early twenties, he performed in coffee houses across Canada in the early 70's. His debut album, Hang On To Your Resistance, was released in 1974. Then Tom Cochrane made his way to Los Angeles. In 1975, Cochrane got work composing theme music for the movie My Pleasure Is My Business. This was a film about Xavier Hollander, the call girl and adult film star who authored her own memoir, The Happy Hooker, in 1971. Unable to get subsequent work in Hollywood, Cochrane returned to Canada for drive a taxi and work on a cruise line. At a concert at the El Mocambo for Red Rider in 1978, Tom Cochrane met the band. Soon after Cochrane was invited to join Red Rider.
Red Rider formed in Toronto in 1975. The band consisted of 1975 when lead vocalist and keyboard player Peter Boynton, guitar, keyboard and backing vocalist Ken Greer, guitarist Arvo Lepp, bass player Jon Checkowski and drummer Rob Baker. By the time Red Rider brought Tom Cochrane on board, the lineup consisted of Boynton, Greer, Cochrane, baker and former bass player with Rush, Jeff Jones. Red Rider released four albums between 1979 and 1984, all credited to Red Rider. In 1986, they released the album, Tom Cochrane & Red Rider. Under this new billing, Tom Cochrane & Red Rider, they released Victory Day in 1988. Their debut single off this album was "Big League". By 1988 Tom Cochrane & Red Rider consisted of Cochrane, Greer, John Webster on keyboards and synthesizers, Ken "Spider" Sinneave on bass, Randall Coryell on drums and Peter Mueller on guitar. In the studio production of Victory Day, Denny Fongheiser and Mickey Curry also added drums to the tracks. Victory Day earned Tom Cochrane & Red Rider three Juno Award nominations.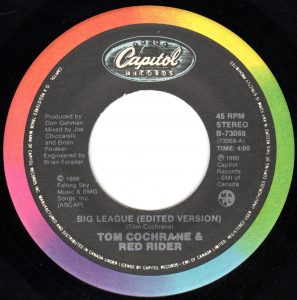 "Big League" is a song about how tough it is to find a way out of life in a northern town. One dream is to become a hockey star. Hockey is Canada's national sport. The song tells the story of a young boy who is taking shots with the puck and hockey practice for several hours before school starts, after waking in the morning at five. By the time he reaches age eighteen he has a chance to follow his dream and get a scholarship in the USA with a major league hockey team. Tragically, the young man ends up in a head-on collision with a truck while driving in the wrong lane. He ends up in the 'big league,' but in this case it is heaven and not the National Hockey League. The song is sung from the perspective of a father who's hockey star son dies in a highway crash. In 1988, "Big League" climbed to #13 in Vancouver, #8 in Calgary and #11 in Hamilton.
While hockey has its origins in stick and ball games in Britain, it was adapted for winter sports when it was brought to North America by settlers. Hockey was strictly an outdoor sport played on frozen ponds and rivers until the first indoor hockey game was planed in Montreal, Quebec on March 3, 1875. The Stanley Cup was first awarded in 1893 to the winner of the hockey challenge. It became the trophy of the winners of the National Hockey League finals. Since 1915, in the modern era, the Montreal Canadians have won the Stanley Cup on 24 occasions. The Toronto Maple Leafs have won the trophy on 13 occasions. The Detroit Red Wings have won the cup eleven times. The Boston Bruins and Chicago Black Hawks have won the Stanley Cup each six times. While the Edmonton Oilers and Pittsburgh Penguins have both claimed the trophy on five occasions.
On April 6, 2018, 16 people were killed and another 13 were injured north of Tisdale, Saskatchewan. The bus was chartering the Humboldt Broncos hockey team who were on their way to Nipiwin, Saskatchewan, for a Junior Hockey League final. The bus driver was killed as were members of the hockey team. After the tragedy, Tom Cochrane wrote a revised version of "Big League" in honor of those who died in the Humboldt Broncos crash on Highway 35. The tragedy resulted in crowdfunding on GoFundMe in excess of $15,000,000 by mid-April. The driver of the semi-trailer truck who crashed into the bus at the intersection of Highways 335 and 35 was eventually charged in early July 2018 on 16 counts of dangerous operation of a motor vehicle causing death and 13 of causing injury.
After "Big League", Tom Cochrane went on to release a solo album in 1991 titled Mad Mad World. The studio recording featured Red Rider bandmates Spider Sinneave and John Webster. On the album was a single release titled "Life Is A Highway." In early 1992 the single climbed to #1 in Canada and #6 on the Billboard Hot 100. The albums' follow up singles, "No Regrets", Sinking Like Sunset" and "Washed Away" all made the top ten on the Canadian RPM singles chart. Cochrane followed up with an album in 1995 titled Ragged Ass Road, named after a street in Yellowknife, Northwest Territories. It included the top ten hits on the Canadian RPM singles chart "I Wish You Well" (#1), "Wildest Dreams" (#5) and "Dreamer's Dream" (#4).
In all, Tom Cochrane has released seven studio albums as a solo artist. Tom Cochrane & Red Rider have released three albums and Red Rider has released four albums. In August, 2018, Tom Cochrane has appeared in concert at Saint-Jean-au-Richelieu, Quebec, and in Winnipeg. In 2016, a stretch of highway between Lynn Lake and Thompson, Manitoba, was named the Tom Cochrane Life Is A Highway.
September 13, 2018
Ray McGinnis
References:
About Tom Cochrane, Tom Cochrane.com
Interview: Tom Cochrane, The Wire, Peterborough, Ontario, July 1, 2017
Tom Cochrane: 'You Sometimes Write the Happiest Songs When You're Down', CBC, December 7, 2016
Tom Cochrane reworks 'Big League' lyrics to honour Humboldt Broncos, CTV, April 11, 2018
Terry David Mulligan, Tom Cochrane Interview – 2014, Mulligan Stew, January 31, 2015
David Friend, Tom Cochrane reflects on success of 'Life is a Highway', Toronto Star, Toronto, ON, January 5, 2017
Hollander, Xavier. The Happy Hooker. Xavier Hollander.com
Tom Cochrane & Red Rider – Credits, Victory Day, Discogs.com
Lorry Driver Charged in Fatal Humboldt Broncos Ice Hockey Crash, BBC, July 6, 2018
All 16 Victims of Humboldt Broncos Bus Crash, CBC, April 7, 2018
List of Stanley Cup Champions, Wikipedia.org
Emily Kaplan, GoFundMe Page for Humboldt Broncos Raises More than $15M, ESPN, May 11, 2018
Tom Cochrane has Stretch of Manitoba Highway Named After Him, CBC, October 31, 2016.
"Vancouver's Top 40 Hot Hits," CKLG 730 AM, Vancouver, BC, December 7, 1988.
For more song reviews visit the Countdown.