#554: Big Time Operator by Keith Hampshire
Peak Month: January 1974
11 weeks on CKLG's Vancouver Charts
Peak Position ~ #5
Peak Position on Billboard Hot 100 ~ #81
YouTube.com: "Big Time Operator"
Lyrics: "Big Time Operator"
Keith Hampshire was born in London in 1945. At the age of four he got tap dancing lessons and His family moved to Canada when he was six-years-old. They visited Toronto, took a train west and moved to Calgary. It was in Calgary that Keith Hampshire took singing lessons, founded a number of high-school bands, including the Intruders, Keith and The Bristols, and the Variations. Each band got gigs at other schools and clubs around town. The Variations opened for Roy Orbison one summer in the early 60s at the Calgary Stampede. Out of high school Keith Hampshire got a position at CFCN radio and TV as a cameraman. He ended up programming and announcing, playing Brian Poole & The Tremeloes, the Swinging Blue Jeans, the Animals and the Searchers at the beginning of the British Invasion. At the age of 21 Hampshire moved back to the UK and got work from July 1966 to August 1967 as a DJ for a pirate radio station called Radio Caroline South. He moved back to Canada in September 1967 and got a job as a DJ with CKFH in Toronto. He got married in 1969.
He met Bill Meisner, a former member of the Toronto area band The Paupers, now working for RCA. Hampshire recorded a song Meisner wrote titled "I Wish I Could Wish Away". The song didn't get much notice, but he got work appearing on the Wayne & Shuster Comedy Hour.
Keith Hampshire subsequently played a song written by one of the bandmates from Manfred Mann titled "Daytime, Night-time". The song soon became a Top Ten hit across Canada in the fall of 1972. Next, Keith Hampshire recorded a cover of a song Cat Stevens wrote in 1967 titled "The First Cut Is The Deepest". The song quickly topped the RPM Canadian singles chart in May 1973. It also became a Top Ten hit in Australia. Hampshire kept on releasing more singles and his third hit in a row in Canada was "Big Time Operator".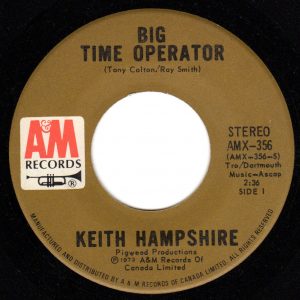 "Big Time Operator" is a song about one persons' employment career. The song is mostly comprised of a list of jobs illustrating this persons capacity to take on new positions in whole different fields of work. The guy has a resume as a newspaper boy, a manual elevator operator, an excavator, a wine and brandy waiter, a builder, an estimator, an airline navigator (distinct from a pilot), a crime investigator, a media commentator, and finally an administrator. With all this experience the narrator of the song vows that one day he'll be a "big time operator," someone in charge of a company.
A final verse spells out what being a big time operator might include: having lots of employees, a chauffeur, an "upstairs maid," a limousine, a racing car, a fifty-foot yacht and race horses. An "upstairs maid" is urban slang for a maid who takes care of the house and also is a sexual partner for the head of the house.
One of the positions still found when the song was recorded was a "airline navigator." Another term for the position was civilian flight navigator. Airline navigators were employed on older aircraft, typically between the late-1910s and the 1970s. The crew member, occasionally two navigation crew members for some flights, was responsible for the trip navigation, including its dead reckoning and celestial navigation. This was especially essential when trips were flown over oceans or other large bodies of water, where radio navigation aids were not originally available. Since the 1980s satellite coverage worldwide has made this skill set redundant, so that airline pilots no longer require an airline navigator in the cockpit.
"Big Time Operator" peaked at #3 in Cleveland (OH), #5 in Vancouver (BC) and #6 in Toronto. Internationally, the song peaked at #1 in Maputo, Mozambique. But in the USA it stalled at #81 on the Billboard Hot 100.
In 1974-75 Keith Hampshire became host of the CBC variety TV show Music Machine. Among the guests appearing on the TV show were Klaatu, The Bells, Copperpenny, Rush, Lighthouse, The Stampeders, Valdy and others. Hampshire made a few more recordings after leaving as host of Music Machine. Eventually he landed a job as an A&R man with Freedom Records.
Over the past few decades Keith Hampshire has found work not as a big time operator, but singing jingles, voice-over or character-voice on television commercials and radio commercials (including GM), motion pictures (including "Mad About Hats" in the Care Bears Adventure in Wonderland), as well as for cartoon series and radio plays.
In 1983 Keith Hampshire recorded "OK Blue Jays", which has become the unofficial Toronto Blue Jays anthem played at each home team ball game before the seventh inning. The song peaked at #47 on the Canadian RPM singles chart in 1983. In 1995 Hampshire began to host an oldies record show on CHAY-FM in Barrie, Ontario. In Canada Day celebrations in 2000 Keith Hampshire sang to over 100,000 people in Ottawa. In 2005 a greatest hits CD of Keith Hampshire was released.
Keith Hampshire occasionally performs, and one of his more recent appearances was at the Living Arts Center in Mississauga, Ontario, in 2017.
September 30, 2019
Ray McGinnis
References:
"Keith Hampshire Biography," Keith Hampshire.com.
Keith Hampshire, "Keith Hampshire," Canadian Bands.com.
"CKLG Thirty," CKLG 730 AM, Vancouver, BC, January 18, 1974.
For more song reviews visit the Countdown.