#940: Bitter Tears by INXS
Peak Month: March 1991
8 weeks on Vancouver's CKLG chart
Peak Position #8
Peak Position on Billboard Hot 100 ~ #46
YouTube.com: "Bitter Tears"
Lyrics: "Bitter Tears"
INXS is a band from Australia pronounced "in excess" or "In-XS." Originally the band from Sydney, which formed in 1977, was named The Farriss Brothers. Mainstays were Garry Beers on bass guitar, Andrew Farriss on guitar and keyboards, Jon Farriss on drums, Tim Farriss on lead guitar and Kirk Pengilly on guitar and saxophone. From 1977 to 1997, the lead vocalist, Michael Hutchence, was a charismatic presence with sultry good looks adding to the bands buzz. Initially known for their new wave/ska /pop style, they later developed a harder rock style, including funk and dance elements.
Garry William Beers was born in Sydney, Australia, in 1957. He met Andrew Farriss in the mid-70s and formed a band named Dr. Dolphin, which had morphed into the Farriss Brothers by 1977. By 1979 the group became INXS with Tim Farriss, Jon Farriss, Kirk Pengilly and Michael Hutchence rounding out the band.
Andrew Farriss was born in 1959 in Sydney. He and his family saw The Beatles perform in 1964 when Farriss was five years old. Jon Farriss was born in 1961 in Perth, Australia, and learned to play the drums, keyboard and various percussion instruments. Tim Farriss was born in Perth in 1957 and from the age of eight was classically trained to play guitar. He became a member of Dr. Dolphin in the mid-70s prior to the band morphing into INXS in 1979. Kirk Pengilly was born in 1958 in Melbourne and was active in a rock band from the early 70s. He became part of the Farris Brothers band in 1977. Michael Hutchence was born in Sydney in 1960 and spent some of his early years in Hong Kong. He was part of Dr. Dolphin and became the lead vocalist for the Farriss Brothers in 1977.
INXS went on to chart many Top Ten hits down under. Their first Top Ten hit in Australia was "Original Sin" which peaked at #1 in 1984. The song climbed into the Top Ten in Hamilton, Ontario. The following year the band had an international hit with "What You Need." In the late 80s the band had a string of international hits including "Need You Tonight", "Devil Inside" and "New Sensation".
By the beginning of 1991 INXS had charted nine singles into the Australian Top Ten, six singles into the Canadian singles chart and seven singles into the Top Ten of the Billboard Hot 100 in the USA. Though, in Europe the band was less popular with only one single climbing into the UK Top Ten. "Bitter Tears" was the 23rd single by INXS to climb on the Australian singles chart. It was more popular in Canada than in America and climbed to #8 in Vancouver.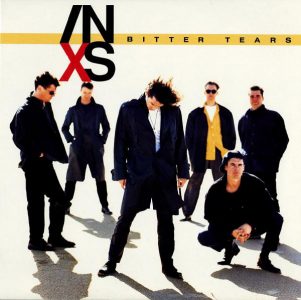 "Bitter Tears" is a song about shifting perceptions. While bitter tears taste sweet, languishing in bitter tears only gets you so far. The singer is seeing a way forward for the first time in years, and this includes making the choice to "push away those bitter tears." To not make the choice to push away those bitter tears is to fear your own success. The singer, by seeing a way forward for the first time in a long time, is seeking to embrace a better horizon for themselves. The bitter tears represent old repeated and worn out patterns of being in control and fear of the unknown. There could be someone new just around the corner. But as long as those bitter tears are falling a choice is being made to stay in a stuck and unsatisfying state.
Into the 90s INXS had several more Top Ten singles including "Elegantly Wasted" and "Not Enough Time". Michael Hutchence was found dead in his hotel suite in Sydney in November 22, 1997, and INXS did not perform publicly for over a year. After Hutchence died the band only had one more Top Ten hit internationally, "Pretty Vegas", in 2005, with new lead vocalist J.D. Fortune. In 2010 Fortune left INXS to pursue a solo career. In November 2011, in Perth, INXS performed their final concert, with the caveat that they could reunite for a future concert in the years to come.
The death of Michael Hutchence has been reported in the mainstream press as one of a troubled rock star with financial and relationship problems. His death was attributed variously to depression, suicide and autoeroticism, of which masturbation is the most common expression. Indeed, if Hutchence died from autoeroticism he was self-pleasuring himself to death, not depressed or suicidal. London psychiatrist Mark Collins was consulted by Hutchence on October 17, 1997, in regard to a minor depression being experienced by him. Dr Collins said there was no hint of suicidal thinking by Hutchence.
As reported in The Final Days of Michael Hutchence by Michael Gee, the last person who spent time with him while he was alive was his friend Kym Wilson. She spent five hours with Hutchence the morning of November 22, 1997, and recalled "He was concerned about the custody hearing but I wouldn't say he was depressed…. (and Hutchence had spoken) with such excitement of his future – I had really never seen him with so much to look forward to." According to many of the daily papers at the time, Hutchence's death was titilating. The Hong Kong-based South China Morning Post wrote on December 11, 1997, in "INXS Fury at Photos of Bondage," that "the 37-year old singer accidentally hung himself while practicing an oxygen-deprivation masturbation game."
Rolling Stone Magazine writer David Fricke wrote in a January 22, 1998, edition in a piece titled "The Devil Inside." Fricke noted Hutchence's naked body was suspended from a door with a leather belt looped around his neck and that "his body bore the marks of a severe beating (a broken hand, a split lip, lacerations)." Nonetheless, the Australian police found "no evidence' of foul play and ruled the death was a suicide. Still, the coroner's report didn't address these questions: Did Hutchence break his own hand? Did he clobber himself until his lip bled, and then batter himself into a pulp causing the bones in one hand to break? With one hand in throbbing pain, did Hutchence summon the capacity to loop a belt above the door in order to hang himself? Apparently, the coroner found no reason to hold a formal inquest, to the stupefaction of the other members of INXS. Paula Yates, the mother of their infant daughter, stated on Australian TV "In no way do I accept the coroner's verdict of suicide."
A political activist, Michael Kelland Hutchence left the lion's share of his assets to Amnesty International and Greenpeace. Left-wing American journalist, Alex Constantine, suggests Hutchence may have been killed over his funding of a documentary titled Death of a Nation by John Pilger and David Munro. The documentary concerned the deaths of over 100,000 citizens of East Timor in a C.I.A. covert operation. But since the documentary was released in 1994, Constantine doesn't make clear why Hutchence would be murdered three years after the documentary release. In any event, questions surrounding Michael Hutchence's death have generated much speculation over the years that foul play was involved.
Since INXS disbanded in 2012 Garry Beers has been playing in a band called Stadium. Andrew Farriss moved to Florida in 2013 with his new wife. Tim Farriss has a studio where he is doing production work with new Australian recording artists. In 2017 Jon Farriss released a vinyl album titled Smokin' Joe. Kirk Pengilly is ambassador of The Eye Foundation and lives in Sydney, Australia.
December 4, 2017
Ray McGinnis
References:
David Fricke, The Devil Inside, Rolling Stone.com, January 22, 1998, p. 17.
Mike Gee, The Final Days of Michael Hutchence, Omnibus Press, London, UK, 1998.
INXS Biography, INXS web.com
INXS Fury at Photos of Bondage, South China Morning Post, Hong Kong, December 11, 1997.
Michael Hutchence Death Explained: the Coroner's Account in His Own Words, Herald Sun, Melbourne, Australia, January 28, 2014.
Adam Palfrey, Secret and Suppressed: Alex Constantine, Seconds Magazine.com, Issue #48, New York, NY, 1998.
John Pilger, Death of a Nation, John Pilger.com, 1994.
"CKLG Top 40," CKLG 730 AM, Vancouver, BC, March 25, 1991.
For more song reviews visit the Countdown.