#1044: The Blizzard by Jim Reeves
Peak Month: April 1961
8 weeks on Vancouver's CFUN chart
Peak Position #9
Peak Position on Billboard Hot 100 ~ #62
YouTube.com: "The Blizzard"
Lyrics: "The Blizzard"
James Travis Reeves was born in 1923 at home on a farm between Galloway and Deadwood, in East Texas. The youngest of eight children, Reeves was known as Travis during his upbringing. His dad died when he was ten months old. When he was five years old he learned to play on a guitar he borrowed from an older brother. When he turned nine he bought his own guitar and learned more about guitar picking from an oilfield cook. He won an athletic scholarship to the University of Texas and studied speech and drama. His studies helped him deal with a stammer. However, out of necessity, he left his studies during his first semester for work in the Houston shipyards. In time he began to play in a semi-professional baseball league, prior to joining the roster of a farm team for the St. Louis Cardinals. In 1944 Reeves was a pitcher for the farm team. In his third year in the minor leagues, Reeves severed his sciatic nerve while pitching. This put an end to his athletic career. Reeves next turned his attention to radio and got a job at a station in Henderson, Texas.
Reeves got his start in country music as the announcer of the Louisiana Hayride. But Reeves put his announcer's voice aside when Hank Williams failed to arrive for a show one night in 1952. Instead, Reeves sang to fans who were getting restless with Hank Williams going AWOL. As Reeves sang to an audience appreciatively adjusting to the circumstances, the audience included the owner of Abbott Records who was enjoying Jim Reeves stage presence and delivery of each song. Signed to a contract, Reeves soon had a #1 hit on the Country charts in the USA with "Mexican Joe". This was a catalyst for his taking the lead role on the Hayride. Next, Reeves moved with his wife to Shreveport, Louisiana, where he became an announcer for KWKH, which owned the Hayride. In 1955, Reeves signed with RCA and also joined the Grand Ole Opry after Ernest Tubb and Hank Snow recommended him. In 1957 "Four Walls", gave him his third #1 country hit and his third country-pop crossover peaking at #12 on the Billboard Hot 100. Between 1953 and 1982 Reeves had 63 songs make the Top Ten on the US Country charts. However, he only had one hit cross over onto the Billboard Hot 100 Top Ten. That song was "He'll Have To Go", which peaked on the US pop charts in 1960 at #2, and #1 in Vancouver.
In Vancouver Reeves had seven singles enter the local pop charts. Three of these made the Top Ten, including "The Blizzard".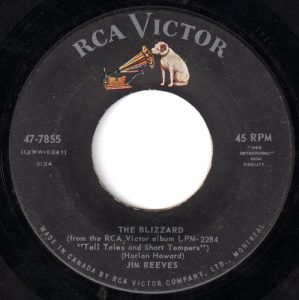 "The Blizzard" is a song about a blizzard, a man, his lame pony named Dan, and their seven-mile journey to Marianne's home. At five miles from her home, his hands are frozen and his toes are numb. However, he imagines Marianne has hot biscuits ready for him. He imagines the soft hay in the barn for Dan to rest. However, his pony Dan can't make it any further at one hundred yards to Marianne's home. Though he could have made it to Marianne's home he didn't have the heart to leave his pony, Dan, behind. As a result the man and his pony, Dan, are found frozen in the snow the following morning.
"The Blizzard", a country ballad of love and tragedy, and was sung by Jim Reeves. It was a single off his eleventh studio album, Tall Tales and Short Tempers. While the song reached number 4 on the US Country charts, it peaked at #62 on the Billboard Hot 100. In Vancouver the song reached the Top Ten peaking at #9.
To understand "The Blizzard" and it's appeal, set aside the choice of the owner to not walk a hundred yards on to Marianne's home, and leave his pony, Dan, in the snow. Perhaps she could have addressed his frostbite and hypothermia. Perhaps help could have been rounded up and a team of folks brought the pony, Dan, to the barn. But, as the story goes in the song, both the pony and its' owner die in the blizzard. They are so close, but yet so far.
In North American culture in 1961 there were numbers of novels, movies and TV shows about the relationship between a human and their horse. Horses were more then pets, they were also transportation and often the key to surviving in the elements. One popular novel was by Anna Sewell, from 1877, called Black Beauty. The memoir told by the horse, Black Beauty, begins with his carefree days as a colt on an English farm with his mother, to his difficult life pulling cabs in London, to his happy retirement in the country. Along the way, he meets with many hardships and recounts many tales of cruelty and kindness. Each short chapter recounts an incident in Black Beauty's life containing a lesson or moral typically related to the kindness, sympathy, and understanding treatment of horses. Between 1917 and 1994 seven films based on the novel, including the 1946 film, Black Beauty, starring Mona Freeman and Richard Denning.
In 1941, Mary O'Hara published the novel, My Friend Flicka. In the plot Kenneth McLaughlin is a 10-year-old boy living on Goose Bar Ranch, just out of Cheyenne, Wyoming, with his practical father, Rob, his mother, Nell, and his older brother, Howard. Rob is often unsatisfied with Ken, who daydreams when he should be attending to practical matters. Nell, however, shares her son's sensitive nature and is more sympathetic. Howard, the older son, who looks and acts more like Rob, was allowed to choose and train a colt from among the Goose Bar herd, much to the jealousy of Ken. Although Ken loves horses, Rob doesn't think his wool-gathering son deserves such a privilege yet. At the beginning of the novel, Ken has angered his father by returning home from boarding school with failing grades and will have to repeat fifth grade, an expense Rob can ill afford. After a few mishaps in his first few days home, Nell convinces Rob to give Ken a colt, saying it will give him something to work towards and improve himself and his sense of responsibility. Ken is unable to decide which yearling he wants until he sees a beautiful sorrel filly running swiftly away from him.
Ken spends the rest of the summer nursing the filly. He names her Flicka – Swedish for "little girl" – and spends hours every day tending to her needs and keeping her company. Flicka comes to love and trust the boy, but her wounds fester and cause a dangerous blood infection. She grows so thin and weak that Rob decides she must be shot to put her out of her misery. The night before the order is to be carried out, Flicka wades into a shallow brook, falls, and is unable to rise. Ken sneaks from the house and spends the night sitting on the bank of the stream, with his legs in the cold water, holding her head to prevent her from drowning. When he is found the next morning, he has developed a high fever. As the days pass, Ken's fever turns to pneumonia, and his condition continues downhill. On the other hand, Flicka gains strength steadily. After almost three weeks, Ken's condition improves, although since he believes Flicka is dead, he has no interest in the world. Rob takes Ken for a drive, and they see a stag protecting a doe. Ken realizes that like the stag's responsibility is his doe, his is Flicka. The book ends with Ken running out to see Flicka, who has fully recovered. Three movies were spawned from the novel: My Friend Flicka (1943), Thunderhead, Son of Flicka (1945) and Green Grass of Wyoming (1946). A TV series based on the novel ran in 1956-57 with reruns from 1959 to 1966 on ABC and CBS.
In 1944 Elizabeth Taylor got her debut in the film, National Velvet, the exciting story about a girl, a horse and a dream. Other children's books and young adult novels that were very popular were The Red Pony by John Steinbeck (1933), Smoky The Cowhorse by Will James (1927), Justin Morgan Had A Horse by Marguerite Henry (1946), Misty of Chincoteague by Marguerite Henry (1947), King of the Wind by Marguerite Henry (1949), Brighty of the Grand Canyon by Marguerite Henry (1953), The Horse and His Boy by C.S. Lewis (1954), Chucaro: Wild Pony of the Pampa by Francis Kalnay (1958), and The Black Stallion by Walter Farley (1941) spawned fifteen novels in its series between 1941 and 1960. Of these novels, six were made into movies, including Misty in 1961.
In addition to the novels about relationships between a horse, pony or donkey and it's owner, there were numbers of TV shows featuring horses. In 1961 these included The Lone Ranger and his horse Silver, (Tonto and his horse, Scout), Bonanza, Gunsmoke, The Rifleman, Rawhide, Sugarfoot, Wagon Train and Have Gun – Will Travel, with it's opening comment from gentlemen gunfighter, Paladin, "this gun says there will be no lynching here, 'cause there's enough to bury every man who comes to me with a rope." To top it all off, Roy Rogers starred with his golden palomino, Trigger, in no less then 106 cowboy-western films between 1935 and 1959. In 1961 a song about a pony and the attachment its' owner had to it, as found in Jim Reeves song "The Blizzard," seemed to fit in with the emotional bond characters in novels, movies and TV had with their horses. In addition, in a post-World War II world with all the advances of modernity, the appeal of the wild west and the rural life held a nostalgic spell.
Jim Reeves was not alone in recording a song about a horse (pony or donkey). Roy Rogers theme song for his TV show for many years in the 40's and 50's was "Happy Trails." On the TV show, Mr. Ed, the theme song, "A Horse Is A Horse", was an ear worm for many in from January 1961 through to it's final season in 1966. In 1959 Eddy Arnold had a Top Five hit on the County charts with "Tennessee Stud". And Peter, Paul and Mary were among the recording artists that sang about a British racehorse named "Stewball".
The tragic lyrics in "The Blizzard" echoed Jim Reeves own life. On Friday, July 31, 1964, Reeves and his business partner and manager Dean Manuel (also the pianist of Reeves' backing group, the Blue Boys) left Batesville, Arkansas, en route to Nashville in a single-engine Beechcraft Debonair aircraft, with Reeves at the controls.
While flying over Brentwood, Tennessee, they encountered a violent thunderstorm. A subsequent investigation showed that the small airplane had become caught in the storm and Reeves suffered spatial disorientation. According to Larry Jordan, author of the 2011 biography, Jim Reeves: His Untold Story, cites forensic evidence from the tower tape and accident report suggesting that instead of making a right turn to avoid the storm (as he had been advised by the Approach Controller to do), Reeves turned left in an attempt to follow Franklin Road to the airport. In so doing, he flew further into the rain. While preoccupied with trying to re-establish his ground references, Reeves let his airspeed get too low and stalled the aircraft. Relying on his instincts more than his training, evidence suggests he applied full power and pulled back on the yoke before leveling his wings—a fatal, but not uncommon, mistake that induced a stall/spin from which he was too low to recover. Jordan writes that according to the tower tape, Reeves ran into the heavy rain at 4:51 p.m. and crashed only a minute later, at 4:52 p.m.
A long string of country hits elevated him to star status and by the tragic end of his career in 1964 he had some 50 albums and a large number of country and pop hits under his belt. In all, he charted 80 singles onto the Country charts in the USA and 30 singles on the Billboard Hot 100. Reeves charted seven songs on the pop charts in Vancouver between 1960 and 1963.
August 2, 2017
Ray McGinnis
References:
Jim Reeves, Alan Cackett.com
Jim Reeves, Country Music Hall of Fame.org
Jordan, Larry. Jim Reeves: His Untold Story. Page Turner Books International, 2011.
Max Nosseck, director, video clip, Black Beauty, 20th Century Fox, 1946.
Mr. Ed (theme song), CBS, 1961-1966.
Theme song, "Happy Trails," Roy Rogers, NBC, 1951-1957.
Farley, Walter, The Black Stallion, movie adaptation of the novel, United Artists, 1979.
Henry, Marguerite. Brighty of the Grand Canyon. Rand McNally & Company, New York, NY, 1953.
Clarence Brown, director, National Velvet, Metro-Goldwyn-Mayer, 1944.
Steinbeck, John. The Red Pony. Covici Friede, New York, NY, 1937.
The Lone Ranger, ABC, 1949-1957.
Bonanza, NBC, 1959-1973.
The Rifleman, ABC, 1958-1963.
Have Gun Will Travel, CBS, 1957-1963.
Harold D. Schuster, director, My Friend Flicka, 20th Century Fox, 1943.
Theme song, Sugarfoot, ABC, 1957-1961.
Wagon Train, NBC, 1957-1962, and ABC, 1962-1965.
Gunsmoke, CBS, 1955-1975.
"C-FUN-Tastic 50," CFUN 1410 AM, Vancouver, BC, April 15, 1961.
For more song reviews visit the Countdown.