#2: Blue Bonnie Blue by 49th Parallel
City: Calgary, Alberta
Radio Station: CKXL
Peak Month: February 1968
Peak Position in Calgary ~ #1
Peak position in Vancouver ~ did not chart
Peak Position on Billboard Hot 100 ~ did not chart
YouTube: "Blue Bonnie Blue"
Lyrics: N/A
Singer Dennis Abbott and guitar player Dan Lowe formed a band in the mid-60's called The Real McCoys. The name was soon discarded in favor of The Shades of Blond. The band consisted of Abbott and Lowe, joined by Bob Carlson on guitar, Dave Petch on organ, Mick Woodhouse on bass guitar, and Terry Bare on drums. The Shades of Blond played covers of British Invasion hits. As well, they began to write some songs and experimented with a fuzz-guitar garage rock sound. This got them a contract to record on International Master Discovery Records, which put out an album featuring four of the new Calgary bands. By '67 they'd changed their name to 49th Parallel, and had all but outgrown the local circuit. They played the prairies relentlessly for the next year or so, making over a dozen stops in Moose Jaw, Saskatchewan at The Temple Gardens alone.
They released a single titled "Laborer". Subsequent single releases were "She Says" b/w "Citizen Freak," and "Blue Bonnie Blue".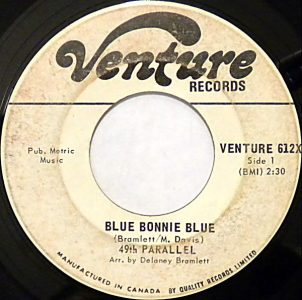 "Blue Bonnie Blue" was co-written by Delaney Bramlett and Mac Davis. Born in Lubbock, Texas, in 1942, Mac Davis began recording songs he wrote in the early sixties. In 1961, Davis released a record titled "Ocean Full Of Tears" with his Atlanta-based group the Zots.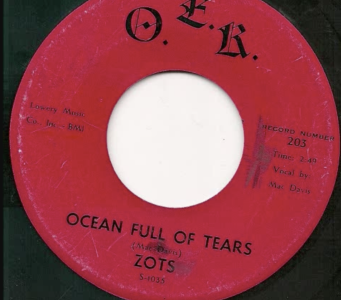 The Zots subsequently released "Tell Jennie Lee". In 1962, Davis released a solo debut single titled "I'm A Poor Loser" which cracked the Top 50 on the WAKE-AM Top 50 in Atlanta. He continued to release more singles with limited pickup beyond the Atlanta radio market. But Atlanta listeners enjoyed "Too Much Twistin'" (1962), "A Little Dutch Town" (1963), and "Hey Monkey" (1963). Meanwhile, Davis worked for VeeJay Records, and later became a regional manager with Liberty Records. In 1966, Mac David had a #5 hit on WLPO in Atlanta with "Bad Scene". In 1969 Elvis Presley had a hit with the Davis composition "In The Ghetto". In 1970, Davis recorded "I Believe In Music". The song was covered by the pop group Gallery in 1972, who took "I Believe In Music" to #3 in Calgary (AB), #4 in Vancouver (BC) and #22 on the Billboard Hot 100. In 1972, Davis had a number-one hit with "Baby Don't Get Hooked On Me" in Australia, Canada and the USA, and #3 in New Zealand. In 1970, Elvis Presley had a hit with the Davis tune "Don't Cry Daddy". Other hits he penned include "Somethings Burning" for Kenny Rogers and the First Edition, and "Watching Scotty Grow" for Bobby Goldsboro.
In 1974, Mac Davis was back with two hit singles, "Stop And Smell The Roses" and "One Hell Of A Woman". In 1980, Davis had a hit with the tongue-in-cheek "Its Hard To Be Humble", which climbed into the Top Five in a number of AM-Pop Radio markets in Canada. Though the single stalled at #43 on the Billboard Hot 100. Over the decades, Mac David had two Top Ten hits on the Billboard Hot 100, six Top Ten hits on the Hot Country Songs chart in the USA and four Top Ten hits on the Canadian Country chart.
In addition, Mac Davis starred in eleven feature films, and seven TV movies. From 1974 to 1976, Davis hosted a variety show called The Mac Davis Show. He also appeared in over twenty TV shows, including The Muppets and The Johnny Cash Show. In 2013, Mac Davis co-wrote "Addicted To You", which was an international hit for Avicci. The single topped the pop charts in the Czech Republic, Germany, Hungary, Poland, and Slovenia, and made the Top Ten in another dozen nations. Mac Davis died in 2020 at the age of 78 after heart surgery.
Delaney Bramlett was born in Pontotoc, Mississippi, in 1939. He picked cotton in his youth and learned to play guitar. He left Pontoloc for the Navy as soon as he graduated from school. After three years in the U.S. Navy he returned to civilian life and moved to Los Angeles in 1959. He became a session musician in the City of Angels and by 1965 was a member of the band, the Shindogs. They were the house band for the musical variety show Shindig!, on ABC. The Show also featured Leon Russell and Glen Campbell. Bramlett was a songwriter and his tunes were being recorded through the 60's by Mel Torme, The Everly Brothers, Buddy Knox, Nancy Wilson, Nancy Sinatra, Mama Cass, Blue Cheer, King Curtis, Lulu and others. He appeared on the same stage in concert with Jimi Hendrix, Janis Joplin, Gram Parsons, Billy Preston, John Lennon, Rita Coolidge and more.
He married Bonnie O'Farrell and they became a singing duo. Delaney and Bonnie released their first studio album in 1969. Their 1971 album, Motel Shot, included their most successful single, "Never Ending Song of Love", which was Billboard Magazine's #67 single for the year, 1971. Their next single release, "Only You Know And I Know", was from their 1970 live album, On Tour With Eric Clapton.
Delaney and Bonnie released seven studio albums between 1969 and 1972. On his own, Delaney Bramlett released eight solo albums between 1971 and 2007. Delaney went on to produce a dozen records for other recording artists between 1969 and 1996. He also appeared on credits as a musician on twenty other recording artists albums, the last being on Jerry Lee Lewis' 2006 album, Last Man Standing. Delaney's songs were recorded variously by Ray Charles, The New Seekers, The Carter Family, Eric Clapton, The Statler Brothers, Conway Twitty, James Last, Chrissie Hynde, Phoebe Snow and others. Delaney Bramlett died in 2008.
In "Blue Bonnie Blue" the singer suspects "something I've said or done must have hurt you." He wants to be able to communicate with her and solve their difficulty. He asks "Bonnie, what's it all about?" Yet, he worries, "somehow you've become someone different, and I don't know her." With Bonnie's changed behaviour or personality, the her male companion is at a loss to know how to keep the relationship on track.
"Blue Bonnie Blue" topped the pop charts in Calgary in May 1968. As well, it made the Top Ten in Edmonton (AB), and charted in Oklahoma City, Grand Forks (ND), Winnipeg (MB) and New Glasgow (NS).
Several lineup changes followed with bass player Dave Downey taking over from Mick Woodhouse. While the departure of Dave Petch earned organist Jack Velker a spot in the lineup. The 49th Parallel toured across Canada and into the United States. They signed with Maverick Records and recorded a few more singles, including "Twilight Woman".
The extensive touring earned them more attention, which included getting airplay on more radio stations. "Twilight Woman" spent eight weeks on the CHUM chart in Toronto, peaking for two weeks at #16.
"Citizen Freak," "Labourer," "You Do Things," and "She Says" were included on a Birchmount Records compilation called The Best Of The Greatest in 1969. The album was a mix of hit songs by the Beau Marks, the Guess Who and the 49th Parallel. Later in 1969, Velker left the 49th Parallel and moved to Hollywood, hoping to become an actor. He was replaced on the organ by Dennis Mundy. A self-titled album, 49th Parallel, was released featuring "Twilight Woman". As the album was released, lead singer Dave Abbott left the band. He was replaced by Dorn Beattie. At that time, bass guitarist Dave Downey departed and was replaced by Alf Cook.
The 49th Parallel toured into 1970. The B-side to "Twilight Woman" titled "Close The Barn Door" peaked at #3 in Sarasota (FL) and #13 in Winnipeg. A followup single, "Now That I'm A Man" charted Hit Bound on the CKLG chart in Vancouver, It also made the Top 30 in Edmonton, Ottawa, Toronto and Victoria.
However, the 49th Parallel struggled to get material for a followup album that never materialized. And a followup single titled "I Need You" got little notice. In the spring of 1970 the 49th Parallel disbanded.
Lowe and Beattie moved to Edmonton and formed Painter. That band later became Hammersmith. Meanwhile, Beattie got involved with Doug Johnson in a band called All The Rage In Paris. But this band split up when Johnson moved to Vancouver to join Loverboy. Dan Lowe was later part of 451 Degrees, a band in Calgary in the late 70s-early 80s; And Prototype, a band that enjoyed a Top 20 hit in Sherbrooke (PQ) titled "Video Kids". Lowe later went on be a producer for Qwest, White Wolf and George Fox.
In the mid-90s, Pacemaker Records released The Best of 49th Parallel. The single, "Citizen Freak", later appeared on the Pacemaker compilation album, Best of Gaiety Records in 1999.
October 11, 2023
Ray McGinnis
References:
Bruce Eder, Dave Lyman, Gord McCaw, and Al Smith, "49th Parallel," Canadianbands.com.
Toyin Owoseje, "Mac Davis, Elvis songwriter and country star, dead at 78," CNN, September 30, 2020.
"Mac Davis," Nashville Songwriters Hall of Fame, 2000.
Delaney Bramlett – Biography, Delaney Bramlett.com.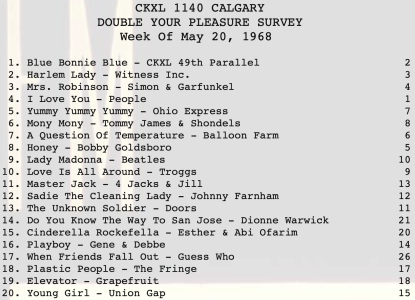 CKXL 1140 AM, Calgary (AB), Top 20, May 20, 1968