#720: Blue Collar by Bachman-Turner Overdrive
Peak Month: December 1973-January 1974
11 weeks on CKLG's Vancouver Charts
Peak Position ~ #12
Peak Position on Billboard Hot 100 ~ #68
YouTube.com: "Blue Collar"
Lyrics: "Blue Collar"
Randolph Charles Bachman was born in 1943 in Winnipeg, Manitoba. When he was just three years old he entered the King of the Saddle singing contest on CKY radio, Manitoba's first radio station that began in 1923. Bachman won the contest. When he turned five years he began to study the violin through the Royal Toronto Conservatory. Though he couldn't read music, he was able to play anything once he heard it. He dropped out of high school and subsequently a business administration program in college. He co-founded a Winnipeg band called The Silvertones with Chad Allan in 1960. In 1962 the band became Chad Allan and the Expressions, and was renamed The Guess Who? in 1965 with their first big hit, "Shakin' All Over". The Guess Who dropped the question mark in their title a few years later.
Burton Cummings replaced Chad Allan and the band went on to score major international hits like "American Woman" and "These Eyes". While "American Woman" was #1 in May 1970, Randy Bachman left The Guess Who, in part due to his zeal for Mormonism. Bachman released a solo album called Axe, and in 1971 formed a band called Brave Belt. This included his brothers Robbie and Tim and Chad Allan. Fred Turner then replaced Chad Allan. Their country-rock sound was quieter then the rock n' roll of the Guess Who. At a concert in Thunder Bay, Ontario, Brave Belt was asked to play a set of classic rock songs. As written in Michael Heatley's The Turbulent History of Bachman-Turner Overdrive, Bachman recalls in "We instantly saw the difference between playing sit-down music people could talk over and playing music they would jump out of their seats and dance to." By 1973, they were billed as the Bachman-Turner Overdrive.
In 1973, BTO had a self-titled debut album. Although the formation of BTO didn't involve a typical Top 40 single on their debut album, their constant touring gave them a base ready for their subsequent releases. The second single release from the album made the Billboard Hot 100 and the Canadian RPM Top 40. The song was called "Blue Collar".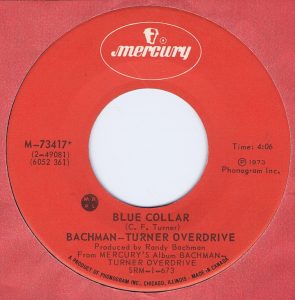 "Blue Collar" is a song about someone seeking understanding from across class boundaries. One person has a nine to five job while the world of the singer involves working late hours and night shifts. The blue collar guy notices stillness at four in the morning. Meanwhile, the nine to five worker is very restless. The blue collar guy knows how to rest his feet, while the other person hasn't mastered this. The contrast between the night shift worker who is very alive and still, and the nine to five worker with their "restless face" seems to have been a catalyst for going separate ways. The blue collar guy observes, "your restless face is no longer mine."
The term, "blue collar," refers to a class of workers who couldn't wear white collar shirts to work. This was due to the type of labor they performed which would soil a white shirt, but not a blue collared, or denim, shirt. In 1924, the Times of Alden, Iowa, used the term "blue collar workers" as distinct from "white collar workers" in 1924. They wrote, "If we may call professions and office positions white collar jobs, we may call the trades blue collar jobs. The phrase "blue collar" made its first appearance in the New York Times in 1945. After World War II, blue collar and white collar work were commonly used in referring to job positions.
In an article titled 10 Things Non-Stressed Out People Know and Do, Sarah Rudell Beach writes, "Non-stressed out people make time for themselves. They nurture the hobbies that fulfill them and give their minds a break from day-to-day busy-ness. They go for a walk or read a good book or savor a delicious meal. They know that self-care isn't selfish. They do the things that feed their bodies, hearts, and minds." Janice Marturano, in Finding the Space to Lead, writes, "Such moments — when we fully inhabit our bodies and our senses are at work on more than an internal storyline, checklist, or rehearsed conversation — are what give life true meaning." In "Blue Collar" the guy working on the night shift takes in the stillness at four in the morning. He tells us he is glad to be alive. In any relationship both partners may not be at the same state of mindfulness when dealing with stress in their life. However, if one person is "glad to be alive" and the other shows up each day with a "restless face," these dynamics may become a source of tension or conflict. In the song, "Blue Collar", the nine to five worker has been judging the minds of those who are blue collar. And they've done this preemptively, before meeting other blue collar folks or entering into their world.
"Blue Collar" stalled at #68 on the US charts, but it climbed to #12 in Vancouver for three weeks, spending eleven weeks on the chart. The song also climbed to #12 in Windsor, #15 in Columbus (OH), #18 in Toronto and #23 in Chicago.
BTO would enjoy a series of Top Ten hits over the following years including "Let It Ride", "Takin' Care of Business", "You Ain't Seen Nothing Yet" and "Roll On Down the Highway". BTO recorded nine studio albums between 1973 and 1979 and in 1984. Seven singles made the Top 20 on the Canadian RPM charts, and three of these made the Top 20 on the Billboard Hot 100. BTO had ten singles reach the Top 20 in Vancouver. Their singles, like "My Wheels Won't Turn", had little traction elsewhere. Since then they have gone on a few reunion tours. Over the years the band has sold nearly 30 million albums worldwide.
In 1977 Bachman went solo and released an album called Survivor in 1978. From the album came the single release "Is The Night Too Cold For Dancin'?" After his solo release, Bachman went on to form the band Ironhorse in 1979. Bachman subsequently went on reunion tours with The Guess Who in the 1980s and played with them at the Pan-Am Games in Winnipeg in 1999 and, more recently, in 2003. Bachman also toured almost continuously with BTO from 1983 to 1991. He's also released over a half a dozen solo albums between 1992 and 2015.
In 2002, as a member of The Guess Who, Bachman was one of the former bandmates who received The Governor General's Performing Arts Award, a Canadian award noting excellence in the performing arts. Bachman has also received the distinction of being made an Officer of the Order of Canada in 2008. Since 2005 Randy Bachman has hosted a pop music retrospective show on the CBC called Vinyl Tap. Songs like BTO's "Taking Care Of Business" have been referenced in the TV show The Simpsons. C. F. "Fred" Turner had a vocal appearance with Randy Bachman on an episode of The Simpsons in 2000.
Since 2005, Randy Bachman has been a host of Vinyl Tap,a show on CBC Radio where he plays sets of pop tunes and discusses some of the details he knows about the performers and musicians he's met. In 2008 Randy Bachman was awarded the Order of Canada. This is a medal given by the governor-general of Canada to persons who have made a major difference to Canada in their field of work.
September 25, 2018
Ray McGinnis
References:
Randy Bachman bio, Randy Bachman.com
Michael Heatley, "From Rags to Riches and Back: The Turbulent Story of Bachman-Turner Overdrive," Team Rock.com, Bath, UK, December 17, 2016.
Randy Bachman, Vinyl Tap, CBC, Toronto, Ontario.
LDS PROPHET Brigham Young, JoD, vol.7, pp. 289-91.
Sarah Rydell Beach, "10 Things Non-Stressed Out People Know and Do," Left Brain Buddha.com
Janice Marturano, Finding the Space to Lead: A Practical Guide to Mindful Leadership, (Bloomsbury Press, London, 2014).
Forrest Wickman, "Working Man's Blues: Why Do We Call Manual Laborers Blue Collar?," Slate.com, New York, May 1, 2012.
"CKLG Thirty," CKLG 730 AM, Vancouver, BC, January 4, 1974.
For more song reviews visit the Countdown.