#1256: Bluebird by Buffalo Springfield
Peak Month: August 1967
6 weeks on Vancouver's CFUN chart/5 weeks on CKLG
Peak Position #9 on CKLG
Peak Position on Billboard Hot 100 #58
YouTube.com: "Bluebird"
Lyrics: "Bluebird"
In 1966 a folk-rock band was formed in Los Angeles from a mix of Canadian and American musicians. It was called Buffalo Springfield. The band consisted of Stephen Stills (guitar, keyboards, vocals), Dewey Martin (drums, vocals), Bruce Palmer (electric bass), Richie Furay (guitar, vocals), and Neil Young (guitar, harmonica, piano, vocals). Like the Byrds, Buffalo Springfield's debut album blended musical strains of folk and country music with British invasion. However, their second album, Buffalo Springfield Again, showcased their shift into psychedelic rock.
The name of the group was inspired after the Buffalo-Springfield steamroller made by the Buffalo-Springfield Roadroller Company in Springfield, Ohio.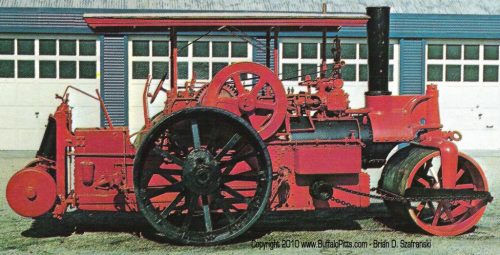 The roller was near the house of Stephen Stills music industry friend, Frazier Mohawk, whose home was on Fountain Avenue in Los Angeles. This is where the band would often rehearse. Frazier pried off a Buffalo-Springfield cast-iron nameplate and nailed it to the wall of his Fountain Avenue home. The nameplate is pictured on the front of their Buffalo Springfield Box Set album.
In 1965 Neil Young had been touring Canada as a solo artist. Later that year he joined a Toronto band called the Mynah Birds. The band also had a singer named James Johnson who was a sailor. Johnson had been in the U.S. Naval Reserves and fled to Canada in 1964 when he was called up for duty. Realizing he was a fugitive from the USA, the Mynah Bird bandmates suggested he change his name to Rick James. He would go on to have a remarkable career as a soul and funk artist with hits like "Super Freak" and "You And I". After some months with the Mynah Birds, bandmates Neil Young and Bruce Palmer left the band in February 1966 to discover the music scene in Los Angeles.
In the mid-60s Los Angeles was a hotbed for music. Recording acts in the city of angels included the Beach Boys, Jan and Dean, the Righteous Brothers, the Mamas and the Papas, Canned Heat, the Byrds, the Electric Prunes, the Doors, Sonny and Cher, the Seeds, the Monkees, Frank Zappa and the Mothers of Invention, the Turtles and Love.
Buffalo Springfield released their self-titled debut album in December 1966. Their first two single releases from the album got little attention. But their third single, "For What It's Worth", caught on. It spent 15 weeks on the Billboard Hot 100 and peaking at #7 in the USA and #1 in Vancouver. The song was about an incident during August 1966 on the Sunset Strip in Hollywood. Residents of the area had attempted to get rid of the hippies near the Pandora's Box club, who they saw as a threat to local tourism, by having the police enforce curfew laws. A riot ensued and police began to wield night-sticks on the long-haired youth.
Stephen Stills had seen the riot after returning from a trip to Nicaragua. Stills was inspired: "All the kids on one side of the street, all the cops on the other side – in Latin America that meant there'd be a new government in about a week. " The song became an anthem for a generation wary of the status quo who began wearing buttons that read "question authority." Near the peak of its chart run of "For What It's Worth" Buffalo Springfield had an appearance on The Smothers Brothers Comedy Hour was taped on February 26, 1967.
Their second album, "Buffalo Springfield Again, was released in November 18, 1967. It was not an easy album to record due to tensions between band members. Neil Young, who had his first epileptic fit while performing with the band in 1966, was often absent. Bass guitarist, Bruce Palmer, was detained on drug charges and was sent back to Canada on several occasions delaying the deadlines for the albums release.
Among the notable tracks are Young's minor hit, "Mr. Soul", which was the B-side to the Buffalo Springfield's debut single from the album, "Bluebird". Stephen Stills contributed four tunes, among them "Rock and Roll Woman". Simultaneous tension in Buffalo Springfield, The Byrds, and The Hollies would eventually result in the formation of Crosby, Stills & Nash." In 2003, Buffalo Springfield Again was ranked number 188 on Rolling Stone magazine's list of the "500 greatest albums of all time"
"Mr Soul" is about Neil Young's personal problems with fame offering a critique of his newfound stardom. Young had endured one of his epileptic fits at a performance by the band in San Francisco. Young had also been given drugs that were a likely catalyst for the severity of his epileptic episode. Fans at the concert wondered if it was part of the act. It was during his time as a patient at UCLA Medical Center's neuropsychiatry branch that Young wrote Mr Soul.
The A-side, "Bluebird" was the first single off the Buffalo Springfield Again album.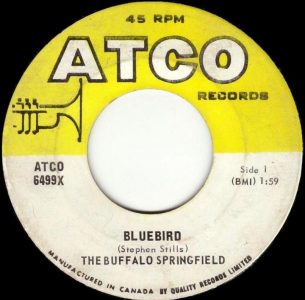 Here is someone who is laughing on the surface, but beneath the laugher is sadness. The singer sings about "my bluebird" who is at her perch. She "knows only crying" and "thinks only of you." Bluebird may be a nickname for a friend or someone who adores her. But, as she thinks only of someone else, the singer is not on her mind at all. The question(s): "Do you think she loves you, do you think at all" offer ambivalence. The first question is clear, but by asking "do you think at all" a listener can understand this as a) a time to check in with oneself regarding ones ability to think about things, or b) do you think she loves you…at all. As Bluebird is thinking "only of you" it is doubtful she loves the singer of the song. And, depending on all the reasons for her sadness and her tears, she may not love the person she has been thinking of either. Whatever the reason, she is going to go back to wherever and whatever is home for her, and take her sadness with her.
Listeners can reflect when have we been brought to tears in a relationship and consumed with sadness? Do we let our tears teach us about what we need and what to ask for in our relationships? Or do we seem to repeat sad cycles of relating, of falling in and out of love; And finding ourselves temporarily at a friends home once again in a puddle over someone else?
On February 3, 1968, Buffalo Springfield appeared in concert in Vancouver (BC) at the Agrodome. They opened the concert for the Beach Boys.
After various drug-related arrests and line-up changes, Buffalo Springfield decided to break up in 1968. Stephen Stills went on to form the folk rock supergroup Crosby, Stills & Nash with David Crosby of the Byrds and Graham Nash of the Hollies. Neil Young had launched his successful solo career and reunited in 1969 with Crosby, Stills, Nash & Young. Crosby, Stills and Nash continue to perform actively.
Neil Young recalls of the time of the breakup of Buffalo Springfield, "I just couldn't handle it towards the end. It wasn't me scheming on a solo career, it wasn`t anything but my nerves. Everything started to go too fucking fast. I was going crazy, joining and quitting, joining and quitting again. I began to feel like I didn't have to answer or obey anyone. I needed more space. That was the big problem in my head. So I'd quit, then I`d come back 'cos it sounded so good. It was a constant problem. I just wasn't mature enough to deal with it. I was very young. We were getting the shaft from every angle, and it seemed like we were trying to make it so bad and getting nowhere."
Paul Richard "Richie" Furay (born May 9, 1944) is an American singer, songwriter, and Rock & Roll Hall of Fame member who is best known for forming the bands Buffalo Springfield with Stephen Stills, Neil Young, Bruce Palmer, and Dewey Martin, and later forming the band Poco.
In 1982–1983, Palmer resurfaced as the bassist in Neil Young's Trans Band, and playing a mixture of Young classics and electronica-infused material to audiences throughout America and Europe, as seen on Neil Young in Berlin, filmed in 1982.
Since 1975, Neil Young has received 28 Juno Award nominations and won seven of these. He has also won a Grammy Award for Best Boxed or Special Limited Edition Package for his compilation album Neil Young Archives Vol. 1 (1963–1972). Young has had a number of regional hits over the years. His cover of "Four Strong Winds" spent 17 weeks on the CFGO charts in Ottawa in 1978-79, peaking at #7.
In 1993, Young's single, "Harvest Moon" climbed to #5 on the Canadian RPM singles chart, but missed the Billboard Hot 100. In 2003, Young had a biography penned by James McDonough titled Shakey. Over the decades, Neil Young has expressed his politics in song. A critic of the Bush family in America, Young's 1989 hit "Rockin' in the Free World" criticized the policies of George H.W. Bush and the epidemic of drug use and homelessness. Young's 2006 album, Living With War had one track after the other lambasting President George W. Bush and his administration. Some of the song titles included "Looking for a Leader" and "Let's Impeach the President".
December 12, 2016
Ray McGinnis
References:
Buffalo Springfield bio, Rolling Stone, New York
Neil Young bio, Rolling Stone, New York
Stephen Stills bio, Biography.com
Ritchie Furay – Expressions, Ritchie Furay.com
Buffalo Springfield, "For What It's Worth," 1967
70 Facts You Might Not Know About Neil Young, TIDAL, June 17, 2016
McDonough, James. Shakey: Neil Young's Biography. Vintage, New York, 2003
Rick James, You and I, 1978
Rick James, Super Freak, 1981.
"Boss 30," CKLG 730 AM, Vancouver, BC, August 10, 1967.
For more song reviews visit the Countdown.