#993: Bluejean Bop by Gene Vincent
Peak Month: October 1956
4 weeks on Vancouver's Red Robinson chart
Peak Position #5
Peak Position on Billboard Hot 100 ~ #49
YouTube.com: "Bluejean Bop"
Lyrics: "Bluejean Bop"
Vincent Eugene Craddock was born in Norfolk, Virginia, in 1935. He later took the stage name Gene Vincent and is best known for the rockabilly hit from 1956 titled "Be-Bop-A-Lula." From a young age he was interested in classical music as well as country and rhythm and blues. He received his first guitar at the age of twelve as a gift from a friend. Norfolk, Virginia, was the home of a large naval base and Vincent's parents opened a general store and sailors' tailoring shop. Vincent Eugene Craddock dropped out of school at 17 and enlisted in the U.S. Navy in 1952. His completed a Korean War deployment though he never saw combat. Craddock planned a career in the Navy. However, in 1955, he used his $612 re-enlistment bonus to buy a new Triumph motorcycle. In July 1955 his left leg was shattered in a motorcycle crash in Norfolk. In hospital, his leg was saved. But the injury left him with a limp and chronic pain. He wasn't suitable for the U.S. Navy anymore. He wore a steel sheath around the leg from then onward. The female driver in a Chrysler who who ran a red light and struck him was drunk. Craddock changed his name to Gene Vincent, with his first name, Vincent, as his surname and his shortened middle name, Eugene, as his first name.
He formed a rockabilly band named The Virginians who played at a local radio station. They consisted of lead guitarist "Galloping" Cliff Gallup, rhythm guitarist "Wee" Willie Williams, upright string bass player "Jumpin'" Jack Neal and a 15 year-old drummer named Dickie "Be-Bop" Harrell. In time the band was renamed Gene Vincent and His Blue Caps. Blue Caps was a reference to the color of caps sailors word in the U.S. Navy. With his band playing in local Norfolk bars and clubs, Gene Vincent and His Blue Caps soon won a talent contest organized by a local radio DJ, "Sheriff Tex" Davis. This led to Davis becoming Vincent's manager. By early 1956, his leg still in plaster, Gene began hanging around this radio station occasionally singing with the staff band, The Virginians. He regularly appeared on WCMS's Country Showtime program and began to perform a song called "Be-Bop-A-Lula".
"Be-Bop-A-Lula" spent seven weeks in the Top Ten of the Cashbox charts, peaking at #5, and 13 weeks in the Top 20 on the Cashbox charts. The song peaked at #7 on the Billboard pop charts, #5 on the Billboard Country & Western charts and #8 on the Billboard R&B charrs. On the strength of the initial response to their single, Gene Vincent and the Blue Caps went back to the studio for a four day session from June 24th to 27th, 1956. Vincent recorded sixteen tracks including "Bluejean Bop". The song became not only the title of his first album, but also the A-side of his third single. A second single, "Race With The Devil," was a catchy tune but it didn't catch on. The spontaneous "whoops" and "yells" of Dickie Harrell and other band members became the trademark of those early Blue Caps sessions which were recorded under near "live" studio conditions.
"Bluejean Bop" peaked in the USA at #49, but Vancouver listeners bought enough records and made enough requests on the Red Robinson Show on CJOR to push the tune to #5.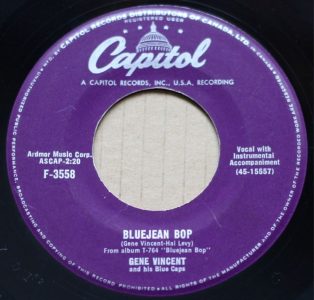 In the mid-50's a dance called "The Bop" was catching on across high school dances, at soda shops and record hops. The Bop was a popular form of Swing dancing during the 1950's as well as done as a solo dance, especially when the melody divorced itself from traditional dance rhythms. It's style was slightly different than The Bop's predecessor, The Jitterbug, and it's later variant, East Coast Swing. The term, Bop, was also used as slang for a type of careless movement, such as "Bop on over." The Bop was mainly eight counts with a hip-twisting, body swaying, double rhythm style. The basic step is done in open position with the follower mainly staying in front of the leader. The sequence was: Tap-Step—Walk-Walk—Tap-Step—Walk-Walk (or Rock-Step) – swaying from left to right.
As The Bop was already popular and seen on teen dance shows like American Bandstand in Philadelphia and The Milt Grant Show in Washington D.C., Gene Vincent thought a variation on The Bop could become a hit. And so he released "Bluejean Bop" as both the title of the Blue Caps first album and made it their third single release. The dance instructions in "Bluejean Bop" are You flip your hip, free your knee. Squeal on your heel baby, one, two, three. While you're doing this dance step your heart starts beating like a kangaroo. (It may be some folks did some kangaroo movements as an improvisation on the dance step too). Doing the Bluejean Bop was a strategy to keep ones' "baby" from looking at other guys.
The song invited dancers to dance the "Bluejean Bop" while wearing dungarees. Dungaree fabric has been used in England, and later North America, since 1605. Dungaree is a historical term for coarse thick twill-weave cotton cloth, often coloured blue. Cotton twill with indigo dyed warp thread is now more commonly referred to as denim, or more specifically blue denim. The word is thought to have derived from Dongri, a dockside village near Mumbai, India. Dungaree was a subset of denim where, in this case, only the warp threads are pre-dyed with the traditional colouring agent indigo, while the weft threads are left uncolored (cream or white), resulting in the unique fade patterns of the fabric. In 1956 wearing dungaree pants and shirts was very casual and was associated especially with clothing of farm laborers.
Around the time "Bluejean Bop" was released, 21-year-old Gene Vincent found himself without a manager. He also had an incomplete band and was in serious need of medical treatment for his injured leg. Gene Vincent and His Blue Caps were ordered to stop touring until there was resolution of a legal dispute over their management. Returning to naval hospital gave Vincent time to rest and to consider what he wanted to unfold in 1957. Only Dickie Harrell had stayed to play with the Blue Caps.
Newcomer Paul Peek introduced Gene Vincent to Johnny Meeks who Peek had played with in a Greenville, South Carolina band called Country Earl and the Circle E Ranch Gang. Meeks was their lead guitarist and Gene Vincent was delighted with Meeks skills. Vincent also signed the South Carolina bands' bass player, Bill Mack. Peek became a backing vocalist and became one half of the Blue Cap "clapper-boys" along with fellow "clapper-boy" Tommy "Bubba" Facenda, a neighbor and friend of Dickie Harrell. Facenda had quit school to go on the road with Gene Vincent and His Blue Caps.
Later in 1957 Gene Vincent and his band went on a brief tour of Ohio with Sanford Clark, Carl Perkins and Roy Orbison. Next they did a week long series of shows in Philadelphia with Eddie Cochran. Then, in the midst of line-up changes, Gene Vincent and His Blue Caps appeared, November 17, 1957, on the Ed Sullivan Show. Throughout 1957 changes in the Blue Caps line-up became commonplace with Gene being unable to keep the same personnel together for more than a few months at a time. Shortly after the Peek and Facenda left to pursue solo careers. Facenda would record 28 regional versions of "High School USA" in 1959 which was #29 nationally. But the tune went to #1 in several radio markets including Denver, Newport News (VA), Buffalo (NY) and Hartford (CT).
After the filming of Hot Rod Gang in 1958, the Blue Caps hit the road again to tour extensively. Gene went with the Blue Caps to appear in concert across the US and Australia with Eddie Cochran and Little Richard. But by the end of 1958 the Blue Caps split and Gene Vincent was left without a backing band.
In December of 1959 he arrived in London having been invited to headline a number of appearances on the popular Boy Meets Girls show. Gene's choice to tour the UK and appear on British TV was rewarding. It avoided his drifting into obscurity and gave up his career a whole new and eager European audience. Gene Vincent arrived on British soil on December 6, 1959, to a hero's welcome. Later Gene was a smash at the Paris Olympia before beginning a long series of one night stands promoting his new UK single "Wild Cat". In March 1960, his next U.K. single "My Heart" followed "Wild Cat" onto the charts, going on to peak at #16 tieing "Be-Bop-A-Lula's" peak in the UK back in 1956.
On 16 April 1960, while on tour in the UK, Vincent, Eddie Cochran, and songwriter Sharon Sheeley were involved in a high-speed traffic accident in a private hire taxi in Chippenham, Wiltshire. Vincent broke his ribs and collarbone and further damaged his weakened leg. Sheeley suffered a broken pelvis. Cochran, who had been thrown from the vehicle, suffered serious brain injuries and died the next day.
In July 1961 Gene went into Abbey Road Studios again and recorded a great rocker, "I'm Going Home", with Sounds Incorporated providing a driving sax based backing. It deserved a higher placing in the charts other than #36, but this powerful release was significant in that it provided Gene with his last chart success on either side of the Atlantic. A UK tour with Brenda Lee in early 1962, hailed as the "King and Queen of Rock" tour, continued to give Gene plenty of exposure in Britain. However, in the UK a group called The Beatles were setting a new trend and further singles released by Gene Vincent in the UK failed to chart.
After "Bluejean Bop" Gene Vincent released 38 more singles between 1956 and 1970. Of these only two made the Billboard Hot 100. "I Got A Baby" was a great tune with a driving beat, but it didn't get airplay. "Baby Blue" appeared in the 1958 film Hot Rod Gang and ended up being a hit in France in 1963. Only "Lotta Lovin'" and "Dance To The Bop" made the Billboard charts.
Vincent developed problems with alcohol. He died on October 12, 1971, from a ruptured stomach ulcer while visiting his father in Newhall, California, at the age of 36.
September 29, 2017
Ray McGinnis
References:
Gene Vincent & The Blue Caps – Biography, Rockabilly Hall of Fame.com.
Hot Rod Gang, American International Pictures, 1958.
Tommy "Bubba" Facenda, Rockabilly Hall of Fame.com.
Sonny Watson, Bop!, Street Swing.com.
Contributing Writer, Bop Dance Steps, Our Past Times.com.
The Amusing History of Dungarees Will Make You Want to Grab One, Fashionhance.com.
For more song reviews visit the Countdown.