#324: Blues Theme by the Arrows
Peak Month: March 1967
8 weeks on Vancouver's CKLG chart
Peak Position #1
Peak Position on Billboard Hot 100 ~ #37
YouTube: "Blues Theme"
Davie Allan is a guitarist best known for his work on soundtracks to various teen and biker movies in the 1960s. Allan's backing band is almost always the Arrows (i.e., Davie Allan & the Arrows), although the Arrows have never been a stable lineup. In the late sixties, Davie Allan & The Arrows carved their niche in the musical history books with an array of classic instrumentals and two dozen motion picture soundtracks. The most notable of the movies was Roger Corman's cult classic The Wild Angels featuring Peter Fonda and Nancy Sinatra. The Arrows also were featured in Devil's Angels, The Glory Stompers (Dennis Hopper) and Born Losers (the film that introduced the character Billy Jack). Some of the other 60's "B" films were Riot On Sunset Strip, Thunder Alley, The Angry Breed, Mary Jane, Teenage Rebellion, Hellcats, Mondo Hollywood, The Wild Racers, Wild in The Streets, The Golden Breed, Skaterdater and The Hard Ride. The LA Reader described the bands' sound as "perhaps the closest thing you'll ever hear to a combination of Link Wray, Dick Dale and Henry Mancini…"
Davie Allan grew up in the San Fernando Valley and learned to play guitar his mother bought him as a teenager. He was initially turned onto music when he saw Elvis Presley as a guest on a TV show back in 1956. Allan knew from that very moment what he wanted to do with his life. "I was simply blown away when I saw him walk out there with his guitar, and then blown away again when he sang. He was and is my favorite singer." Duane Eddy was Dave Allan's guitar idol. In 1961 and 1962 Allan played in trios' mostly at private parties. His career as a musician took off when he teamed up with Mike Curb, a friend he met in the choir at Grant High School in Van Nuys, California, to form an instrumental surf combo in 1963.
When the Ventures were churning out surf instrumental tunes, like "Walk Don't Run," played on clean-sounding Stratocasters drenched in reverb, Davie Allan was cranking his Fender Concert to 10 and plugging his Jazzmaster into a Mosrite Fuzzrite to create some of the first fuzz sounds ever heard on record. While Nokie Edwards and the Ventures and Dick Dale and the Del-Tones – dubbed "King of the Surf Guitar" – were taking the sounds of crashing waves and translating them into guitar instrumentals, Allan was tapping into his own unique imagination and rendering what he thought a motorcycle might sound like if it was a musical instrument.
The first tunes Davie Allan remembers with distorted bass were "Don't Worry" in 1961 by Marty Robbins and "Zip-A-Dee-Do-Dah" in 1962 by Bob B. Soxx & the Blue Jeans.
Initially, recalls Allan in an interview in 2016 with Ultimate Guitar, he was "mostly backing a female vocal trio that went by various names: the Jaydetts, the Sharlets, and the Starlets." The later girl group had a minor hit in San Bernardino in 1963 called "Find A Star" that featured Davie Allan as a session musician. Allan adds that in 1963-64, "I was doing the hits of the day mostly at frat parties and Curb played keyboards. Then during 1965, I started doing some of my own (instrumental) intros and backing various artists on stage such as the Paris Sisters," of "I Love How You Love Me" fame.
Allan's most notable contribution is the creation of the fuzz sound. While Link Wray was the pioneer of guitar distortion, Allan pushed it to a new level, distorting his signal so much as to give his guitar tone a buzzing, grinding quality: "fuzzy."
In January 1965, billed as The Arrows Featuring Davie Allan, the band had their first regional hit single "Apache '65", which climbed to #5 in Phoenix. Their next single release, also credited to The Arrows Featuring Davie Allan, was "Moon Dawg '65". It was given that title as it was a cover by the Arrows of a Beach Boys tune on their 1962 Surfin Safari album. The Arrows' cover did not chart in the USA, but it did in Vancouver peaking at #8.
In the fall of 1966 Davie Allen and The Arrows had a regional hit, "Theme From The Wild Angels," that climbed to #1 in Orlando, #4 in Houston and #7 in Dallas. It was later retitled "Blue's Theme" and began to chart in Vancouver in March 1967.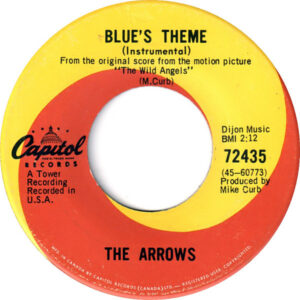 When Mike Curb assigned soundtrack duties for the 1967 biker film The Wild Angels to Davie Allan and the Arrows, it would prove a breakthrough success. The song from the film's opening, "Blues Theme", a hard driving, repetitive and very catchy instrumental showcasing Allan's new fuzzed-out, heavily distorted, guitar sound became their biggest hit. It was recorded in one take.
"Blues Theme" stayed on the Billboard Hot 100 charts for 17 weeks peaking at #37. The instrumental was a #1 hit in Vancouver on CKLG (April 22/67) and next on CFUN (April 29/67). It had been #1 for four weeks in Allan's hometown of San Bernardino in March 1967. It also climbed to #1 in San Diego, Troy (NY), Flint (MI), La Crosse (WI), Oklahoma City, Ann Arbor (MI), Des Moines (IA), San Francisco, Honolulu, Detroit, San Jose (CA), Modesto (CA), Monterey (CA), Pittsburgh and Denver, #2 in Windsor (ON), Tulsa (OK), and Fresno (CA), #3 in Los Angeles, Chicago, Bakersfield (CA), Oxnard (CA), Salt Lake City, and Toledo (OH) and #4 in Phoenix, Springfield (MA) and Fort Wayne (IN), #5 in Columbus (OH) and Hammond (IN), #6 in Nashville (TN), #7 in Buffalo and Fort Smith (AR), and #9 in Minneapolis/St. Paul and Rochester (NY).
Another album was released to cash in on the hit single instrumental, simply titled Blues Theme. The liner notes written by Mike Curb stated: "In today's record business a hit instrumental record is almost unheard of. Without the benefit of a lyric, an instrumental must express a lyric in sound. Davie Allan and the Arrows captured the sound of fast moving motorcycles by combining the pulsating rhythms of Don Manning's drums, Drew's (Bennet) bass, and Tony Allwine's guitar with Davie's powerful fuzz-tone guitar." Throughout the sixties, the Arrows lineup was never stable.
Their next single release, "Devils Angels", was a Top Ten hit in Denver in the summer of 1967. The single was from the soundtrack from the film Devil's Angels, of which nine of ten tracks were recorded by the Arrows. The movie poster warned "Get Out of Their Way.! If you can… Their God is Violence and like Rabid Dogs…Lust is the Law they Live By! – Devil's Angels."
Later in 1967 the Arrows contributed to the soundtrack for Born Losers. The film's poster read: "Kitten on Wheels with Her Bike… Her Boots and Bikini! Out for kicks…in for trouble! She's going to join the…Born Losers." And another film the Arrows contributed to the soundtrack was Teenage Rebellion. The poster for the film stated: "The TRUTH: a factual report on the "NOW" generation…whose battle cry is "MAKE LOVE – NOT WAR!" While another 1967 film the Arrows were featured on the soundtrack was for Thunder Alley. Featuring Fabian and Annette Funicello, the poster declared "Days of Screaming Wheels…Nights of Reckless Pleasure."
In 1968 the Arrows played the soundtrack for The Wild Racers, starring Fabian. As well they released an album titled Wild In The Streets.
Allan's career floundered in the 70's, but he got a revival in the mid-90's and has had a cult following these past two decades. Allan did some concerts in Los Angeles and Pacifica in the fall of 2015.
Davie Allan is also notable for being what has been called the missing link between surf music and garage rock, 1960's punk and psychedelic rock. By fusing the simple, clean, guitar-focused musicianship of surf with these heavier, tougher, more vocal-centric styles, Allan helped pave the way for the "guitar hero" idiom of rock music that dominated the 1970s and 1980s. You can hear Allen's influence on many bands who emerged during the late 1960's in the Summer of Love. Groups like Iron Butterfly, Jefferson Airplane, Big Brother & the Holding Company and many others were stomping on fuzz boxes in celebration of the sounds Allan had created in previous years. At times record companies would credit a song by Allan as Dave Allan and The Arrows. This misspelling of his name, Allan has stated in interviews, takes place about one-third of the time. It's a constant challenge for him to get record labels to credit his first name as Davie and not Dave.
In 2009 Davie Allan and the Arrows had their instrumental "The Devil's Rumble" included in the Quentin Tarantino directed film Inglourious Basterds. The film starred Brad Pitt.
April 9, 2021
Ray McGinnis
References:
Davie Allan and The Arrows – Biography, Davie Allan.com.
Jonny Whiteside, "Davie Allan, Soundtracker of Countless Outlaw Biker Films, Is the King of Fuzz Guitar," L.A. Weekly, June 24, 2015.
The Wild Angels, American International Pictures, 1966.
Devil's Angels, American International Pictures, 1967.
"Inglourious Basterds (Soundtrack)," Wikipedia.org.
"C-FUNTASTIC FIFTY," CFUN 1410 AM, Vancouver, BC, April 22, 1967.
For more song reviews visit the Countdown.