#725: Bobby by Neil Scott
Peak Month: July 1961
7 weeks on CFUN's Vancouver Charts
Peak Position ~ #4
Peak Position on Billboard Hot 100 ~ #58
YouTube.com: "Bobby"
Neil Scott was the pseudonym for Neil E. Bogart. He was born in 1943 in the Brooklyn Jewish Hospital. Born Neil Scott Bogatz was raised in Brooklyn. Neil's mother, Ruth, had high expectations of her Neil and his baby sister, Bonnie. His dad, Al, worked for the United States Navy. When Al was stationed thousands of miles away, raising Neil as a toddler was stressful for his mother. When Al Bogartz returned from World War II, he began to work as a postman. The family listened to Neil's parents records and when they got an RCA TV set. Neil would imitate what was going on during a variety show. If there was dancing on the TV screen, Neil tried to do the dance steps. If there were comical jokes, Neil committed them to memory. Then he would tell them to his sister so effectively it would make Bonnie laugh. The family moved into the Glenwood Projects once these six story apartment buildings were completed in 1950. With 2,700 residents from many different backgrounds living in 1,186 apartments, there were inevitably conflicts between neighbors.
In 2014, a biography about Neil Scott Bogartz life was published by his nephew, Brett Ermilio and Brett's friend, Josh Levine. It is titled Going Platinum: KISS, Donna Summer, and How Neil Bogart Built Casablanca Records. Ermilio and Levine write about Neil's growing up years. Neil Scott Bogartz learned to play the bongo drums, saxophone and clarinet. When he was eight years old, a babysitter asked Neil "what do you want to be when you grow up?" Without skipping a beat, Neil replied, "I want to be a star." He began to sing on a regular basis from the age of ten, entertaining family and friends. His mother made clothes and costumes for Neil and Bonnie to wear when they performed at a school function or Halloween.
Between 1954 and 1956, Neil's dad took him and his younger sister, Bonnie, on repeated trips to Coney Island. On these visits Al Bogartz would take his children to a twenty-five cent record press booth. Ermilio and Levine describe in their biography of Neil Scott Bogartz how the "twenty-five cent record press booth" was "a machine common in the city at the time." Al Bogatz had his children "record his tunes. The booth was similar to the photo booth where people take candid, often silly pictures. The Bogatzes headed out to one on Coney Island, where anyone could go inside the soundproof booth, put in a quarter, and sing when the light comes on. Upon completion, a record was pressed and came out of the slot for you to take."
In 1959, at the age of sixteen, Neil Scott Bogartz released "Go Bohemian", a song he co-wrote with his father. In 1960, at age 18, he appeared in an off-Broadway X-rated play titled Sin in the Suburbs. He had a small, clothed, walk-on part, and was billed as "Wayne Roberts."
Between 1961 and 1963 he released four singles as Neil Scott. His debut single was "Bobby" on the Portrait label located on Broadway in New York City. This was one of only six singles Portrait ever released. Billboard Magazine's review of the song advised readers: "Here is a tragedy record that turns out well in the end. The story of the girl who calls for her love "Bobby" is told here with emotion by the singer. Strong stuff. A Billboard Pick."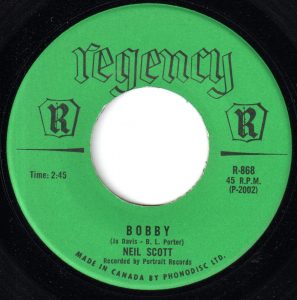 A lonely teenage girl was in the hospital.
She lay there unconscious in her bed.
The doctors had done all they could, now they could only wait.
She tossed and turned but all she ever said.
Oh-oh was Bobby (Bobby)
Oh-oh Bobby (where are you darling)
Oh Bobby, come back to me.
The doctors said she seemed to lack the will to live.
They said the boy named Bobby must be found.
But what the doctors didn't know was they had had a fight.
'Til someone told them Bobby had left town.
The doctors said that there was little hope for her.
But true love had never really died.
And suddenly when all was lost every prayer came true.
'Cause there was Bobby kneeling by her side.
Oh-oh-oh Bobby (I'm here darling)
Oh-oh Bobby (I'll never leave you again)
Oh Bobby, come back to me.
Oh-oh, oh-oh-oh Bobby, come back to me (Bobby, Bobby, Bobby….)
"Bobby" was one of a genre of teen tragedy tunes from the late 1950's into the mid-60's. Bobby is dating a girl who is lying in a hospital unconscious in her bed. She lacks the will to live and the doctors only hear her call out the name, Bobby, in the midst of her delirium. She keeps asking Bobby to come back to her. Apparently, she and Bobby had an argument and Bobby left town. Against all odds, Bobby returns and finds his girlfriend in her hospital bed. Kneeling down, he tells her "I'm here darling, I'll never leave you again."
Any story about a teenager in hospital whose signs of life are tenuous can make headlines. When we are young we anticipate a long life ahead of us. An accident or an illness when a person is in the springtime of their life is seen as a tragedy. "Bobby" played on this scenario and the songwriters may have hoped they had a hit record. Unlike other contemporary songs such as "Teen Angel", "A Thousand Feet Below", "Ebony Eyes", "Star-Crossed Lovers" and "Jimmy Love", Neil Scott's "Bobby" has a happy ending. Tragedy is averted because "true love never dies."
"Bobby" caught on in a number of radio markets, performing best at #1 in Syracuse (NY), #4 in Hartford (CT), and Vancouver (BC), #5 in Winnipeg (MB) and Tampa (FL), #6 in Springfield (MA), and #8 in Chicago and Troy (NY). It peaked nationally on the Billboard Hot 100 at #58.
"Bobby was composed by Jo Davis and B.L. Porter. Jo Davis co-wrote "My Precious Angel," which found its way onto the B-side of Jimmy Jones high pitched hit in 1960 titled "Good Timin'". The writer of "Good Timin'", Clint Ballard Jr., happened to be one of just three singers Jo Davis' co-writer, B.L. Porter penned a song for. Clint Ballard Jr. had previously penned "Gingerbread" for Frankie Avalon in 1958. Clint Ballard Jr. went on to write "You're No Good" which was a hit for Linda Ronstadt in 1974, "The Game Of Love" for Wayne Fontana And The Mindbenders and "I'm Alive" for The Hollies. However, the constellation of Neil Scott (aka Neil Bogart) as singer, and Jo Davis and B.L. Porter as songwriters was a flash-in-the-pan for all three.
Neil Scott released another single titled "My Confession". It received some chart action in Springfield, Massachusetts, and New Haven, Connecticut. When Portrait got into financial difficulty, Neil Scott switched to Comet Records and released "Tomboy". But even in Syracuse, New York, where he had something of a following, the song peaked at #48 in November 1962. In June 1963, Scott released "One Piece Bathing Suit" on the Herald label. It climbed to #34 on CHUM in Toronto and #36 on WBOY in Clarksburg, West Virginia. Neil Scott's career as a singer made him a one-hit wonder in Vancouver and just a few other record markets. Elsewhere, he was never on the radar.
In the midst of these single releases, Neil Bogartz joined the United States Army for six months. After his stint in the Army he got a job at an employment agency and went by Neil Stewart. In 1964 he got an interview with Cashbox Magazine and was hired as an advertising salesman and went by the name of Neil E. Bogart.
He was quickly promoted and by the age of 23, Neil E. Bogart became the Artists and Repertoire (A&R) man for Cameo-Parkway Records. He signed a group from Michigan called ? And The Mysterians who had a #1 hit in the fall of 1966 titled "96 Tears". In 1967, Cameo Records released Scott singing the 1930's pop standard, "(I Don't Stand) A Ghost Of A Chance With You". It peaked at #53 on WMCA in New York. It was his final commercial effort as a singer.
By September 1967 Cameo-Parkway shut down by the US government due to a stock fraud scandal. Bogart, however, wound up shortly after as executive of Buddah Records. He was still 24 years old. He was very successful at promoting records and got DJ's to spin records that became sizeable hits between 1967 and the mid-1970's. These included "Green Tambourine" by the Lemon Pipers, "Yummy, Yummy, Yummy", by the Ohio Express, "1 2 3 Red Light" and "Simon Says" by the 1910 Fruitgum Company, and "Nice to Be With You" by Gallery. On the strength of these types of hits, Neil was crowned the Bubblegum King of America by others in the music industry and the press. He had other hits that weren't bubblegum. These included "Oh Happy Day" by the Edwin Hawkins Singers, "It's Your Thing" by the Isley Brothers, "Lean On Me" by Bill Withers, "Lay Down (Candles in the Rain)" by Melanie, "Superfly" and "Freddie's Dead" by Curtis Mayfield and "Brother Louie" by The Stories.
In 1973, Bogart left Buddah Records to start Casablanca Records. While at Casablanca Records Bogart signed both KISS ("Beth" and "I Was Made For Lovin' You"), Donna Summer ("Love to Love You Baby," "Hot Suff", "Bad Girls", "I Feel Love", "On the Radio"), the Village People ("Macho Man", "Y.M.C.A.", "In the Navy"), The Ritchie Family ("Brazil", "Best Disco in Town") Lipps Inc. ("Funkytown"), the Hudson Brothers ("So You Are a Star") and others. By 1978, Bogart was telling Billboard Magazine that Casablanca Records was anticipating an annual income of over $100 million.
In his personal life, Neil E. Bogart was married in 1965 to Elizabeth Weiss and divorced in 1974. He remarried in 1976 to a woman named Joyce, who he hired in 1973.
In 1980, Bogart left Casablanca to found Boardwalk Records and signed Joan Jett and Harry Chapin. Jett had a number one hit with "I Love Rock and Roll" in early 1982. But Harry Chapin died at age 38 in a car accident in July 1981. Then, when he'd become a big success as a music industry businessman, Neil Scott Bogart died of cancer related to lymphoma. He was 39 years old. He died on Mother's Day, 1982.
His nephew, Brett Emelio, co-wrote Going Platinum: KISS, Donna Summer, and How Neil Bogart Built Casablanca Records in 2014. In the book Ermilio and Levine, wrote about the day Neil Bogart died. "On that day in 1982, there was no disco ball or music blasting through the hospital. There was only one man dying in a hospital bed. With all hope lost and his oxygen mask removed, Neil was drawing his final breath in the late morning hours. With his sister Bonnie, by his side… the Disco King's fight was over." Unlike in his 1961 recording of "Bobby", where the unconscious teenage girl in the hospital bed is returned to health when Bobby returns, Neil Bogart had no hope of recovery.
After his death KISS dedicated their album, Creatures of the Night, to Bogart. In 2013, Justin Timberlake was signed to play the role of Neil Bogart in a biopic called Spinning Gold. The film's writer was Bogarts' son, Tim.
September 18, 2018
Ray McGinnis
References:
Fredric Dannen, Hit Men: Power Brokers and Fast Money Inside the Music Business, (Vintage, 1991).
"Pop: Tunes for Teeny-Weenies," Time, July 19, 1968.
John Sippel, "Casablanca Bursting at Seems After 38 Months: Discs, Films May Gross $100 Million," Billboard, March 18, 1978.
Brett Ermilio and Josh Levine, Going Platinum: KISS, Donna Summer, and How Neil Bogart Built Casablanca Records, (Lyons Press, 2014).
David Sheff, "Post-Kiss, the Village People and Donna Summer, Neil & Joyce Bogart Redo Their Own Lives," People, May 26, 1980.
"Neil Bogart, Entertainment Executive, Dead At 39," New York Times, May 9, 1982.
"Jo Davis credits," Discogs.com
"B.L. Porter credits," Discogs.com
"Our History: The Bogart Pediatric Cancer Research Program," The Bogart Pediatric Cancer Research Program, Beverly Hills, CA, June 8, 2015.
"C-FUN-Tastic 50," CFUN 1410 AM, Vancouver, BC, July 29, 1961.
For more song reviews visit the Countdown.