#276: (Boogie Woogie) Dancin' Shoes by Claudia Barry
Peak Month: December 1978
8 weeks on Vancouver's CKLG chart
1 week Playlist
Peak Position #3
Peak Position on Billboard Hot 100 ~ #56
YouTube: "(Boogie Woogie) Dancin' Shoes"
Lyrics: "(Boogie Woogie) Dancin' Shoes"
Claudja Barry was born in Jamaica in 1952. At the age of six, Barry and her family emigrated from to Canada and settled in Scarborough, Ontario. From an early age she was inspired by the music of Barbra Streisand, Frank Sinatra and Nat "King" Cole. In her mid-teens she began to take vocal lessons and started dancing. In an interview on Extraordinary Women TV in 2013, Barry relates that after graduation from high school, she travelled to Europe to study classical voice. It was there that she got cast in the musical Hair. Subsequently, she was cast in in a production of Catch My Soul which toured Europe in 1974-75. The rock musical is an adaption of Shakespeare's Othello. In the spring of '75 she ended up in West Germany. That same year she signed with Hot Foot label and released a single called "Reggae Bump". In 1976 she released her debut album Sweet Dynamite.
In the summer of 1977 Barry had a Top Ten hit in Sept-Iles, Quebec, titled "Love For The Sake Of Love". That year she also charted a single titled "Sweet Dynamite" to #2 on the R&B chart on WCGI in Chicago. Another track from her debut album, "Why Must A Girl Like Me", charted on the Dance Club Chart on Billboard in 1977. Later in 1977, Barry released her second album The Girl Most Likely. Then in August 1978, Claudia Barry had a #2 hit on the Top 40 in Ottawa titled "Dancin' Fever".
Later in 1978 Claudja Barry released her third studio album I Wanna Be Loved By You. The lead single from the album was "(Boogie Woogie) Dancin' Shoes".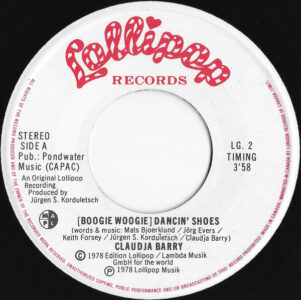 "(Boogie Woogie) Dancin' Shoes" was written and composed by Barry together with four musicians from Europe. Jörg Evers spent decades in the music business and since 2009 has been chairman of the supervisory board of the German rights society GEMA. Jürgen S. Korduletsch became the husband (now ex-husband) of Claudja Barry. He continues to produce and arrange records and is based in the USA.
Keith Forsey, born in London, England, in 1948, has been a session musician for "Get Up And Boogie" by the Silver Convention, "Daddy Cool", "Rasputin", "Rivers Of Babylon" and "Brown Girl In The Ring" for Boney M.; "I Feel Love", "Last Dance", "MacArthur Park", "Hot Stuff", "Bad Girls" and "Dim All The Lights" for Donna Summer; "Cat People (Putting Out Fire"" by David Bowie; "What A Feelin'" by Irene Cara; and "Don't You (Forget About Me)" by Simple Minds, among others. While Mats Björklund was a musician involved with numbers of West German bands.
In "(Boogie Woogie) Dancin' Shoes" the narrator of the song is a person who works all week. Presumably, they take orders from their boss and customers/clients. But on Saturday night this is the one time during the week they can obey all their whims. They put behind their work life, and dress up with "pretty clothes…magic shoes and a diamond spangle." For those watching in the night club, this woman will hypnotize their minds. As Barry sings in the song: "Saturday night is my night of power, when the music's playing
comes my magic hour."
In an interview with the Guardian in 2007, George McRae – who had a number-one hit in 1974 with "Rock Your Baby" – said "Disco came out after Vietnam. There was so much turmoil. People were down and they wanted to escape. It was a dark, terrible time after the civil rights movement. There was a revolution, and disco came at the right moment. It was escapism, like in the 20s after [World War I] with the Charleston. People needed to dance. My song I Get Lifted was meant to lift up the people. I had another one called You Can Have It All. There were messages in the music."
"My vision of the disco era was that it was the most liberating time we ever had in America," says Nile Rodgers, guitarist and co-leader of Chic. Helen Scott-Leggins of the Three Degrees told the Guardian "…during disco, the revolution was in the rhythms. We had fun with the choreography, that's for sure. But some of our outfits – what were we thinking? The disco style was outrageous: the bell-bottoms and hot pants, the hairdos, huge eyelashes. When I look back at some of the costumes I think, 'woah, we were running a risk, weren't we?"
In the 1978 film Saturday Night Fever, John Travolta plays Tony Manero, a blue-collar drone whose balletic grace on the dance floor is a means of escape from his miserable, working-class life in Brooklyn. As in Saturday Night Fever, the subject of "(Boogie Woogie) Dancin' Shoes" is presumably working class, and finds a night at the disco a chance to leave behind the 9-to-5 grind. After all, "Saturday Night" is her "night of power," inferring that during the work week at her job she doesn't have much power, and has to keep her emotions in check.
"(Boogie Woogie) Dancin' Shoes" peaked at #1 in Toronto, #2 in Ottawa (ON) and Hamilton (ON), #3 in Vancouver (BC), #9 in Los Angeles and Denver, #10 in Philadelphia, #13 in Boston, and #14 in Chicago. Outside of North America, "(Boogie Boogie) Dancin' Shoes" peaked at #5 in Melbourne (AU).
In 1978, Claudja Barry was nominated for two Juno Awards. In the category for Most Promising Female Vocalist of the Year she lost to Lisa Dalbello. And in the Female Vocalist of the Year category, she lost to Patsy Gallant.
In 1979 Barry released her album, Boogie Woogie Dancin' Shoes. Later that year her album Feel the Fire included composer and record producer Bob Conti on percussion. She also performed at the 1979 Juno Awards.
In 1981 she released a new wave/Hi-NRG album titled Made In Hong Kong. As music in the clubs was morphing from disco to electronic music, Barry was hopeful the album would catch on. It featured the lead single "Radio Action", which peaked at #57 on the Billboard Dance Club chart.
In 1982 Claudia Barry did a synth-pop cover of Little Peggy March's number-one hit from 1963, "I Will Follow Him". However, her version was not commercially successful.
In 1985 Claudja Barry had a minor role in the film Rappin'. The plot concerned Rappin' John Hood, an ex-convict, who attempts to save his neighborhood from developers and hoodlums. Around the same time, one of the hoodlums' girlfriend, Cecilia, persuades him to audition for a rap recording contract which will develop into a relationship. In the film Barry sings "Born To Love". The single climbed to #14 on the Billboard Hot Dance Music chart in 1985.
In 1986 she recorded "Down and Counting" which topped the Billboard dance charts peaking at number one for one week. The following year she released another studio album titled I, Claudja.
In 1995 Barry released an album titled Disco 'Round the Christmas Tree. In 1999, R&B singer Montell Jordan sampled the rhythm track from Barry's single "Love For the Sake of Love," on his #4 Billboard Hot 100 hit titled, "Get It On Tonite".
In the year 2000, Da Brat also released a song that sampled "Love For the Sake of Love" featuring Tyrese called "What'chu like", which peaked at #26 on the Billboard Hot 100. In 2006 Claudja Barry had a #4 hit on the Billboard Hot Dance Music chart titled "I Will Stand".
In 2013 a documentary about Claudja Barry titled Losing Paradise and Music was broadcast on OMNI 1 TV. It was a film Barry spent writing and directing. It was aired as part of Black History Month. In the film Barry comments on the direction some music within the Black community has gone over the past few decades. Noting how uplifting and socially conscious the music of Bob Marley was in the 1970s, she observes "Music artistes are for many young people the only role model they have. They are respected and emulated. So if the image that you project is that of a thug, or someone who has no respect for authority figures, or one that is homophobic, shows only disdain and disrespect for women, then your fans will take on the same behaviour and attitudes. If you show intolerance, indifference, disrespect, impatience, then fans believe that's how life should be." Barry said this was especially important in communities where there was high unemployment and social problems.
In a 2013 interview on Extraordinary Women TV, Barry remembers the music she was making in the 70s into the 80s "was pretty happy music. I was very, very happy. I was joyful that I was able to become successful in that genre of music. Because, there was nothing 'wrong' in what was being presented. Whereas, today, if you listen to some of the stuff that is coming, it is pretty severe." Barry lamented that so much music into the 2010s "has become really angry, really dark…aggressive, and unattractive for your spirit, for your soul. I think music is supposed to help you, to uplift you, to help you become a better person."
Barry expressed her concern that some contemporary music conveys attitudes that "it's okay to hate gays, it's alright to break the law and call women terrible names." Barry adds "all artists have a responsibility to make [their listeners] think…to give them things that are good and interesting and make them feel good about who they are." She told Shannon Skinner on Extraordinary Women TV it is important to "know you are valuable."
In 2015, Barry returned to the recording studio and released a digital album titled Come On Standup.
July 30, 2021
Ray McGinnis
References:
"Claudja Barry," Canadianbands.com.
"Canadian Documentary Sheds Light on Dancehall's Darkside," Antigua Observer, February 15, 2013.
"Juno Awards of 1978," Wikipedia.org.
"Saturday Night Fever," Wikipedia.org.
Shannon Skinner, "Claudja Barry Interview," Extraordinary Women TV, April 25, 2013.
Paul Lester, "Can You Feel the Force?," Guardian, February 23, 2007.
"Rappin'," Wikipedia.org.
"CKLG Top 20," CKLG 730 AM, Vancouver, BC, December 13, 1978.
For more song reviews visit the Countdown.