#1087: Boom Boom Baby by Crash Craddock
Peak Month: December 1959
7 weeks on CFUN chart
Peak Position #7
Peak Position on Billboard Hot 100 ~ did not chart
YouTube.com: "Boom Boom Baby"
Lyrics: "Boom Boom Baby"
In 1939, Billy "Crash" Craddock was born in Greensboro, North Carolina. He was the youngest of thirteen children. The Craddock's were a clan that were tight, knit with the threads of love of family and music. Craddock's dad played harmonica, spoons, wash board and buck danced. His whole family mother harmonized as they sang old gospel song and folk tunes. Craddock would listen to Little Jimmy Dickens, Faron Young and others on the radio. It would only take him a time or two to learn the lyrics and tune by heart. One brother paid little Billy Craddock a nickel for each song he could sing word-perfect. He learned to play guitar when he was just six. When he was eleven, Craddock entered a talent contest on a local TV station. He was voted the winner for fifteen weeks in a row. Craddock got his nickname, "Crash," from playing football in high school. Inspired by Elvis Presley, Crash Craddock formed a rockabilly band with one of his brothers called The Four Rebels. And he got a record deal with Sky Castle Records in Greensboro and released a single titled "Smacky-Mouth" in 1957.
Craddock's second release that year was with Colonial Records in Durham, North Carolina, called "Birddoggin'." On the strength of his first two releases, Crash Craddock was signed with Date Records, a sub-label of Columbia Records. His third rockabilly single was "Ah, Poor Little Baby." Both his original, and the UK cover version by Adam Faith, did not chart in 1958.
Switching labels for a third time, Craddock released his fourth single, "Boom Boom Baby" in 1959 on Columbia Records. The song was written by Dave Burgess of the instrumental group, The Champs, who had a #1 hit in 1958 called "Tequila." In the USA "Boom Boom Baby" did not get airplay on radio stations across the nation. However, the B-side, "Don't Destroy Me," got some chart action and appeared for just one week on the Billboard Hot 100 in November 1959, at position #94. He's appeared on American Bandstand on September 22, 1959, where he sang the song. Meanwhile, south of the equator, the A-side, "Boom Boom Baby" held the #1 spot on Australia's singles chart for four weeks in early 1960: February 6,13, 27 and March 5th. (The #1 spot was taken by Australian Johnny O'Keefe on February 20, 1960, with "She's My Baby.")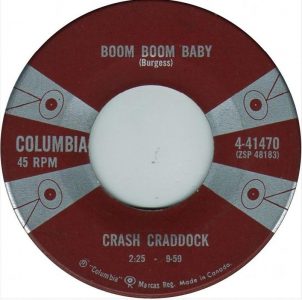 While Crash Craddock went on tour to Australia at the end of 1959 with The Everly Brothers, The Diamonds, Bobby Rydell and Santo and Johnny, "Boom Boom Baby" had climbed to #7 here on the CFUN. Vancouver was an outpost of popularity in for Crash Craddock in North America. Meanwhile, when Crash Craddock arrived in Australia he was amazed to discover thousands of screaming teenagers greeting him at the airport. He didn't know he was a teen idol in the land down under.
Crash Craddock's "Boom Boom Baby" has genius. Most people will tell you that they are physically attracted to their steady, their main squeeze, their "one and only." It was true in 1959, and it's true in 2017. At the time of writing this post (in mid-April), the number one song internationally in over forty nations is "Shape Of You" by Ed Sheeran. His hit describes physical and sexual attraction to another person, starting with their body.
And that's the way it should be. Physical desire and being thrilled to see your sweetheart when they walk in the room is a good sign. Indifference and boredom are hard matches to use if you want to keep love's fire burning. So listeners in Vancouver and across Australia back in 1959-60 could relate to the sexual energy that Billy "Crash" Craddock was singing about. When he sees her dance and shake her body on the dance floor he doesn't want his Boom Boom Baby to stop. And Boom Boom Baby seems to enjoy being in her body and people watching her show-stopping dance moves when she does the Chicken Bop. He enjoys his gal having fun on the dance floor, helping to get the party started and keep it going. Boom Boom Baby is not a wallflower who shows up reluctantly at the party, and asks her date to take her home after an hour. The guy in Crash Craddock's song is also enjoying the affirmation that other people at the dance party think she is the life of the party. Also, Boom Boom Bay likes it when he hugs an kisses her, so the attraction is returned. Importantly, the attraction isn't just a passing fancy. Crash sings "Boom Boom Baby I'll make it clear, till I die I'll always want you near."
The Chicken was a popular dance that started in America in the 1950s, in which the dancers flapped their arms and kicked back their feet in an imitation of a chicken. The dance featured lateral body movements, was used primarily as a change of pace step while doing the Twist. While The Bop was a variation of the 1940s dance, The Jitterbug. The Bop was mainly 8 counts with a hip-twisting, body swaying, double rhythm style. The basic step was done in open position, Follower mainly staying in front of the Leader: Originally: "Tap-Step—Walk-Walk—Tap-Step—Walk-Walk (or Rock-Step)" – swaying from his left to right. If you did the Chicken Bop, you were putting the two dance steps, The Chicken and The Bop, together.
"Boom Boom Baby" was the first of six singles Billy "Crash" Craddock released with Columbia Records. The next single was another rockabilly classic, "I Want That," a Top 40 hit in Baton Rouge, Louisiana, in December 1959, and #7 nationally in Australia. The song was covered by the UK band Johnny Kid & The Pirates in 1962. His third hit in Australia, "Well, Don't You Know" climbed the charts there to #8 in 1960, though it was not released in North America. It was another rockabilly tune. Craddock's string of hits in the land down under continued with two pop tunes. "One Last Kiss", was a #1 hit in Australia on March 18, 1961. It was uniquely a Top Ten hit in Jacksonville, Florida, in September 1960, peaking at #9. While the ballad, "Heavenly Love", charted in the Top 50 in Phoenix, Jacksonville and Atlanta in the winter of 1960, and Australia in 1961.
Craddock moved on to Mercury Records who released "Ole King Cole" in 1962 where San Bernardino was about the only radio market to spin the disc. He released the King Records album, I'm Tore Up, that included several non-charting singles. For the next few years Crash Craddock was largely missing-in-action.
Then in 1967 Crash Craddock reinvented himself as a country singer. Under a contract with Chart Records, in March 1967 Craddock took "There Oughta Be A Law" to #15 in Sacramento, California. His next single, "The Love We Live Without", was a minor hit across Utah in that summer. Then "Go On Home Girl" was a #5 hit in Decatur, in northern Alabama, in November 1967. His fourth country single in March 1968, "Anything That's Part Of You", charted onto the Top 30 in Charlotte, North Carolina.
Four years later he signed with Cartwheel Records and in 1971 released a cover of Tony Orlando and Dawn's record, "Knock Three Times", which Craddock took to #3 on the Billboard Country chart. Among his 19 Top Ten country chart hits between 1971 and 1978 in either America or Canada, Crash had eight number one country hits. These include "Nothin' Shakin' (But The Leaves On The Trees)," a remake of Eddie Hodges 1961 hit "I'm Gonna Knock On Your Door", "Sweet Magnolia Blossom", "Rub It In", a cover of Dion's 1963 hit "Ruby Baby," "Still Thinking' About You" "Easy As Pie" and "Broken Down In Tiny Pieces". Craddock's fifteen other Top 40 hits included several cover versions such as the Bobby Darin classic, "Dream Lover", the 1956 Teresa Brewer hit "A Tear Fell", Little Richard's 1956 hit "Slippin' and Slidin',"Frankie Ford's "Sea Cruise", and a cover of the Bee Gee's "To Love Somebody". These were among the twenty-four additional Top 30 Country hits Crash Craddock had along with his eight #1 hits on the Billboard Country chart.
Craddock has sung on the Grand Ole' Opry and donated memorabilia to the Country Music Hall of Fame. Craddock continues to have a fan club called the Billy "Crash" Craddock International Fan Club. You can contact the club through billycrashcraddock.com. On May 13, 2018, Billy "Crash" Craddock appeared in Branson, Missouri, at the Dick Clark American Bandstand Theater.
May 18, 2017
Ray McGinnis
References:
Billy "Crash" Craddock biography, Billy Crash Craddock.com
Charity Apple, "Passion For Performing," The Times-News, Burlington, NC, June 15, 2017
Lloyd Price, "The Chicken And The Bop," 1957
Bop Dance Steps, Out Pastimes.com
1950's and Early 60's Rock n' Roll Dance Demo for the Blue Jean Bop, Youtube.com.
"Hi-Fi Forty," CFUN 1410 AM, Vancouver, BC, December 26, 1959.
For more song reviews visit the Countdown.