#29: Boulevard by Jackson Browne
Peak Month: September 1980
15 weeks on Vancouver's CKLG chart
Peak Position #1
Peak Position on Billboard Hot 100 ~ #19
YouTube.com: "Boulevard"
Lyrics: "Boulevard"
Clyde Jackson Browne was born in 1948 in Heidelberg, Germany. His father was on assignment writing for Stars and Stripes magazine for the United States military. At the age of three, Jackson Browne moved with his family to Los Angeles. As he grew up he developed an interest in music and was singing and playing guitar in folk clubs, including The Troubadour Club in West Hollywood. In 1966, Browne joined the Nitty Gritty Dirt Band. Before he turned 18, Browne moved to Greenwich Village and was a staff writer for Electra Records. He was a musician on several albums and began to write songs that were covered by Joan Baez, the Eagles, the Byrds, Linda Ronstadt and others. In 1971 his self-titled debut album included the top ten hit "Doctor My Eyes". Another track, "Rock Me On The Water", peaked at #48 in 1972 and was covered by Linda Ronstadt. As well, Jackson Browne co-wrote "Take It Easy", a #12 hit for the Eagles in 1972. On March 15, 1972, Jackson Browne gave his first concert in Vancouver at the Queen Elizabeth Theatre.
On September 19, 1974, Jackson Browne came to Vancouver for a concert at the Orpheum. In 1977, Browne had a Top 30 hit in the USA titled "Here Come Those Tears Again". In early 1978, his single "Running on Empty" peaked at #11 on the Billboard Hot 100 and #9 in Vancouver. The album Running On Empty was nominated for Grammy Awards in the Album Of The Year and Best Rock Vocal Performance, Male. He lost out to Saturday Night Fever – Soundtrack. In the summer of 1980, Jackson Browne's album Hold Out featured the debut single "Boulevard".
Browne said in a radio interview that "Boulevard" was a song "…about runaways, and, you know… as sort of a bystander, it's about Hollywood Boulevard. I used to live right above Hollywood Boulevard, and there's a place called The Gold Cup and there's a lot of runaway kids and there's a lot of teen prostitution around there. It was partly written from the point of view of a young person on that street, yet it's not really immersed in that. You're sort of, maybe, empathizing with them to some degree, and also trying to say 'it's only time.' It's time on the boulevard, but this doesn't mean this is who you are and where you'll always be, I guess was what I was trying to say…"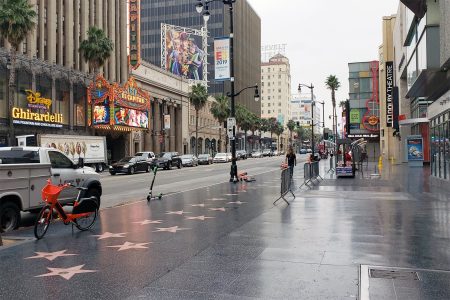 Hollywood Boulevard and the Hollywood Walk of Fame
In 1910, the town of Hollywood was incorporated into Los Angeles, and Prospect Avenue was officially renamed Hollywood Boulevard. Beginning in 1928, Hollywood merchants transformed a one-mile stretch of Hollywood Boulevard into "Santa Claus Lane" to boost shopping. Part of the promotion was a daily parade featuring Santa Claus and a film star. Originally called the Santa Claus Lane Parade, the 1947 song titled "Here Comes Santa Claus" began with the lyrics "Here comes Santa Claus, here comes Santa Claus, right down Santa Claus Lane." In 1958, the Hollywood Walk of Fame was launched in 1958. The historic landmark consists of more than 2,700 five-pointed terrazzo and brass stars embedded in the sidewalks along 15 blocks of Hollywood Boulevard and three blocks of Vine Street. In the 1970s, the street became very seedy and was frequented by many odd characters as shown in pictures by photographer Ave Pildas.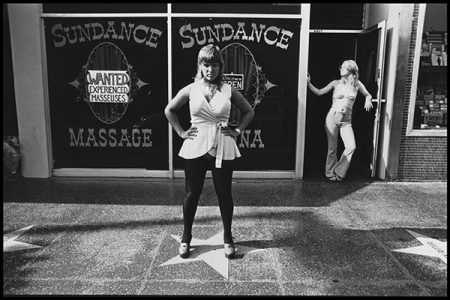 This change in the character of Hollywood Boulevard is the context for Jackson Browne's inspiration to write "Boulevard".
"Boulevard" peaked at #1 in Vancouver (BC), Kansas City (MO), Toronto, Richmond (IN), and St. Cloud (MN), #2 in Ottawa, Seattle, Bakersfield (CA), Saskatoon (SK), #3 in Atlanta, Lancaster (PA), and Bangor (ME), #4 in Regina (SK), Phoenix, San Jose (CA), Hartford (CT), Tampa (FL), Milwaukee, and Springfield (IL), #5 in Denver, Framingham (MA), #7 in Houston, Charleston (WV), and Washington D.C., #8 in Fort Dodge (IA), #9 in Los Angeles, #10 in South Bend (IN), Chicago, Minneapolis/St. Paul, and Providence (RI).
Ahead of the chart run for "Boulevard", Jackson Browne was on tour to support his new album. He appeared in concert in Vancouver at the Pacific Coliseum on July 31, 1980. "Boulevard" received a Grammy Award nomination in the category for Best Rock Vocal Performance, Male. It lost out to Billy Joel whose Glass Houses (with the hit single "You May Be Right") won the award.
In 1982, Browne recorded "Somebody's Baby", a song featured in the soundtrack for the film Fast Times In Ridgemont High. The song climbed to #7 on the Billboard Hot 100 and #1 in Vancouver for several weeks in October and November. And in 1983, his single "Lawyers In Love" climbed to #6 in Vancouver and #13 on the Hot 100.
In 1986 he released the album Lives in the Balance featuring the single "For America", a Top 30 song in the USA. It was one of a number of songs concerning socio-political issues.
Browne writes:
I was made for America
It's in my blood and in my bones
By the dawn's early light / by all I know is right —
We're gonna reap what we have sown.
Over the years, Jackson Browne has released 15 studio albums and four live albums.
On August 20, 1989, Jackson Browne gave a concert at the Pacific Coliseum in Vancouver. In 1999 he received a Grammy Award for Best Pop Collaboration with Vocals in a duet with Bonnie Rait in a recording of "Kisses Sweeter than Wine". In 2007, Browne received a Grammy Award nomination for Best Contemporary Folk Album for Solo Acoustic, Vol. 1. Bob Dylan won the award that year for his album Modern Times. He received the same Grammy Award nomination in 2011 for Love Is Strange: En Vivo Con Tino. On March 26, 2011, Jackson Browne performed at the Queen Elizabeth Theatre in Vancouver.
In 2016, Jackson Browne lent his support to Bernie Sanders in his campaign to win the Democratic Primary for president. On April 27, 2017, Jackson Browne appeared in concert at the Centre for Performing Arts in Vancouver. In 2018, Jackson Browne won the Ghandi Peace Award.
On May 11 and 12, 2022 Jackson Browne was a special guest on tour with James Taylor, performing at the Rogers Arena in Vancouver. In 2022 Jackson Browne received a Best Americana Album Grammy Award nomination for Downhill from Everywhere.
May 3, 2023
Ray McGinnis
References:
Paul Nelson, "Jackson Browne Interview," Rolling Stone, August 7, 1980.
Eric Alterman and Katrina vanden Huevel, "An Interview with Jackson Browne," The Nation, October 7, 2014.
Kevin E G Perry, "Jackson Browne: 'My generation were idealistic and naive but we were right about so many things'," Independent, January 30, 2020.
"25 Musicians 'Feeling the Bern' for Bernie Sanders," Rolling Stone, February 8, 2016.
Randall Beach, "Jackson Browne is the 2018 recipient of the Gandhi Peace Award; he will accept award in New Haven," New Haven Register, July 31, 2018.
"Jackson Browne concerts – Canada," Setlist.fm.
Ave Pildas, "Hollywood Boulevard The 70s," Los Angeles Contemporary Exhibitions, July 1 to September 13, 2015.
"C-FUN Top Thirty," CFUN 1410 AM, Vancouver, BC, September 20, 1980.
For more song reviews visit the Countdown.