#688: Boy Inside The Man by Tom Cochrane & Red Rider
Peak Month: August 1986
11 weeks on CKLG's Vancouver Charts
Peak Position ~ #12
Peak Position on Billboard Hot 100 ~ did not chart
YouTube.com: "Boy Inside The Man"
Lyrics: "Boy Inside The Man"
Tom Cochrane was born in Lynn Lake, Manitoba, in 1953. When he was eleven he got his first guitar. In his late teens and early twenties, he performed in coffee houses across Canada in the early 70's. His debut album, Hang On To Your Resistance, was released in 1974. Then Tom Cochrane made his way to Los Angeles. In 1975, Cochrane got work composing theme music for the movie My Pleasure Is My Business. This was a film about Xavier Hollander, the call girl and adult film star who authored her own memoir, The Happy Hooker, in 1971. Unable to get subsequent work in Hollywood, Cochrane returned to Canada for drive a taxi and work on a cruise line. At a concert at the El Mocambo for Red Rider in 1978, Tom Cochrane met the band. Soon after Cochrane was invited to join Red Rider.
Red Rider formed in Toronto in 1975. The band consisted of 1975 when lead vocalist and keyboard player Peter Boynton, guitar, keyboard and backing vocalist Ken Greer, guitarist Arvo Lepp, bass player Jon Checkowski and drummer Rob Baker. By the time Red Rider brought Tom Cochrane on board, the lineup consisted of Boynton, Greer, Cochrane, baker and former bass player with Rush, Jeff Jones. Red Rider released four albums between 1979 and 1984, all credited to Red Rider.
The band's first single "White Hot" was a Top 20 hit across Canada, and climbed to #5 in Vancouver in April 1980. It also climbed to #48 on the Billboard Hot 100. The single was from the debut album by Red Rider titled Don't Fight It. A second album released in 1981 titled As Far As Siam expanded their fan base. And in 1983 Red Rider's third studio album, Neruda, featured the single "Human Race".
In 1986, they released the album, Tom Cochrane & Red Rider. One of the songs on the album was "Boy Inside The Man".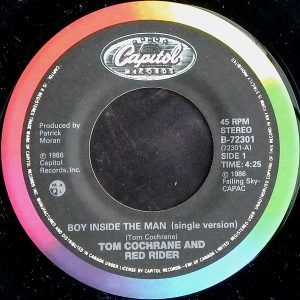 "Boy Inside The Man" concerns something essential to who you are as you grow older. Though the boy grows from age 17 to 21 to 25 to 31, there is still a boy inside of him. The woman in his life understands this aspect of him. No matter what experiences he has as a man that add layers to who he is, there will always be this part of him that perceives life around him as the boy he was. In the songs' lyrics, it is clear, however, that adult male experience can make him lose touch with the boy inside the man. But when he feels he has returned to himself, and notices the boy inside the man, he exclaims "you're back again."
The song title could suggest this is only about male experience. However, one could write a song about the "Girl Inside The Woman". Each female has that youthful part of herself that saw life through the eyes of a child and a youth, before she reached the age of majority and became an adult woman. Is there a part of you that is essential to who we are that values the ways we perceive life around us when we are a child? When we are a youth? Or do you prefer to discard your perceptions of childhood and youth and thank your lucky stars that you see life only through the eyes of adult experience? "Boy Inside The Man" climbed to #12 in Vancouver, #16 in Hamilton and #18 in Regina.
In 1988, Tom Cochrane & Red Rider, they released Victory Day. Their debut single off this album was "Big League". By 1988 Tom Cochrane & Red Rider consisted of Cochrane, Greer, John Webster on keyboards and synthesizers, Ken "Spider" Sinneave on bass, Randall Coryell on drums and Peter Mueller on guitar. In the studio production of Victory Day, Denny Fongheiser and Mickey Curry also added drums to the tracks. Victory Dayearned Tom Cochrane & Red Rider three Juno Award nominations.
After "Big League", Tom Cochrane went on to release a solo album in 1991 titled Mad Mad World. The studio recording featured Red Rider bandmates Spider Sinneave and John Webster. On the album was a single release titled "Life Is A Highway." In early 1992 the single climbed to #1 in Canada and #6 on the Billboard Hot 100. The albums' follow up singles, "No Regrets", Sinking Like Sunset" and "Washed Away" all made the top ten on the Canadian RPM singles chart. Cochrane followed up with an album in 1995 titled Ragged Ass Road, named after a street in Yellowknife, Northwest Territories. It included the top ten hits on the Canadian RPM singles chart "I Wish You Well" (#1), "Wildest Dreams" (#5) and "Dreamer's Dream" (#4).
In all, Tom Cochrane has released seven studio albums as a solo artist. Tom Cochrane & Red Rider have released three albums and Red Rider has released four albums. In August, 2018, Tom Cochrane has appeared in concert at Saint-Jean-au-Richelieu, Quebec, and in Winnipeg. In 2016, a stretch of highway between Lynn Lake and Thompson, Manitoba, was named the Tom Cochrane Life Is A Highway.
November 1, 2018
Ray McGinnis
References:
About Tom Cochrane, Tom Cochrane.com
Interview: Tom Cochrane, The Wire, Peterborough, Ontario, July 1, 2017
Tom Cochrane: 'You Sometimes Write the Happiest Songs When You're Down', CBC, December 7, 2016
Terry David Mulligan, Tom Cochrane Interview – 2014, Mulligan Stew, January 31, 2015
David Friend, Tom Cochrane reflects on success of 'Life is a Highway', Toronto Star, Toronto, ON, January 5, 2017
Hollander, Xavier. The Happy Hooker. Xavier Hollander.com
Tom Cochrane & Red Rider – Credits, Victory Day, Discogs.com
Tom Cochrane has Stretch of Manitoba Highway Named After Him, CBC, October 31, 2016.
"Top Thirty Hot Hits," CKLG 730 AM, Vancouver, BC, August 13, 1986.
For more song reviews visit the Countdown.