#1188: Boys Of Autumn by David Roberts
Peak Month: September 1982
8 weeks on CFUN's Vancouver Chart
Peak Position ~ #16
Peak Position on Billboard Hot 100 ~ did not chart
YouTube: "Boys Of Autumn"
Lyrics: "Boys Of Autumn"
David Roberts was born in Boston in 1958. His family moved to Toronto when he was young and he grew up in Canada. When he was 19 years old, in 1977, he was signed to WEA Records in Canada. In 1981 he provided backing vocals for an album by Lisa Dal Bello. In 1982 he released his debut album All Dressed Up. Roberts wrote all ten tracks for the album. On his Facebook page Roberts states that the album was recorded in Sunset Studios in Los Angeles. And that his session musicians included Jeff Pocaro, Steve Lukather and Mike Pocaro from Toto, recent winner of a 1980 Grammy Award for Best Rhythm & Blues Song – "After The Love Has Gone" by Earth, Wind & Fire: David Foster (writer and arranger), multi-instrumentalist and Grammy Award nominee in 1982 for Album of the Year (Breakin' Away): Jay Graydon, Michael Boddicker – a studio musician whose electronic keyboards were featured on "Rock With You" and "Off The Wall" for Michael Jackson, percussionist Paulinho Da Costa who had recently been in the studio with George Benson on "Give Me The Night" and the Brothers Johnson hit "Stomp", and Bill Champlin from the rock band Chicago.
David Roberts first single from All Dressed Up was "Anywhere You Run". The release garnered little attention. However, Roberts was more successful with his follow-up single "Boys Of Autumn."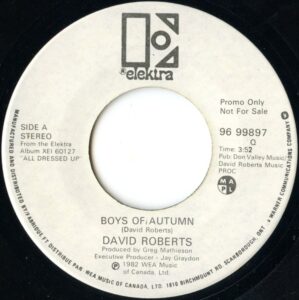 "Boys Of Autumn" was written by David Roberts. The song paints images: a young woman hanging her clothes on the line, a boy laying by a river thinking about her clothes and getting shivers as he brings them (and her) to mind. Though it's now September, the singer advises the boy to leave the porch light on. This could be for his own safety, but could it also be for a young woman who might drop by?
The song tells us "boys will be boys." The phrase "boys will be boys" was first written in English in 1589. It originated from a Latin proverb: "Children (boys) are children (boys) and do childish things." But the Latin phrase morphed into the English "boys will be boys" by 1589. And it was used as a flippant way to excuse the actions and attitudes of boys and men of all ages. Boys will be boys is commonly used to explain away rowdy or naughty behavior—things like jumping in mud puddles, roughhousing, and causing trouble – breaking windows, upending garbage cans – or an uproar like picking a fight at a dance.
Boys will be boys is a phrase that has also been used to explain away the sexual urges of older boys and young (and aging) men. The way older boys and men deal with their sexual urges often involves willing, and sometimes unwilling, sexual partners. As such, "boys will be boys" can be a phrase that is dismissive of sexual assault allegations and other serious crimes. And there is a view held by some in society that boys are programmed to act sexually aggressively and that it is part of their DNA. Are certain behaviors – sexual harassment for example – endemic to being masculine?
In 1955 the Four Lads in "Moments To Remember" sang "the New Year's Eve we did the town, the day we tore the goal post down. We will have these moments to remember." But do all boys tear down goal posts? Is this something guys do on a dare from other guys to prove their masculinity? Is this what "boys will be boys" means in practice: that we're all given to a little outburst of rowdy behavior every once in awhile? And that whatever exuberant or mischievous behavior unfolds, it is to be tolerated because, after all, boys will be boys.
Listening to use of this century's old phrase in the song "Boys Of Autumn", Roberts tones down "boys will be boys." It seems here to be more about recalling a first summer of sexual awakening with a young woman who is hanging her clothes on the line. One thing the boy in the song is left with after summer is over is that he "can't forgive those adolescent lies." Are those adolescent lies he told himself about feelings of love, or interpretation of verbal and non-verbal cues he got from a romantic interest? Or was he being told things by someone else that turned out to be adolescent lies? The lyrics aren't clear and those adolescent lies float up to the sky on David Roberts soaring vocals.
The song draws on the past (July, summer), the present (September, autumn) and the future (winter and next summer). The song suggests that as the winter approaches, the boy gets older and "a little colder." But then, he is back in his prime when next summer comes and he becomes once again one of "the boys of summer." Perhaps the song title "Boys Of Autumn" is wistful since the singer tells us "summer didn't last that long." When high school is over and a boy is between grades, there is more time to play and stay up late. But in the autumn, school is back in session. There is homework, possibly part-time work after school, or other school related activities like sports teams or band practice.
"Boys Of Autumn" peaked at #5 in Toronto, #10 in Regina (SK), #12 in Halifax (NS) and #16 in Vancouver (BC).
In 1985 David Roberts provided backing vocals on all the Rational Youth's Heredity album tracks, featuring the hit single "No More And No Less". That year Roberts also was a backing vocalist in the recording studio for Strange Advance's album 2wo, including the hit single "We Run". As well, Starship recorded his song "Before I Go". Roberts returned to the recording studio with Strange Advance in 1987 as a backing vocalist on Over 60 Minutes With…Strange Advance.
His Facebook page includes a post from July 2008 that states "Over the last 20 years David has written and produced dozens of commercials as well as music for television and the Olympics." From that one can conclude that Roberts venture into writing and producing commercials and music for television began by 1988. In 1989 Bad English recorded David Roberts song "Tough Times Don't Last".
In 1994 Roberts was working on a comeback album and prepared demos for the project. But the album was not released. In 2004 David Roberts returned to the recording studio and sang a track titled "On Dangerous Ground" for the AOR music projects' album Nothing But The Best.
In 2008 David Roberts announced on his Facebook page "the release of his second CD this year, entitled The Missing Years. It features a collection of songs written and recorded over the last 20 years. Some of the recordings are demos while other's are songs that were taken to the next level. As a staff writer for Warner/Chappell Music for over 15 years, David has been constantly creating new songs for other artists to record, and while some made it onto projects, up until now, many songs never quite found their way into the right hands." One song on the album, "Run Back", was featured as the theme song for the Japanese television program Bullet Train. Roberts other album release in 2008 was Better Late Than Never.
October 17, 2020
Ray McGinnis
References:
"David Roberts bio," West Coast.dk.
"David Roberts", Facebook.com.
"CFUN Top 30," CFUN 1410 AM, Vancouver, BC, September 25, 1982
For more song reviews visit the Countdown.