#435: Brandy by Scott English
Peak Month: April 1972
10 weeks on CKVN's Vancouver Charts
Peak Position ~ #3
Peak Position on Billboard Hot 100 ~ #91
YouTube: "Brandy"
Lyrics: "Brandy"
Scott English was born in Brooklyn, New York, in 1937. He released his first single when he was 17 years old in 1960 called "4,000 Miles Away". It didn't crack the Billboard Hot 100. In the winter of 1963 he had a regional hit that reached the Top Five in Los Angeles, San Bernardino, San Francisco, Pittsburgh, Columbus (OH) and Springfield (MA). It was called "High on a Hill". In 1966, The Animals recorded English's song "Help Me Girl". It became a national Top 30 hit. The following year English wrote "Bend Me, Shape Me", a #5 hit for the American Breed in the USA. It was covered by the Amen Corner and peaked at #3 in Britain.
English produced the debut self-titled album by the Irish rock band, Thin Lizzy, in 1971. The same year he released a single he co-wrote called "Brandy".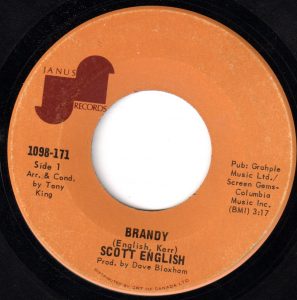 The co-writer of "Brandy" was Richard Kerr. Richard Buchanan Kerr was born in Bedford, UK in 1944.
"Brandy" concerns a man who has broken off a relationship. Looking back, he now recognizes he was happy. Since the break-up, over the years, he has been consumed with pain and sorrow most of his life. He sums up: "I walked away when love was mine."
Throughout the rock 'n roll era there have been many songs with females in the song title. These include "Long Tall Sally" by Little Richard, "Tammy" by Debbie Reynolds, "Marianne" by Terry Gilkyson and the Easy Riders, "Peggy Sue" by Buddy Holly, "Susie Darlin'" by Robin Luke, "Donna" by Ritchie Valens, "Cathy's Clown" by the Everly Brothers, "Tell Laura I Love Her" by Ray Peterson, "Runaround Sue" by Dion, "Hello Mary Lou" by Rick Nelson, "Mary Lou" by Ronnie Hawkins, "Sheila" by Tommy Roe, "Sherry" by the Four Seasons, "Ramblin' Rose" by Nat "King" Cole, "Denise" by Randy and the Rainbows, "Ruby Baby" by Dion, "Sally Go 'Round The Roses" by the Jaynettes, "Judy's Turn To Cry" by Leslie Gore, "Dawn (Go Away)" by the Four Seasons, "Help Me Rhonda" by the Beach Boys, "Barbara Ann" by the Regents and the Beach Boys, "Hooray For Hazel" by Tommy Roe, "Gloria" by Them, "Delilah" by Tom Jones, "Jean" by Oliver, "Maggie May" by Rod Stewart, "Sylvia's Mother" by Dr. Hook and the Medicine Show, "Clair" by Gilbert O'Sullivan, "Angie" by the Rolling Stones, "I'm Not Lisa" by Jessi Colter, "Rhiannon" by Fleetwood Mac, "Fanny" by the Bee Gees, "Lucille" by Kenny Rogers, "My Sharona" by The Knack, and many more.
"Brandy" peaked at #3 for two weeks in Vancouver (BC). It also climbed to #4 in Toronto, #7 in Augusta (GA), #11 in Houston (TX), #15 in Olympia (WA), #16 in Columbus (OH), #17 in Orlando (FL). But the song was given a pass by DJs in almost forty states across the USA. Consequently, it stalled on the Billboard Hot 100 at #91.
Four years later, in January 1975, Barry Manilow took "Brandy" to #1 with the revised song title of "Mandy". Due to the lack of radio exposure to "Brandy" in the USA, when "Mandy" became it hit it wasn't understood as a revised cover of Scott English's tune. Though in Vancouver (BC), "Mandy" was understood as a cover of "Brandy", only with the title changed.
After "Mandy" became a hit for Barry Manilow, Richard Kerr was asked to write more material for Manilow. Kerr wrote "Looks Like We Made It" which became another number one hit for Barry Manilow in July 1977. And in 1978 Manilow recorded Kerr's "Somewhere In The Night" which became another Top Ten hit for Manilow in America. Among the other songs Richard Kerr penned is Dionne Warwick's "I'll Never Love This Way Again", the #32 song of the year on the Billboard Year-end Top 100 chart.
Scott English continued to compose songs that were variously covered by Helen Reddy, James & Bobby Purify, The Outsiders, The Montanas, Al Martino, The Toys, Jeff Beck, Joe Simon, Mama Cass, Al Wilson, The Bells, Slade, Alan Parsons and others. In 1978 he released his only album. In 1998 he wrote "Where Are You" which was entered in a Eurovision song contest when recorded by Imaani. He died in England in November 2018 at the age of 81, due to hip surgery complications.
June 10, 2020
Ray McGinnis
References:
"Scott English," Wikipedia.org.
"Richard Kerr," Wikipedia.org.
"The Top 40 Hits," CKVN 1410 AM, Vancouver, BC, April 10, 1972.
For more song reviews visit the Countdown.