#1226: Brian Wilson by Barenaked Ladies
Peak Month: March 1993
8 weeks on Vancouver's CKLG chart
Peak Position #13
Peak Position on Billboard Hot 100 ~ #68 (in 1998)
YouTube.com: "Brian Wilson"
Lyrics: "Brian Wilson"
Lloyd Edward Elwyn "Ed" Robertson was born in Scarborough, Ontario, in 1970. He began to play guitar when he was in grade five. Steven Jay Page was also born in Scarborough in 1970. He took piano lessons for ten years and was a member of the Toronto Mendelssohn Youth Choir. Page and Robertson crossed paths in elementary school. But they didn't become friends until 1988 when they found themselves co-counsellors at a summer Scarborough Schools Music Camp. Later that year there was a charity and Robertson asked Page to join him in a performance. The duo named themselves the Barenaked Ladies.
In 1990 Andrew Burnett "Andy" Creeggan and brother James Raymond Creeggan joined the Barenaked Ladies. Both brothers were born in Scarborough, Jim in 1970 and Andy in 1972. Jim learned piano from his mother and played double bass from grade school. Tyler Joseph Stewart was born in 1967 in Toronto. In 1990 he met Steven Page, Ed Robertson and Jim Creeggan at the Waterloo Busker Carnival. They asked Stewart to join the band while Andy Creeggan was on a trip in South America. Andy had been playing congas in the band and wound up moving to keyboard when he returned.
On New Year's Eve in 1991 the band was banned from performing at Nathan Philips Square at Toronto's city hall. Mayor June Rowlands declared that the band's name, was politically incorrect. In 1992 the band got a record contract and released their debut album, Gordon. The album fostered the release of six singles that all appeared on the Canadian RPM singles chart over 1992-93. These were "Be My Yoko Ono", "Enid", "If I Had A $1000000", "What A Good Boy" "Grade 9" and "Brian Wilson".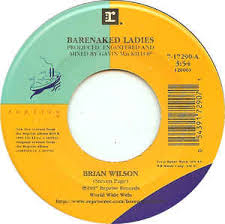 Brian Wilson was the name of one of the founding members of the Beach Boys. He was born in Inglewood, California, in 1942. Biographer Peter Ames Carlin wrote a book titled Catch a Wave: The Rise, Fall, and Redemption of the Beach Boys' Brian Wilson. In it Carlin relates that Brian Wilson's first time listening to George Gershwin's "Rhapsody in Blue" had a huge emotional impact. As a youngster, Wilson learned to play a toy accordion and sang in children's choirs. In his teens he started a group with his cousin, Mike Love and his brother, Carl. His named the group Carl and the Passions in order to convince his brother to join. They had a performance at Hawthorne High School, where they attended. Among the people in the audience was Al Jardine, another classmate. Jardine was so impressed with the performance that he let the group know. Jardine would later be enlisted, along with Dennis Wilson to form the Pendletones in 1961.
The first song Brian Wilson wrote ended up with the title of "Surfer Girl." A demo of the tune was made in February 1962. It went on to become a Top Ten hit when it was released a year later in 1963. However, their first recording was a doo-wop-surf tune called "Surfin'" in October 1961. It was released in November '61 on the Candix Enterprises Inc. label. The surprise for the group was that the record label had changed the group's name from the Pendletones to the Beach Boys. Consequently, as each time the record was played by a DJ in America, radio listeners were being introduced to the Beach Boys. The name Pendletones was now history.
Starting with the release of "Surfin' USA" in March 1963, the Beach Boys began to chart 13 singles into the Top Ten on the Billboard Hot 100, through to "Good Vibrations" in the fall of 1966. In the same timeframe in Vancouver, the Beach Boys had twenty-two songs climb into the Top Ten. After "Good Vibrations" there was much anticipation among fans and rock music critics about the next Beach Boys release.
The Barenaked Ladies "Brian Wilson" includes lyrics with reference to Smiley Smile and "some creative drought." After the release of Pet Sounds in 1966, Brian Wilson wanted to find a way to match his creative epiphany. He attempted to release an album titled Smile, which was to be a teenage symphony. However, the project floundered and the album was not released. In short order, Plan B became Smiley Smile, which was the Beach Boys 12th studio album. There was contractual pressure from Capitol Records for the Beach Boys to release another album. Smiley Smile was released in September 1967. Since the recording of "Good Vibrations", Brian Wilson had produced songs differently. Instead of arranging each song as a whole, Wilson chose to record short interchangeable fragments. He used tape splicing to assemble the fragments in order to make a song. Smiley Smile showcased this approach in an exaggerated form. Smiley Smile also featured lots of "party tracks". Brian Wilson liked creating an atmosphere suggesting, with the hand clapping, shouting and noise making, that a party was taking place.
Smiley Smile sold poorly. The single, "Heroes And Villains" stalled at #12 on the Billboard Hot 100. The album was panned by music critics. Rolling Stone, in a review of Wild Honey in February 1968, commended the new album as a relief after the "disaster" of Smiley Smile, and an "abortive attempt to match the talents of Lennon and McCartney." On December 14, 1967, Rolling Stone editor Jann Wenner said of Smiley Smile, "for some reason, [Smiley Smile] just doesn't make it … [the songs] just don't move you. Other than displaying Brian Wilson's virtuosity for production, they are pointless."
In the year between Smiley Smile's release in September 1967 and the summer of 1968, Brian Wilson gave numerous interviews. He told one reporter, J. Marks, that he had run out of ideas "in a conventional sense", and that he was "about ready to die… I decided not to try any more, and not try and do such great things …"
In 1967, Brian Wilson's personal life was becoming increasingly tenuous. He was regularly consuming amphetamines, marijuana and psychedelics. To this he added cocaine. He admitted himself to a psychiatric facility and took lithium and may have also had electroshock therapy. Peter Ames Carlin describes the late 60's into the 90's as a time when Brian Wilson was routinely written off as a chain smoking has-been. He was reported to have been diagnosed by his psychologist, Eugene Landy, as a paranoid schizophrenic. But that label was recanted. Nonetheless, Brian Wilson became more reclusive, went into debt and owed the IRS tens of thousands in back taxes. He gained weight and topped out at 311 pounds. In "Brian Wilson" the Barenaked Ladies wonder what it might have been like, singing "I had a dream I was three hundred pounds."
After being charged with wrongfully prescribing drugs to Wilson, it was reported in the Los Angeles Times in April 1989 that Dr. Eugene Landy had surrendered his psychological license and was not allowed to practice for two years. A biopic titled Love & Mercy was released in 2014 chronicling the decades of drug dependency, mental illness and dependent relationship Brian Wilson had on his psychologist. In the song "Brian Wilson", the lyrics reference Wilson's dependence on his psychologists prescriptions: "You can call me Pavlov's dog, ring a bell and I'll salivate. How'd you like that? Dr. Landy tell me."
The song also makes makes reference to a sandbox that Brian Wilson had built in his dining room in the winter of 1966: "…and if you want to find me I'll be out in the sandbox…" In "Brian Wilson" the Barnaked Ladies picture Wilson in his sandbox singing the Beach Boys 1964 hit "Fun, Fun, Fun". Joe McGasko of Biography.com writes of Brian Wilson, "Thinking that he would be more creatively inspired at the beach, but not actually wanting to go the beach, he paid for carpenters to build a low retaining wall around the perimeter of his dining room and then had eight loads of beach sand trucked in. His expensive grand piano was then lowered into the middle of the sandbox…"
In 1993 the Barenaked Ladies won the Juno Award for Group of the Year and were nominated for Entertainer of the Year. Their album, Gordon, was nominated for Album of the Year, while their single "Enid", was nominated for Single of the Year.
The band followed up with the albums Maybe You Should Drive (1994) and Born On A Pirate Ship (1996). The former album included the singles "Jane" and "Alternative Girlfriend". The latter featured "Shoe Box" and "The Old Apartment", which marked their first appearance on the Billboard Hot 100. In 1996 Andy Creeggan left the band and was replaced by Kevin Hearn. The band went on to their greatest success with the release in 1998 of their album Stunt. The album included "One Week", a song that peaked at #1 on the Billboard Hot 100 on October 17, 1998. Followup singles from the album, "It's All Been Done" and "Call And Answer" both made the Top Ten on the Canadian RPM singles chart. The Barenaked Ladies "Brian Wilson" enjoyed a resurgence in some radio markets in the USA in 1998. In both Chicago and Bethesda, Maryland, it was listed in the Top 100 year-end songs on alternate music radio stations, including #26 for the year on WKQX in Chicago.
Their last significant success came in 2000 with the release of their album Maroon and the single "Pinch Me". In September 2000 the Barenaked Ladies were given a key to the city of Toronto and welcomed back to play at city hall. By 2004 the band returned to recording their albums independently. Among the albums that followed, their 2008 release, Snacktime, was a children's album.
In 2008 Steven page was arrested for possession of cocaine and in 2009 he left the band. In 2010 Page released a debut album titled Page One. On August 27, 2011, Steven Page performed the Leonard Cohen song, "Hallelujah", at the state funeral service for Jack Layton.
Since the departure of Steven Page, the Barenaked Ladies have released four more studio albums, for a total of sixteen to date. One of these is a collaborative album in 2015 with the Brooklyn based a cappella group the Persuasions.
In 2017 the Barenaked Ladies performed in 81 concerts. In 2018 they headlined 52 concerts. Between May 30 and September 13, 2019, the Barenaked Ladies will be appearing at 48 concert dates. They will perform across twenty-eight states: Alabama, South Carolina, North Carolina, Tennessee, Pennsylvania, Connecticut, Illinois, Iowa, Wisconsin, Minnesota, Indiana, Michigan, New York, Maryland, Massachusetts, New Hampshire, New Jersey, Virginia, Ohio, Arkansas, Missouri, Colorado, California, Nevada, Arizona, Texas, Florida and Georgia. They will also perform in concert in Toronto, Ontario. Additional dates in 2019 are to be announced. Their current lineup remains a quartet with Ed Robertson, Jim Creeggan, Kevin Hearn and Tyler Stewart.
April 15, 2019
Ray McGinnis
References:
"Barenaked Ladies Biography," Barenaked Ladies.com.
James Rusk, "Still Bare, but There: Band Arrives," Globe and Mail, September 22, 2000.
Yasmine Shemesh, "Barenaked Ladies tell us about the time they met Trump," On the A Side.com, November 7, 2017.
"Band Interview: Barenaked Ladies," Columbus Underground, Columbus (OH), July 10, 2018.
Mark Medley, "Steven Page Interview: 'Wow, I'm not a Barenaked Lady Anymore'," Vancouver Sun, February 26, 2009.
Curtis Sindrey, "Interview: Barenaked Ladies' Ed Robertson Talks "Fake Nudes", 30th Anniversary, and What He's Listening To," Aesthetic Magazine, Toronto, November 26, 2017.
Lindsey Dunn, "Toronto proclaims Oct. 1 'Barenaked Ladies Day'," City News, Toronto (ON), October 1, 2018.
"Wild Honey," Rolling Stone, February 24, 1968.
Keith Badman, The Beach Boys: The Definitive Diary of America's Greatest Band, on Stage and in the Studio, Backbeat Books, 2004, p. 207.
Peter Bradshaw, "Love & Mercy Review – the Two Lives of Brian Wilson," Guardian, July 9, 2015.
Joe McGasko, "Made in California: 6 Facts About Brian Wilson," Biography.com, June 4, 2015.
For more song reviews visit the Countdown.