#876: Bring Me Some Water by Melissa Etheridge
Peak Month: November 1988
11 weeks on CKLG's Vancouver Chart
Peak Position ~ #13
Peak Position on Billboard Hot 100 ~ did not chart
YouTube: "Bring Me Some Water"
Lyrics: "Bring Me Some Water"
Melissa Lou Etheridge was born in 1961 in Leavenworth, Kansas. While in high school she was a member of several country bands. She moved to Boston after high school and while in college she performed at clubs in the area. She moved to Los Angeles and caught the attention of Island Records in 1986. In 1988 she made her first appearance on the Vancouver (BC) pop chart with "Bring Me Some Water". It was from her self-titled debut album.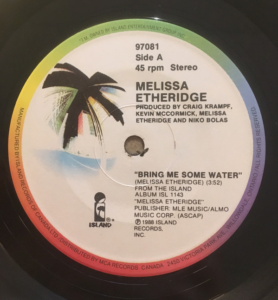 "Bring Me Some Water" is a song about the heartache and anguish of discovering that your partner has "another lover." As a result the singer declares metaphorically, "I'm burning alive." So they want someone to bring them some water to cool them down. The lyrics tell us that her lover is with "some other woman."
In an article on Psych Central titled "After You've Discovered Your Partner is Cheating: 5 Unexpected Emotional Reactions," statistics cited show that 60% of males and 40% of females will have a sexual affair outside their primary relationship. It is understandable that a partner would be angry with their lover if they found out they'd been cheating on them. But the article goes on to detail some other emotions that can be difficult to process when an affair comes to light. One of these is shame. The person who has been cheated on now feels shame because they are re-evaluating their choices to enter a relationship with their partner in the first place. The person who has been cheated on may keep rewinding the story of the relationship they are in, and trying to see "where they messed up."
Another reaction is to feel emptiness. Psychcentral tells its readers "A feeling of emptiness is actually a psychological mechanism that kicks in during any period of shock; in some ways it actually protects the mind." A third unexpected reaction is possessiveness. While, it might be understandable for you to show them the door, now you want them back more than ever. After all, once upon a time they made promises to be with you. A fourth emotion that therapists report clients feeling when they've been cheated on is annoyance. The "lapse in judgment" is now affecting everything going forward, and may be a catalyst for the dissolution of the relationship, depending on how you can talk through this episode. A more surprising emotional reaction is relief. The partner who has discovered an affair may have had a sense for quite some time that something is not quite right in the relationship. This may have preceded the affair.
Once an affair is out in the open Psychcentral advises that people let their feelings out. Don't suppress how you feel. Just be present to your feelings however wild they may be. They also suggest that aside from addressing what has happened, don't dwell on it. If you can't shake the negative feelings, give yourself permission to get therapy. Having an outside person to listen to you talk, and offer professional advice helps you move to the next stage in sorting things out. Finally, the article advises "…it's true that your mate was the cause of your emotional firestorm, but you may not be able to move forward until you can have meaningful discussions together about what you are going through. If your connection grows after the affair, you may feel comfortable speaking up. If the relationship is still tenuous though, you should not give up on having a heart-to-heart."
"Bring Me Some Water" peaked at #11 in Hamilton (ON), #13 in Vancouver (BC) and #19 in Calgary (AB). Internationally, the single peaked at #3 in Melbourne, Australia, and #9 on the Australian singles chart. "Bring Me Some Water" won Melissa Etheridge a Grammy Award nomination in 1989 for Best Rock Vocal Performance, Female.
In 1989 she released her second album, Brave and Crazy. Her debut single from the album was "No Souvenirs".
In 1990 Etheridge won a Juno Award for International Entertainer of the Year. She has been nominated for a Grammy Award in the category of Best Rock Vocal Performance, Female, on eight occasions between 1989 and 2003. However, she's only won a Grammy Award in that category once. That was for her 1993 single "Ain't It Heavy", from her Never Enough album. In 1992, her single "Like The Way I Do" climbed to #2 on the pop chart in the Netherlands. In 1993 Melissa "came out" as a lesbian. The news was old news to the women who had attended her concerts since the mid-80s, at venues lesbians patronized.
In 1995 she scored her only Top Ten hit on the Billboard Hot 100 with "I'm The Only One". This was followed with "If I Wanted To", which cracked the Top 20. That year her album, Your Little Secret, became her first album to chart on the Billboard album chart Top Ten. Her last solo Top 30 hit came in 1996 with "I Want To Come Over", a number one hit nationally in Canada, and #22 on the Billboard Hot 100.
Etheridge has also been nominated for a total of five other instances in four other categories. Not many recording artists have received thirteen nominations for a Grammy Award. In 2007 she won an Academy Award for "I Need To Wake Up" from the documentary An Inconvenient Truth in the Best Original Song category. In 2004 she was diagnosed with breast cancer, and she survived her subsequent treatment. In 2008 she was one of fourteen female recording artists who recorded "Just Stand Up", a single to raise money and awareness about cancer.
In 2011 Melissa Etheridge was given a star on the Hollywood Walk of Fame. Over the years Melissa Etheridge has charted six singles into the Top Ten on the Canadian singles pop chart. That year she also briefly appeared on stage as part of the cast in the Broadway musical American Idiot, based on the music of Green Day. Over the years she has released 14 studio albums.
As of mid-February 2020, Melissa Etheridge had over 40 concert dates scheduled between March and October 2020 in North America and Europe. However, the COVID-19 pandemic led to the cancellation of her tour.
August 7, 2020
Ray McGinnis
References:
Susan Carpenter, "Alive and Well and at Peace with Herself," Los Angeles Times, October 17, 2005.
"Melissa Etheridge Lands Hollywood Walk of Fame Star," Billboard, September 28, 2011.
"Melissa Etheridge to Play ST. JIMMY in AMERICAN IDIOT Feb. 1-6," Broadway World, January 18, 2011.
Marianne Schnall, "Conversation with Melissa Etheridge," feminist.com, August 16, 2007.
"After You've Discovered Your Partner is Cheating: 5 Unexpected Emotional Reactions," Psychcentral.com, July 8, 2018.
"Vancouver's Top 40 Hot Hits," CKLG 730 AM, Vancouver, BC, November 9, 1988.
For more song reviews visit the Countdown.