#1140: A Broken Vow by The Chordettes
Peak Month: August 1960
8 weeks on Vancouver's CFUN chart
Peak Position #12
Peak Position on Billboard Hot 100 ~ #102
YouTube.com: "A Broken Vow"
Lyrics: "A Broken Vow"
The Chordettes were a female quartette comprised of Janet Ertel and her sister-in-law, Carol Buschmann, Dorothy "Dottie" Schwartz, and Jinny Osborn. They formed in Sheboygan, Wisconsin, in 1946. In 1952 Lynn Evans replaced Schwartz. Originally they sang folk music similar to The Weavers. However, they shifted their sound to barbershop harmony or close harmony. Jinny Osborn was born in Seattle, Washington. She was born Virginia Cole. Her father, O. H. "King" Cole, was president of the Barbershop Harmony Society. After local performances in Sheboygan, the Chordettes were winners on Arthur Godfrey's radio program Talent Scouts in 1949. They appeared daily on Godfrey's program, and made a number of 10-inch EPs for Columbia Records.
Arthur Godfrey's music director and orchestra leader was Archie Bleyer. In 1953, Bleyer founded Cadence Records. Among the performers he signed to Cadence were the Chordettes. Their debut hit in 1954, "Mr. Sandman" quickly became a #1 hit record and their signature song. That same year Chordettes member, Janet Ertel, married Bleyer. In 1956 they had a string of hits: "Eddie My Love" (U.S. #14), "Born To Be With You" (U.S. #5), "Lay Down Your Arms" and in 1957 had another Top Ten hit with "Just Between You and Me".
On the national debut TV show of American Bandstand on August 5, 1957, the Chordettes were among the featured performers. In 1958 the quartette had a #2 hit with "Lollipop" and by the end of the year a Top 20 the tune from the Disney film, The Sign of Zorro. But from 1959 onward, the Chordettes had little chart success. The exception was their recording of the Best Oscar Song of 1960, from the film Never on a Sunday which peaked at #13 on the Billboard Hot 100. Of their last eight single releases, "Never On A Sunday" was the only seller. Five others missed the Billboard Hot 100, and two more just cracked the bottom of the Hot 100.
However, in Vancouver (#12) and Seattle (#11), the Chordettes enjoyed Top 20 chart success with "A Broken Vow". Perhaps Jinny Osborn's roots in Seattle persuaded local deejays there to give the record a spin and from there it caught on north of the border. Elsewhere the single mostly got a pass and mediocre sales, It bubbled under the Billboard Hot 100 at #102.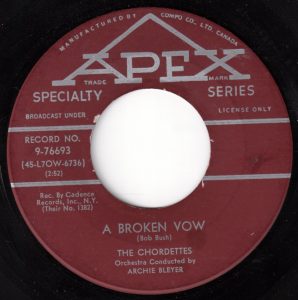 "A Broken Vow" concerns vows made between a nine year old girl and a ten year old boy to love each other forever. Though they kindle a flame for each other through their teen years, they are too young to get married. But after high school things shift, twelve years later the woman of 21 gets married to someone else. Did the now 22 year old man have a conversation with his former girlfriend and tell her, "but you promised to love me forever when you were nine years old?" The music box background adds to the innocence of the song, though the seriousness the tune conveys seems a bit surreal in the 21st Century. "Strange how love is" the lyrics tell us, but that love was expressed between a nine year old and a ten year old. The love children feel for their parents and siblings are genuine. And even the feelings a child has for someone they have a crush on may be quite real. Yet, what saying "I love you" means at age nine or ten should be understood as quite distinct from what a suitor can offer with an engagement ring and adult conversation involved in a proposal to a woman of 21.
In 1961, Jinny Osborn left the group. The Chordettes soon after split up after not finding a new member who was able to easily fit right in with the other three long established members of the group. However, songs they recorded while they were still together were subsequently released. Their cover of "The White Rose Of Athens" hit the Australian Top 15 in May, 1962. The US single "In The Deep Blue Sea" was a one-week Music Vendor entry four months later at #128. The Chordettes close harmony style was out of synch with the dance craze sweeping North America with "The Twist", "Mashed Potato Time", "The Peppermint Twist" and "The Loco-motion". The Chordettes were now passé, and fell off the radar even more with the Surfin' Sound, the Bossa Nova, Motown and the British Invasion.
Janet Ertel's daughter, Jackie, married another Cadence recording star, Phil Everly of The Everly Brothers.
March 21, 2017
Ray McGinnis
References:
Leah Ulatowski, Dorothy Schwartz, Member of Chordettes, Passes Away, Sheboygan Press, April 6, 2016
Interview with Dorothy Schwartz, National Association of Music Merchants (NAMM), May 14, 2010
Dennis Hevesi, "Nancy Overton, Singer for the Chordettes, Is Dead at 83," New York Times, April 10, 2009
Jane Minogue, The Chordettes Lollipop, Daily Doo Wop, February 27, 2018
History of The Chordettes, Mental Itch.com.
"C-FUNTASTIC FIFTY," CFUN 1410 AM, Vancouver, BC, August 13, 1960.
For more song reviews visit the Countdown.