#614: Brother Love's Travelling Salvation Show by Neil Diamond
Peak Month: May 1969
7 weeks on Vancouver's CKLG's chart
Peak Position #4
Hit Bound 1 week
Peak Position on Billboard Hot 100 ~ #22
YouTube.com link: "Brother Love's Travelling Salvation Show"
Lyrics: "Brother Love's Travelling Salvation Show"
Neil Leslie Diamond was born in Brooklyn in 1941. His parents were Russian and Polish immigrants and both Jewish. His dad was a dry-goods merchant. When he was in high school he met Barbra Streisand in a Freshman Chorus and Choral Club. Years later they would become friends. When he was sixteen Diamond was sent to a Jewish summer camp called Surprise Lake Camp in upstate New York. While there he heard folk singer, Pete Seeger, perform in concert. That year Diamond got a guitar and, influenced by Pete Seeger, began to write poems and song lyrics. While he was in his Senior year in high school, Sunbeam Music Publishing gave Neil Diamond an initial four month contract composing songs for $50 a week (US $413 in 2017 dollars). and he dropped out of college to accept it.
In 1962 Diamond teamed up with a high school friend, Jack Parker, and released a song called "You Are My Love At Last." The next year Neil Diamond released his first song under his name titled "At Night" on the Columbia label. The tune failed to get much attention and Columbia didn't renew their contract with Diamond. By 1966 Neil Diamond struck gold by charting his first singles onto the Billboard Hot 100 with "Solitary Man" peaking at #55 and "Cherry Cherry" climbing to #6. Later that year his song, "I'm A Believer," was recorded by The Monkees. The tune became the #5 hit of 1967.
In Vancouver, Neil Diamond generally had more successful chart runs here in Vancouver, Canada, compared to the Billboard Hot 100. "Solitary Man," stalled at #55 in the USA but climbed to #12 in Vancouver. "I Got The Feelin' (Oh No No)" stalled at #16 on the USA, but peaked at #4 in Vancouver. "You Got To Me" was also a #4 hit in Vancouver, but barely made the Top 20 on the Billboard charts, cresting at #18. "Thank The Lord For The Nightime" was #13 in the USA, but went up to #6 in Vancouver. Similarly, "Kentucky Woman" met with a better response in Vancouver as it climbed to #10, but stalled at #22 on the Billboard Hot 100. Five of seven charting songs Neil Diamond had on the Vancouver charts did significantly better than in his native America. His first single release in 1968, "Red Red Wine," followed this familiar pattern, climbing to #7 in contrast to Billboard's #62. "Brooklyn Roads" climbed to #13 in Vancouver, but stalled at #58 on the Hot 100.
Diamond began 1969 well with a #4 song in Vancouver titled "Brother Love's Travelling Salvation Show".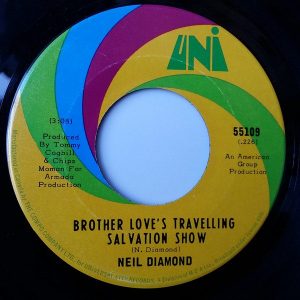 "Brother Love's Travelling Salvation Show" is a song about a tent preacher named Brother Love. He has a ragged tent set up "where there ain't no trees." This is a setting for a ministry that is itinerant and caters to the poor. There is a buzz about Brother Love and he walks in with his "eyes black as coal." Everyone has their attention on Brother Love. Likely, Neil Diamond had in mind a black gospel scene with pentecostal vibes. The audience has a reaction when Brother Love gets really wound up with his gospel message. Nature itself reverberates and "half the valley shakes." Brother Love has a traveling show in the revival tradition. People come from miles around just to hear him.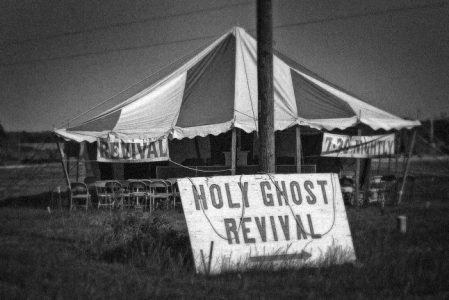 Worshipping Christians gathering in tents to pray or hear an evangelist give a sermon first occurred in the United States sometime between 1857-1860 in Appalachia. In 2017 the Times Record News of Wichita Falls, Kansas, reported a scene resembling that of "Brother Love's Travelling Salvation Show". Reporter Sarah Johnson describes it in these words, "It's midnight in the middle of summer. It's so hot and sticky, people on either side of you are doing their best to dry their sweat-streaked faces with homemade fans. Hundreds of people are packed shoulder to shoulder under a large tent in the middle of a field, while their feet kick up the sawdust on the floor. The traveling evangelist has been preaching for five hours now and shows no signs of stopping." First Baptist Church of Forney, Texas, hosted a revival for four days in May 2017. Lakeside City, an unincorporated town in southern Kansas was also holding a tent revival that summer.
In April 2018, a newspaper in Wilson, North Carolina, reported about an upcoming tent revival: "An old-fashioned tent revival is coming to Wilson, and it promises to live up to the expectations of revivals in times past with elements of a modern revival atmosphere. The area around Wilson has hosted numerous tent revivals that have continued the tradition that has been part of the American scene for more than 200 years. Winstead United Methodist Church will hold a tent revival on April 29, April 30 and May 1 at the church's 1851 Airport Blvd. property."
"Brother Love's Travelling Salvation Show" climbed to #2 in Seattle, Memphis, Toledo (OH) and Indianapolis, #3 in Los Angeles and Minneapolis/St. Paul, #4 in Detroit, Winnipeg and Toronto, #6 in Arlington (VA) and Tucson, and #7 in Chicago, Louisville and Hartford (CT). As it got next to no airplay in over half the states in the USA, the song stalled at #22 on the Billboard Hot 100.
On June 27, 1970, and again on July 31 1971, Neil Diamond performed in concert in Vancouver at the Queen Elizabeth Theatre.
Neil Diamond had many million sellers. These include "Sweet Caroline," a song about his wife at the time named Marsha. Diamond decided not to call the song 'Sweet Marsha.' "Holly Holy," "Cracklin' Rosie" and "Song Sung Blue" are among his other smash hits. The latter two were both number one hits on the Billboard Hot 100. Between 1966 and 1977 Neil Diamond charted 19 songs into the Top Ten in Vancouver and 8 songs into the Top Ten on the Billboard Hot 100. Some, like "Done Too Soon", had a much better chart run in Vancouver then in the USA.
On July 21, 1972, and later on April 9, 1976, Neil Diamond appeared in concert – on both occasions at the Pacific Coliseum. His last #1 hit was a duet with Barbra Streisand titled "You Don't Bring Me Flowers Anymore" in December 1978. On February 23, 1979, Neil Diamond performed in concert in Vancouver at the Pacific Coliseum.
Diamond had several major hits on the pop charts into the early 1980s, including "America," a song with a very positive interpretation of the history of immigration to the United States. Diamond later told a Jon Bream in his book Neil Diamond Is Forever: The Man And His Music, "America" was the story of my grandparents. It's my gift to them, and it's very real for me … In a way, it speaks to the immigrant in all of us." The song became the theme song for the 1988 campaign of Democratic presidential candidate, Michael Dukakis.
In the mid-to-late 80s Neil Diamond came to Vancouver on March 19th and 20th, 1985, at the Pacific Coliseum. He was back in Vancouver on September 12, 1986, for a concert at BC Place Stadium. And returned on April 4, 1989, to appeared in concert at the Pacific Coliseum.
In the 1990s Neil Diamond performed in concert in Vancouver at the Pacific Coliseum on October 23, 1992, and later on two occasions at General Motors Place on July 27, 1996, and August 15, 1999.
In the 2000s Neil Diamond gave concerts in Vancouver at General Motors Place on October 4, 2002, on September 22, 2005, and on September 20, 2008.
About his personal life, in 2008, New Diamond stated: "Personal relationships? I have none. I have no friends, and it is just impossible to have relationships. My closest friend is a fellow I went to school with, and I haven't seen him in four years. I make this journey, for the most part, alone."
On July 21, 2012, and again on May 7, 2015, Neil Diamond performed in concert – both times at Rogers Arena in Vancouver. In 2016, Neil Diamond released his 34th studio album. In April, 2017, Neil Diamond began his 50 Year Anniversary World Tour. The tour was scheduled in three legs. The first included 35 concerts in the USA and two in Canada, including in Vancouver on July 24, 2017, at Rogers Arena. The second included 15 concerts in Europe and the third 11 dates in New Zealand and Australia, ending in April 2018.
However, Rolling Stone magazine reported on January 23, 2018, that Neil Diamond had Parkinson's disease. Diamond cancelled the third leg of his 50 Year Anniversary World Tour in January, on his doctors advise. He said in a press release, "It is with great reluctance and disappointment that I announce my retirement from concert touring, I have been so honored to bring my shows to the public for the past 50 years. My sincerest apologies to everyone who purchased tickets and were planning to come to the upcoming shows."
April 3, 2019
Ray McGinnis
References:
Laura Jackson, Neil Diamond: The Biography, (Portrait, London, UK, 2004).
William Langley, "Neil Diamond: the Loves of a Lifelong Mr Lonely," Telegraph, London, UK, September 10, 2011
Lisa Respers, "Neil Diamond reveals story behind 'Sweet Caroline'," CNN, October 20, 2014
Graeme Ross, "Neil Diamond: The top 10 songs from rock's King of Guilty Pleasures," Independent, UK, September 28, 2017
Neil Diamond biography, Jewish Virtual Library.
Daniel Keeps, "Neil Diamond Retires From Touring After Parkinson's Disease Diagnosis," Rolling Stone, January 23, 2018.
Dianne Severance, Ph.D., "When Revival Ran Epidemic," Christianity.com, April 28, 2010.
Sarah Johnson, "Give Me That Old-time Religion," Times Record News, Wichita Falls, Kansas, May 8, 2017.
"Old-fashioned Tent Revivals Still Alive after 200 Years," Wilson Times, Wilson, NC, April 20, 2018.
"Neil Diamond – Canada concert dates," Setlist.fm.
"Boss 30," CKLG 730 AM, Vancouver, BC, May 9, 1969.
For more song reviews visit the Countdown.