#957: Build A Tower by Brahman
Peak Month: October 1971
8 weeks on Vancouver's CKVN chart
Peak Position #7
Peak Position on Billboard Hot 100 ~ did not chart
Brahman was a band from Vancouver that formed in 1971 and disbanded in 1972. They played at local clubs like Gassy Jacks Place in Vancouver's historic Gastown. Robbie King, on organ, founded the band and went on to play keyboards with another Vancouver band called Chilliwack. David Lanz played piano, Duris Maxwell played drums, Paul Blaney played bass, Ed Patterson played guitar, Victor Stewart was the groups vocalist and Ian McKay performed as a mime when Brahman played in concert. Local Vancouver music critic/DJ, Richard Skelly, remembers Victor Stewart had "a big voice that sort of predated Eddie Vedder."

Robbie King was born in Malartic, Quebec, in 1947. He joined Bobby Taylor and The Vancouvers in 1968 after leaving his first band, The Good Shepherds. He founded Brahman in 1971. While a brahmin is a member of the priestly caste in the Hindu religion, brahman, in Hindu thought, means the highest universal principle or ultimate reality.
David Lanz was born in Seattle in 1950. He was only five when he first placed his hands on a keyboard, inspired by his mom and grandmother, both of whom played. By his teens, Lanz had begun working with local rock combos in the Pacific Northwest. His first band was called the Towne Cryers, based in Lynnwood, Washington. then a regional hotbed for R&B-flavored garage-rock and, later on, the new artsy, progressive-rock sound. He eventually landed in Canada to join Brahman.
Ted Lewis was born in East York, Ontario, in 1946. He legally changed his name to Duris Maxwell in 1970. His mother was a pianist and his father played fiddle and guitar, and he began playing drums as a pre-schooler. He was part of a live concert band formed in 1960 with three other students at Lord Byng High School who called themselves The Tornadoes. Ted Lewis first began touring with Evan Kemp and the Trail Riders in 1960 when he was fourteen years old. He played with Little Daddy and the Bachelors (1963-65) along with Tommy Chong, The Chessmen (1965-66) and The Good Shepherds (1966-67). Three members of The Good Shepherds, Robbie King, Ed Patterson and Duris Maxwell (aka Ted Lewis), became half of Bobby Taylor and the Vancouvers' through 1968. He became a session musician with Motown and played with The Temptations. Robbie King invited Duris to join Brahman in 1971.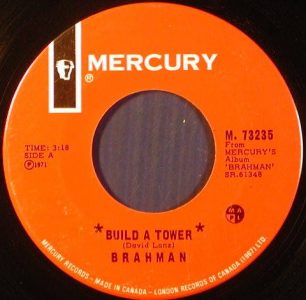 Build a tower high above the ground,
send no messages, write nothing down.
Lock and bolt the door, hide away the key,
turn your lonely face out to the sea.
Take your master plan, build upon the wooded shore,
follow vindications, write your dreams upon the floor.
Send no messages bringing us all down,
build a tower high above the ground.
Lock and bolt the door, hide away the key,
turn your lonely face out to the sea.
Take your master plan and build upon the wooded shore,
follow vindications, write your dreams upon the floor.
Just send no messages, bringing us all down,
build a tower high above the ground.
Towers are specifically distinguished from buildings, including skyscrapers. Unlike buildings, towers are not built to be habitable but to serve other functions. Towers have been used by human societies since prehistoric times. The oldest known may be the circular stone tower in the walls of Neolithic Jericho (8000 BC). Some of the earliest towers were ziggurats, which existed in Sumerian architecture since 4000 BC. The most famous ziggurats include the Sumerian Ziggurat of Ur, built around 3000 BC. The Etemenanki, one of the most famous examples of Babylonian architecture, is believed to have inspired the story of The Tower of Babel. The Etemenanki was built in Babylon during the 2000 BC era and was considered the tallest tower of the ancient world.
Some of the earliest surviving examples of towers are the broch structures in northern Scotland, which are conical towerhouses. These and other examples from Phoenician and Roman cultures emphasised the use of a tower in fortification and sentinel roles. For example, the name of the Moroccan city of Mogador, founded in the first millennium BC, is derived from the Phoenician word for watchtower, migdol. The Himalayan Towers in Changtang and Kongpo in Tibet, dating back as far as 200 AD, are believed to have primarily functioned to demonstrate the prestige of wealthy families within these communities. The Leaning Tower of Pisa, built between 1173 and 1372, was a bell tower. The 14th Century Asinelli Tower in Bologna, Italy, was built as a prison and a stronghold.
The tower throughout history has provided its users with an advantage in surveying defensive positions and obtaining a better view of the surrounding areas, including battlefields. In history, simple towers like lighthouses, bell towers, clock towers, signal towers and minarets were used to communicate information over greater distances. One variation of the tower, a chimney, has been used to expel and disperse potentially harmful gases and particulates into the atmosphere. Towers are a common element of religious architecture worldwide and are generally viewed as attempts to reach skyward toward heavens and the divine. Some wooden steeples are built with large wooden structural members arranged like tent poles and braced diagonally inside both with wood and steel. The steeple is then clad with wooden boards and finished with slate tiles nailed to the boards using copper over gaps on corners where the slate would not cover.
"Build A Tower" seems to be a lyrical attempt to question the effort to build a tower in the first place. Go ahead and build a tower, the singer seems to say. Then turn your lonely face to the sea. The tower, after all, is not a place you build to inhabit or to throw a party or socialize. The tower is a lonely place where you can survey a geographical area for defensive purposes, demonstrate your own greatness through its imposing size or some other dreams of grandeur. Once the tower is built, its owner is to send no messages to the rest of the community, reinforcing their isolated state within the wider society. Their master plan now visible to all is a place where the tower's owner will lock and bolt the door. Brahman was letting anyone listening know that there were better things to seek to accomplish in this lifetime than to build a tower.
While modern skyscrapers are called towers, they are not towers in the classic sense. Still, as an iconic example, the Trump Towers of the 21st Century ~ erected in New York City, Istanbul (Turkey), Sunny Isles Beach (FL), White Plains (NY), Pune (India), Manila (The Philippines) and Punta del Este (Uruguay) ~ are a branding intended to honor the Trump name. The additional Trump hotel/towers in New York City, Honolulu, Chicago, Vancouver (Canada), Washington D.C. and Panama City (Panama) also reflect an attempt to bestow prestige.
Local music critic (Richmond Review and Kerrisdale Courier) and former DJ on CITR, Richard Skelly, wrote to let me know that "Build A Tower" "was re-recorded by Susan Jacks for her Dreams album on Casino Records. After Brahman split up, Robbie King went on to found Skylark and then The Hometown Band. He also played with Chilliwack. In 1980 he joined the Cal Batchelor Band and from 1983 also played with the Terry Edmunds Band. In both cases he played with these bands until his death after a battle with cancer in 2003.
In 1974 David Lanz's piano found its way to a national number one single on the Terry Jacks hit "Seasons In the Sun". He continued to develop his musical talents and in 1983 released his first of many studio albums in the New Age genre titled Heartsounds. In the 1980's Lanz stated in an interview, "I'd always had this secret melodic, easy side… And I put that together with the desire to help people—if they want, they can use the music for relaxation or de-stressing, or for introspection. So all those different influences started to roll together." Unlike some New Age recordings that only achieved a soothing saturation through repeating a theme over and over, Lanz wove in melody and rhythm. Consequently, Lanz's albums were more alive than much of what was being played in hushed tones in the studios of registered massage therapists.
In 1988, Lanz released Cristofori's Dream. The album included six compositions by Lanz and a cover of Procol Harum's 1967 rock hit "A Whiter Shade of Pale." Cristofori's Dream became a commercial success, climbing Billboard magazine's first Adult Alternative/New Age chart to #1 in 1988, and remaining on the chart for 27 weeks. Next Lanz released Skyline Firedance in 1990, for which he recruited an 80-piece orchestra. In 2000 he released East Of the Moon, which earned Lanz a Grammy nomination. His 2009 album, Liverpool: Re-imagining The Beatles, is a tribute to The Beatles. As of 2017 David Lanz has released 35 studio albums. His most recent release, as of this November 2017 post, is French Impressions.
After Brahman, Duris Maxwell went on to play with the R&B All Stars, Powder Blues and Doucette. He played on the Dreamboat Annie album for Heart. He also played and recorded with Jefferson Airplane, Skylark and Trooper. In 1987 he began to study at the Native Education Centre at the University of British Columbia and completed a law degree in 1993. In 2001 he recorded Muskrat Blues & Rock and Roll with Billy Joe Green. The album won Best Blues CD at that years' Aboriginal Peoples Choice Music Awards. In addition to music, Duris has focused on working with troubled Native Canadian youth.
Since Brahman folded, Paul Blaney has been playing both mainstream and avant-garde jazz styles with musicians such as Marilyn Crispell, Myra Melford, François Houle, Tony Wilson, Mike Zilbur, Al Wiertz, Sandro Camerin. And more recently Blaney has played with Barry Guy, George Lewis, René Lussier, Freddie Studer, Elizabeth Fischer, Rick Bochner, Pierre Tanguay, Ingrid Jensen, Phil Haynes, Paul Smoker, Vinnie Golia, Lauro Rossi and Carlo Dato. Blaney plays with his own trio, Garbo's Hat. Paul has performed at a variety of venues including the Vancouver East Cultural Centre, PAL Studio, The Western Front and Grandview Park. He has been on stage with the PuSH International Performing Arts Festival. He is part of the NOW Orchestra.
Ed Patterson appeared playing guitar on studio recordings with Tom Northcott, the Hans Staymer Band, The Hometown Band, Nigel Olsson, Danny Peck, Albert & Gage and on Denise McCann's hit single in Vancouver titled "Tattoo Man". Patterson has won a Juno Award and taught guitar, bass and ukulele.
In addition to his live concert appearances with Brahman in 1971-72, Ian McKay was the opening act for a Led Zeppelin concert in Vancouver. He performed with Cheech and Chong at the burlesque house Tommy Chong ran called The Shanghai Junk at 205 West Pender Street in Chinatown. Around that time he took a fundamental art course, but found it too academic and too boring. Instead, McKay taught himself to draw by studying the old masters. This soon led to his first painting exhibit in Toronto in 1972. Ian became a prolific painter and was acclaimed for his Tower of Babel project. Ian's work did not go unnoticed. McKay's work was exhibited at the Outsider Art Fair in NYC. In 1992, he received the award of excellence in international competition from the American Society of Architectural Perspectivists. His drawings were included in the 1999 Earnest Burden art book, Visionary Architecture: Unbuilt Works of the Imagination. He was also a member of the Blind Artist's Society. Although Ian developed macular degeneration, which left him legally blind, he hand-drew these works with a large magnifying glass until the very end.
November 14, 2017
Ray McGinnis
References:
Richard Skelly, email to Ray McGinnis concerning Brahman.
Duris Maxwell – Bio, Revolvy.com.
David Lanz – Biography, David Lanz.com.
"Robbie King: B.C. Musician Helped Create Motown Sound," Obituaries, Times-Colonist, Victoria, BC, October 22, 2003.
Paul Blaney – Bio, NOW Orchestra, NOW Society, Vancouver, BC.
In Memoriam – Ian McKay (1949-2014), Inside Outsider Art, Vancouver, BC, October 13, 2013.
Ed Patterson – Music Lessons Burlington, Long & McQuade, Burlington, Ontario.
James Lochtefeld, The Illustrated Encyclopedia of Hinduism, Vol. 1: A–M, (Rosen Publishing, 2002).
Dana Thomas, "Towers to The Heavens," Newsweek, November 23, 2003.
Wall of Jericho, Wikipedia.org.
Paul Seaburn, "Stone Tablet May Be Proof That Tower of Babel Was Real," Mysterious Universe.org, May 11, 2017.
A. Sutherland, "Never Explained Mystery Of Star-Shaped Towers Of The Himalayas," Ancient Pages.com, November 24, 2014.
"In Maps: Trump Properties Around the World," CTV, Toronto, ON, December 9, 2015.
"West Coast Music Survey," CKVN 1410 AM, Vancouver, BC, October 8, 1971.
For more song reviews visit the Countdown.