#509: But It's Alright by J.J. Jackson
Peak Month: December 1966
8 weeks on Vancouver's CFUN chart
Peak Position #3
Peak Position on Billboard Hot 100 ~ #22
YouTube.com: "But It's Alright"
Lyrics: "But It's Alright"
In 1941, Jerome Louis Jackson was born in the Bronx, New York. In 1957 he had his first song recorded by Billy Williams called "The Lord Will Understand (And Say Well Done)" as one of three tracks on an Extended Play supporting Williams hit single "I'm Gonna Sit Right Down and Write Myself A Letter". Jackson wrote songs recorded by the Flamingos, the Shangri-las' B-side to "Remember (Walking In The Sand)", Barbara Lewis and Eddie Floyd. In 1966, Jackson wrote a hit single in the UK for the British group in the Pretty Things called "Come See Me".
In 1966, Jackson had a huge hit in Vancouver in 1966 called "But It's Alright".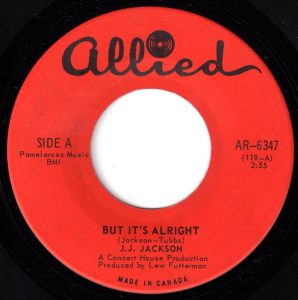 "But It's Alright" was recorded in the United Kingdom, featuring some of Britain's top jazz musicians of the day, including Terry Smith on guitar, Dick Morrissey on tenor sax and John Marshall on drums, and who would later make up his backing band for the following two albums (one of which was also titled But It's Alright).
"But It's Alright" is a song about a guy who finds out that his girlfriend is unreliable. When he needs her to be there for him, she finds some way to make him sad or worsen his mood. In addition, she has some need to hurt the guy even though, according to him, he loves her right both day and night. He tells her that he was "made to love only you." But, despite his conviction, after hurting him several times he tells her goodbye. And he predicts that she's going to reap what she sows. He tells her that she's going to end up with a guy who treats her badly, the way she's been treating him.
The notion that whatever goes around comes around is rooted in Christian scripture. In the New Testament book of Galatians the author writes in chapter 6: 7 "Do not be deceived. God is not mocked, for you reap whatever you sow (what you give is what you get)." And in the Hebrew scriptures, Job 4:8 states "It's my observation that those who plow evil and sow trouble reap evil and trouble." These are examples of a common understanding in Judeo-Christian teaching, and have influenced ordinary thinking across Western society. People expect that when they treat someone with kindness, they will be repaid with kindness. They understand that this doesn't always occur. But being mean to others is likely to only result in blowback.
"But It's Alright" peaked at #2 in Windsor (ON), #3 in Vancouver (BC), Louisville (KY), Phoenix (AZ), Bakersfield and Fresno (CA) and Flint (MI), #4 in Detroit and San Diego, #5 in Phoenix (AZ), Birmingham (AL) and Denver, #6 in Pittsburgh, and #7 in Philadelphia and Los Angeles. However, the single stalled on the Billboard Hot 100 at #22.
In 1969, Warner Bros. Records re-released "But It's Alright" as a single after he signed with them. The single peaked at #45 on Billboard when it re-entered the chart in 1969.
Jackson had a second Top 20 single on the Billboard Rhythm & Blues chart in 1966 called "Four Walls". The song had much of the same musical architecture that "But It's Alright" possessed. But J. J. Jackson's only other tune to break into the Billboard Hot 100 in early 1967 called "I Dig Girls".
"I Dig Girls" contained a riff from the opening four solid beats from the theme for the TV series, Dragnet. The title of that theme was actually "Danger Ahead." Originally featured in the 1946 film noir classic, The Killers, "Danger Ahead" was repeated throughout the film whenever the two hitmen in the plot appeared on the screen with four solid beats played by low brass, accompanied by insistent snare drums. "Danger Ahead" was composed by Miklos Rozsa. He composed scores for numerous film noir and crime noir movies including Spellbound, Brute Force, A Double Life and The Naked City. Rozsa ended up being nominated 17 times for Academy Awards. He won Best Original Score in 1945 for Spellbound, and in 1947 Best Music, Scoring of a Dramatic or Comedy Picture for A Double Life. And in 1959, Miklos Rozsa won again in that category for Ben Hur.
In 1969 J.J. Jackson finally released his debut album, The Greatest Little Soul Band in the Land. Like his biggest hit, "But It's Alright", the album was produced and recorded in the UK. The album included a cover of the John D. Loudermilk classic "Tobacco Road" and a cover of Sam Cooke's civil rights anthem "A Change is Gonna Come". A second album, J.J. Jackson's Dilemma, was released in 1970 that included covers of the Chicago hit "Does Anybody Really Know What Time It Is?" and the song "Let the Sun Shine In" from the musical Hair.
Since his brief tenure as a recording artist, J. J. Jackson has focused on songwriting and arranging. He performed at a venue in Jacksonville, Florida, in December 2015. According to Wikipedia.org, in 2017 J.J. Jackson was among the performers at a Rock 'n Roll Reunion on England's TVS Television special.
January 1, 2020
Ray McGinnis
References:
The Story and Music of J.J. Jackson, Mental Itch.com
JJ Jackson bio, Wikipedia.org
Gene D. Phillips, Out of the Shadows: Expanding the Canon of Classic Film Noir, (Scarecrow Press, 2011) 138.
Miklós Rózsa, Double Life: The Autobiography of Miklós Rózsa, Composer in the Golden Years of Hollywood,(Seven Hills Books, 1989).
Galatians 6:7, New Testament.
Job 4:8, Hebrew Bible.
"C-FUNTASTIC FIFTY," CFUN 1410 AM, Vancouver, BC, December 24, 1966.
For more song reviews on this website visit the Countdown.