#570: But You Know I Love You by The First Edition
Peak Month: February 1969
8 weeks on Vancouver's CKLG chart
Peak Position #3
1 week Hit Bound
Peak Position on Billboard Hot 100 ~ #19
YouTube.com: "But You Know I Love You"
Lyrics: "But You Know I Love You"
Kenneth Ray Rogers was born in Houston, Texas, in 1938. Rogers has both Irish and American Indian ancestry. In 1956 he formed a doo-wop group called The Scholars. He began his recording career with a teen ballad "That Crazy Feeling" in 1957. The single climbed to #2 in Houston in February 1958 and appeared on the bottom of the CHUM Hit Parade in Toronto. By 1960 Rogers gained a reputation as a bass player and joined The Bobby Doyle Three, a jazz trio. The third member was Don Russell. At the time Rogers was a student at the University of Texas. In 1962 the trio released an album titled In A Most Unusual Way. They disbanded in 1965. Rogers released a single as a solo artist in early 1966 which was a flop. He joined The New Christy Minstrels in July 1966 as on vocals and double bass. Feeling stuck in the folk groove, he left the group and formed The First Edition. The other members of The First Edition also exited The New Christy Minstrels with Rogers. They were Mike Settle, Terry Williams and Thelma Camacho.

Mike Settle was born in Tulsa, Oklahoma, in 1941. He began his music career as a folk singer in 1961 with an album titled Folk Sing Hallelujah credited to Mike Settle and the Settlers. The group released Pastures Of Plenty in 1963. In 1965 Settle released an album titled The Mike Settle Shindig. He joined The New Christy Minstrels in January 1966. He wrote songs recorded by Peter, Paul And Mary, as well as Judy Collins.
Mickey Jones was born in Houston, Texas, in 1941. During high school he learned how to play drums and formed a band at age sixteen called the Catalinas. In 1957 he was introduced to Trini Lopez and became the drummer for Lopez' band. Jones left Trini Lopez' band in 1959 and got a degree in Business Administration. He rejoined Trini Lopez' band for a few years in the early '60's when Lopez had some Top 40 hits, including "If I Had A Hammer" in 1963. In 1964 Mickey Jones joined Johnny Rivers' band and was the drummer on "Secret Agent Man", "Mountain Of Love" and "Seventh Son". With Rivers' band and Ann-Margret, Mickey Jones was able to do concerts for the U.S. troops in Vietnam in 1965. Next Mickey Jones accepted an offer to join Bob Dylan's band in 1966. Dylan took his band on a tour to Australia and Europe. When the tour was over Bob Dylan had a near-fatal motorcycle accident on July 29, 1966. With Bob Dylan recuperating (and not appearing in concert again until 1974), Mickey Jones took on roles as an extra in Hollywood. Then, in 1967, he was invited to be the drummer for The First Edition.
The first hit record for The First Edition was "Just Dropped In (To See What Condition My Condition Was In)". The song was about being on an acid trip with LSD and meant to warning would be users of the illegal narcotic. The song was first recorded in May 1967 by Jerry Lee Lewis. But the First Edition's recording in October 1967, featuring Glen Campbell on guitar, peaked at #5 on the Billboard Hot 100. The band also had an appearance on The Smothers' Brothers Comedy Hour. First Edition lead guitarist Terry Williams said years later about "Just Dropped In", "We knew it was special but never thought about the iconic hit it would become. Our debut album had several potential singles, including 'I Found a Reason', which enjoyed some regional success." Thelma Camacho had an unusually passionate voice, and a very charismatic seductive presence. The early press about The First Edition was largely about her.
The First Edition released a second album titled The First Edition's 2nd. Three single releases from the album were commercial failures. They went back to the recording studio in the fall of 1968 and released The First Edition'69 which featured the single "But You Know I Love You".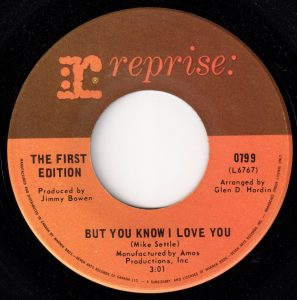 "But You Know I Love You" was written by Mike Settle. In the song the narrator voices regret over not being able to remain with their lover, due to career demands and the need to travel for work. The singer feels sad about not being able to build a life on love alone, and that "that dollar sign should be keeping us apart." They wish they could go back to an idyllic time in their life when adult problems of living hadn't occurred to them.
In her article "Relationships and Travel: What If Your Partner Travels for Work?," Lisa Merlo-Booth makes these helpful suggestions.
"When you are home—be present: it's one thing to have to travel a lot, it's an entirely different thing to travel a lot and then come home and be constantly working." She suggests creating technology-free zones so that being present to your other family members is part of your life at home.
"Before you go on your trip, give extra attention to your family." Prior to a trip away, Merlo-Booth suggests scheduling a "date," and making the days ahead of the trip include scheduled time to enjoy your partner and family. Don't just fill your pre-trip time up with work at the office and work at home.
"If you travel weekly, incorporate a ritual into the travel so your children and partner have something to look forward to." Leaving loving personal notes on the pillows of your partner (and children) before you travel, and/or bringing a gift on return are ways to let them know you are thinking of them.
"Call every night to check in." Building this into your daily ritual of how to start your day, or end your day, is important. After all, you are working on a relationship, not an afterthought.
Lisa Merlo-Booth also suggests "When you return, thank your partner for taking care of everything and everyone while you were gone." There are plants to water, bills to pay, windows to wash, carpets to vacuum, pets to take care of etc. And if there are children, there are likely appointments to keep for them like sports events, trips to the dentist etc. Don't take for granted that your home, your yard, your family just takes care of itself. While you are away someone has to water and nurture the household, even as you are helping to pay the bills by going on another work trip.
"But You Know I Love You" peaked at #1 in Columbus (OH), Memphis and San Bernardino (CA), #2 in Kansas City (MO) and San Diego, #3 in Vancouver (BC), Seattle, Boston, Miami and Fort Lauderdale (FL), #4 in St. Louis and Fresno (CA), #5 in Madison (WI), Albany (MY), Norfolk (VA) and Syracuse (NY), #6 in Indianapolis, #7 in Milwaukee (WI), Winnipeg (MB), Toronto, Halifax (NS), New Haven (CT), Cincinnati (OH) and Louisville (KY), #8 in El Paso (TX) and Calgary (AB), and #9 in Los Angeles and San Francisco. The song got almost no airplay in 15 states in the USA, most of these being in the mid-west, Alaska and several New England states. As a result the song stalled at #19 on the Billboard Hot 100.
According to Mickey Jones' autobiography That Would Be Me, Thelma Camacho was fired from the group in late 1968 (soon after the release of "But You Know I Love You", but before the record would chart on the Hot 100), after missing too many gigs and rehearsals. Thelma has said in her defense that while she always loved being with The First Edition in the studio, the road was too hard on her from a health and personal standpoint. Slowly growing apart from the others, Camacho began to feel restricted by the band in a number of ways. All agreed that the situation could not continue, and Camacho was replaced by her roommate, Mary Arnold, who beat out Karen Carpenter for the position.
By the end of the decade Rogers had long brown hair, an earring, and pink sunglasses. He was nicknamed "Hippie Kenny." The First Edition also had an international Top Ten hit with "Ruby, Don't Take Your Love To Town". The song was about a crippled veteran whose wife is unable to accept his physical limitations after he returned home a paralytic from "that crazy Asian war." At the time, America was at war in Vietnam, and had fought in Korea from 1950-53. "Ruby, Don't Take Your Love To Town" sold well in the UK, Canada, the Netherlands, Norway, New Zealand and Australia, as well as back home in America.
Vocalist Kin Vassey from The Back Porch Majority joined what was now billed as Kenny Rogers And The First Edition. He first appeared on the Top 20 hit "Something's Burning" in 1970. The song stalled at #11 on the Hot 100. It was deemed controversial given its overt sexual subject matter. Kenny Rogers And The First Edition had another Top 20 hit in 1970 titled "Tell It All Brother". The First Edition would see much success over the next seven years appearing in concert and on TV. They hosted their own television variety show from 1971 to 1973 on CTV titled Rollin' on the River (later shortened to Rollin').
The band split in 1976 after Terry Williams went solo in 1975. Kenny Rogers had a successful solo career that included 17 number one hits on the Billboard Country chart between 1977 and 1999. Many of his hits were crossover hits on the Billboard Hot 100. These include "Islands In The Stream" in a duet with Dolly Parton, "We've Got Tonight" in a duet with Sheena Easton, "Don't Fall In Love With A Dreamer" in a duet with Kim Carnes, and solo efforts with "Lucille", "The Gambler", "Coward Of The County", "She Believes In Me" and "Lady". Over his career Kenny Rogers had 29 hits in the Top Ten of the Billboard Country chart. In 1977 he won a Grammy Award for Best Male Country Vocal Performance for "Lucille". In 1979 he won the same Grammy Award category for "The Gambler". In 1988 Rogers won a Grammy Award in the category of Best Duo Country Vocal Performance — "Make No Mistake She's Mine" in a duet with Ronnie Milsap. Over his career Kenny Rogers had won 47 awards. These including multiple music trophies from the County Music Association Awards, American Music Awards, Academy of Country Music Awards and CMT (Country Music Television) Awards.
In 1991 he founded a chain of restaurants named Kenny Rogers Roasters. In the mid-1990s, Rogers reunited with Doyle and Russell as part of a special concert called "Going Home" where Rogers sang a selection of his greatest hits and favorite songs. In 2015 Rogers had a farewell tour titled The Gamblers Last Deal and subsequently went into retirement.
In 1970 Mike Settle left The First Edition. He wrote several songs for the 1971 action road film Vanishing Point. Over the years Mike Settle has been a session musician, producer and arranger with studio albums including for the Kingston Trio, Glen Yarborough and Kim Carnes. He has been a music critic and broadcaster for the past few decades.
Mickey Jones appeared in multiple films as he pursued an acting career. His filmography includes Wild in the Streets (1968), The Best Little Whorehouse In Texas (1982), National Lampoon's Vacation (1983), Total Recall (1990), and No Direction Home, a documentary about Bob Dylan in 2005. On television, Jones had an extensive resume that included recurring appearances in The Incredible Hulk, The Dukes of Hazzard, Baywatch, Home Improvement and Justified. In 2009 his autobiography That Would Be Me, was published. He died in 2018.
Thelma Camacho did a few solo records in the 1960s and 1970s and one LP in 1980. She moved to Europe in the 1980s. While in Europe she recorded under the name Tess Ivie (the latter being her husband's last name). Around 2003 she moved to California and has more recently run a jewelry store.
Rock historian Mike Eder thinks The First Edition should be in the Rock And Roll Hall of Fame. He considers the band "is the most neglected of what I consider the great groups in rock and roll, and it's largely not their fault. They just never got picked up on by the so-called critics of the day in any proper fashion. The First Edition aimed at all age groups and attempted a lot of different things. They were very early in combining a blend of rock, folk, country, and even a little jazz." Since they split up Eder has been surprised there have been no interviews of the band members about those days as The First Edition or as Kenny Rogers And The First Edition. Most country music fans remain unaware Kenny Rogers was once a rock 'n roll musician.
August 23, 2019
Ray McGinnis
References:
John Dalhye, "Kenny Rogers Takes His Love to (Killarney) Town," Irish Examiner, Cork, Ireland, July 2, 2013.
"Kenny Rogers to join Texas Country Music Hall of Fame," Longview News-Journal, Longview, TX, April 1, 2017.
Lisa Merlo-Booth, "Relationships and Travel: What if Your Partner Travels for Work?," Straight Talk 4 Women, December 15, 2009.
Jeremy Roberts, "Tell It All Brother: Why You Should Dig the Groovy Music of Kenny Rogers and the First Edition," Medium.com, January 14, 2018.
"Boss 30," CKLG 730 AM, Vancouver, BC, February 28, 1969.
For more song reviews visit the Countdown.