#778: Calling Dr. Casey by John D. Loudermilk
Peak Month: July 1962
9 weeks on Vancouver's CFUN chart
Peak Position #7
Peak Position on Billboard Hot 100 ~ #83
YouTube.com: "Calling Dr. Casey"
Lyrics: "Calling Dr. Casey"
John D. Loudermilk was born in Durham, North Carolina, in 1934. Although he had a middle initial, D, the "D" wasn't short for any middle name. His father was an illiterate carpenter, John D Loudermilk Sr. John D Jr. When he was seven his dad gave him a ukulele made from a cigar box. Young John D Jr. learned to play guitar in his youth and began to write poems and songs. His poetry was inspired after he began to read the works of Kahlil Gibran. In his late teens, in the early 50's, John D Jr. wrote a poem titled "A Rose And A Baby Ruth". It concerned a teenage couple who have a quarrel and the boy gives his girlfriend a rose and a Baby Ruth candy bar to make up. Loudermilk put notes to the poem and played the sung version on a local TV station. This caught the attention of country singer, George Hamilton IV. The song was published in 1956 and became a Top Ten hit on both the Country and Pop charts on Billboard Magazine. The following year, Loudermilk penned "Sittin' In The Balcony" for Eddie Cochran. Once that became a hit, Loudermilk's songwriting career was launched. He co-wrote "Waterloo," a #1 country hit and #4 pop hit in 1959 for country singer, Stonewall Jackson.
In the early 60's Loudermilk continued to have success as a songwriter. Sue Thompson had two Top Ten hits on the pop and country charts in 1961 written by Loudermilk: "Sad Movies (Make Me Cry)" and "Norman". The Everly Brothers also scored a Top Ten hit in 1961 by John D. Loudermilk, titled "Ebony Eyes." And Bob Luman had a Top Ten hit in Vancouver in 1961 by Loudermilk called "The Great Snowman". The singer of "Teen Angel", Mark Dinning, had a #6 hit in Vancouver in '61 with "Top 40, News, Weather And Sports," another Loudermilk composition. Loudermilk also had a Top 40 hit on the Billboard Hot 100 titled "Language Of Love". The song made the Top Ten in Vancouver in 1961.
In 1961, when explaining his template for getting inspired to write a song, Loudermilk told The Tennessean, "I'm looking for the most different thing I can find. Everybody's writing 'I love you truly.' You've got to find something new. I talk to drunks at the bus station, browse through kiddie books at the public library (and) get phrases from college kids and our baby sitter. You've got to be looking all the time."
In 1962, Loudermilk had several more hits recorded by other singers, including "If The Boy Only Knew" by Sue Thompson. Kris Jensen had a hit with "Torture." Loudermilk also recorded several more songs he'd penned: "Angela Jones", "Road Hog" and "Calling Dr. Casey".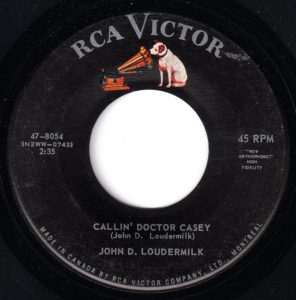 Ben Casey was a TV drama series on ABC TV from 1961 to 1966. The start of each episode began with a hand drawing a sequence of five symbols on a chalkboard for "man, woman, birth, death, infinity." The setting was Country General Hospital where Dr. Casey is a resident surgeon. He had a mentor named Dr. David Zorba. Casey is viewed as the best resident surgeon the hospital has had in several decades. On another TV station, Richard Chamberlain played Dr. Kildare, a young doctor who also had an older mentor he tried to impress. Ben Casey ranked as high as #7 on the Neilsen Ratings in the 1962-63 season. The TV series spawned four original novels, a comic book series and a comic strip series.
The TV series spawned several tunes that charted on the pop charts in the USA. The most successful was the Theme from Ben Casey, an orchestrated instrumental with Valjean on piano. There were two novelty hits using the "break-in" technique, a forerunner of sampling. Dickie Goodman had a hit called Ben Crazy that included break-in's from P. T. 109 (Johnny Horton), Mashed Potato Time (Dee Dee Sharp), Palisades Park (Freddie Cannon), Shout, Shout, Knock Yourself Out (Ernie Maresca) and Old Rivers (Burl Ives). Another tune was Dr. Ben Casey by Micky Shorr and The Cut-Ups. They included break-in's from "Mashed Potato Time" (Dee Dee Sharp), "She Can't Find Her Keys" (Paul Petersen), "Let Me In" (The Sensations), "Good Luck Charm" (Elvis Presley), "Twistin' the Night Away" (Sam Cooke) "Come Back Silly Girl" (The Lettermen) and "Please Don't Ask About Barbara" (Bobby Vee). Both tunes offered slapstick scenarios of Dr. Casey on the job. Neither of these tunes got airplay in Vancouver, though the instrumental by Valjean peaked at #15.
John Loudermilk's song, "Calling Dr. Casey", was also a novelty song, but used no break-in's of clips from other records. In Loudermilk's song Dr. Casey appears on TV each week and the singer notes the doctor can remedy post-nasal drip, a dislocated hip, lockjaw, flu, broken bones, kidney stones and psychiatric problems. Since the singer has lost his "sweet little baby," he wants Dr. Casey to mend his broken heart. The song peaked at #7 in Vancouver and San Antonio (TX) and #10 in Toronto.
Country singer and producer, Chet Atkins, produced "Calling Dr. Casey". Atkins first charting hit as a recording artist was "Mr. Sandman," in 1954, on the country charts. The song was a #1 cross-over pop hit for The Chordettes. Atkins played guitar on Elvis Presley's #1 hit, "Heartbreak Hotel", and on "Bye Bye Love" and "Wake Up Little Susie" for the Everly Brothers. He produced many records with RCA including "He'll Have to Go" by Jim Reeves, "Oh Lonesome Me" by Don Gibson and "The End of the World" by Skeeter Davis. Atkins also won 14 Grammy Awards.
John Loudermilk had other songs on the US charts in 1962. "Thou Shalt Not Steal" was a minor hit in the USA and did not chart in Vancouver. However, in 1964 it was a Top 20 hit for Dick and Dee Dee. That same year Loudermilk's 1960 composition, "Tobacco Road", became a Top Ten hit in the UK for the Nashville Teens. Johnny Tillotson had a Top Ten hit in early 1964 with "Talk Back Trembling Lips" written by Loudermilk. And in 1965, another one of his songs, "This Little Bird", became a Top Ten hit in Vancouver and the UK for Marianne Faithfull. In 1967, Loudermilk won a Grammy Award for Best Liner Notes for his album Suburban Attitudes in Country Verse. And a song he wrote in 1962, "Then You Can Tell Me Goodbye," became a Top Ten hit for The Casinos. In March of 1968, Glen Campbell had a Top 40 hit and a #1 hit in Vancouver with Loudermilk's tune, "I Wanna Live". And in 1968, another of Loudermilk's songs got critical acclaim when Don Fardon released "Indian Reservation". The song was a #1 hit for Paul Revere And The Raiders in 1971.
In 1976, he was inducted into the Nashville Songwriters Hall of Fame. In 2004, John D. Loudermilk's song, "Turn Me On", became a Top Ten hit in Canada for Norah Jones.
June 26, 2018
Ray McGinnis
References:
Julie Thanki, "Songwriter John D. Loudermilk Dead at 82," The Tennesseean, Nashville, TN, September 22, 2016.
"John D Loudermilk Obituary: Singer and Songwriter Best Known for Tobacco Road, a Big Hit for the Nashville Teens in 1964," Guardian, September 27, 2016.
Vince Edwards, "67, the Doctor In the Hit TV Series 'Ben Casey'," New York Times, March 13, 1996
Chet Atkins Biography, Alan Cackett.com
Leah Zeldes, "Named for Slugger or President's Kid, Candy is Chicago's Baby," Dining Chicago, June 27, 2011.
"C-FUNTASTIC FIFTY," CFUN 1410 AM, Vancouver, BC, July 28, 1962.
For more song reviews visit the Countdown.